By Skip Bayless
Page 2
Editor's Note: He has been the principal of "Old School" on ESPN's "SportsCenter," but now Skip Bayless is going "new school" as he joins the faculty of Page 2. Class is now in session ..."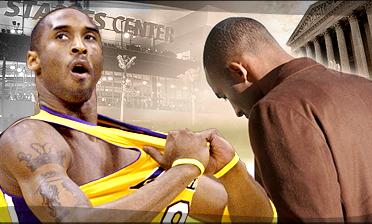 Kobe has some challenges ahead -- on and off the court.
Now, Kobe Bryant has so much of what he wanted before whatever happened, or didn't happen, in that Eagle, Colo. hotel room.
So terribly much. Kobe wanted to be more publicized than Shaquille O'Neal. Now, the attention he receives makes Shaq look like
his
"little brother" -- the term with which Shaq often put Kobe in his place. Now, Kobe is the most-publicized athlete in the world. For better or worse. Kobe wanted to be
the
Los Angeles Laker -- more powerful than Shaq or coach Phil Jackson. Now, Kobe is getting far more credit than he deserves for having "run Phil and Shaq out of town." Now, he has the Staples stage all to himself. In fact, it might seem like he's the only Laker. A Laker among Clippers. Kobe badly wanted to be able to say he's the highest-paid Laker. Now, with a new contract that averages almost $20 million a year for seven years, every Lakers fan knows Kobe is the highest-paid. Do they ever. And pre-Eagle, it appeared to irritate Kobe that he was viewed as so suburban by so many urban NBA fans. As too upper-middle-class privileged to be street cool. As lacking the edge the shoe companies want from their primary pitchman. Sluggish sales prompted a split between Kobe and adidas. Shortly before Eagle, Kobe signed with Nike for about $45 million over five years. That's a pittance next to the $90 million over seven years that Nike gave LeBron James, a kid who hadn't played anything but high-school ball. A Los Angeles Times story examined the question of Kobe's "street credibility." Several marketing experts were quoted as saying Kobe hadn't proven to have sneaker-selling power. David Carter of Sports Business Corporation in Los Angeles said: "You've heard a lot being made about street credibility the last month or so. I think both those guys (Kobe and LeBron) have street credibility. It's just that their streets are in different neighborhoods." That, perhaps, wounded Kobe's pride. He set up a meeting with L.A. Times editors to complain about that story and others he said delved too deeply into his off-court life. That Kobe was intensely private. Then Eagle happened. Soon, Kobe began playing the "bad boy" role by getting his first visible tattoos. Now, "edge" might be all he has left as a pitch man. Be careful what you wish for. Now that the rape case has been dismissed, you could argue that Kobe has at least added enough controversial aura to sell the products that anti-hero-worshipping kids buy -- sneakers, especially. Yet Bob Williams, CEO of Burns Entertainment and Sports Marketing, argues otherwise. "Kobe Bryant is not from the street," Williams said Friday, "and people on the street know that. He hasn't ever appealed to that group. Just being controversial in and of itself isn't enough to give him a significant increase in being able to sell shoes." Eagle cost Kobe his endorsement deals with McDonald's and Nutella. He remains under contract to Nike and to Coca-Cola as a Sprite spokesman (though 2005), but it's unclear if or when those companies will use him again in their ads.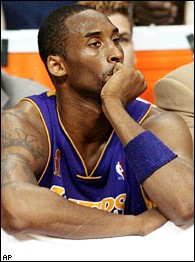 AP
Whatever Kobe Bryant wanted, he got. But at what price? Think about it.
Williams believes Kobe's marketing image still hinges on his ability to win the civil case. Of speculation that it will be settled before it reaches court, Williams said: "That would be some admission of guilt. I think he needs to go forward and prove his innocence, or some people will always think he was guilty."
Williams believes many female consumers will never be comfortable buying a product endorsed by Kobe. Companies marketing to families, such as McDonald's, are definitely out, Williams said. But Williams added one of the most important asterisks in sports: "Sports fans can be forgiving. Look at Ray Lewis." Facing a murder charge, Baltimore Ravens linebacker Lewis pleaded guilty to a misdemeanor charge of obstruction of justice, and agreed to testify against two co-defendants. He received one year's probation. Then he immediately applied the world's most powerful healer to his fractured image. Winning. Winning causes amnesia among fans. No linebacker -- not even Lawrence Taylor -- has ever been more valuable to a Super Bowl champion than Lewis was on the field and in the locker room to the 2000 Ravens. Now, as a trusted and likeable figure, Lewis is on his way to becoming the NFL's George Foreman. Kobe's surest and quickest way back into consumers' hearts is to win. Yet he isn't exactly returning to the NBA equivalent of the 2000 Ravens. No, if Kobe returns to the NBA Finals with what's left of the Lakers, he would finally belong in the same debate with Michael Jordan. Kobe didn't run Phil and Shaq out of town. Owner Jerry Buss did. Ask any Lakers insider.
Buss
decided that Jackson wanted too much money, that he was approaching burnout and that he wouldn't be the right fit for a reloading team.
Buss
decided he had had enough of Shaq's bellyaching -- and his belly. Kobe almost surely would have re-signed with the Lakers if Buss had kept Shaq. Yet in the dumbest move since the Red Sox traded Ruth, Buss ordered general manager Mitch Kupchak to move the most dominant force in basketball history -- a force who is only 32 years old. The Lakers have slowly gone south since GM Jerry West lost a power struggle to Jackson and wound up in Memphis. Kobe misses West almost as much he'll miss -- admit it, Kobe -- Shaq. Forget about Kobe's ability to sell sneakers. You wouldn't want to be
in
his sneakers next season. The question isn't whether this team can make it back to the Finals. It's whether Kobe and the Seven Dwarfs can make the playoffs. Surround him with Brian Grant, Lamar Odom, Vlade Divac and Caron Butler, and Kobe could start looking an awful lot like Tracy McGrady did in Orlando. In the West, 10 teams could be as good as or better than Kobe's Lakers: San Antonio, Minnesota, Sacramento, Houston, Dallas, New Orleans, Denver, Memphis, Portland and Utah. Only eight make the playoffs. If the Lakers don't -- or even if they fall to the seventh or eighth seed -- The Guy Who Ran Off Shaq and Phil will take the fall. Some day, maybe, Kobe will look back at his championship days as Shaq's "little brother" -- goody two-sneakers -- and realize just how great he had it.