By Skip Bayless
Page 2
Once, Bill Walsh called Jerry Rice "the greatest player ever." Not the greatest receiver. Greatest player. Ever.
But last spring, Walsh merely called Rice. As in, "Can you hear me now?"
Walsh, who just might have been the greatest coach ever, gently suggested to Rice by phone that he call it a career. After all, Rice had thrived on Walsh's advice after Walsh drafted him in 1985 to play for the San Francisco 49ers.
"I just told Jerry it was time," Walsh told me last spring. "I was seeing him start to flinch going for balls thrown over the middle, and that's a telltale sign."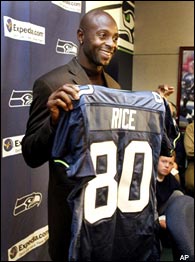 Jerry Rice will be wearing Steve Largent's retired number in Seattle.
Rice obviously said, "Thanks but no thanks, coach."
Not only is Rice playing this season, but he also refused to accept a diminished role with the Oakland Raiders, managed to get traded to Seattle -- the only team desperate enough to want him -- and now says he wants to play "at least one more season."
The Greatest Ever is turning into the Saddest Story in sports.
Rice is 42 years old. If you didn't know he was once Jerry Rice, you'd wonder how the Seahawks couldn't find a stopgap replacement on the waiver wire who's any faster than this No. 80. Rice can still give you a lot of fast-forward running in place -- lots of flashing hands and head bobs. But he goes nowhere fast.
Great players should play as long as they desire ... if they can still contribute at a reasonably high level. Though 40-year-old Michael Jordan was overweight and ground-bound in his final season, he still averaged about 20 points and six rebounds for the Washington Wizards. Rice is no longer capable of the NFL equivalent.
I spoke with two defensive coaches as they prepared to play the Raiders last season -- last season -- and both volunteered that "Jerry needs to hang 'em up." No one double covers him any more, they said. He's lost a step. Maybe two. And Rice wasn't exactly a blazer to begin with.
So, working in the Bay Area at the time, I urged Rice in print and on radio to announce his retirement before last season's final Monday night game -- playoff-bound Green Bay at 4-11 Oakland. Come on, Jerry, let Al Michaels and John Madden give you the "greatest ever" sendoff you deserve on pro football's biggest regular-season stage.
No.
Then again, imagine what would have happened if Rice had agreed to let "Monday Night Football" throw him a going-away party. The day before the game, Green Bay quarterback Brett Favre's father died. Favre chose to play. Favre played the game of his life, throwing for 399 yards and four touchdowns. Green Bay 41, Oakland 7.
How many Rice tributes would have wound up on the cutting room floor?
Oh, how terribly fitting that would have been for a player whose marketability has never remotely matched his athletic ability. Rice rarely has been sought to do local commercials, let alone national spots. Rice has always been too good for his own good -- too efficient, too subtle, too understated. Rice has always made catching passes look way too easy. At his greatest, he was appreciated more by coaches around the league than fans around the country.
It's just not enough to run the most precise routes or to have the game's surest hands. It's not enough to run so much faster in pads under pressure than your 4.5 40 suggested you could out of college, and to make it look so effortless. Rarely having to leave your feet for a throw will not create endorsement-heaven mystique.
This is the entertainment business, and Rice isn't very entertaining in interviews. No controvery, no nickname, no signature move, no self-promotional savvy, no compelling backstory. So what if he came from nowhere at Mississippi Valley State? That won't sell Chunky soup.
Terrell Owens, once Rice's understudy in San Francisco, has created more media hysteria and naive-fan awe with his touchdown celebrations and outrageous statements in a handful of seasons than Rice has in 20 masterful years. T.O. sells because T.O pulls Sharpies out of his sock and rips coaches and teammates and makes hell-bent catches.
Does anyone besides coaches notice that Owens can be a little stiff and robotic? That in San Francisco last season, he dropped as many crucial passes as he caught? That he sometimes runs so out of control on deep routes that he makes a TD catch look much more spectacular than it should?
Owens at his best doesn't belong on the same video-game field as Rice at his greatest. But Owens is an electronic superhero. Rice badly wants to be Owens when it comes to marketing deals and fan adoration. But all Rice really knows how to do is practice and play real football.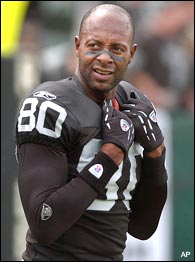 Rice never looked quite right in the silver and black, did he?
Which is one reason he wants to play forever.
The highest compliment Raiders owner Al Davis paid Rice before he shipped him to Seattle was that he still practices as hard as ever.
"Every day he's alive," said Davis, a former coach. "No tired days."
Yet Davis was perhaps the only owner who would have prolonged Rice's career after the 49ers threw him a Jerry Rice Day late in the 2000 season and hoped he would retire. Davis delights in collecting former Heisman Trophy winners and future Hall of Famers as if they're antiques -- especially when they're plucked from a 49er garage sale.
Four years ago, said Davis, "people felt felt Jerry could no longer contribute, and we felt strongly he could." Davis -- and Rice -- stuck it to the team across the bay. Rice caught 83 passes in his first season in Oakland, eight more than he did the year before for San Francisco. Rice caught 92 in 2002 and helped carry the Raiders to the Super Bowl.
Yet Rice's reception total fell to 63 last year as the Raiders fell to 4-12. Davis told him he still would start this season, but that young receivers would get their chances. Imagine Jerry Rice playing fifth fiddle to Jerry Porter, Alvis Whitted, Ronald Curry and Doug Gabriel. After Rice's streak of at least one reception in 189 consecutive games was snapped, he asked to be traded; and Davis gladly accommodated him. Because Rice is a vested veteran, any team that took him would have to pay the balance of his $1.36 million salary.
And Rice has caught all of five passes this season.
Davis said the Raiders contacted five teams about Rice. Four had no interest. Seattle, Davis said, was "lukewarm." But when Seattle lost its most talented receiver, Koren Robinson, to a four-week substance-abuse suspension, then lost slot receiver Bobby Engram to a sprained ankle for a couple of weeks, the Seahawks called back and offered a conditional seventh-round pick.
For Jerry Rice.
Yet Rice sounded almost delusional at his welcome-to-Seattle media session, acting as if this were 1994. He put Seahawks Hall of Famer Steve Largent on a can't-win spot by asking if Largent would let him wear his retired No. 80. How could Largent -- a former Oklahoma congressman and current Washington lobbyist -- say no, even if he wanted to?
Davis put the 2004 Rice in subtle, but brutal, perspective with this response. Asked if he would have dealt Rice to Seattle if the Seahawks had still been an AFC West rival, Davis said: "If Jerry plays, that means Koren Robinson doesn't or the other good receiver (Engram) doesn't."
Yes, it has come to this. Surely, Seattle coach Mike Holmgren expects Rice to be more coach than player when Robinson and Engram return. If so, expect Rice to be knocking on other teams' doors after the season.
Doors that won't open.
Skip Bayless recently joined ESPN after a career as a sports columnist that includes stops in Miami, Los Angeles, Dallas, Chicago and San Jose. He can be seen Monday through Friday on "Cold Pizza," ESPN2's morning show. His column will appear weekly on Page 2.