By Skip Bayless
Page 2
After all the knee-jerk outcry this week about what a "racist football factory" Notre Dame revealed itself to be, please allow a little perspective from a guy who closely observed the school as a columnist for the Chicago Tribune and Ty Willingham as a columnist for the San Jose Mercury News.
The day Notre Dame hired Willingham, I wrote that it was a mistake. For Notre Dame, I said, hiring a Ty was like kissing your sister -- an overrated choice that would soon haunt the coach and the school. The board of trustees was right to relieve Willingham of his duties on Wednesday because it was wrong to hire him in the first place.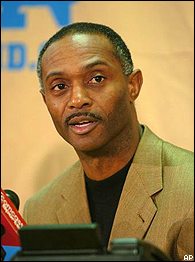 Willingham's attitude helped create his national myth.
Not his fault. Notre Dame's fault.
As much as I'd love to see as many black head coaches in college football as there are in college basketball -- and as much as Notre Dame wanted its first black coach to return it to its golden past -- Willingham was doomed to fail. He isn't a bad coach, but he isn't a good one, either. His Stanford teams routinely faded in November, when coaching becomes increasingly valuable. The more games Stanford played, the more chances rival coaches had to evaluate the team's weaknesses -- and the more Willingham got out-coached.
At Stanford, reporters who covered Willingham were put off by his tight-lipped condescension. He came off as smug and aloof -- qualities that outsiders sometimes interpreted as an almost mystical, twinkle-eyed confidence. Insiders often thought his reticence with the media was a defense mechanism. Sometimes, it appeared, he didn't answer questions because he couldn't.
But his measured, cryptic eloquence built his national aura.
And his myth.
All About the Irish
Commentary:
When the George O'Leary hire blew up like an exploding cigar in the Notre Dame trustees' faces -- he lied on his resume -- they reached quickly for Willingham. Here was class and integrity. Here was the most successful African-American coach in college football. Here was a man who valued the "student" in student-athlete and who succeeded despite Stanford's lofty admission requirements for athletes.
Many at Notre Dame -- trustees, professors, students, graduates -- view their school as an elite academic institution far more than as a football power. When I wrote a Chicago Tribune column daring Notre Dame to drop the hypocrisy and drop football, I was stunned at how much positive response I received from Notre Dame lovers.
The beginning of the end for the last coach to win a national championship at Notre Dame -- Lou Holtz -- was his attempt to slip a very talented but troubled kid named Randy Moss into school. That's enough, said the school fathers. Bob Davie, who followed Holtz, often said that Notre Dame's admission requirements for athletes had been raised to Stanford's levels.
Yet just as many Domers still want the leprechaun mascot to dance on the graves of Michigan and USC on the way to a win-one-more-for-the-Gipper national title. So, given the school's identity crisis, Willingham appeared to provide an emergency compromise.
But Irish eyes weren't seeing.
To have any shot at 11-0, Notre Dame now needs what a lot of schools need -- a coach who is a shrewd judge of talent, a dynamic recruiter and a brilliant strategist. Willingham is none of those. Once upon a time, every Catholic star in the country lived to play for Notre Dame. Once, skill-position studs from coast to coast didn't mind spending four years in the middle of nowhere -- South Bend -- because Notre Dame was the only school whose talent was showcased for the NFL every Saturday on national TV.
Notre Dame no longer sells itself.
Willingham won his first eight games, then predictably faded. He suffered three straight 31-point losses to USC. He lost five games by 31 or more. He got exposed.
The night after he was fired, I heard this perspective from a Notre Dame trustee. The board, he said, had been so disappointed in Willingham's recruiting, coaching and support of offensive coordinator Bill Dietrich that Willingham had been warned his job was in jeopardy before this season began. That's why this season's biggest victories became more of an indictment than an endorsement. How, the board wondered, could Willingham's team be good enough to beat Michigan at home and Tennessee in Knoxville, and still lose at BYU and to Boston College and Pitt at home?
The trustee's point was that the board has lowered its sights -- that it doesn't routinely expect 11-0, but that it did think 9-2 was realistic this year. If Willingham's team had won those three -- as it should have -- Notre Dame would be 9-2 and Willingham would still be its coach.
But the men who hired Willingham realized the mistake they made almost certainly wouldn't correct itself in the final two years of his contract. This year's recruiting didn't appear to be going any better than last year's. The board felt so strongly that it was willing to risk accusations of racism by making Willingham the first Notre Dame coach terminated before his deal ended.
Floyd Keith, executive director of the Black Coaches Association, immediately said Notre Dame's actions send "an alarming message" to aspiring black coaches. Division I-A has only two black head coaches remaining right now.
Yet I spoke with John Wooten, who heads the NFL's minority hiring program. Wooten believes the NFL is making progress with five black head coaches and two candidates -- New England assistant Romeo Crennel and Pittsburgh assistant Tim Lewis -- who could land jobs by next season.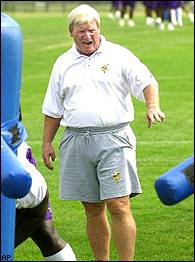 George O'Leary sent the coaching world scrambling to check their resumes.
Wooten said: "All you can ask for is interviews, and we're getting those. Once you get a job, you're on your own. You have to perform."
Willingham did not. The final nail was a third 31-point humiliation by USC. Oh, how this burns some Domers to their green soul: Willingham's legacy might wind up being that he won Heisman Trophies for USC quarterbacks Carson Palmer and Matt Leinart.
Several NFL scouts and general managers have commented to me about what a poor coaching job Willingham and his staff did against USC. One said: "Notre Dame took the ball right down the field and went up 7-0. They just physically whipped USC. They probably weren't going to win, but they at least could have made it a game. No, they don't have much speed in the secondary, but they also had no clue how to slow down USC's passing game. Have you ever seen so many wide-open receivers? That's partly coaching."
Yet the one man who couldn't have been shocked by Willingham's firing was Willingham himself. He must have found a way to get word to University of Washington officials a few weeks ago that he might be available and would be interested in their vacancy. Washington, said the trustee, asked for and was granted permission to talk to Willingham "a couple of weeks ago."
You wonder if Washington, which believes it should be competing for Rose Bowls with USC, will make the same mistake with Willingham.
And you wonder if Notre Dame was trying to plunge desperately after another coach whose myth would have proven to be as big as what's left of Fighting Irish tradition. Urban Legend had already begun to rival Touchdown Jesus in campus stature. Yes, Urban Meyer turned around two small-time programs at Bowling Green and Utah. And yes, his shotgun offense would have made Willingham's look like Barney Fife's unloaded gun.
But wasn't it just six years ago that one of the hottest young coaches in the country was Gary Crowton, who turned little Louisiana Tech into a giant-killer with a whiz-bang offense? Beating Notre Dame this year didn't save Crowton's job at BYU.
Maybe Florida saved Notre Dame by outbidding the Irish for Meyer. (It appears that's happened.) No doubt Meyer, who was a Notre Dame assistant from 1990-96, knows it's much easier to recruit to Gainesville than to South Bend. Surely Meyer knows his offense will look a lot more revolutionary with one of the country's most gifted running/passing quarterbacks operating it -- Chris Leak.
Now, Notre Dame should make one more run at Oklahoma's Bob Stoops. He turned the Irish down before they hired, or tried to hire, O'Leary. But Stoops is a devout Catholic who grew up in Youngstown, Ohio, idolizing Notre Dame. Especially if he wins a second national championship this season, Stoops might be more receptive to the concept that Notre Dame is his life's "calling."
Stoops has high intregrity and high regard for athletes as students. But Stoops also probably would want more than the $4 million a year Florida reportedly offered him before the Gators turned to Meyer. Oklahoma's board of regents reportedly topped that. Stoops would be worth that and more to Notre Dame.
Even if Notre Dame would be content with an annual 9-2, it had better get this hire right. This school also has a no-luck-of-the-Irish tradition of making mistakes on coaches, from Devine to Faust to Davie ...
... to Willingham.
Skip Bayless joined ESPN after a career as a sports columnist that includes stops in Miami, Los Angeles, Dallas, Chicago and San Jose. He can be seen Monday through Friday on "Cold Pizza," ESPN2's morning show, and at 4 p.m., ET, on ESPN's "1st & 10." His column will appear weekly on Page 2.