By Skip Bayless
Page 2
These days, things get old quicker than you can hit "enter."
Media outlets race toward the apocalypse, telling the easily misled that THIS or THAT is now THE GREATEST EVER, at least until this afternoon. Advertisers rip out one another's conscience to control the spending impulses of males ages 18 to 34, who now have the cyber world at their fingertips. They want MORE. More sex, more violence, more alcohol, more YOU'VE NEVER SEEN ANYTHING LIKE THIS IN NFL HISTORY!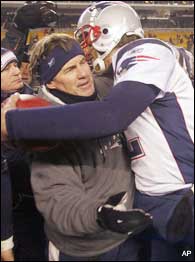 Sure, Brady and Belichick are a force -- but the best ever?
Maybe we haven't. Maybe I'm clinging to the past the way Dwight Clark did to The Catch.
But I'm still not quite convinced.
A year ago, leading up to Super Bowl XXXVIII, I repeatedly wrote and said on TV and radio that I was offended by two comparisons -- Brady to Montana, and Belichick to Parcells.
Tom Brady was already another Joe Montana? Another Greatest Quarterback Ever? Please, stop it.
Now, e-mailers and debate partners are demanding I admit it: Brady is better.
Not over my dead manual typewriter.
A year ago, when New England coach Bill Belichick had won just one Super Bowl and made it to a second, a talk-radio groundswell gave Belichick the edge over his mentor, Bill Parcells. What closed the case? Parcells hadn't won a Super Bowl without Belichick as his defensive coordinator.
So what?
Now, e-mailers and debate partners are demanding I admit it: Belichick is better.
Give me a break.
Let's start with the 2001 playoffs, when New England got nothing but breaks. Fate lifted a second-year, sixth-round pick named Brady from fourth string into Drew Bledsoe's starting job, and nobody paid much attention to the kid until he had won Super Bowl MVP. There was nowhere near the pressure of expectations on Brady that recently turned Pittsburgh rookie Ben Roethlisberger into a playoff pumpkin. And who remembers now that Brady's fumble should have eliminated the Patriots in their divisional playoff game that year?
Yes, who can forget the Snow Job game and the worst call I've ever seen in the playoffs? Please, Patriots fans, don't e-mail me about the Tuck Rule unless you have carefully read it and can cite the sentence that clearly and completely exonerates Brady.
If he had lost control of the ball while trying to pump-fake or stop his forward throwing motion, yes, the Tuck Rule would have applied. His intent would have been to "tuck" ball back into his body, and the correct ruling would have been: incomplete pass. But Brady obviously had finished "tucking" -- finished his pump-fake. He had cocked his arm back into the set position and was about to throw when blitzing Raiders cornerback Charles Woodson hit him.
Brady fumbled. The Raiders recovered. The game should have been over. The Patriots should not have had the chance to shock St. Louis in the Super Bowl.
For that matter, the most special plays made by Patriots the following week in the AFC title game at Pittsburgh were special-teams plays. So the vast majority of media members in New Orleans for the Super Bowl figured Kurt Warner's Greatest Show on Turf would be able to name the score indoors on a fast track. But Rams coach Mike Martz called as poor an offensive game as Belichick game-planned a brilliant defensive one. And still, it took a 48-yard field goal at the final gun to win it.
The Patriots missed the playoffs the following season.
So, just one year ago, I wasn't even remotely ready to call the Pats' quarterback Tom "Montana," or take Little Bill over Big Bill. After all, Parcells' first-year Cowboys had just beaten long preseason odds to go 10-6 and make the playoffs with the NFL's No. 1 defense. Parcells already was turning around his fourth NFL team.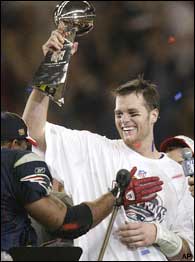 John Kasay certainly helped create the legend of Tom Brady.
Parcells, of course, won two Super Bowls with the Giants. He guided his Patriots to a Super Bowl with the statuesque Bledsoe at quarterback -- a Hall-of-Fame feat in and of itself. Parcells' Jets made it to the AFC championship game. Now, his first-year Cowboys appeared headed in that direction, quickly.
Meanwhile, just one year ago, I picked upstart Carolina to beat Brady/Belichick in the Super Bowl. What I did not predict was that the game would turn into a fourth-quarter shootout. Who could have imagined that Tom "Montana" would let the Panthers back in the game by throwing an inexcusable end-zone interception? Who could have dreamed that Belichick's defense would allow Jake Delhomme's offense to roll up 387 yards and 29 points while running just 53 plays to New England's 83?
In my wildest nightmare, I couldn't have foreseen Carolina's Pro Bowl kicker, John Kasay, hooking the kickoff out of bounds after Carolina tied the game with 1:08 remaining. That gave New England the ball at its 40. Brady needed only to orchestrate a 26-yard drive to set up another championship-winning field goal by Adam Vinatieri, this one from 41 yards. New England, 32-29.
Yet leading up to next week's Super Bowl, I'm hearing that Brady has already proven to be better than the quarterback widely acknowledged as the best ever -- Montana.
I feel positively prehistoric when I recollect that in Montana's first season as San Francisco's starter, he beat Tom Landry's big, bad Dallas Cowboys 45-14 in a regular-season game at Candlestick Park. His go-to wideout that year was a former college quarterback named Freddie Solomon. His running backs were the immortal Wendell Tyler and Lenvil Elliott.
Montana beat the mighty Cowboys again in the NFC title game at Candlestick. On third and three from the Dallas 6 yard line, with his first option (Solomon) covered, Montana rolled right and lofted one for Dwight Clark, who was working the back line of the end zone. Clark rose and made a remarkable fingertip catch -- The Catch. It's possible Montana was trying to throw the ball away. Yet that was the first of many late, great throws the man made.
His 49ers went on to beat Cincinnati in the Super Bowl -- a game that wasn't nearly as close as the 26-21 score suggests. Montana (still without Jerry Rice) outran and outgunned Dan Marino's Dolphins 38-16 to win his second Super Bowl -- and second MVP. Jerry Rice was voted MVP of Montana's next Super Bowl victory, yet it was Montana's touchdown pass to John Taylor in the final moments that broke the hearts of Boomer Esiason's Bengals 20-16. Montana won his fourth and final ring -- and third MVP -- by throwing a 55-10 party on John Elway's Broncos.
Brady has won two Super Bowls by directing drives that set up 40-plus yard field goals by a kicker who belongs in the Hall of Fame. Does that make him better than Montana?
Please, let's wait a little while before we carve that in Mt. Olympus stone.
Like, four or five years.
Understand, I'm in awe of Tom Brady. He grows on me by the game. His performance in the AFC championship game at Pittsburgh -- after shaking off a 103-degree fever the night before -- was his greatest yet. Somehow, his arm strength appears to get stronger by the season. He has at least as much velocity as Montana did -- maybe more -- and his passes are just as accurate and catchable. At 6-foot-4, Brady is two inches taller and a little stronger in the pocket than Montana was. Brady's ability to sense pressure and ballroom-dance to buy time and create passing lanes make him Montana's equal, even though Montana would have smoked him in a 40-yard dash.
But before I anoint Brady, I need to see more.
I need to see Brady's offense blow out the Eagles. After all, Brady now benefits from the NFL's most dominating power/speed back, Corey Dillon. Brady now relies on the NFL's deepest and surest-handed receiving corps. This sensationally underrated group is a collective star, as opposed to the one standout (Rice) that Montana had. And Brady invariably finds an open receiver because no offensive line gives its quarterback more time than New England's does.
So Brady's offense should be able to do to the Eagles what it did in the AFC title game to the Steelers -- score 40-plus on them. A third Super Bowl in four seasons would match Troy Aikman's run in Dallas, but Aikman's Cowboys twice demolished Buffalo, and had a fairly easy time with the Steelers.
Hypothetically, if Brady goes three for four and then decides to retire, he would be a first-ballot Hall of Famer on the strength of his rings alone. But he would not be better than Montana.
Show me more fourth-quarter comebacks, more last-minute magic. Show me you can win at Pittsburgh when your running back and favorite target are hurt. Without Dillon and Deion Branch, Brady looked like a sixth-rounder in the regular-season loss to the Steelers.
Show me you can win next season when your offensive coordinator, Charlie Weis, is coaching Notre Dame.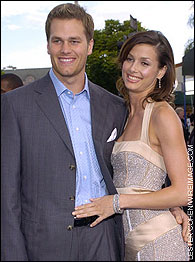 As Brady will tell you, being called the best has its privileges.
For that matter, I'm curious to see how the defensive genius, Belichick, does without Weis. And I remain curious about how Belichick could go 37-45 and get fired after five seasons in Cleveland if he's the greatest coach ever.
But understand, I'm in awe of Belichick just as I'm in awe of Brady. There has never been a better defensive teacher and strategist. He has created the finest parity-beating organization in pro football. If I were starting a team from scratch, I'd want Belichick to organize and coach it.
But if I owned a struggling franchise and wanted to win quickly, I'd want Parcells. Parcells is one of the all-time great commanders and motivators. He and Belichick are extraordinary in different ways. Just because Belichick is HOT and Parcells is NOT -- his Cowboys went 6-10 this year -- do not lose sight of Parcells' greatness.
Do not get swept up in the media race to proclaim Belichick or Brady THE GREATEST EVER.
Now feel free to Google Brady's girlfriend, actress Bridget Moynahan.
 Skip Bayless joined ESPN after a career as a sports columnist that includes stops in Miami, Los Angeles, Dallas, Chicago and San Jose. He can be seen Monday through Friday on "Cold Pizza," ESPN2's morning show, and at 4 p.m., ET, on ESPN's "1st & 10." His column will appear weekly on Page 2. You can e-mail Skip here.