Single page view
By Skip Bayless
Page 2
The kid's talent obviously is off the hook. But you cannot let LeBron James off the hook for the way he ducked Saturday night's NBA dunk contest.
Let's begin with Cleveland's game last Thursday at Minnesota. James had to be helped to the locker room early in the fourth quarter. Cavaliers officials said he had the flu. James returned with about four minutes left and played reasonably hard and well, though he once sank to his knees during a timeout. Call me Oliver Stone Jr. Call me names for daring to question The Chosen One. But, considering James' open reluctance to participate in the dunk contest, this looked suspicious. Was he creating an excuse on the eve of All-Star Weekend? Friday afternoon, James told the media gathered in Denver that he, indeed, would have to skip the dunk competition because of
a.)
the flu and
b.)
an ankle that's still bothering him. Huh? The ankle that cost him two games in January isn't well yet? Could've fooled Miami's Damon Jones, who was posterized when James turned himself into a Heat-seeking missile on Feb. 3.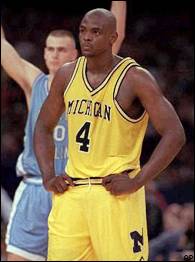 'Ummm, OK, I meant I deserve to be put in a timeout.'
But James said Friday afternoon: "I'm still a little sick and my ankle's a little tender. I'm not getting as much lift as I know I can get off this ankle."
Could've fooled me when I watched the rookies vs. sophomores game on Friday night. The same guy who had to be helped from the floor 24 hours earlier scored 20 points. The same guy who said he can't get max lift off that ankle managed four dunks, including a show-stopping David Thompson memorial windmill.
Do you believe in miracles? Sunday night, James vied with Allen Iverson for All-Star MVP. James managed to play 31 minutes and scored 13 points with eight rebounds, six assists and two steals.
Talk about a quick healer. Maybe Nike is right. Maybe this kid is supernatural.
Or maybe not. James got a little closer to the truth when he answered a postgame question Friday night: "Why don't guys do it anymore? There are no more dunks. If we come up with some new dunks, people might do it. Every time there's a dunk out there, people say they've seen it before." Funny, but I witnessed three dunks during Saturday's competition -- one by eventual winner Josh Smith, one by J.R. Smith and one by Amare Stoudemire with a heady assist from Steve Nash -- I'd never seen before. Josh and J.R. are fresh out of high school. Does this mean they're more creatively gifted than the sophomore who's part Michael Jordan and part Magic Johnson? Absolutely not. James' Magic-worthy feel for finding open teammates is even more extraordinary than how much he has improved his shooting this season. But this could mean that King James at 20 believes the dunk contest is beneath his beyond-Jordan dignity. Maybe, as his legions of defenders argue, it has something to do with money. Maybe he's protesting that the NBA and TV networks make so much off this event without offering any to the winner. Maybe this is like Tiger Woods, Phil Mickelson and other golf stars protesting that the PGA gets all the proceeds from the Ryder Cup.