Single page view
By Skip Bayless
Page 2
He has one of the sweetest swings ever. So effortless, so rhythmic, this left-handed stroke of baseball genius has produced 566 home runs and 2,999 hits. Rafael Palmeiro is about to join some rare Hall of Fame company.
Only Hank Aaron, Willie Mays and Eddie Murray topped 500/3,000. Well done, Raffy.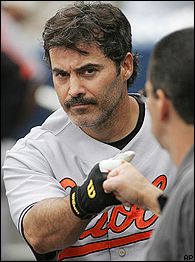 Don't be mad, Raffy. Nothing personal.
But you do not belong in the Hall of Fame.
This is nothing personal against Palmeiro. He has never been surly to me or stiffed me for an interview because I've never tried to talk to him. He's generally regarded by baseball writers as a pretty good guy who gladly accommodates the media without having much to say.
Most baseball writers will also tell you he's a first-ballot Hall of Famer.
But is he? If you had to stop and think about it for even a moment, he isn't.
At least, that's my Hall of Fame test. Aaron? Yes! Mays? Of course! Eddie Murray? Uh, well …
Murray wouldn't be in my Hall of Fame. Remember, it's not the Hall of Very Good. It's the Hall of Fame -- of transcendent greatness, of superstardom, of immortality.
Murray would be a prominent member of my Hall of Very Good. Like Palmeiro, Murray piled up all-time great numbers by being very good for a very long time -- 21 seasons, while Palmeiro is in his 19th. But who would I rather have at first base and in my batting order? Easy: Murray!
Pitchers feared Murray more. Murray made eight All-Star teams, won three Gold Gloves and finished second in the MVP balloting twice. Ask longtime Baltimore fans if Palmeiro is in Murray's league, and you might as well be asking if they prefer the Nationals to the Orioles.
Murray's number is one of six the Orioles have retired, joining Frank and Brooks Robinson, Jim Palmer, Cal Ripken and manager Earl Weaver. So, Orioles fans, should Palmeiro's No. 25 never be worn again? Uh, well ...
Oh, give him that much. Retire his number.
And go ahead, put him in the Hall of Never Was On the Disabled List.
Or in the Hall of Sweetest Swings.
Or in the Hall of Very, Very Good.
But not the Hall.
Too many seam-headed voters are too imprisoned by milestone numbers. For them, 3,000 plus 500 equals first ballot. I realize I'm thinking way too right-brain for a baseball argument, but just listen to your instinct when I ask: "Is Rafael Palmeiro a game-changing player?"
Your instinct whispers no, loudly.
Palmeiro has made only four All-Star teams -- half of Murray's. Not once has Palmeiro been voted a starter. His highest MVP finish is fifth. Not once has he led the league in home runs, RBI or batting average.
Yes, he did lead the league in hits and doubles (in 1991) and in runs in (in 1993). And yes, The Sporting News named him Player of the Year in 1999. He has had 10 100-plus RBI seasons -- four more than Murray. And like Murray, he has won three Gold Gloves.
But, what's your gut feeling: Is Rafael Palmeiro one of the dominant players of his era?
No!
Do you drop what you're doing when the Orioles are on TV and Palmeiro anchors himself in the batter's box?