By Skip Bayless
Page 2
He has one of the sweetest swings ever. So effortless, so rhythmic, this left-handed stroke of baseball genius has produced 566 home runs and 2,999 hits. Rafael Palmeiro is about to join some rare Hall of Fame company.
Only Hank Aaron, Willie Mays and Eddie Murray topped 500/3,000. Well done, Raffy.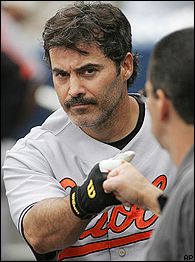 Don't be mad, Raffy. Nothing personal.
But you do not belong in the Hall of Fame.
This is nothing personal against Palmeiro. He has never been surly to me or stiffed me for an interview because I've never tried to talk to him. He's generally regarded by baseball writers as a pretty good guy who gladly accommodates the media without having much to say.
Most baseball writers will also tell you he's a first-ballot Hall of Famer.
But is he? If you had to stop and think about it for even a moment, he isn't.
At least, that's my Hall of Fame test. Aaron? Yes! Mays? Of course! Eddie Murray? Uh, well …
Murray wouldn't be in my Hall of Fame. Remember, it's not the Hall of Very Good. It's the Hall of Fame -- of transcendent greatness, of superstardom, of immortality.
Murray would be a prominent member of my Hall of Very Good. Like Palmeiro, Murray piled up all-time great numbers by being very good for a very long time -- 21 seasons, while Palmeiro is in his 19th. But who would I rather have at first base and in my batting order? Easy: Murray!
Pitchers feared Murray more. Murray made eight All-Star teams, won three Gold Gloves and finished second in the MVP balloting twice. Ask longtime Baltimore fans if Palmeiro is in Murray's league, and you might as well be asking if they prefer the Nationals to the Orioles.
Murray's number is one of six the Orioles have retired, joining Frank and Brooks Robinson, Jim Palmer, Cal Ripken and manager Earl Weaver. So, Orioles fans, should Palmeiro's No. 25 never be worn again? Uh, well ...
Oh, give him that much. Retire his number.
And go ahead, put him in the Hall of Never Was On the Disabled List.
Or in the Hall of Sweetest Swings.
Or in the Hall of Very, Very Good.
But not the Hall.
Too many seam-headed voters are too imprisoned by milestone numbers. For them, 3,000 plus 500 equals first ballot. I realize I'm thinking way too right-brain for a baseball argument, but just listen to your instinct when I ask: "Is Rafael Palmeiro a game-changing player?"
Your instinct whispers no, loudly.
Palmeiro has made only four All-Star teams -- half of Murray's. Not once has Palmeiro been voted a starter. His highest MVP finish is fifth. Not once has he led the league in home runs, RBI or batting average.
Yes, he did lead the league in hits and doubles (in 1991) and in runs in (in 1993). And yes, The Sporting News named him Player of the Year in 1999. He has had 10 100-plus RBI seasons -- four more than Murray. And like Murray, he has won three Gold Gloves.
But, what's your gut feeling: Is Rafael Palmeiro one of the dominant players of his era?
No!
Do you drop what you're doing when the Orioles are on TV and Palmeiro anchors himself in the batter's box?
Don't lie to yourself.
Palmeiro is nothing more than a very good player who has benefited from being a left-handed hitter in bandbox ballparks, Camden Yards and Ameriquest Field in Arlington, featuring right-field jet streams. Not counting the strike year of 1994, Palmeiro played five seasons in Baltimore and five in Arlington during 1995-2004. He averaged a little more than 36 homers a year in Baltimore, counting last season's 23, and almost 45 a year in Arlington.
Yes, he still had to make home-run contact. But is he Reggie Jackson?
Please.
That's the argument you hear for Palmeiro: Reggie's in the Hall of Fame, and Palmeiro passed Reggie's 563 homers on the all-time list.
Oh, please.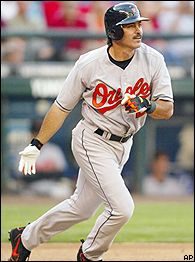 No one's denying Palmeiro has a sweet swing. But that doesn't make him Hall-worthy.
Reggie Jackson made 14 All-Star teams and won two World Series MVPs, as well as the 1973 regular-season MVP. In 27 World Series games, Reggie batted .357 with 24 RBI and 10 homers -- including, of course, three in 1977's deciding Game 6 against the Dodgers.
Has Palmeiro ever been called Mr. October? Mr. Anything?
OK, Mr. Viagra. Five years after he retires, Palmeiro will be remembered mostly for doing Viagra ads.
Palmeiro hasn't played in a World Series. In 22 postseason games, he has only four homers and eight RBI, with a .244 average. Not exactly immortal impact.
Forgive me, but I want my Hall of Fame to admit only larger-than-life players. Make that Gary Coopers-town. If you have to think twice about it …
Wade Boggs? Yes! Ryne Sandberg? Uh, well …
Sandberg belongs in the Hall of Very Good. Yet Boggs and Sandberg will both be inducted into the Hall of Fame on July 31.
Andre Dawson (one MVP, eight All-Star teams) and Dale Murphy (two MVPs, seven All-Star teams) are notable Hall snubs. I'd trade Palmeiro for either of them.
Still, I don't lie awake nights wondering how, in the name of Babe Ruth, Dawson and Murphy aren't Hall of Famers. I don't want a Hall of Sympathy for Very Good Players.
I want rare greatness, Olympus-high standards. Roger Clemens? Obviously! Barry Bonds? Even pre-steroids, no doubt. Mariano Rivera: Sure! Greg Maddux? No-brainer. Curt Schilling: Darn right. Randy Johnson? Never been anything quite like him.
Sammy Sosa? Uh, well, just because he had three 60-plus home run seasons at the height of the steroid era …
Sosa is not in my Hall of Fame either. Sosa has too often been the master of the meaningless home run. In the clutch, Sosa too often has swung at strike three in the dirt (he has led the league in strikeouts three times). Sosa too often has been a liability in right field.
If you want to put Sammy in your Lovable Cartoon Character Hall of Fame, fine. But he's not in my Hall.
Mark McGwire? Gut feeling: Yes, with or without steroids. He was a 12-time All-Star (to Sosa's seven) and helped carry three Oakland teams to the World Series (to Sosa's none). McGwire was the most feared power hitter of his time.
Though Jose Canseco goes into detail in his book about how he educated Palmeiro about (and injected him with) steroids, Palmeiro heatedly denied ever using steroids when he testified before Congress. Canseco joined Palmeiro in Texas for the final two months of the '92 season. That season, Palmeiro hit 22 homers. The next, he hit 37 and turned into a legitimate 40-homer threat.
Still, let's assume Canseco is lying. Steroid-free, Palmeiro isn't a Hall of Famer.
Give me no-doubters.
Give me Aaron, Banks, Bench, Brock, Carew, Carlton, Clemente, Cobb, Dizzy Dean, DiMaggio, Drysdale, Eckersley, Feller, Whitey Ford, Gehrig, Gibson, Grove, Hornsby, Hubbell, Walter Johnson, Kaline, Killebrew, Koufax, Mantle, Marichal, Mathewson, Mays, McCovey …
Mize, Morgan, Musial, Ott, Paige, Palmer, Reese, Brooks Robinson, Frank Robinson, Jackie Robinson, Ruth, Nolan Ryan, Schmidt, Seaver, Sisler, Ozzie Smith, Snider, Spahn, Speaker, Stargell, Honus Wagner, Ted Williams, Yastrzemski, Cy Young and Robin Yount.
Sorry, Raffy.
Skip Bayless can be seen Monday through Friday on "Cold Pizza," ESPN2's morning show, and at 4 p.m. ET on ESPN's "1st & 10." His column appears twice weekly on Page 2. You can e-mail Skip here.