Single page view
By Skip Bayless
Page 2
This Tour de France was his greatest tour de force.
After all, Lance Armstrong is 33 years old. He started his training late because he wasn't sure he wanted to risk his legacy after winning six straight Tour de Frances in a country filled with journalists and fans who don't like him and don't believe he has always been clean.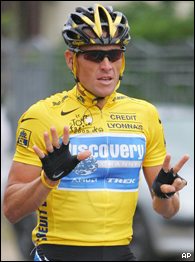 Lance is king of his world ... but not everyone elses.
This time, officials Lance-proofed the course the way golf courses are Tiger-proofed. They eliminated one of the longer time trials Armstrong usually owns. Didn't matter. They did away with several of the mountain summit finishes he dominates. Didn't matter.
He lost one key teammate before the race and one during. Didn't matter.
Armstrong won No. 7 just the way Tiger won the British Open. Armstrong roared in the early mountain stages, and all the riders who were supposed to dethrone him appeared to surrender psychologically. Unlike the British Open, this was the French Closed.
This was the most magnificent of his seven.
He won by 4 minutes, 40 seconds.
As if we needed any more proof, this cinched it: Lance Armstrong is the greatest endurance athlete ever. Greater than any of the five-time Tour winners -- Miguel Indurain, Eddy Merckx, Jacques Anquetil or Bernard Hinault. Greater than the greatest distance runners -- from Frank Shorter to Paul Tergat, Joan Benoit Samuelson to Paula Radcliffe.
Greater than any man or woman who has relied foremost on his or her VO2 max -- the ability to process oxygen.
Armstrong is an aerobic freak, with lungs of iron and legs of steel.
And of course, his Jordanesque dominance came after he beat cancer. Armstrong became an inspiration to millions battling the dread disease. Long live Lance.
But forgive me if I don't leap aboard the P.C. bandwagon and anoint him the greatest all-around athlete and greatest athletic performer ever. I'd just be selling out so the legion of Lance lovers would love me, too. My mission, as I see it, isn't to tell you what you want to hear.
It's to tell you the truth: Armstrong is limited when you compare him with the greatest athletes and clutch performers because he rides a bicycle.
But if you're a cycling zealot, and you want to believe he's the greatest athlete ever, believe away. I have friends who are so consumed by cycling -- training, racing, talking about nothing but -- that to suggest to them Lance is anything but a wing-footed god is blasphemy.
So if you're sick of the Kobes and T.O.'s and want a hero you can relate to, by all means, Lance is your man.
And for sure, if you're riding uphill against a disease, and Armstrong is your inspiration to keep on pedaling, God bless you.
But the point here is that Armstrong insists he has ridden his final Tour. This calls for some objective perspective on his place in the athletic pantheon.
I cannot tell a lie.
Armstrong doesn't qualify as the greatest all-around athlete because cycling doesn't test enough athletic talent or skill. And he doesn't qualify for greatest performer because his sport doesn't have the equivalent of last-second shots or throws or catches, of two-outs-in-the-ninth swings or of final-hole putts. The pressure through 21 Tour stages is constant, but rarely if ever acute.