By Skip Bayless
Page 2
This Tour de France was his greatest tour de force.
After all, Lance Armstrong is 33 years old. He started his training late because he wasn't sure he wanted to risk his legacy after winning six straight Tour de Frances in a country filled with journalists and fans who don't like him and don't believe he has always been clean.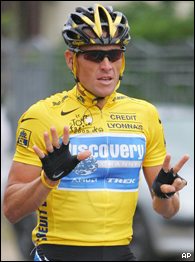 Lance is king of his world ... but not everyone elses.
This time, officials Lance-proofed the course the way golf courses are Tiger-proofed. They eliminated one of the longer time trials Armstrong usually owns. Didn't matter. They did away with several of the mountain summit finishes he dominates. Didn't matter.
He lost one key teammate before the race and one during. Didn't matter.
Armstrong won No. 7 just the way Tiger won the British Open. Armstrong roared in the early mountain stages, and all the riders who were supposed to dethrone him appeared to surrender psychologically. Unlike the British Open, this was the French Closed.
This was the most magnificent of his seven.
He won by 4 minutes, 40 seconds.
As if we needed any more proof, this cinched it: Lance Armstrong is the greatest endurance athlete ever. Greater than any of the five-time Tour winners -- Miguel Indurain, Eddy Merckx, Jacques Anquetil or Bernard Hinault. Greater than the greatest distance runners -- from Frank Shorter to Paul Tergat, Joan Benoit Samuelson to Paula Radcliffe.
Greater than any man or woman who has relied foremost on his or her VO2 max -- the ability to process oxygen.
Armstrong is an aerobic freak, with lungs of iron and legs of steel.
And of course, his Jordanesque dominance came after he beat cancer. Armstrong became an inspiration to millions battling the dread disease. Long live Lance.
But forgive me if I don't leap aboard the P.C. bandwagon and anoint him the greatest all-around athlete and greatest athletic performer ever. I'd just be selling out so the legion of Lance lovers would love me, too. My mission, as I see it, isn't to tell you what you want to hear.
It's to tell you the truth: Armstrong is limited when you compare him with the greatest athletes and clutch performers because he rides a bicycle.
But if you're a cycling zealot, and you want to believe he's the greatest athlete ever, believe away. I have friends who are so consumed by cycling -- training, racing, talking about nothing but -- that to suggest to them Lance is anything but a wing-footed god is blasphemy.
So if you're sick of the Kobes and T.O.'s and want a hero you can relate to, by all means, Lance is your man.
And for sure, if you're riding uphill against a disease, and Armstrong is your inspiration to keep on pedaling, God bless you.
But the point here is that Armstrong insists he has ridden his final Tour. This calls for some objective perspective on his place in the athletic pantheon.
I cannot tell a lie.
Armstrong doesn't qualify as the greatest all-around athlete because cycling doesn't test enough athletic talent or skill. And he doesn't qualify for greatest performer because his sport doesn't have the equivalent of last-second shots or throws or catches, of two-outs-in-the-ninth swings or of final-hole putts. The pressure through 21 Tour stages is constant, but rarely if ever acute.
No one has ever ridden smarter than Armstrong, who has always had a sixth sense for avoiding Tour-ending crashes. But an all-out sprint for a stage finish doesn't require grace under knee-knocking, throat-closing pressure. It's just about guts and heart.
Armstrong has as much of those as any man or woman who ever competed in any sport.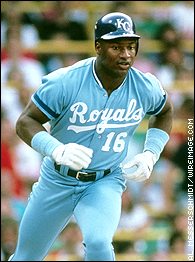 Bo knew more than just football, that's why he made the list.
But is he a greater clutch performer than Jordan or Ali or Montana or Nicklaus? When has Armstrong ever been tested under huge-moment fire the way those greats were? No, he doesn't belong in the same argument with them.
Similarly, how can you debate Armstrong's place among great all-around athletes when cycling calls upon such a narrow range of ability? Does Armstrong's sport demand hand-eye coordination or full-body athleticism the way ball sports do? No. Armstrong is the first to admit he's no good at ball sports.
Yes, some hand-eye and body control are required to steer a bike at high speeds through traffic or crashes or around curves. Yet Armstrong doesn't have the rare reflexes required to connect with 95-mph fastballs, or to throw baseballs or footballs, or to catch 60-yard passes on the dead run, or to make 25-foot jumpers or spinning, hanging circus shots over leaping giants.
Jordan was the greatest basketball player and greatest clutch performer ever -- but he failed miserably at baseball. So if you want the greatest all-around athletes -- combining the widest array of talent and skill at the highest levels -- choose your favorite from this list: Jim Thorpe, Jackie Robinson, Wilt Chamberlain, Mickey Mantle, Jim Brown, Bjorn Borg, Wayne Gretzky, Bo Jackson, John Elway and Deion Sanders.
I make the greatest all-around case for Sanders. In his prime, Sanders was the greatest cover corner ever. Fastest man (and one of the quickest) in football. Excellent hands as a ball hawk, receiver or kick returner. Underrated upper-body strength that allowed him to control bigger receivers at the line of scrimmage.
And Sanders did not fail at baseball. Sanders was a regular outfielder for the Yankees, Braves, Giants and Reds. For the Braves, Deion was 8-for-15 in the 1992 World Series.
You can argue that Bo Jackson was a better combination football/baseball player because he made one Pro Bowl and one All-Star team. Yet Jackson was too stiff to be much of a basketball player. Sanders was an all-state high-school basketball player in Fort Myers, Fla. Advantage, Deion.
As a runner, Armstrong's 10K times were good but not great. He doesn't have the rare speed of a Sanders or Jackson -- or the lightning quickness of Allen Iverson. Armstrong and Iverson are about the same size. But Iverson not only has the NBA's best body control but also could have starred in college football as an option quarterback.
Armstrong isn't in Iverson's all-around league.
Yet the argument I always get is: Yes, but could Deion or Ichiro or Iverson win the Tour de France?
I have no idea how genetically gifted they are at processing oxygen in endurance sports. Iverson's VO2 max might surprise you. But the point is, none of the three had any desire to subject themselves to the grueling training required to win long-distance bike races.
If they had, who knows?
Which leads to another key question: While just about every kid in America rides a bike at some age, how many dedicate themselves to winning the Tour de France? Not many. Far more want to be baseball, basketball or football players. Competitive cycling is more popular among kids in other countries, but not in this one.
Yet Armstrong hasn't had to battle the quality or depth of competition in his sport that baseball, basketball or football greats have risen above in theirs.
And within endurance sports, Armstrong has this advantage over, say, marathon runners. He's riding a perfect piece of equipment that virtually assures he will have a perfectly efficient "stride," even when he's exhausted. His bicycle also keeps his joints from absorbing the shock the pavement inflicts on distance runners.
As great as he is, Armstrong has benefited from having the best team and equipment. As he said Sunday of his Discovery Team: "I think we revolutionized the cycling part, the training part and the equipment part. ... We had absolutely the best program, the best trainers, the best mechanics."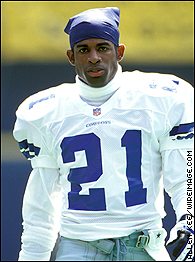 Football and baseball kept Prime Time too busy from playing hoops.
Did the Discovery Team give Armstrong a slight advantage over challengers Ivan Basso (who finished second), Jan Ullrich (third), Alexandre Vinokourov (fifth) and Mickael Rasmussen (seventh)? Yes, slight.
But no doubt you can argue they all had a huge advantage over Armstrong when he won his first Tour. He had been told he might not live, let alone ever ride again.
So by all means, savor the real-life fairy tale of the little man who thought he could. Imagine yourself pedaling past rivals up through the Alps and down the Champs-Elysees. But please don't condemn me as one of the "cynics and skeptics" Armstrong referred to in the first speech the Tour has ever allowed on the victory podium.
Armstrong said: "Finally, the last thing I'll say to the people who don't believe in cycling -- the cynics, the skeptics -- I'm sorry you can't dream big and I'm sorry you don't believe in miracles."
I believe in cycling and miracles.
I believe Lance Armstrong miraculously recovered to become the greatest endurance athlete and most inspirational sports performer.
But he is not the greatest all-around athlete or clutch performer. That's no knock on him and no attempt to rain on his reign. That's just honest perspective.
Skip Bayless can be seen Monday through Friday on "Cold Pizza," ESPN2's morning show, and at 4 p.m. ET on ESPN's "1st & 10." His column appears twice weekly on Page 2. You can e-mail Skip here.