Single page view
By Skip Bayless
Page 2
A confession: I bleed crimson.
OU crimson.
I can't help it. I was born into the University of Oklahoma's football tradition. I grew up in Oklahoma City, and my grandfather took me to my first OU game when I was 5 years old.
I got to go that day only because none of my older cousins wanted to sit through yet another Sooners romp. The opponent, a Notre Dame team that had just lost at home to Navy, was almost a three-touchdown underdog in Norman.
That dark day, Notre Dame ended Bud Wilkinson's 47-game winning streak, 7-0. That record will never be broken, but my young heart was. Several shrinks have concluded that my traumatic OU baptism still triggers the opinions that enrage some readers.
Here I go again.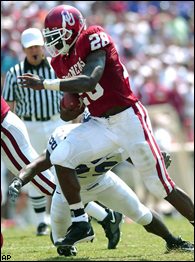 AP
Oklahoma needs Adrian Peterson in order to win -- and isn't that what they're supposed to do?
Opinion: If Bob Stoops punishes Adrian Peterson for missing class by not starting him in Saturday's game at UCLA, I'll be even more disappointed in Stoops than I already am.
Stoops isn't the country's highest paid coach because of his team's academic achievements. No, Stoops makes upper-echelon NFL money because he has beaten Texas five straight times and finished the last five seasons by winning a Cotton and a Rose Bowl and playing for three national championships.
As an OU fan, I don't care if OU players are required to attend a single class, and I don't want my coach jeopardizing our chances to win because of a ridiculously strict new attendance requirement.
Confession No. 2: I graduated cum laude from Vanderbilt with a double major in English and history. But I wouldn't be upset if Vandy dropped football and basketball. I went there to get an education, and I'm proud to say I got a great one.
Why should I brag to friends that my school tries to recruit athletes who often choose Vanderbilt only for the opportunity to play in the SEC? Some of these athletes barely qualify as students, and many wouldn't have chosen Vanderbilt if not for full athletic scholarships.
It's called Vanderbilt University.
Yes, I'm mildly interested -- and, OK, a little proud -- that this year's Commodores opened with wins at Wake Forest and Arkansas. Thanks mostly to quarterback Jay Cutler, who could be a first-round pick, my school has a chance to go 6-5.
But I won't lose a second of sleep if they don't.
My Sooners are a different story. My God, they're in danger of going 6-5.
Many in my home state attach their self-images to the fame and fortunes of a college team that serves the purpose of the pro team they don't have. This started around 1946, when OU's Board of Regents decided to beef up the football program in response to John Steinbeck's "Grapes of Wrath," which inaccurately portrayed Oklahoma as one big, backward dust bowl. Oklahomans, the regents believed, needed something to be proud of.
Steinbeck later admitted his only firsthand knowledge of the state was driving through it once on the way from California to New York. Yet his book inspired many "Oranges of Wrath" -- many Orange Bowl visits for OU, and seven national championships, including the one Stoops won with the 2000 team.