By Skip Bayless
Page 2
Educated guess: As it did in March 2004, the NFL will broker a deal that bends its rules and immediately makes Terrell Owens a free agent.
That's because the NFL is far more afraid of Owens than any defensive coordinator ever was.
Owens can snap his fingers and have camera crews literally at his doorstep within an hour or two. Owens won't fight fair -- he'll go public with any inside information or unsubstantiated rumor to make his case. No player in any sport can make a stink the way Terrell Eldorado Owens can.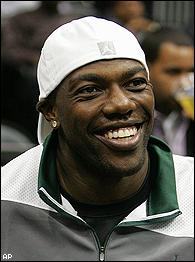 AP
There's a good chance T.O. will be smiling after his arbitration hearing on Friday.
And now he has the Rev. Jesse Jackson at his side.
That's why -- educated guess -- NFL executives will push for a quick settlement that allows Owens out of his contract with the Philadelphia Eagles and onto the open market. This could happen before or after Friday's scheduled arbitration hearing at Eagles headquarters.
And this will not be fair to the Eagles.
Yes, Andy Reid is getting what he deserves for selling part of his coaching soul to try to win a Super Bowl with a Pro Bowl receiver who tore apart a playoff team in San Francisco. But rules are rules, and if the Eagles are willing to pay Owens for the rest of this season, they have every right to make him inactive for their remaining six games.
They can even tell him to show up at 6 a.m. to catch passes from a practice-squad quarterback, then be gone by 8, before the other Eagles arrive.
As one agent told me Wednesday: "Hey, I represent backup quarterbacks and practice-squad quarterbacks -- guys who are often inactive for games -- and they'd love to suddenly become free agents and sign with teams that need them. This would set a bad precedent for the league."
But as usual with Owens, his case is unique. Ulcer-inducing unique.
In interviews, Jackson argues that Owens hasn't broken any laws, that he has been guilty of no more than "overzealous" statements, and that his punishment -- what appears to be an eight-game suspension, four without pay -- doesn't remotely fit the "crime."
And like Jackson, players' union chief Gene Upshaw is arguing that the Eagles cannot deprive an American of his right to work.
The Eagles counter that, since last January's Super Bowl loss, Owens has constantly engaged in conduct detrimental to the team. The team wouldn't meet his demands for a new contract just one year into a seven-year, $49 million deal, so he got even by making their lives miserable.
Jackson argues that, in retrospect, no single transgression was that big a deal, and the arbitrator will agree.
But the Eagles will make an equally strong case that, stacked one on top of another, Owens' incidents became a team-wrecking distraction. The arbitrator will see their side, too.
He'll hear about Owens' constant public criticism of quarterback Donovan McNabb, coaches and management. About disrespecting coaches during meetings and practices. About skipping a mandatory autograph session for players and wearing a Michael Irvin Cowboys jersey on the team plane after a bad loss in Dallas. And, finally, about getting into a trainer's room fight with ex-teammate and Eagles "ambassador" Hugh Douglas.
Owens will argue that Douglas had no business in the trainer's room and that Douglas started the fight by accusing Owens of faking an injury -- and Owens will be right.
But the Eagles will point out that after the fight with Douglas was broken up, Owens challenged other Eagles to take him on -- including McNabb. The Eagles wanted Owens to apologize to McNabb face-to-face; Owens eventually apologized by reading a statement to reporters in front of his house.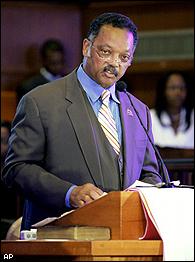 AP
Jesse Jackson's latest mission -- getting T.O. back on the field.
Jackson said Tuesday on ESPN2's "Cold Pizza" that after Owens and his mother spent the weekend talking and praying with him, Owens left a phone message for McNabb. Jackson said he wasn't sure if McNabb returned the call, but his point was that Owens is "showing contrition" and that he badly wants to mend the relationship with McNabb and play for the Eagles.
Reid's private reaction to that is almost certainly: "Over my dead body."
Jackson and Upshaw will contend that if the Eagles won't release Owens, he must be allowed to practice as usual with the team and to start games and play as many plays as he always has for them when healthy. The arbitrator might even ask Reid for assurances that Owens will return to full participation.
Reid almost certainly will respond that he's under no obligation to promise any of that.
All of which is why the NFL will encourage the Eagles to compromise, cut their losses and let Owens go to another team. Because Owens is a vested veteran, the Eagles would owe him the rest of this year's salary if they cut him. So maybe the team agrees to pay him half that and set him free.
Of course, after putting up with Owens for half a season, the Eagles don't deserve to watch him wreak even more revenge on them by suddenly turning into a model citizen and helping another team win.
But the NFL, which cares most about its image, will want this dispute settled quickly and relatively quietly before Owens turns it into a PR nightmare.
That's basically what happened in 2004, before Owens' grievance went to arbitration. David Joseph, who then represented Owens, missed a new filing deadline for free agency. So the 49ers, who had decided they'd had enough of him, put Owens on the trading block. The best offer came from Baltimore -- a second-round pick.
The NFL signed off on the deal.
But Owens had his heart set on catching passes from McNabb in Philadelphia. Owens began to campaign in TV interviews for his "freedom" and compared himself with civil rights leader Rosa Parks.
For the record, when the 49ers used the franchise tag on Owens in 2000, he publicly compared it with slavery. Team officials feared further negative publicity Owens might cause -- he had accused management and coaches of racist behavior before -- and they soon agreed to negotiate a new deal with him.
As it turned out, Joseph made a bad deal for his client, and Owens was soon unhappy with it. But was that the 49ers' fault? Was it the NFL's fault that Owens' agent missed the earlier free-agent deadline while agents for eight other players did not?
Rules are rules, unless you're T.O.
As a team executive told me then: "Owens made such a stink, even invoking the name of Rosa Parks, that the NFL just wanted it all to go away."
The NFL forged a compromise, voiding the trade to Baltimore, which got a measly fifth-round pick for compensation. The 49ers got only a fifth and a defensive end, Brandon Whiting, who wouldn't help them. Owens got his way.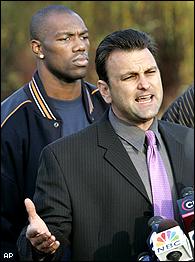 AP
T.O. would be smart to keep Drew Rosenhaus in the background right now.
The Eagles didn't have to renegotiate Owens' 49ers contract, but they did. Yet Joseph again agreed to a below-market deal. And Owens happily signed it despite a warning from the union.
Was that the Eagles' fault?
After Owens returned ahead of schedule from a broken leg to catch nine passes for 122 yards in a Super Bowl loss to New England, he dumped the unknown Joseph and hired superagent Drew Rosenhaus. Still, the notoriously tough Eagles wouldn't budge on a new deal for Owens, and after a report that Rosenhaus was considering dumping Owens, the agent upstaged the apology Owens read with an over-the-top performance pledging loyalty to his client while dodging cross-examination by repeatedly telling reporters, "Next question."
Now, according to a source close to Owens, you'll be seeing a lot less of Rosenhaus and a lot more of Jackson.
The source says Jackson will not attend Friday's hearing. But he's definitely making his impact felt in interviews and behind the scenes.
For Owens, aligning himself with Jackson is a shrewd move -- and vice versa. Jackson's mere presence will be even more intimidating to the NFL than Owens can be. You can argue Jackson has far more important issues with which to concern himself. Yet Owens has become the most talked-about figure in sports, and by helping fight for Owens' rights, Jackson can only increase his visibility and his popularity among T.O.'s many fans.
Jackson, says the source, is "concerned" that Eagles players will fear reprisals from an our-way-or-the-highway management if they don't testify against Owens at Friday's in-house hearing.
Eagles management is in trouble in this arbitration case.
Then again, this team was overmatched against Owens from the day it signed him.
Skip Bayless can be seen Monday through Friday on "Cold Pizza," ESPN2's morning show, and at 4 p.m. ET on ESPN's "1st & 10." His column appears twice a week on Page 2. You can e-mail Skip here.