By Skip Bayless
Page 2
Thirty-two days. Going on five weeks. Only in college football: Texas and USC haven't played a game since way back in 2005.
Imagine the NFL making conference winners wait 32 days to play the Super Bowl. Imagine the outrage from coaches, players, fans and media members.
Especially media members.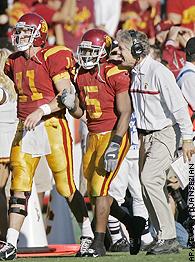 AP Photo/Kevork Djansezian
The Longhorns may have a tough D, but stopping Leinart, Bush and Carroll isn't going to happen.
How many ways for how many days can you analyze one football game?
Which -- at long last -- brings us to tonight's national championship game between the in-Vince-ible Longhorns and the overconfident, overfed, overrated, overanxious-to-make-NFL-millions Trojans. At least, that's the final impression I'm left with after watching 32 days of analysts slowly talk themselves out of USC and into Texas.
Astonishing things have happened in the endless lull before this epic storm. Mack Brown has turned into Vince Lombardi. Vince Young has turned into a bigger, stronger, faster and more powerfully armed Joe Montana.
The Longhorns now have three running backs better than Cedric Benson, who went fourth overall in last April's NFL draft. They've suddenly become deeper at receiver than USC, and just as talented. Their offensive line has simply matured into America's best.
And holy Tommy Nobis, their defense has gotten so athletic and fast and brilliantly coached that Peyton Manning's receivers would struggle to get open against this secondary before Manning went down under a heap of burnt orange.
Yes, for nearly five weeks, you've heard the Horns have fire in their eyes because they "get no respect." That, say so many analysts, gives them a huge psychological edge over a bored USC team trying to get excited about playing for yet another national title.
Are these Hollywood Fat Cats ever in trouble.
Or so I keep hearing and reading as the media pendulum keeps swinging toward the in-Vince-ibles.
And I just don't get it.
Maybe I'm the only crazy one. Maybe I'm as wrong about this championship game as I was about last year's, when I actually gave Oklahoma a pretty good chance against USC, which won 55-19.
But in these Longhorns, I'm seeing another overblown product of a pretty bad conference -- Oklahoma's conference, the Big 12. So much has been made of Texas' getting no respect that Texas is getting too much respect. Thirty-two days later, the Fat Cats must feel a little like underdogs.
No doubt this has played into the hands that Pete Carroll must be rubbing together. You can't turn on ESPN without hearing an analyst say "don't underestimate" this or that about the in-Vince-ibles ... or seeing Mack Brown get more and more attention for saying Texas doesn't get enough attention ... or even being entertained by a Kenny Mayne-style feature by Steve Cyphers on how well the Texas line protects in-Vince-ible.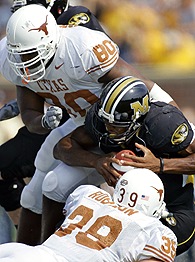 Sorry, Longhorns: Beating up on Missouri didn't prepare you for USC.
You can bet the Fat Cats are watching, too.
And quietly seething.
And preparing to put on another show against another fraudulent Little 12 power.
Granted, these Longhorns are a little better than last year's Oklahoma. But win-the-game better? Even make-it-a-game better? Last year, in-Vince-ible's second season as starting quarterback, Oklahoma shut him out 12-0.
That Oklahoma team wound up having two players drafted in the first round (offensive tackle Jammal Brown and receiver Mark Clayton), three in the second (safety Brodney Pool, receiver Mark Bradley and defensive end Dan Cody), one in the third (receiver Brandon Jones), one in the fourth (cornerback Antonio Perkins), three in the fifth (safeties Donte Nicholson and Michael Hawkins and linebacker Lance Mitchell) and one in the sixth (offensive lineman Wes Sims).
And those draftees did not include 2003 Heisman Trophy winner Jason White, the quarterback, and last year's Heisman runner-up, running back Adrian Peterson.
That's why, one year ago, the point spread for Oklahoma-USC was pick 'em.
And USC could have won 100-0 because Oklahoma hadn't faced anything like USC's combination of speed and power or Matt Leinart's passing accuracy and artistry.
This year, USC is favored by 7½.
It should be more like 17½.
Yet all you hear is that in-Vince-ible will wreak havoc on USC's weak link: it's defense. Yes, off last year's unit, defensive tackle Mike Patterson was drafted in the first round and defensive tackle Shaun Cody and linebacker Lofa Tatupu in the second.
Other than that, though, only backup quarterback Matt Cassel was drafted, in the seventh round. So a ton of talent remains at USC -- even on defense.
And after an injury-plagued, out-of-whack first four or five games, that defense has slowly gotten quietly good. Real good.
Yet even though it leads the nation with 37 takeaways, the USC defense gets no respect.
Crosstown rival UCLA gave the 2004 USC team a game. This year, UCLA entered its Dec. 3 finale at USC averaging more than 40 points a game. USC led 66-3 before UCLA scored two late touchdowns against Trojans backups. USC, defenseless? Texas wishes.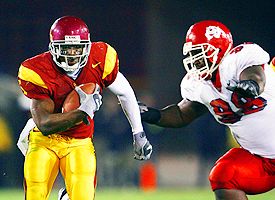 Jeff Gross/Getty Images
Reggie Bush is averaging 8.9 yards per carry. Good luck, Texas.
By the way, against UCLA, Leinart played the worst game of his college career.
And USC scored 66.
In his two national championship games, Leinart has thrown eight touchdown passes against zero interceptions.
Texas has no real idea what it's getting into.
This is the eighth or ninth bowl game USC has played this season. USC served as the equivalent of a bowl for nearly every team on its schedule. Oregon gave USC its best shot in Eugene. USC, 45-13. Look out for Arizona State in Tempe. USC won the second half 35-7 and the game 38-28.
Notre Dame broke out the green jerseys and leprechaun dust in South Bend, played a near-perfect game -- and still lost 34-31 when Leinart converted the College Football Play of the Year, fourth-and-9 from his 26.
Game after game, challenge upon challenge. High-powered Cal in Berkeley? USC, 35-10. Upstart Fresno State, lying in the weeds between Cal and UCLA? Reggie Bush 50, Fresno State 42.
USC did not play a Big 12 schedule.
Then again, USC did not have to play at Ohio State.
But for Texas, that game was the first sign that, for Mack Brown, this was a meant-to-be, Phil Mickelson-at-the-Masters season. Remember Mickelson's first victory in a major, in 2004 at Augusta National? That week, Mickelson walked the fairways wearing a smile so serene it seemed almost creepy. It was as if he had been hypnotized. Or brainwashed. Or abducted and inhabited by aliens.
Mack and Mickelson are good buddies -- and kindred spirits. Like the pre-2004 Masters Mickelson, Mack has always had the talent but hasn't been able to win the big one.
After that Masters, a giddy Mickelson told Mack, "Now it's your turn!"
This season, Mack has worked with Dr. Richard Coop, the sports psychologist who has successfully reshaped the thinking of several pro golfers. Mack's transformation has been nearly as startling as Mickelson's was. Mack is so what-the-heck loose it's almost scary.
Of course, it's easier to let go and have fun when Vince Young is your quarterback. This young man is a tremendous college football player -- a rare leader and winner and face-saver for his head coach. Young's transformation as a passer -- even with that wristy flip -- has been eye-popping.
Still, Young isn't good enough to do what King Kong does -- whip three T-Rexes (Leinart, Bush and LenDale White) by himself.
No way Young's team would have won at Ohio State if Buckeyes coach Jim Tressel hadn't played musical quarterbacks with Justin Zwick and Troy Smith. Ohio State led 22-16 going into the fourth quarter when Tressel inexplicably went back to Zwick. If Tressel had settled on Smith before the Texas game, Ohio State might have been playing USC tonight.
The Longhorns' next break came against Oklahoma. Adrian Peterson (sprained ankle) tried to but couldn't play. A healthy Peterson, who had 240 yards on 32 carries as a freshman, would have made a big difference. Texas still might have won, but not 45-12.
Otherwise, the Longhorns' toughest regular-season opponents (Colorado, Texas Tech and Kansas) weren't all that tough and had to play in Austin.
And now you're telling me Texas is capable of holding up its end of the bargain in what's being billed as the greatest college football matchup ever? That isn't meant to be.
Carroll, an underrated defensive football coach, has had 32 days to prepare his underrated defense for in-Vince-ible.
And Texas has had 32 days to think -- and think -- about the magnitude of this game. The Longhorns can talk all they want about the experience they gained winning last year's Rose Bowl.
But that had nothing to do with this Rose Bowl.
The Fat Cats will win this one, 35-17.
Skip Bayless can be seen Monday through Friday on "Cold Pizza," ESPN2's morning show, and at 4 p.m. ET on ESPN's "1st & 10." His column appears twice a week on Page 2. You can e-mail Skip here.