By Skip Bayless
Page 2
Houston, you have a prob- … yeah, you know where I'm going.
Seriously though. Your Texans have looked a gift horse in the mouth -- a Pegasus who could take them over the rainbow -- and said, "Yeah, but … "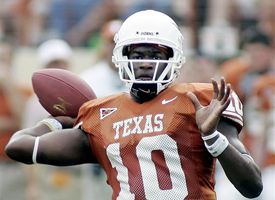 Eric Gay/AP Photo
Vince Young's delivery may be a little funky -- but that won't stop him from becoming a huge star.
Apparently, your Texans have been working extremely hard talking themselves out of taking Vince Young -- who hails from Houston, of all places -- with the draft's No. 1 pick. Your only consolation? It sounds as if your Texans aren't alone. Many more teams seem to be preparing to make the same mistake.
Heck, the way the NFL works on draft day -- monkey see, monkey don't -- Young could slide the way Aaron Rodgers did last year. Once the 49ers, picking first, considered Rodgers but opted for Alex Smith, team after team had a building excuse to pass on Rodgers … who finally went 24th to Green Bay.
Then again, comparing Vince Young with Aaron Rodgers is like putting Peyton Manning and Ryan Leaf in the same sentence.
Young will turn out to be by far the most valuable player -- and leader -- in this draft. (For the record, I wrote a year ago that Cadillac Williams would be the best player in the draft, and Tampa Bay stole him with the fifth pick.) If Texans owner Bob McNair doesn't overrule his football decision-makers and insist on taking Young, this franchise will regret it for a long, long time.
Here lie the Texans, who passed on hometown product and Hall of Famer Vince Young.
Houston, your football team's front office is looking like the dumbest bunch of Texans this side of a Bush skit on "Saturday Night Live." And I don't mean the Bush the Texans probably will take: USC's Reggie.
Several league sources say general manager Charley Casserly will be fired after the draft for all the poor decisions he made in building this expansion team. Texans sources say Casserly has threatened to quit -- as if he doesn't deserve to be doubted after a 2-14 season. Yet Casserly remains in charge of making what could be the most crucial decision in team history!
Well, at least new coach Gary Kubiak probably wants the media to believe Casserly has final say. That way, Kubiak can blame a long-gone Casserly if Young turns out to be much better than the player the Texans take. Kubiak has told sources around the league that he's a "Vince guy," but Casserly has been a "Reggie guy" from the start.
For sure, that's what Casserly has been telling media members since the Texans "won" the first pick. And every move Casserly and Kubiak have made through the offseason has all but screamed, "We're taking Reggie!"
They exercised the $8 million option to keep former No. 1 pick David Carr from becoming a free agent. That could have allowed them to trade Carr, who has the tools and potential to perhaps have brought a first-round pick in return. Instead, the Texans dedicated themselves to making Carr a success by giving him the weapons and blockers he hasn't had.
They acquired receiver Eric Moulds, which was a very good move, and tight end Jeb Putzier, which wasn't bad. Now Carr will have three receiving options beyond developing stud Andre Johnson. If he's doubled, Carr can look for Moulds or Putzier … or Reggie Bush.
Don't get me wrong -- Bush will be a Pro Bowl back. But Vince Young will be an MVP -- especially if he's allowed to strap his hometown team on his back and carry it into the playoffs.
Carr isn't anywhere near a bust, but he doesn't belong in the same breath with Young. He isn't a leader, a winner, a franchise changer. So it's amusing to hear the Texans (and other teams) say, "We already have a quarterback." Yes -- but you don't have Young.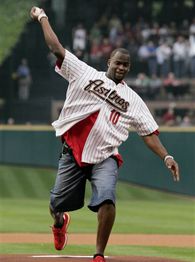 Dave Einsel/AP Photo
Teams shouldn't be all that worried about Vince's extracurricular activities.
Sure, if Casserly is allowed to make -- or at least influence -- this monumental decision, he'll push to build around the quarterback he staked his reputation on in Houston. He'll reach for every excuse not to take Young -- and there are many. Many teams have Matt Leinart rated above Young, which is absurd.
Leinart -- not Jay Cutler -- is this draft's most overrated quarterback. More on that next week.
But here's the punch line in Houston: The Texans have worked so hard to talk themselves out of Young that they're now talking themselves into North Carolina State defensive end Mario Williams. Huh?
No doubt this could be a negotiating ploy. The Texans didn't have a visit scheduled with Williams until after their first sit-down with Bush's agent, Joel Segal, who obviously expressed some jaw-dropping contractual wishes. Still, the Texans aren't the only team falling head-over-better-judgment in love with the 6-foot-7, 295-pound Williams.
Baaa! go the NFL sheep. If one team expresses awe over a player, others begin to see greatness that simply isn't there.
In all my years following NFL drafts, I cannot remember a player rising so far so fast so late. Several sources say the Texans' fascination with Williams goes beyond merely threatening to take him if Segal won't ease off his demands. The Texans are genuinely considering him.
Mario Williams doesn't belong in the same paragraph with Vince Young.
The best thing Williams has going for him is that Julius Peppers played down Tobacco Road at North Carolina, and Williams and Peppers have one thing in common. They're both basketball tall. That's about it.
Otherwise, Williams doesn't belong in the same zip code with Peppers. When I watched Peppers in college, he jumped off my screen. When I watched Williams' 7-5 NC State team, he didn't once catch my eye.
An independent NFL scout who was assigned to three NC State games told me: "If they hadn't told me to watch Williams, I wouldn't have noticed him."
This new emperor doesn't have nearly enough clothes to go in the first five picks, let alone No. 1.
But no doubt the Texans have comforted themselves with the growing dirty laundry list of Young's negatives. He had a poor initial score on the NFL's intelligence test. He's represented by a Houston lawyer who's a family friend with only one previous NFL client. He could be distracted by too many family members and friends if he played in Houston.
Word is that Young has already bought four cars, and that he has already started charging for his autograph. He wore jeans when his national champ Texas Longhorns visited the White House. He has gone a little too Hollywood, making appearances at Houston's NBA All-Star Game, the Astros' opener and with Andy Roddick at a tennis exhibition.
He has an unorthodox below-the-ear flip of a delivery. He played almost exclusively in a shotgun offense at Texas. I could go on, but not one of these knocks scares me about a player who obviously scares old-guard NFL executives and coaches to death.
They don't know quite what to make of Young because, quite simply, there's never been anyone quite like him. He's not Randall Cunningham, or Doug Williams, Michael Vick or Donovan McNabb.
He's simply Jordanesque.
Conventional NFL evaluators should quit thinking of him as a quarterback and just consider him a playmaker. An igniter. A moneyback, with a guarantee.
A coach (and former NFL player) whose team is picking in the middle of the first round attended Young's pro day workout and looked past the delivery to the intangibles.
He said: "You can see why other players will follow this kid. He has this undeniable presence, this incredible confidence, this swagger.
"You can't call him Michael Jordan, but he's made of the same stuff. Jordan came into the league without a picture-perfect jump shot, so he said, 'Watch this,' and he taught himself to shoot. You can tell this kid will do whatever it takes to prove everyone who doubted him wrong."
Jordan, remember, went third in the draft.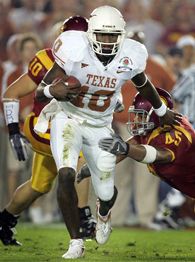 Chris Carlson/AP Photo
When Young takes off in the open field, there's no one like him.
Now all the Texans need to do is block out everything and look at the tapes. They do not lie.
Look at the last two Rose Bowls, and last season's Texas at Ohio State game. At 6-5 and nearly 240 pounds, Young is so big, so strong, so durable and so much quicker than he appears to be that even Ohio State's defense, which will have four first-round picks, couldn't keep him from buying time and picking them apart with every kind of pass he needed to throw.
They don't look pretty leaving his hand. But focus on the results. They spiral. They have zip and they have touch. They're virtually always aimed at the most open receiver, and invariably they're on target.
Most importantly, Young is a pass-first quarterback. He takes off only when his receivers are covered -- as he did on the 8-yard touchdown bolt that beat USC in the national championship game.
Young outgunned a USC offense that could have five first-round picks this draft. Young ran championship rings around the best defensive coach in college football, Pete Carroll, who had almost six weeks to prepare.
Two years ago, Young told Texas coach Mack Brown, a perennial big-game loser, to just let Young be himself and everything would be OK. And Young took Brown on a magic carpet ride that saved and made the coach's career. That's what he'll do for some lucky NFL coach.
If New Orleans passes on Young, that will be a huge mistake. Ditto for the team that once lived in Houston -- the Titans -- if they let offensive coordinator Norm Chow talk them into the quarterback he coached at USC: Leinart. And for the Jets and Packers and 49ers and Raiders.
Several mock drafts have Young going seventh to Oakland. But don't count on that.
The Texans will make the dumbest mistake. But other lemmings will follow them over the draft-day cliff.
And Vince Young will haunt them all for years to come.
Skip Bayless can be seen Monday through Friday on "Cold Pizza," ESPN2's morning show, and at 4 p.m. ET on ESPN's "1st & 10." His column appears twice a week on Page 2. You can e-mail Skip here.