By Skip Bayless
Page 2
LeBron!
Sorry, just wanted to keep your attention for six letters. This isn't about LeBron. Goodbye.
No, forgive me, this is about the defending National Basketball Association champions.
That's all.
Just about the team that has won two of the last three titles and three of the last seven. About the team a majority of analysts picked (in October and again in April) to win it all this season. About the -- for the clueless out there -- San Antonio Spurs.
Yes, about the non-LeBrons, the Team Everyone Wants to Go Away, the one that bores people to fears -- fears of "please don't let the Spurs ruin another NBA Finals."
Forget the Alamo.
So why in the name of Davy Crockett am I writing about the team that as of a couple days had about as much chance of surviving as those valiant souls who once defended that little mission in what is now downtown San Antone against General Santa Anna's vast army?
Because of an outrageous injustice, that's why.
Because in Dallas, the refs have treated the defending champs like they're Memphis Grizzlies. These games have had more shockingly bad calls than "When a Stranger Calls." In Game 3 they fouled out two-time MVP Tim Duncan, and Dallas won 104-103. In Game 4 they fouled out All-Star Manu Ginobili (who had scored 26 points in 24 minutes, including 4-for-4 on 3s), and Dallas won in overtime to go up 3-1 in the series.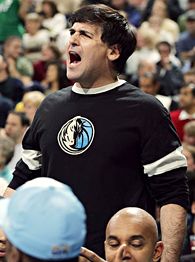 David Zalubowski/AP Photo
Apparently Mark Cuban has gotten into the heads of the refs in this series.
No, while Duncan once again has been the best player in the playoffs, the MVP of this series has been Mark Cuban. He owns the Mavericks -- and, apparently, the minds of the refs.
Lakers coach Phil Jackson was right earlier this season: Cuban complains so much about officiating that he intimidates the refs at the American Airlines Center. Or at least he shames them into being absurdly fair to the home team.
That $200,000 fine Cuban had to pay after Game 1 in San Antonio was the best cookie-jar money this billionaire ever spent. He had accosted the refs on the floor during San Antonio's 87-85 win -- and he had criticized the way refs are selected for the playoffs in his blog. This, of course, was just the latest in Cuban's ref-bashing fines. He once said he wouldn't hire the NBA's director of officials "to manage a Dairy Queen."
Now in Dallas, he has turned the refs into soft ice cream. This time, the 200 grand fine and all the attention it detonated had this effect on the Game 3 and Game 4 officiating crews: They gave Cuban's team the benefit of nearly every doubt. Bully for Cuban.
The Spurs were privately furious after both games in Dallas.
Of course, the refs also could be subconsciously influenced by the general attitude of media, fans and the NBA marketing arm. Please, no more Spurs. Maybe the guys with the whistles are starting to feel the same way -- and Cuban knows it.
From his seat near the Mavs' bench, he has worked the refs like a puppet master.
And he was at it again Thursday evening.
Near the end of Wednesday night's Game 5 -- in San Antonio -- a loose-ball scramble ensued near midcourt. The Mavs' Jason Terry wound up on his back trying to control the ball with Ginobili diving over him after it and Michael Finley trying to wrestle it away while hunched over Terry.
Whistles blew. A jump ball was called.
But as Finley let go of the ball and stood up, Terry sucker-punched him. Finley later told teammates and San Antonio officials that it was a closed-fisted shot to the groin. The TNT replays caught only Finley having to be restrained by teammates.
Curiously, none of the three refs saw a punch thrown by the guy with the ball -- or perhaps they chose to look the other way with the game on the line in the final seconds.
But Spurs officials had videotape of the punch to the privates and fired it off to the league office. Terry was correctly suspended for Friday night's Game 6 in Dallas. A rule is a rule: Any closed-fisted punch means automatic suspension.
This was no judgment call. The tape didn't lie. But now it's as if Dallas has gotten away with so much in this series that Terry thinks he can get away with going Andrew Golota on ex-teammate Finley.
Cue Cuban, who began firing off e-mail responses to media outlets saying that Finley did a "pile driver to Jason's head" and that Jason should be allowed to protect himself and that, yes, he should have been fined, but no, Jason doesn't remember throwing a punch and should not have been suspended.
Beautiful: Cuban is turning the Mavs into victims. And he knows most of his fans -- and some in the media -- will buy his baloney. Deep down, the refs probably will, too.
The Spurs have practically no chance in Game 6. Yes, Dallas will be down a quick guard who scored 32 points while playing 51 minutes in the Game 4 overtime win. But you watch: Duncan or Ginobili will be whistled for foul No. 6 before this one is over.
Team Turnoff will be eliminated. The NBA world will be safe.
This steams me because I respect the Spurs as much as I do any team in sports. Yes, I've called Duncan the most boring superstar in sports history -- but that's because of the way he's perceived by the instant-gratification masses. LeBron's dunks dominate "SportsCenter." Duncan's sensational subtleties do not.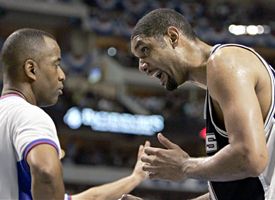 Eric Gay/AP Photo
Tim Duncan has been the victim of some very suspect foul calls.
But was that a reason to treat him with no more respect than Erick Dampier in Game 3? Just because he struggled much of the season on a sore foot, did he suddenly lose the prestige he has built in winning three Finals MVPs in three tries and in making first team All-NBA in his first eight seasons?
Two of Duncan's six fouls were offensive fouls without the ball. I defy you to study the tape and tell me these should have been called. The sixth came when Dirk Nowitzki went hurtling down the lane and Duncan merely ran across his path, making sure to hold his hands back over his shoulders and away from Nowitzki's arms. But Nowitzki stepped on Duncan's foot and went crashing into the photographers.
Referee Joey Crawford, one of the best, was standing in the corner near Cuban. He blew his whistle. Then he walked all the way to the official scorer before divulging if Duncan was gone. You wonder if Crawford was trying to think of a scenario in which he could pin it on any other Spur.
In Game 3, the Mavs shot 50 free throws -- 22 in the fourth quarter! Yes, Avery Johnson's Mavs are attacking the basket like never before. But does that mean the Spurs have suddenly turned from the NBA's best defensive team to the worst?
Way to go, Mark Cuban.
With Duncan gone, Nowitzki was able to grab an offensive rebound, get fouled and make the free throws that won it 104-103.
In Game 4, Ginobili's fourth foul was called as he had inside rebounding position on the taller Nowitzki and jostled with him. This happens nearly every possession under every basket every night. Yes, Ginobili has earned a reputation for flopping. But does that mean he deserves a phantom foul when he's on fire in a game that could determine the NBA championship?
Ginobili's sixth foul came after he had made a running jump at Terry on the 3-point line. Terry faked the shot and went by him. As Ginobili trailed him, Terry suddenly pulled up and jumped backward, elbowing Ginobili in the chest. Tweet! Ginobili was gone with 2:28 left.
Look at it again and tell me it's a foul on Ginobili.
With 8 seconds left, the NBA's best perimeter defender, Bruce Bowen, was whistled for a cheap foul on Nowitzki and yelled to no one in particular (though commissioner David Stern was within earshot) that this league used to let players decide playoff games.
Regulation ended with Duncan having to shoot a running one-hander from 8 feet for the win. The ball hit the front of the rim but couldn't climb over. The Spurs have never trusted Duncan to create his own last-second shot. That ball would have been in Ginobili's hands.
Maybe they would have won. Maybe not. Now they're down 3-2 going back to Dallas.
Rejoice! The NBA could wind up with Cuban vs. LeBron in the Finals.
Skip Bayless can be seen Monday through Friday on "Cold Pizza," ESPN2's morning show and at 4 p.m. ET on ESPN's "1st & 10." His column appears twice a week on Page 2. You can e-mail Skip here.