By Skip Bayless
Page 2
In the end, it was all about 23.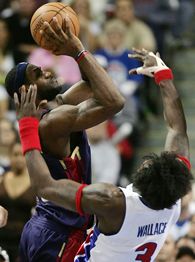 Elsa/Getty Images
The Pistons barely left LeBron room to breathe in the second half of Game 7.
That's how many points No. 23's Cleveland Cavaliers scored in Sunday's second half. And that was mostly LeBron James' fault.
But of course, Sunday's end was more about Friday night. That's when LeBron's team led by three with 3:15 left -- at home. That Game 6 door should have been slammed on the Detroit Pistons, whose throats were tightening like the rim their shots kept bouncing off.
That was almost all LeBron's fault.
I know, I know, I know: The kid is just 21.
But LeBron worshippers cannot have it both ways. You cannot tell me he's better than Michael Jordan was at this stage -- some of you contend at any stage -- then defend him when he fails because he's barely legal.
I think we'd agree that he's the oldest looking (and playing) 21-year-old NBA player we've ever seen. So old, physically and mentally and facially, that we sometimes find ourselves wondering if somewhere along the way, somebody lost track of his age.
I mean, look at pictures of Jordan and Magic and Bird at the age of 21 and you'll laugh at how skinny and baby faced they look.
LeBron? No, this "kid" is a man now, and he must be treated as such.
Off with the kid gloves. No more premature myth making. LeBron James has the size, strength, skill and instincts to be an all-time great player -- more Magic than Michael. But he isn't yet.
Let's be honest: He isn't even close.
When it really counted in Games 6 and 7 against a very good, but not great Pistons team, LeBron was a colossal disappointment. At around 6-foot-8 and 250 pounds, he came up small. He shrank under the pressure.
He still has a long way to go as a leader, a shooter and a clutch scorer. Beating the psychologically fragile Gilbert Arenas and the Washington Wizards was one thing, closing out the Pistons quite another. This postseason was a start, but only that.
If he's really serious about becoming a great player, he'll hire a shooting coach and shoot 1,000 jumpers a day through the offseason. Michael and Magic taught themselves to be very good shooters in their third or fourth pro seasons. Yes, LeBron improved dramatically from last season -- but he still has a long, long way to Michael or Magic.
That leaning-tower jumper of his, with that awkward-looking release point anywhere from above his left to above his right ear, is terribly inconsistent, especially under pressure. Sometimes, he wills in 3-pointers on pure emotion. But mostly, he's just another streak shooter -- more cold than hot.
When dared to shoot outside by a triple-teaming defense collapsing into the paint, LeBron has no pure stroke to rely on. If that develops, look out, legends. But right now LeBron is still pretty much an overhyped creation of video games and "SportsCenter" dunks. More Michael Vick than Michael Jordan.
Right now, he's a little more NFL than NBA. Near the end of the season, the kid who didn't know his own strength began to discover and embrace it. In clutch situations -- in which he had missed too many jumpers -- he began to realize that the surer way to slam the door was by becoming "LeBrawn."
Down the lane he came with locomotive force, sometimes using his off arm as a shiver, powering through one, two, even three defenders and getting cleanly to the glass or rim for a dunk or an ambidextrous trick shot. LeBron is sensationally skilled around the basket -- some Steve Nash reinforced with Baby Shaq. LeBron can be overpowering, which can jar the psyches of opposing shooters while inspiring other confidence-challenged Cavaliers.
LeBron's teammates are often thinking, "We've got No. 23 and they don't."
That was the case for much of Game 6 and the first half of Game 7. As the Cavs were cutting Sunday's early 13-point deficit to two at the half, an ABC mike caught Damon Jones in a timeout huddle reminding his teammates about "force and power."
Translation: "You keep powering to the rack, LeBron, and good things will keep happening."
Game 6, obviously, was the one the Cavs had to win if they were going to finish off one of the most amazing upsets in playoff history. But in Friday night's fourth quarter, LeBron's most glaring early-career deficiency had to open the eyes of the blindest LeBron worshipper.
He committed four turnovers in a nail-biter of a fourth quarter. Why does LeBron bite his nails during fourth-quarter timeouts? Because he's scared. Nothing to be ashamed of -- he's human, after all.
But he's going to have to teach himself to channel that fear into fourth-quarter fury. Magic and Michael did. They made their names in these situations, and so far, LeBron's name (and age) are all that save him from late-game criticism.
The truth is, he's choking.
He also failed to call time on the final possession to set up a potential overtime-forcing 3-point shot.
And I remain unconvinced that his gift for passing the basketball is matched by a gift for taking over in the clutch. Magic and Michael displayed that rare intangible in college. Obviously, LeBron could still be in college.
But will he mature into a great clutch player? Maybe. Maybe not.
Yes, two of those late Game 6 turnovers came when Chauncey Billups and Lindsey Hunter made sly blind-side steals. But he must learn to be more careful with the ball. He must prevail as much with skill and court sense as raw power. He must figure out how to create better clutch shots -- or to create them for teammates.
I know: The Pistons survived Game 6 by retrieving four lucky-bounce offensive rebounds in the final three minutes.
And I know: LeBron's teammates stunk in Game 7. Jones, Larry Hughes, Eric Snow, Donyell Marshall and Flip Murray combined to shoot 4-for-25, including 1-for-8 on 3s.
But LeBron's team was down only two points at the half and lost 79-61. LeBron: 21 points in the first half, six in the second. That happened in part because Detroit coach Flip Saunders -- yes, finally give him credit for making defensive adjustments -- threw some new wrinkles at LeBron in the third quarter. The Pistons began by trapping him just past half court and making him give up the ball.
And the Cavs looked lost.
LeBron's fault.
If he's going to play point/shooting guard, he should have run straight to the teammate he passed to out of the trap, as Nash does, and get the ball back and run the offense. Or, if he's comfortable letting Hughes run the point, as Hughes did for a successful first-half stretch, then fine, let him know that and start posting up Tayshaun Prince.
Whatever, take over. Direct traffic. Lead. Make teammates believe that if three Pistons collapse on you, you will get them good shots they will make.
LeBron looked lost, too.
He kept forcing up second-half shots and didn't make one until the game was out of hand, with 4:42 left in the fourth quarter. He wound up 1-for-9 in the second half -- with zero assists.
That is unacceptable for a player who (somehow) made first team All-NBA and finished second in MVP voting.
Yes, rookie coach Mike Brown also looked lost late in the third quarter, when he failed to call a timeout as Detroit broke it open with a 10-2 run sparked by Hunter's offense and defense. But Brown did try to take pressure off LeBron after the game by saying, "He logged a lot of minutes and he just ran out of gas."
When LeBron was asked if that had been the case, he gave a terse "no" and stared at uncomfortable questioners for a few long seconds without elaborating.
Hmmm. Now we see what LeBron really is made of. He can sign a five-year, $75 million extension with Cleveland this summer, and he recently indicated he's leaning in that direction.
He said: "I'm happy with what's going on right now. I love my teammates and the coaching staff."
But he added: "We'll see what happens."
Now we will.
Yes, he could use a more proven scorer to take some pressure off him. But will LeBron's advisers and posse convince him the failures in Games 6 and 7 were solely the fault of his teammates and coach?
Or will he continue to become a man -- a real star -- by accepting most of the blame?
Skip Bayless can be seen Monday through Friday on "Cold Pizza," ESPN2's morning show and at 4 p.m. ET on ESPN's "1st & 10." His column appears twice a week on Page 2. You can e-mail Skip here.