Imagine deciding one day that you'd like to make it around the world using only your own power. No motors, no sails -- just the energy that you can muster up. On July 12, 1994, intrepid 26-year-old Briton Jason Lewis put that quest into action. In average physical condition and with hardly any money to support the expedition, he set off thinking it would take about two years.
Uncertain if the 26-foot boat, built by friends who had never made one before, would hold up, he began pedaling.
After two broken legs, a crocodile attack, blood poisoning that almost killed him, and being jailed as a foreign spy, he's finally accomplished his 46,505-mile goal. Lewis, now 40 years old, crossed The English Channel making it back into London in October. Admittedly way off on calculating how long the trip would take, Lewis is just happy to be alive after spending a third of his life in foreign places.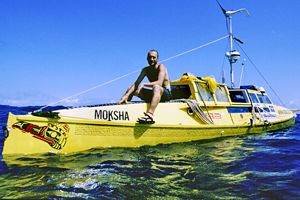 Expedition 360 LLC
With no motor and no sails, Jason Lewis powered his 28-foot boat across oceans by pedaling.
Fresh off completing the first ever human-powered circumnavigation of the world, Lewis recounted his journey to ESPN.com's Graham Bensinger.
Graham Bensinger: How did you come up with the idea?
Jason Lewis: It wasn't actually my original idea. My college friend, Steve Smith, came up with it. He was working as an environmental scientist in Europe at the time (in 1991). He was a little bored with his job and was looking out of his office window one rainy Monday morning and wondering what he could do before he gets locked down with a mortgage and a family. Being an environmental scientist, he wanted to do something that was environmentally friendly also. After he thought of the human-powered approach to doing the circumnavigation, he was surprised to learn that no one got all the way around without motors or the power of the wind. He then came to me. I was actually working for a window-cleaning business that I had in London and as a musician in the evenings. Neither of us had done anything like this before, but he asked me to join him. Thinking that it was just going to take three years to rattle off, I joined thinking that this would be an amazing adventure and get me out of London for a few years on what I thought would be more of a holiday than anything else. That turned out to be quite an underestimation of the whole thing.
Right, and it would have been a rather long holiday to begin with.
The original T-shirts that we made up said 1994-1996. Clearly, we had no idea what we were getting into.
It was initially called "Pedal for The Planet." Why pedaling?
Originally, we were going to pedal the entire way in bicycles across land and on the ocean in a specially designed pedal-powered boat. As we got into the trip, we found that other means of human-powered propulsion were needed. For example, I had to swim across rivers, hike across Hawaii and rollerblade. After a few years, it became something more than just pedal power.
Before the trip even started, what did you need to do in preparation for it?
TRIP TIMELINE
• July 1994: Jason and original partner Steve Smith depart on bikes from Greenwich Meridian Line in London.

• October 1994: Depart Lagos, Portugal, for 4,300-mile trip across the Atlantic.

• January 1995: After 84 days at sea, Jason and Steve arrive at the Turks and Caicos Islands in the Caribbean.

• February 1995: Reach Miami.

• June 1995: Depart Ft. Lauderdale.

• September 1995: Jason is hit by a car in Colorado, breaking both his legs.

• June 1996: Jason and school teacher April depart from Colorado (April bikes while Jason rollerblades).

• September 1996: Jason and April arrive in San Francisco.

• September 1998: After previous failed attempts to reach Hawaii, Jason and Steve leave San Francisco for Hawaii, arriving 53 days later.

• February 1999: Steve leaves the project for good.

• May 1999: Steve pedals off from Hawaii, bound for the island of Tarawa -- 2,200 miles southwest.

• July 1999: After 73 days, Jason reaches Tarawa, escaping blood poisoning along the way that nearly killed him.

• April 2000: Jason and Chris Tipper start pedaling the 1,100 miles to the Solomon Islands.

• July 2000: The remaining 1,100 miles to Australia nearly end in disaster as the boat is nearly shipwrecked and April in desperate need of medical attention.

• July-October 2001: Jason and a group of teenagers and educators ride 3,000 miles through the Australian outback.

• October 2001-March 2005: In debt $45,000, Jason takes time off to work regular jobs.

• June-November 2005: Jason and three others bike and kayak their way up to Singapore. Bandits attack Jason along the way.

• May-November 2006: Jason bikes from Malaysia through Thailand, onto the Tibetan Plateau, into Nepal and finally into India, about 10,000 kilometers.

• February 2007: Jason and friend Sher Dillon pedal their boat 2,000 miles from Mumbai across the Arabian Sea to Djibouti in Northern Africa.

• October 2007: After being temporarily held in Egypt as a possible spy, Jason finally pedals across the English Channel and reaches home turf in London. Total distance: Over 40,000 miles. Total time: 13 years.
We did have big ideas about training and getting in shape, but the reality of not having a sponsor from the get-go meant that we ended up having to do everything ourselves with help from friends and family. We had to build a boat, which took a year-and-a-half alone! We were looking to raise initial startup funds by selling T-shirts and names on the boat for $20. Then, there were a lot of logistics, which included getting the proper visas for the countries that we were going to go into, equipment, [food and medications]. We set off from London in July 1994 quite inexperienced and not particularly fit either.
What was involved in the preparations to make the 4,300-mile crossing of the Atlantic Ocean?
Get the boat fully equipped and supplied up to four months at sea without resupply. We didn't actually load enough food. We had enough for 97 days and the whole trip ended up taking 111 days. When you consider what it takes for a human to survive out at sea for that long of a time, there are an incredible number of small things that you have to think of that you would likely take for granted on land -- from food and life rafts (in case the boat sinks) to medication and bringing equipment to refill cavities. There are all sorts of things humans need to survive such an inhospitable environment such as the ocean.
Considering how long you and Steve were going to be alone together at sea, what was it like pushing off that first day?
This huge silence descended upon us. Only then did what we were getting into really sink in and it felt very intimidating. Perhaps we had bitten off more than we could really chew. We were very nervous during those first few days and weeks. We thought we might be run over by a ship in the middle of the night and we also wondered if the boat would hold up. The guys who built the boat for us were friends of ours, but they had never built a boat before. We didn't even know if the thing was going to float!
So you planned to pedal 12 hours per day in two- or four-hour shifts, seven days a week. How much was that actually followed?
We had no choice but to always have someone pedaling because the boat is designed with only one sleeping compartment in the front and there really isn't anywhere else for someone to lie down. We ended up getting into a routine that seemed to work well. It was two-hour shifts during the day and three- to four-hour shifts at night. ... You can listen to music -- on a tape machine because iPods hadn't yet been invented -- but there's a point at which your body just needs sleep.
Besides the tape player, what did you do to remain sane?
We took card games and others that we could play together, but we didn't actually play them. There were quite a few other things that kept us engaged during the day, from cooking to navigating to fixing things. I took a guitar with me and would periodically sit out on deck and play that. At night time, if you didn't want to listen to music, you just kind of end up mind traveling. You're pedaling away and its pitch black out if there's no moon and all you feel is the movement of the ocean underneath the boat. It's almost like being in a sensory deprivation tank. In that kind of environment, it's very surreal. Your mind wonders and you think about all these things that you wouldn't otherwise think about on land. A couple hours can fly by.
How big was the boat and what exactly did it look like?
The boat was 26 feet long, 4 1/2 feet wide and 4 feet high. It has a sleeping compartment in the front and in the rear is where the food and equipment is stored. In the center compartment area is a cockpit area where two people can sit: one person pedaling and the other person facing the opposite [direction] where a meal can be cooked or the navigation can be done. Then, there's a sliding hatch above the cockpit that can be opened and closed depending on the weather. The whole boat looks like an elongated canoe. It cuts through the water efficiently, which allows minimum friction loss.
Christmas Day, 1994. You both had been pedaling since October and still had a month remaining before you'd reach land.
This was one of the high points of the voyage. It's Christmas Day and we were feeling quite sorry for ourselves sitting out in the middle of the Atlantic about 1,200 miles from land. We were looking forward to our Christmas dinner, which was going to consist of the same dried food that we'd had for over 80 days which we'd rehydrate with water that we were making with our desalinator pump. This was actually part of a British army ration pack and it has a very uninspiring taste.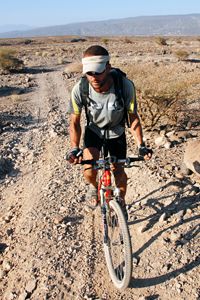 Expedition 360 LLC
Lewis began his human-powered circumnavigation in 1994. He may have thought differently if he realized it would take 13 years to finish.
We found ourselves pedaling towards a ship that wasn't moving. When we called her on the radio, it turned out that it was an AT&T cabling repairing ship that was fixing the underwater fiber optic cable that was running between North America and Europe. When we called up the skipper, at first he didn't believe us and thought it was his crew playing a practical joke. When we got close to the boat and they could see that we were telling the truth, they invited us up on deck and laid out an amazing full-course Christmas dinner and a bottle of red wine. We even managed to take a shower. That was the first time we'd been able to wash the saltwater off of our skin.
January 27th, 1995. After 84 days at sea, you finally hit land in the Turks and Caicos Islands [in the Caribbean]. How great did it feel?
That first landfall that we made was probably one of the highest points of the whole trip because on subsequent voyages the novelty had worn off. We arrived on cold sandy beaches with quite a few islanders waiting to greet us. When we stepped off of the boat onto the boardwalk, we were swaying all over the place for the first few steps. Having been at sea that whole time, we weren't accustomed to being on a static surface.
A local restaurant brought plates of burgers and fries. Apart from Christmas Day, we hadn't had food like this or even a can of Coke. We hadn't had a cold drink in months. I remember going into a store to buy some food and being completely baffled by all of the bright red colors of the detergents because out at sea you only see grays, whites, and blues. I almost wasn't able to look at them. It was pretty overwhelming.
After a few months fundraising in Miami, you and Steve depart Fort Lauderdale in June 1995, but separate following St. Petersburg. How was your relationship?
We'd had a few run-ins on the Atlantic. To be fair, I think it boiled down to two guys with big egos in stressful conditions in a tiny space for three months. We were ready to separate when we reached Miami, but since I had never really been rollerblading before and couldn't initially stay up on them for long, Steve kindly let me hang onto the back of his bike for the first 300 miles.
September 1995. You're run over by a car in Colorado. What happened?
I was a little over halfway across the States and was approaching a town called Pueblo. I had done about 70 miles on skates that day, which was the most I had ever done, but I was determined to get to this town where I knew a bed was waiting for me. I was told that someone could put me up, which sounded pretty good because I'd been sleeping by the side of the road pretty much the whole way through the country with the occasional exception.
At about 5 p.m., just as I was entering city limits, it felt like a steam train hit me from behind and put me into the side of the road. I didn't know what had happened at first because I didn't feel any pain. I actually tried to stand up because I thought somebody might have just stuck their hand out of the their vehicle and smacked me on the back of the head or something as had happened once before down in the Deep South. When I tried to stand up again, that's when I realized I was actually standing on the stumps of my lower legs. I had actually been hit by a car traveling at 40 mph. My rucksack had probably saved my life because it actually shattered the windshield. I was thrown over the top of the car and was lying there with two broken legs. Unfortunately, the driver actually carried on driving from about another mile before another driver who had seen what happened stopped him and made him come back. That was my saving grace because I didn't have insurance and the hospital bill ended up being about $130,000. I was in the hospital for six weeks with two broken legs and a couple more months in a wheelchair. Finally, after nine months of recuperation, I was able to continue.
And this was an 82-year-old driver who had cataracts.
He had been drinking, but he wasn't completely drunk. When they did a vision test on him a few weeks later it turned out that he had cataracts and was in need of an operation. He told police that when he hit me he thought he hit a deer and that's why he carried on driving.
At that point, what did you think your chances were at actually finishing this?
The second day that I was in the hospital my surgeon told me that the left leg had been broken very badly. They were compound fractures, which meant that the bones had come out through the skin. From trying to stand up immediately after being hit, the wound site on my left side was full of dirt and debris. There was a chance of the bone becoming infected and if that happened my left leg would have been amputated below the knee. I think this was really the first time that I realized this wasn't a lark stroke holiday around the world like I thought that I was going on when I first agreed to join Steve.
I'd say so.
(Laughs.) This was a bit more serious. Losing my left leg would have been a high price to pay for going on an extended holiday. I got to keep the leg mainly because of the skill of the surgeon. I decided to give the trip a second chance and perhaps take it more seriously this time.
How difficult was it to skate the remaining portion to San Francisco?
Very difficult. I was at the foothills of the Rockies. Nine months had passed and by this point I had lost all fitness in my legs. It was pretty severe pain. Going up the Rockies was quite a challenge and then I also had the problem of coming down the other side. It's not easy to control your speed when you're going downhill for 12 miles on a very steep grade. I recall one time losing control and having to use one of the runaway truck ramps to stop myself from flying off of the mountain.
You didn't resume the next leg to Central America until February 1997. What did you do in the meantime?
Fundraising and visiting schools. We'd actually been visiting schools in all of the countries so far talking to children about their dreams and aspirations. We used our expedition as a metaphor for following one's dreams. When I was in Colorado, I met a teacher named April. We developed a cultural exchange program that we ended up implementing in some of the schools that we visited along the way.
You went south through California and into Mexico, but the Central America portion had to be abandoned. What effect did El Nino have?
The idea was to get down to Peru through Central America and use the favorable winds and currents to get across to Australia because we needed to hit two points opposite to each other on the Earth's surface in order to achieve a legitimate circumnavigation. In 1997, the El Nino effect was particularly strong and the current had been reversed because of ocean warming. Rather than waiting for another year, we decided to backtrack to San Francisco and try an alternative route pedaling to Hawaii and crossing the pacific diagonally to Australia.
From September to November 1998, you pedaled from San Francisco to Hawaii. Having already spent considerable time at sea, what were your expectations for this section?
Steve and I decided we'd get together again and pedal this section. We'd grown up a bit by this point. We were looking forward to a better crossing and not having the conflict that we experienced on the Atlantic. We had a big educational program with kids going on that was occupying our time. We were sending data back to our Web site so classes could compare and contrast the different size of carbon footprints.
How was the 53-day stretch?
The only problem was that our water-maker broke down. We were surviving using a pump that is normally just used in a life raft because it takes a long time to produce enough water for two people's consumption for an average day.
And you guys were getting along OK?
Yes, but Steve still didn't particularly enjoy being on the water because he had a scary experience crossing the Atlantic. We'd been in heavy seas and the boat was actually flipped over by a big wave and he was washed away and was only saved by a trailing rope wrapping itself around his ankle which kept him connected to the boat. A few weeks before we arrived in Hawaii he was starting to contemplate leaving the expedition. In addition to not liking the water, he was getting tired and disillusioned with the whole transient gypsy lifestyle.
February 1999. Steve announced he would leave the expedition. To what extent did you consider leaving also?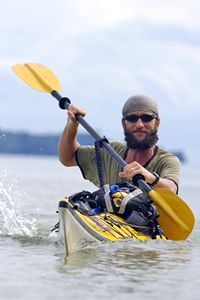 Expedition 360 LLC
During his voyages, Jason was attacked by a crocodile, imprisoned as a spy and nearly died from blood poisoning.
I didn't. I was really into the educational program part of it. It kept me engaged. I was also quite interested to see what it would be like to be completely alone on the ocean, but it ended up being much different than I expected.
How so?
For starters, I underestimated the number of things I'd have to do on the boat with Steve gone. There was a never spare minute to even reflect. It was pedaling for 15 hours, cooking, navigating, updating the Web site, and responding to kids' e-mails.
There was a section called the doldrums which is a stretch about 400 miles wide, north of the equator. There is very little wind, lots of thunderstorms, and the water is actually running the wrong way back to Mexico. I was essentially pedaling in the same spot for nearly three weeks. There was a strong countercurrent running in the opposite direction that I wanted to go. I would pedal for 15 hours and get 15-20 miles ahead and then be pushed back to the same spot when I turned on the GPS in the morning after getting some sleep.
During this period, I got really really lonely and I started talking to myself to keep myself company. I found these different personalities developing in my head during these conversations. There was an Irish, German and French guy. They were quite caricatured, but I would talk to them as the English guy. We'd have arguments together about how to do something and they almost took over my head.
And it's funny now, but I would imagine mildly frightening at the time.
It didn't seem frightening because to me it seemed completely normal. About a week before making landfall, I realized that if I arrived as one of these crazy lunatics rather than Jason Lewis then I'd probably get locked up. To me, out there, in the middle of nowhere, with no one to tell me otherwise, it seemed completely sane.
As if the multiple personalities weren't enough, you also got blood poisoning during this stretch. What happened?
MORE ON THE EXPEDITION
For more on Jason's 13-year circumnavigation odyssey -- including a map of the trip, blog entries, photos and video -- be sure to check out
www.expedition360.com
.
This happened during the same time and I think helped precipitate going a bit crazy. While I was stuck in this countercurrent and being pushed back every day, I was also occasionally getting out and swimming to cool off because it was very, very hot. At that time of the voyage, my skin had erupted in these salt sores which are essentially infected sweat pores. I ended up with these very nasty boils on my body. As I was swimming in the water, a pathogen entered my body and caused the blood poisoning. I knew I was feeling lethargic and debilitated so I was treating myself for dehydration, which has similar symptoms to early blood poisoning. I was writing the blog describing what was happening and a dermatologist in Colorado, who was reading it, thought there was something else wrong than what I was treating myself for. She got in touch through the Web site. I called her via satellite phone and she promptly diagnosed me. Fortunately, I had the antibiotics on board needed to treat the condition. She probably saved my life because if the poisoning had gone to my brain I probably would have been dead in three or four days.
You managed to survive those 73 days alone at sea. Then, the expedition has to go on hiatus from September 1999 to April 2000 because of the southwest Pacific typhoon season. Following that, you pedal 1,100 miles to the Solomon Islands [about 1,100 miles northeast of Australia] where things quickly become dangerous. What was going on?
There were two islands that were in the middle of a conflict. Traditionally, in this part of the world, if there's a disagreement, the islands send warring parties over and they take some heads by literally just decapitating their enemies. They then bring the heads back in canoes to their villages. Of course, cannibalism was also a part of this area until 30-40 years ago also. When we arrived there, they had semi-automatic weapons and motorboats that they had stolen so it was a very intimidating place to pedal into.
In July 2000 you and April pedal the remaining 1,100 miles from Tulagi to Australia. You have 32 days remaining and about 130 miles left and the teacher becomes ill. How sick does she get?
This was April's first time on the ocean. In fact, she had never even seen the sea before she joined me. She was sea sick pretty much from the get-go and it lasted the entire time. To give her credit, she never missed a pedal shift -- even at 3 a.m. in the darkness when she felt as sick as she did.
How close were you to being shipwrecked on the Great Barrier Reef?
The winds were blowing us northwest up towards the Torre Straits and Papua New Guinea and we were trying to cut diagonally across this weather pattern to get down to Cairns. We were basically running out of ocean. We couldn't get far enough south and we were just a few miles from getting wrecked on the Barrier Reef. April was very sick by this time. She had lost about 45 pounds and was actually suffering from internal hemorrhaging -- bleeding. She needed to get off the boat and to a hospital badly. I made the decision to get a tow through the reef, which basically saved both of our lives. That was a section that I subsequently had to go back and finish in a kayak to keep the human-powered part of our trip intact.
From July to October 2001, you are joined by an international team of teenagers and educators. What do you most remember about that?
Up until that point, we had a lot of classrooms following online through the satellite updates on the Web site. This was an opportunity to get teenagers to do the exploring with me on land. We'd cycle for 60 miles a day. At the end of each day, we set up laptops and developed lesson plans around what we had experienced. We then uploaded it to the Web site for the classrooms following remotely to utilize. This is ideally what I'd like to do more of now that the expedition is finished. We've since developed a DVD that we're looking to sell to school markets hopefully sometime early next year.
By the time this ends in October 2001, you are in awful shape moneywise. You owe about $45,000. What are your options at that point?
We'd been running on financial fumes for quite a number of years up till this point. The money was being lent to us by friends. I was continuing on with the hope that a sponsor would back us and we could pay off the debt and keep on going. That didn't happen and I had to get a regular job. I couldn't work in Australia so I took a job back in Colorado with the surgeon who fixed my legs back in 1995. He gave me a job cutting trees on his ranch. After awhile, I got to run the ranch, which I did for about two-and-a-half years. I was then able to pay off the debt and put aside $15,000 to do the next leg through Indonesia.
When the expedition resumed in April 2005, you ran into a little bit more than you bargained for ... I understand you had a run-in with a saltwater crocodile!
Fishermen dropped me off at the point by the Barrier Reef that we previously took a tow through. I paddled through the reef and shortly before arriving on the beach I noticed there were two good-sized [17-foot] crocodiles that were sunning themselves on the sand. As I approached, they both slipped into the ocean and began swimming out to sea under the water. Initially, I thought this is good because they've been frightened away by my presence. A few seconds later the hairs on the back of my neck went up and I see that one of the crocs had come to the surface and was swimming after me at speed.
I remember thinking if I could beat it to land then I had a fighting chance at defending myself. If it caught me in water, I was basically a goner. I managed to hit the beach first. As I sprang out of the cockpit onto land -- that seemed to frighten the croc off again. It went back into the water. A few minutes later I'm starting to load my gear to carry it to the top of the beach and I notice it had come back and was headed for my kayak. If it destroys my kayak, I'm 100 miles from any form of help.
Without really thinking about it, I ran down the beach with my big stocky wooden paddle. Initially, I tried to shoo it away with the paddle, but it latched on with its mouth. After a little tug of war and pushing the paddle further into its mouth, it released the blade. I hit the croc as hard as I could over the head. I broke the paddle blade into two parts which wasn't good because I needed it to get out of there. It did frighten the croc back into the water again and gave me enough time to get the kayak and all of the equipment up on top of a cliff overlooking the beach. I spent the night up there watching the croc swim back and forth near the beach. The next morning I was able to get help and get out of there.
Your luck doesn't get much better. Beginning in June 2005, you're on a six-month, 3,000-mile section to Singapore and you're attacked by bandits. What happened?
I was biking alone in Sumatra and a couple guys drove up along side of me. One of them reached out very quickly and grabbed the camera around my neck. In retrospect, it was my fault for having it visible when I was in a very poor part of the world. They were hoping the strap would break and they could just take off with it, but the strap didn't break. As his friend was accelerating away, it pulled me off of my bike. They dragged me down the road for awhile behind the motorcycle. The guy on the back of the bike got pulled off himself. The guy driving the bike stopped it and started walking towards me with a big machete. Luckily, a bus came around the corner and they both took off on their motorcycle. About a half hour later I bought a machete and I wore it for the rest of the expedition around the world. It was a rather good deterrent. Carrying a big knife does make people think twice about taking advantage of you.
You bike from Malaysia into Thailand and as far as southern China. Then, you pedal 2,000 miles across the Arabian Sea into Northeast Africa. That takes us to March 2007 and the beginning of the intense African leg. What problem did you encounter in Sudan?
There's a border between Egypt and Sudan and the only way you can effectively get from one country to another is to take a 190-mile ferry ride across a flooded part of the Nile River. Of course, I couldn't take the ferry since it was powered by a motor. My plan was to use a kayak, but no one had previously been given permission to paddle this section, including National Geographic. I applied for permission, but I had heard nothing back. My visa for Sudan had already expired by about a week at this point.
The only alternative was to go back through India and try an alternative route through Pakistan and Iran. I decided to roll the dice and see how far I got without getting permission. Over the course of three nights, I paddled over the border to avoid being detected. This is an area that has a lot of military presence on both sides of the border to prevent people from crossing so that's why I did it in the dark.
I managed to get to a town where the road picked up again. Just as I hit this town, in the early morning hours when it was still dark, I was apprehended by fisherman who turned me into the authorities. I was placed in an Egyptian military detention center. At first, they thought I was just a dumb tourist who took a wrong turn in his kayak, but since I didn't have any stamps in my passport leaving Sudan or entering Egypt and I had a lot of electronic equipment including a GPS device, satellite phone, and a digital camera with photos of areas they considered to be sensitive -- they drew the natural conclusion that I was there for undercover means. I was looking at being charged as a spy for espionage, which is punishable by about 40 years in prison.
But you made it out.
Another miraculous turn of fate. I think I've had a guardian angel sitting on my shoulder all these years. After 36 hours of questioning, I was going to be taken up to Cairo for further questioning. I was exhausted because I hadn't slept for two days at that point. It was 11 p.m. and the fax machine in the next room received the permission that I'd applied for five weeks earlier. It finally caught up with me. It was my freedom ticket out.
You once again made it out alive. You have three months of your journey remaining. Tell me about finishing on Oct. 6, 2007.
The last hurdle was crossing the English Channel, which is only 20 miles of water between France and England, but it is notoriously dangerous because it's one of the busiest shipping lanes in the world and the current and tide runs through the narrow neck of water extremely fast.
The French have a law which prevents people leaving French national water if you don't have a motor or a sail on your boat. I was informed that if I try to leave France, they would potentially arrest me and turn me back. I was really worried because that would have essentially ended my shot at the circumnavigation.
We launched the boat off a beach away from the French observation posts. We pedaled like hell and it wasn't until I was about halfway across in British national waters that I could really breathe a sigh of relief.
Shortly after 12 p.m., I pedaled the last mile and the river finished. We put the boat on a trolley and the people who had helped with the expedition over the years came out and helped push the boat up to the observatory where Steve and I had left 13 years prior. We all walked over the line with the peddle boat and completed the circumnavigation.
If you had known in advance all that would go into the first ever human-powered circumnavigation, how would your feelings about doing it have changed?
That's a good question. I don't regret any part of it. Considering that it was originally going to be a two-year project, I suppose if I had known it was going to take 13 years I would have had to consider it a lot more than I did back then. It was a third of my life. Having done it, all that I've been lucky enough to experience -- the people that I've met, what I've learned about myself, and what I've learned about the world -- I feel I'm one of the luckiest people in the world to have gone through that.
Jason Lewis and the Expedition 360 team are actively looking for an educational publisher for their DVD and broadcast outlets for their TV Documentary Series. They have over 700 hours of video footage. For more information, including photos and video of the expedition, check out www.Expedition360.com.