Commentary
The making of 'Without Bias'
Updated:
November 3, 2009, 12:35 PM ET
By
Neil Janowitz
| Special to Page 2
In "Without Bias," a documentary about the late Maryland basketball star Len Bias, writer/director Kirk Fraser shoehorns a lifetime of success and tragedy, and the ensuing fallout, into just 50 tense minutes. A few days before the flick's premiere -- 8 p.m. ET Tuesday on ESPN -- Fraser waxed cinematic on the power of a good sports documentary.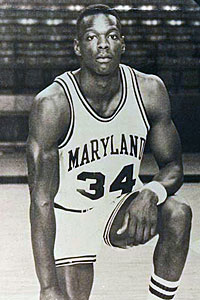 AP PhotoPeople will always wonder how Bias would have fared with the Celtics.
Neil Janowitz: This is your third documentary. Have you figured out the formula?
Kirk Fraser: I look at a documentary like packs of jelly beans. You can separate the individual colors, each of which has a distinct flavor, but they're all part of the same bag of candy. Those flavors should include being heartfelt and relatable, and it certainly doesn't hurt if there's an underdog. But mostly, a documentary has to be educational. If viewers can learn from someone's mistake, why not present that? I didn't set out to make a preachy-preachy doc; I'm just taking you through someone's life. It's entertaining, but at the same time, it opens your eyes -- just as it did back when Len died. It was shocking. Everyone of a certain age remembers where they were when they learned of his death.
What made Len's story so compelling to you?
I wasn't really a sports person, and I hadn't seen many sports documentaries when I made the film. But I grew up not far from College Park, and when Len was playing for Maryland, he was a superstar. The Michael Jordan of our community. When he died, it was such a big story. That haunted me. You'd hear from three or four different people, and each one would give you a different story of what took place that night. I wanted to know what really happened. I had set out to do a biopic on Len -- about how he was cut twice in junior high and what he went through on the way to realizing his dream. But as I began doing interviews as part of my research, I learned so much more. I was speaking to all these people who were still very hurt. I realized that I wanted people to hear firsthand what happened in his life before I made it more of an artistic, theatrical project.
The movie is made up of one moving interview after another. How'd you get all these people from Len's life to open up?
People wanted to talk. Stuff had been building up in them for years. Keith Gatlin and Jeff Baxter, two of his Maryland teammates, witnessed Len on the floor, dying. Imagine being 21 and watching death. That had such an impact on their lives, and they never had an opportunity to get closure. Everyone had scattered into their own corners. Bringing them together gave them closure. I'm no therapist, but this was therapy for them. People said they could finally breathe.
Was it hard to keep your own feelings from coloring the film?
I was very cautious as I put the documentary together. I wanted to be sure the story was being told by individuals who knew Len. The story shouldn't be coming from me. What I could add was perspective on the aftermath, such as the new drug laws. It was the ripple effect of his death that drew me to the story. This one atom exploded and touched so many people. The most challenging part of the documentary was figuring out how to provide closure to all those disparate groups -- his parents, the university, the community -- without bringing back the pain and anger of June 19, 1986.
What can a sports documentary do that other docs can't?
Sports are one of the greatest ways to bring people together -- either actively as participants or passively as spectators. A few years before making "Without Bias," I produced a documentary about the [Dallas] Mavericks called "Against All Odds." It followed the team from the preseason to the NBA Finals in 2005-06. During that process, I learned what it was about hoops that makes players bust their asses to make it. That helped me understand what drove Len and enabled me to give the film a foundation of something more universal than just the basketball. Now, any individual with dreams can relate to it -- to the hard work and failures and excitement and ultimately the celebrations, such as the one that took Len's life. What makes Len's story so powerful is that he took a path no one likes to consider when they think about where their hard work will lead.
Neil Janowitz is an editor with ESPN The Magazine.