Commentary
Bleier never gave up on NFL dream
Originally Published:
November 10, 2009
By
Cameron Martin
| Special to Page 2
Editor's note: Every day this week, in honor of Veterans Day, Page 2 will feature a story by or about a prominent athlete who also served in the United States armed forces.
On Aug. 20, 1969, two days after the conclusion of the Woodstock Festival in Bethel, N.Y. -- a gathering billed as "3 Days of Peace & Music" -- Rocky Bleier was on patrol in Heip Duc, Vietnam, when a rifle shot tore through his left thigh and shrapnel from a grenade pierced his right foot and lower right leg. A year earlier, he'd been drafted out of the University of Notre Dame by the Pittsburgh Steelers. As the 1960s came to a close, however, he was fortunate to have all his limbs.
Bleier, while grateful to survive the war, didn't plan to spend his postwar years pining over his lost career. He was going to do everything in his power to return to the Steelers. Sure, he'd be a long shot to make the team, not least because of the injuries that needed to heal; he'd been a 16th-round pick out of college, so the odds were against him.
Yet odds are a tricky thing.
The odds said an NFL player wouldn't get shipped to the front lines in Vietnam; yet Bleier was. In time, he'd defy the odds again, and become a starter for the Steelers, a 1,000-yard rusher and a four-time Super Bowl champion.
Not surprisingly, Bleier, now 63, is a successful motivational speaker. He lives in Pittsburgh, and last week discussed his career, his time in the service and his "unluck" of getting drafted with Page 2.
[+] Enlarge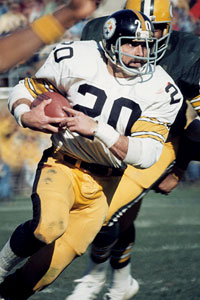 Vernon Biever/Getty ImagesRocky Bleier teamed up with Franco Harris to provide an outstanding rushing attack.
Page 2: When you were drafted into the service, were you the only member of the Steelers who was drafted?
Rocky Bleier: Yup. (Laughs)
Page 2: So it was the luck-slash-unluck of the draw?
Bleier: Yeah, it was kind of like the unluck of the draw. Most of the players in 1968 were in the reserves, or got into a reserve or the National Guard. Or got into the National Guard in their home state before they came to the Steelers. But otherwise, some guys were too big, couldn't pass the physical, so on and so on. In this case, yeah, whatever the deal was, I fell through the crack and I got drafted.
Page 2: Did you resent it at the time?
Bleier: No, not really. I don't think I had any time to resent it. I knew the draft was there. My plan, basically, if I didn't make the Steelers, was to then decide what I was going to do with the rest of my life. I brought everything I owned with me [to training camp in 1968], meaning if I didn't make the Steelers, I was heading down to Florida for, like, my little post-graduate spree, vacation. (Laughs) But, as fate would have it, I had a chance to play and make the team. Probably the happiest day of my life was during training camp, and Bill Austin, who was the head coach, pulled me aside. He'd received my 1A [draft] classification in the mail and it'd been opened, and he said, "We think you're good enough to make this team, and we'll take care of this for you," and whatever that meant. I was just assuming, well, they'll get me into the reserves like everybody else that they'd gotten into the reserves. My thought process was this: Growing up in Wisconsin, following the Green Bay Packers -- especially in the early part of the 1960s when I was in high school, and then when Vietnam started to pick up -- all of those guys were in the reserves.
Page 2: Yeah.
Bleier: It was just an assumption on my part that if you played professional football, you just happened to get into the reserve unit. Not to take into account but … it was 1968, it was the height of the war, we had 500,000 troops over in Vietnam and any warm body was going to be drafted. And so all the National Guard and reserve units were full. Everybody had already made those wise choices except for me. So that left me vulnerable. And the kiss of death was when I asked the Steelers if anything was taking place, and they said, "Well, we talked to your draft board, and they're not drafting until the end of December." And it was like, "Aw, [bleep]." (Laughs) Shortly thereafter, they drafted, and I got drafted out of Wisconsin. I transferred it -- you could do that, transfer draft boards -- so I transferred it here to Pittsburgh. That just gave me an extra month, so I didn't get my notification until December [1968].
Rocky Bleier Fast Facts
Athletic Career: Pittsburgh Steelers (1968, 1971-1980)
Military Career: U.S. Army (May-August 1969)
Awards: Awarded Purple Heart and Bronze Star. Four-time Super Bowl champion.
Notable: Seven years after a bullet pierced his left thigh and a grenade ravaged his right foot and lower right leg, Bleier rushed for more than 1,000 yards in a season.
Page 2: Now, when you were over there [in Vietnam], you were wounded by a grenade or a rifle shot?
Bleier: By both. Same day. Same action, two different times. First time I got hit with a rifle bullet, basically. Second time I got hit with a grenade.
Page 2: Both in the leg?
Bleier: One in the left thigh and the other through the right foot and up through the right leg.
Page 2: I've read that [Steelers owner] Art Rooney sent you a postcard when you were in the hospital, saying the team needed you. Can you talk a little about that?
Bleier: Oh, yeah. I got hit, went to an aid station -- all of a sudden I was in Da Nang, spent about four days in Da Nang before they medevaced me over to Tokyo. What they're trying to do is get severely injured soldiers out of the war zone to lessen the chance of infection. So I was on that docket and went to Tokyo. And when I was in Tokyo, the one thing that was on my mind was coming back [home] and playing [football]. And now that I was hurt, my question was, "OK, doc, what do you think? Can I play?" I did not lose a limb, I did not lose my legs, so it was just like, "OK, fine, it's an injury. How serious is the injury? What do you think about coming back and playing?" And the doctor, in his rush -- he has many guys to take care of -- is just like, "Don't worry about it, you've got your legs, you'll have a normal life." And I tell people, it was kind of like you suck that hope out, your chance to play. Shortly thereafter I got a postcard in the mail and it was from Art Rooney. It said, "Rock, team's not doing well. We need you. Art Rooney." And you go, "Wow, somebody has a concern. Somebody has an interest in you," and I think that becomes very important in thinking you might be able to come back and play. That was a part of what Art had always done. Not only taking care of his players, but he had that kind of reputation of sending postcards to people. That was well before cell phones, that was well before Twitter, Facebook and voice mail and anything else. That's how he communicated. Nothing long, just short notes in postcards. That was very impactful at that time in my life.
Page 2: What were some lessons that you took away from your time in the service? Things you were able to apply to your football game later?
Bleier: I think the lessons run parallel, of organized sports and the military. What I learned playing in junior high and high school, under coaches, basketball, football, [was] that discipline of having a responsibility of being on time. Teamwork, that whole idea, was then reinforced -- maybe in a different manner, but it was the same principles -- in the military. For me, to have someone yell at you was second nature.
Page 2: (Laughs)
Bleier: Whether it was a drill sergeant or a coach, the expectations were kind of the same. Ultimately, maybe what was different … in combat, as we have come to learn, when you're put in harm's way, there is a chance of permanent injury. There might not be a tomorrow, and that is always the question that lingers in one's mind. Will I get back safely? Will I be able to survive this combat? In football, there will always be next week.
Page 2: When you got back -- Dec. 19, 1971, first game back versus the Rams -- can you talk a little bit about how the fans treated you? Was it unfailingly supportive? Did you ever have encounters with fans who took issue with your service?
Bleier: No, not at all. I was very fortunate. And the reason I was -- and I feel this in all honesty -- very fortunate: People looked upon me as an individual, and not necessarily tied to the war. When I came back to try to make the Steelers -- 1970, that training camp -- I was the story of this kid trying to make it back, who was undersized to begin with as a 16th-round draft choice. And now he's damaged because of his injuries in the war. So it was kind of a human-interest story, and I think people love underdog stories. And so I came back, and because I was trying to come back to play professional football rather than run my dad's tavern, it was high-profile.
Page 2: Right.
[+] Enlarge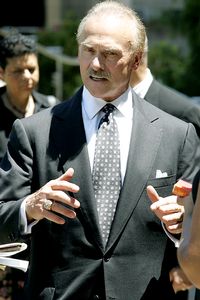 AP Photo/Keith SrakocicNowadays, Bleier tours the United States as a motivational speaker.
Bleier: So the questions that were asked of me were these same kinds of questions 40 years ago: How do you feel about the war? What did you think about it? How do you compare it to football? People like to make those analogies. So I had to think about my own feelings and come to some kind of terms, so that allowed me to talk about it. And talking about it -- at least it was in the paper, and people would recognize it, and people got to know the story. It was a hopeful story, and nobody paid much attention to me, whether or not I was going to make the team. I wasn't a No. 1 draft choice. I wasn't a big star. I was just a kid coming back. People got to know the story, and so maybe they admired the story because I kind of hung in there. Then [the Steelers] put me on injured reserve [in 1970]. So fans didn't say a whole lot. Or didn't say anything. They didn't question the fact that they agreed or disagreed with the war, or had me associated in that manner. So, to some degree, I was kind of a symbol for some of the returning vets who had no opportunity to talk about their experience. And no one really understood what they were going through. And a lot of people didn't care. I became something of a voice for them, however small that might be. And ultimately maybe broke some of the stereotypes that people had about returning vets.
Page 2: How do you look back upon your time in the service?
Bleier: I look back on it as an experience that kind of makes me who I am today, I suppose, as all our experiences do. Whether I had enlisted and was gung ho, or got drafted … it was like thousands of other guys. I am very proud to have had the opportunity to serve our country and to have fought in Vietnam. And to have that experience that my fellow combat veterans have gone through as well, and to be identified as one of them because of the importance of the military in our country. I was apolitical at the time, but now I've become more pro-military over the years.
Page 2: You pretty much approve of what we're doing in Afghanistan and Iraq right now?
Bleier: Yeah, yeah. Like Vietnam … being on the front lines, and the stories that are reported afterwards and what the public really knows are two different things. The public only gets input from what the media tells them, because most people don't take the time to either read or stay in touch or don't have the resources to be able to do that. So they read headlines. But, you understand, the combat soldier, and what the combat soldier is trying to get accomplished, and his mission -- you talk to those returning soldiers that have fought in Iraq and Afghanistan, and they firmly believe in what they're doing. So I'd much prefer to take their word than some journalist's as an opinion of that war. Our soldiers have done a wonderful job. And it's very difficult -- especially the injury ratio of IEDs [improvised explosive devices], and how do you combat against that when you can't really see an enemy that you're fighting?
Page 2: Mr. Bleier, thanks a lot for your time. It's really been a pleasure talking with you.
Cameron Martin is a contributor to Page 2. He previously worked for the Greenwich (Conn.) Time and The (Stamford, Conn.) Advocate, and has written online for CBS Sports and Comcast SportsNet New England. You can contact him at cdavidmartin@yahoo.com.
VETERANS DAY 2009

ESPN commemorates Veterans Day and ESPN's weeklong series "American Heroes: A Salute to Our Veterans."
STORIES
PHOTO GALLERY
VIDEO
SALUTES
SOLDIERS AND THEIR TEAMS
PREVIEWS
ABC CONTENT