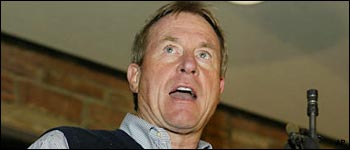 WHO'S REALLY TO BLAME FOR THE MESS AT COLORADO?

Like all big scandals, the current firestorm at Colorado seems to take a new dramatic twist or turn by the day. First, it was CU players reportedly using strippers to entice recruits. Then, it was the allegation of rape levied by a former female kicker for the Buffs. Then, came more rape allegations ... and some foot-in-mouth comments by coach Gary Barnett. Finally, things came to a head late Wednesday night, when Barnett was placed on paid administrative leave for his "unacceptable" remarks, and the school president said she was "utterly distressed" over comments Barnett made in a 2001 police report filed by another woman who said a football player raped her. So, is Barnett the convenient fall guy here, or is he the root of the problem?
The lead Buffoon | From Melanie Jackson
I believe every big, rich college athletic program out there has its scandals. So, at first I figured the sex-recruiting scandal at Colorado was not that far out of the ordinary, that things might not be all that bad for the Buffa-woes.
But then I read Rick Reilly's SI column in which former CU kicker Katie Hnida said she was repeatedly verbally abused and then raped in the summer of 2000 at the home of a teammate. And that's when I realized you can't believe one thing that comes out of coach Gary Barnett's mouth, which, to me, raised the stakes quite a bit. In the column, Barnett was quoted as saying, "Not one time did I ever see or hear about anybody treating (Hnida) wrong. I don't believe she was sexually harassed." But then, in the very next next line, Reilly wrote, "Barnett says he gave one player a 'tongue-lashing' for making a vulgar comment to Katie." Hmm. So which is it?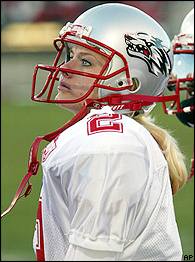 Katie Hnida transferred to New Mexico after her troubles at Colorado.
Here's what I do know: Several columnists and many sports fans throughout the country will argue that the decision by Colorado officials on Wednesday to place Barnett on paid administrative leave simply because he uttered some inappropriate comments is too harsh.
But here's what I believe: While it was tough to watch chancellor Richard Byyny stutter through the news conference and CU president Elizabeth Hoffman struggle to articulate herself, I think Barnett got exactly what he deserved; after all, if Barnett had acted as quickly to discipline his players when they first started verbally abusing Hnida -- who says five teammates surrounded her and verbally abused her with sexually graphic comments on her first day of practice -- maybe the alleged rape wouldn't have happened. Coaches lay down the law with their players. And somehow, they always know what's going on with them. Early on in my college soccer career, my coach made it clear he knew "who-why-where-and-how," whether we were on the field, in the locker room or in our off-campus apartments. And he seemed to be
especially
savvy about last weekend's party. I can't say whether Barnett really knew his players were procuring strippers to spice up recruits' evenings during their campus visits, or whether his players and potential signees were committing alleged crimes. But as a coach, you can let your players know what's acceptable and where you draw the line. Sure, some of the guys won't listen. But it's a starting point. And Barnett knows it. After Hnida's story was first reported Tuesday, Barnett belittled Hnida's skills. But in saying she was "awful," he also added, "You know what guys do? They respect your ability. You can be 90 years old, but if you go out and play, they'll respect you. Katie was not only a girl, she was terrible. There's no other way to say it." A stupid and inappropriate comment, for sure. Obviously, Hnida's skills or lack thereof should have no bearing on her rape allegations. The only way kicking a 50-yard field goal would have helped her in this case is if it meant she had tree-trunk legs that were strong enough to fight off an attacker who outweighed her by 100 pounds. But, in a way, Barnett was right. Guys
do
respect ability -- especially in their coach, someone they admire, pledge at least four years of their lives to and then fight their hearts out for. And that coach should make it clear that inappropriate verbal or physical behavior will not be tolerated. At Colorado, Barnett, who clearly was unhappy about having a woman on his team, might not have
called for
the code red. But he didn't do anything to prevent it, either. And to me, that's the biggest crime.
Plenty of blame to go around | From Robert Lipsyte
This scandal's gonna have legs because there's sex involved. I have trouble staying focused on boring college athletic scandals with no-show jobs, EZ-pass courses, booster Escalades and fictitious résumés.
But the Colorado saga is a good one to study and make an example because the issues are clear (except the female kicker, which both complicates and elucidates -- more on that later, class.) Here's the road map:
1. Can the coach.
If Barnett really didn't know what was going on, he wasn't in control and can't be trusted with a major regional corporation, like the Buffaloes. If he did know, he should be fired and banned from college sports for five years, minimum.
2. Fire the school president and the athletic director.
There are no secrets on a college campus, only willful disregard. The current Myles Brandishments are about reigning in costs, not about changing the system.
3. Pink Hearts on helmets.
Football players are among the most insecure, mind-whipped boys in America, raised in a culture to fear all Others, especially women. Let the Buffaloes work as security guards in womens shelters as their community service, and wear the hearts as reminders.
4. Babes beware!
So, here's what we always sidestep, the complicity of women who win their letters by hanging with the varsity, partying hard but claiming to want romance, not rape. How many stories do they have to read about jocks and frat boys taking advantage of drunk women before they take care of themselves? (And are there real Scholar-Ho's who get "free rides"?) The treatment of Katie Hnida, of course, is both separate from this and inextricably entwined. She was a football player, a member of the team, yet they treated her as an outsider, another one of those girls (BTW, fans, they think of many of you boys as girls) they are allowed to abuse. Maybe we need to add a fifth group that needs some remedial education:
5. Prep the parents.
Who raised these boys?
You're the problem!
|
From Patrick Hruby
Barnett calls himself a "team player." And judging by his half-hearted non-apology for blasting his former kicker, his self-description is more apt than he could possibly imagine. With a sex scandal swirling around Barnett's program, Hnida claimed in Sports Illustrated that she was molested and verbally abused by teammates and later raped by one. Barnett's response? Stating with great sympathy that Hnida was an "awful" player and that she "couldn't kick the ball through the uprights." Of course, the since-suspended coach has since repented for his comments. Just listen to him: "I sincerely regret that a portion of my remarks were either misinterpreted or taken out of context," Barnett said in a statement. "And I apologize for answering that question in a manner where I must have come across as insensitive." See that? Barnett is truly, deeply sorry that others are upset about what he said. He's filled with stinging remorse over sensitive souls misunderstanding him. Like 1,001 other stubborn, deluded, egotistical-to-the-last coaches and athletes caught with their paws in the cookie jar, he wants to apologize for
your
reaction to
his
malfeasance. But he's not actually sorry for slagging Hnida. To the contrary, it's pretty clear that Barnett doesn't think he said or did a damn thing wrong. He's not the problem. Everyone else is. With that sort of attitude coming down from the top, it is any wonder that the Buffs are awash in accusations of rape, sexual misconduct and boozed-up, dial-a-stripper campus recruiting parties? Team player, indeed.
Winning is the only thing ... | From Alan Grant
"... but as a coach, you can let your players know what's acceptable and where you draw the line. Sure, some of the guys won't listen. But it's a starting point."
Before I weigh in with my own peculiar point of view, I must first say, Melanie, that truer words were never written. Barnett, like all coaches, does a have responsibility to let his charges know the difference between right and wrong. The smart coach recruits smart players. And I don't mean smart in the literary sense. I mean the kind of young men who make wise decisions, the kind who have an obligation to conduct themselves like civilized people in a civilized society. So why is there such a dearth of smart young men in today's major college programs? Before I answer that, I must address another point. A few weeks ago, I was invited to take part in a session of player-hating. My reluctance to be a player-hater stems from the fact I am always inclined to hate not the player, but the game he plays. In this case, the game is a million-dollar business in which a coach gets fired for losing too many contests. Now, in the case of schools like Colorado, Florida State, Oklahoma and Notre Dame, a losing season is one in which the team loses more than one game and doesn't play in a BCS bowl. Nebraska fired Frank Solich for dropping three games in a season. The message is pretty freaking clear, isn't it? It's win at any cost. It's not "bring great kids onto campus, educate them and have some fun on Saturday afternoons." It's "win, maintain our cash flow, or it's ass out." And when that's the case, the coach -- with the support of the university that pays him -- will acquire any kid (character optional) who helps him to that particular end. See, this is the simple part. Things get complicated because the players know what their services mean to the university's budget. And the coach knows what the players' services mean to his job. As a result, the former is granted an unspeakable power, one that he wields like a Lord of the Flies, while the latter averts his glance and plugs his ears. But sometimes the coach is asked to remove his head from the sand (or from whatever hole or orifice his head might occupy) and to speak on a particular topic. But when that topic isn't football games, and it's something else, like, oh, rape, sexual harassment or anything that pertains to a civilized society, the discussion is usually accompanied by empty rhetoric and unfettered ignorance. Sure, the coach will say he cares about other things, or that he cares about how the team treated Katie Hnida -- or how men treat women for that matter -- but he doesn't actually care. He isn't obligated to care. Like his coaching brethren, Gary Barnett is obligated to win football games.
It's the system, stupid
|
From Luke Cyphers
A friend of mine and fellow alumnus of the University of Colorado at Boulder relates that last week, just as the Hnida story was breaking, he was solicited by our alma mater for a contribution. His response: I'll give money when you quit hiring football coaches who use one of the highest-paying platforms in the state to berate homosexuals (Bill McCartney), allow borderline criminal orgies on recruiting trips (Gary Barnett), and foster a climate where alleged sexual harassment and rape go unnoticed. Alan and Lip are correct in saying this is a very interesting prism through which to view big-time college sports and the pressures associated with it. But there's a larger point here, I think. What good has big-time sports done for Colorado? Are sports really that big a draw for the rich kids from Chicago and the East and West Coasts who go there for the skiing and the rock climbing? Do sports really enhance the university's top-flight astrophysics and microbiology departments? Was the Buffs' 1-10 football team in 1984 a better use of Folsom Field than the Bruce Springsteen "Born in the USA" tour -- which had to go to Denver because coach McCartney said the concert would disrupt his team's focus? It's actually a great school, and I'm thankful I went there. But for now, I'll go my friend one better. I'll give money to my alma mater when CU drops football.
Making a mountain out of Boulder | From Chuck Hirshberg
I'm not going to tell you that I'm not the kind of guy to say "I told you so," because I am that kind of guy, and I did. I have seen this University of Colorado Passion Play enacted with the same phony earnestness over and over again, as I wrote in this space last week.
"Regents blame the administrators, who blame the coaches, who blame 'a few bad apples.' " What we have here is the "administrators blaming the coaches" part. I'm not saying Barnett doesn't deserve a spanking; but I'm absolutely sure that the plan is to make him pay not only for his own considerable sins, but those of others as well. Everyone realizes the Colorado athletic department has a long history of scandal and shame. But most people don't realize
how
long. This is a systemic problem, and I can prove it. Below, I've assembled some -- but by no means all -- of the various crimes and embarrassments that have occurred at CU. None of them occurred after 1995:
In early 1979, CU hired Chuck Fairbanks as head coach away from the New England Patriots for $150,000 a year (a remarkable sum in those days) despite proven revelations of recruiting violations by members of Fairbanks' OU staff five years earlier. The deal between Fairbanks and CU was so shady, the school had to raise $200,000 in "private funds" just to pay off Patriots owner Billy Sullivan. "So what does our young player make of all this?" The Washington Post's Ken Denlinger demanded. "He sees a coach slip rules as though they were greasy-fingered defenders -- and do it with such a casual attitude as to raise the thought that such practices might be more common than anyone suspects. And, in the end, he sees Fairbanks become a rich man."
In December of 1984, Colorado safety Antonio Harris was sentenced to a maximum of 24 years in prison after a female student was raped while walking back to her room after working a late shift. Two years later, an appellate court voted 2-1 to throw out the conviction, because it was determined that a police detective violated Harris' constitutional rights. True, the detective had read Harris his Miranda rights; true, Harris had waived them; but the court ruled that Harris' statements were inadmissable because at the time, the player was not technically under arrest, but rather under "a limited detention."
Between February 1986 and February 1989, Sports Illustrated reported, "at least two dozen Buffalo players have been arrested, for everything from trespassing to serial rape." Later that year, the Boulder Daily Camera reported that 31 of the teams 116 players -- more than one in four -- had arrest records. Shorly thereafter, Coach Bill McCartney would explain to the press that he doubted the rape charges because "rape, by definition, is a violent act whereby real physical violence is involved."
In February 1992, McCartney, wearing a CU jacket and standing behind a podium decorated with a CU insignia, lectured that "homosexuality is an abomination of almighty God."
Here's my favorite. In 1990, CU president Gordon Gee made this bold pronouncement: "We've got to deprofessionalize college athletics and return to the Greek notion of amateur competition." Five years later, when Gee was applying for the presidency of the University of California, the San Jose Mercury reported that he had "arranged a 15-year contract for football coach Bill McCartney at $130,000 a year, plus a potential for $100,000 in bonuses annually." He didn't get the gig. Is there a solution? Yes, there is: Close down varsity sports at CU for a period of three years. Make them clean up their odiferous act once and for all. That school has had more chances than Vegas. Meanwhile, innocent people keep getting hurt.