By Howard Bryant
Special to ESPN Book Club
The following is reprinted by arrangement with Viking, a member of Penguin Group (USA) Inc., from "Juicing the Game" by Howard Bryant. Copyright (c) 2005 by Howard Bryant
Chapter Ten

Jose Canseco left Oakland broken. His back was shot, and his skills were in sharp decline. It seemed all that remained was his ability to hit home runs. In 1998, he hit 46 of them for the Toronto Blue Jays. It was a surprising comeback. Canseco played 151 games with Toronto that year, driving in 107 runs and stealing 29 bases. Each of those totals was easily his most since 1991, his last year as one of the game's truly great players. His 46 homers were a career high. Yet he was still a shell of the complete player he once was, as he was caught 17 times on the bases, and hit just .237. Still, he had followed Reggie Jackson's famous advice perfectly: If you're going to hit .240, Jackson always said, make sure you hit 40 homers when you do.
For the man once considered the best player in the game, the comeback was a bittersweet moment. Being healthy and productive after his struggles in Oakland the year before was gratifying; if there was one thing he wanted, it was to prove at least one final time that he could be a high-level major league player. Yet 1998 also presented the worst kind of mirror for Canseco as his former Bash Brother, Mark McGwire, transcended the sport. The forecast had always called for Canseco to stand where McGwire now stood, a bitter irony that was certainly not lost on Canseco. It was just one more reminder of how much he had lost during the past seven years, of everything he should have accomplished.
Canseco had never stopped using anabolic steroids, and he continued to use them even when doing so was a violation of his probation from numerous run-ins with the law. During his last few years in the majors, he was even given the nickname "The Chemist" because of his well-known experimenting with anabolic substances. In 1999, he played for the Tampa Bay Devil Rays and was again productive, but injury-prone, playing in just 113 games. The following year, he was waived by the Devil Rays, the worst team in baseball, and picked up by the Yankees, who were on their way to their third straight World Championship. But the Yankees' baseball people did not want him. As it turned out, the only reason Canseco wound up in New York was that the Yankees had placed a waiver claim on him to block him from the rival Red Sox, with whom the Yankees were locked in a fierce battle for the American League East and with whom Canseco had hit well in a pair of injury-shortened seasons before returning to Oakland. The expectation was that the Devil Rays, being foiled in their attempts to pass Canseco through to make a trade, would pull him off waivers, as usually happened in such cases. But because Canseco was an undesirable influence on a team that was going nowhere, the Rays let him go. George Steinbrenner, who coveted stars and remembered Canseco as once the game's brightest, was the only member of the Yankees' front office who was pleased.
If the Jose Canseco of the big, bad Oakland days had always used a certain brashness to hide deep insecurities, Yankee officials remember the Canseco who arrived in New York to be gracious and humble, almost embarrassed to admit his own professional decay among such a group of dedicated, championship ballplayers. On that club, he was not memorable in any way, except in that his name stood so much taller than his skills. There was a time when the Yankees' obtaining Jose Canseco would have been the biggest of coups, another example of Yankee luck and opulence. Now, he was a guy nobody wanted, not even the team that claimed him. That the Yankees did not even place Canseco on the postseason roster for the first two rounds of the playoffs was yet another reality he swallowed with humility.
In 2001, Canseco played seventy-six games with the White Sox after failing to make the Angels out of spring training and spending some time playing alongside his brother Ozzie with the Independent League's Newark Bears. The next year it was the Expos who cut him in the spring, and on May 14, 2002, after hitting .172 in eighteen games for the White Sox team in Triple-A Charlotte, Canseco announced his retirement. He would make one last unsuccessful attempt at a comeback in 2004, finally and pathetically for a player who once stood on the very peak of the mountain, at an open tryout with the Los Angeles Dodgers.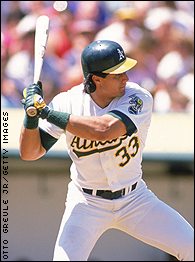 In his early years with the A's, Canseco was one of the best players in the game.
Canseco had played seventeen seasons, hit 462 home runs, and would prove to be one of the most tragic and enigmatic figures of his time, a player perceived to own tremendous gifts who reached the pinnacle of his profession only to be devoured by its excesses. A Hall of Fame career had been reduced to a curiosity, a test case for a new kind of baseball observer who was, if not obsessed with statistics, certainly greatly influenced by them. Canseco had put up raw numbers worthy of Hall consideration, and future generations might very well be taken by his early dominance, longevity, and well-above-average cumulative totals. Those who saw him play knew the truth went far beyond statistics. They would judge him harshly. "If Jose Canseco is ever in the Hall of Fame," said one Hall of Fame player, "there shouldn't be a Hall of Fame. He wasted more ability than most of us ever had."
There was nothing quiet about Canseco's departure. When he quit, he dropped a final bomb on baseball: "There would be no baseball left if they drug-tested everyone today," he told the Associated Press the week he retired. "It's completely restructured the game as we know it. That's why guys are hitting fifty or sixty or seventy-five home runs." Claiming that baseball's drug culture was out of control, he estimated that 85 percent of major leaguers were using steroids, and threatened to one day write a book about baseball's deep denial of its drug problems. He said he knew of high-profile players who had used steroids just as he had, and that by no means was his doping an isolated occurrence. When the time came, Canseco promised, he would name names.
It was a staggering claim that came at a time when baseball owners and the Players Association were in tense, difficult negotiations over a new contract, one that Bud Selig insisted would not be ratified without a steroid-testing component. The union had been reticent and suddenly one of the most visible players in the game, a former MVP stopped just short of 500 home runs, had indicted every clubhouse in baseball.
Initially, Canseco would not reveal whether he had used steroids himself, but soon spoke of his own steroid use as well as the use that existed around him. Canseco said he had used steroids with each of the seven teams for which he had played. Although many in the game believed Canseco to be a transcendent talent, he was bitterly self-critical, saying that he did not believe he would have even made the big leagues without steroids. He showed no contrition, taking everyone down with him. Baseball, he contested, was well aware of the growing use of steroids and in many ways even encouraged their use by rewarding the biggest power hitters with the highest salaries. He also believed that steroids were not the scourge of the Crusaders' research. Those were scare tactics. Canseco believed that taken properly, anabolic steroids could actually be a benefit to one's health. The combination of anabolic steroids and human growth hormone, Canseco reasoned, could extend life rather than extinguish it.
Canseco was the first professional baseball player to admit to using steroids, and his testimony tore through the big leagues. Inside the game, he had become a Judas. He violated the ancient baseball code that declared that what happens in the clubhouse, stays in the clubhouse. Worse, Canseco's allegations, coming in the wake of his retirement, turned the focus away from himself toward the active players. In Phoenix, Barry Bonds was angry. "I think it's just sad. I don't know what Canseco's frustration is. I like the guy personally. I just don't understand where he's going with it. Players didn't do anything to Jose Canseco. We admired him as a player. Why would a ballplayer take shots at another ballplayer? It kind of reminds me of my ex-wife. You get pissed, you want half.
"I get upset because you're putting false things in a lot of kids' minds," Bonds said. "That's what irks me, because there's nothing we can really do about it to defend ourselves other than suing every newspaper for every article that comes out. That's basically what a lot of us want to do."
Less than a month later, Ken Caminiti, another onetime Most Valuable Player who had retired the previous season, dropped an atom bomb that seconded Canseco's. In a Sports Illustrated cover story, Caminiti told Tom Verducci that he had used anabolic steroids during his career and had used them when he won the MVP for San Diego in the turning-point year of 1996. Caminiti did not stop there. Players took steroids because they worked, he said. They did wonders for his performance. Not only was he unrepentant about his use of the drugs, but he told Verducci that he would do it again given the opportunity and that he believed upward of half of all major league players were using steroids as well. "I've made a ton of mistakes," Caminiti told Verducci. "I don't think using steroids is one of them....It's no secret what's going on in baseball. At least half the guys are using steroids. They talk about it. They joke about it with each other."
* * * * *

AT SAN Diego's old Jack Murphy Stadium a framed Sports Illustrated cover featuring Ken Caminiti loomed over the dining area, a loud, electric guitar riff of a glossy photo announcing the next great leader on the most unlikely of teams. Biceps bulging, Caminiti is the biker-as-warrior, harmlessly snarling as he relishes his newfound leadership status. It is a remnant from a time when Ken Caminiti had seemed perfect, the marketing department's newest candidate to be the face of baseball and the Padres' last best hope.
With his tattoos, a thick goatee, and wild eyes, Caminiti struck a chord with the game's youth. He was the rock star as power hitter. Like Ken Griffey Jr., he put on home runhitting displays in batting practice with his baseball cap backward, a small but rebellious gesture. Caminiti was white, which allowed him easier entrée to the role of being the public face of his team, and his bulldog style of play appealed to his teammates, both black and white. Caminiti also connected with the fans who so often watched him play hurt, watched him struggle to stay in the lineup. He might have been an excellent baseball player, but the game certainly did not look easy for him. Fans liked that. Few could identify with the feeling of being so gifted at anything, never mind athletics, that they could make hard work look like eating an ice cream cone. A player such as Caminiti, who seemed determined to succeed even at the cost of being able to walk properly, proved the most sympathetic of characters.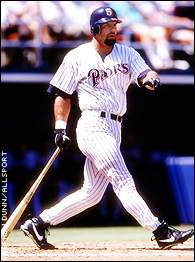 Caminiti died last October at the age of 41.
Ironically, it was exactly that determination to succeed despite the cost that led Caminiti to steroids. He used steroids because of how much stronger they made him feel, and because of how they made the injuries that had suppressed his production for so many years begin to disappear. He had first used steroids to recover from a shoulder injury in 1995. He acquired them in Mexico, where steroids were easily obtainable. San Diego was less than an hour from Tijuana, which made access to a host of prescription and illegal drugs easy. When drug enforcement agencies attempted to crack down on drug trafficking from Mexico in the early 1990s, San Diego was of particular interest.
Caminiti's steroid use coincided with the increasing lack of control he had over his life. His numbers were great -- during the mid-1990s, he improved in virtually every statistical category -- but Caminiti possessed a darker, more dangerous side that was not so marketable. He had increasing difficulty controlling his emotions. To those inside the walls of baseball, 'roid rage had never been proven, and neither had the increased likelihood of depression associated with steroids. In their eyes, such things were just another scare tactic from the doctors designed to keep players from making more money, but Caminiti suffered from both. He was also a drug addict. As one baseball insider put it, "As drugs went, steroids were the least of Ken Caminiti's problems." Caminiti entered a drug rehabilitation clinic in Houston twice for addiction to alcohol and painkillers, and would later be arrested for possession of crack cocaine. By 2001, he regularly sought psychiatric help.
Ravaged by abuses, Caminiti's body began to break down once more. The steroids no longer helped. Had anyone bothered to listen, Bob Cantu could have told them that the steroids Caminiti was using were Faustian: For a time they made a player powerful. Then, at the apex of the curve, the bill came due; the same drug that once helped now tore away at a player's vitality. That underside of steroid use was the reason Mark McGwire had always been under such suspicion. Two seasons after a 65-homer season, McGwire was gone. In 2001, Caminiti, too, retired suddenly, his body broken by too many hard slides into second, too many diving stops at third base, too many cortisone shots, too much of everything.
Caminiti's words a year later were seismic, both for their content and because of the source. Canseco might have been telling the truth, but he was a wild card, prone to the outrageous, desperate to regain his influence, and easy to dismiss. Caminiti was different. He was a good teammate who never seemed to crave the publicity that came with being a professional baseball player. He had more recently been considered one of the elite players in the game, and along with Tony Gwynn, had been the most recognizable player on the Padres teams that made the playoffs in 1996 and the World Series in 1998. If Canseco's assertions were considered unreliable, then Caminiti's confirmation changed the conventional wisdom. This was no teary confession, but a chest-thumping proclamation that the juice worked. It worked exactly the way Gary Wadler and Chuck Yesalis said it did. It worked well enough, in fact, that both Caminiti and Canseco had been crowned the best players in their leagues thanks to steroids. Suspicion transformed itself into reasonable doubt. Now, virtually every homer that cleared the fence would have trouble passing the smell test. The secret was out. The Crusaders were vindicated.
Caminiti's revelation to Sports Illustrated was one of the most important demarcating lines of the decade. The myth that elite baseball players couldn't benefit from using steroids was dead. During the years Caminiti admitted to using steroids, his home run totals didn't merely jump, they doubled. The collective thinking shifted. If steroids could take a very good player and make him a great one, what could those drugs do to a superbly gifted athlete? Kenny Rogers, the Rangers' ace, said what few players would ever admit publicly: "Basically, steroids can jump you a level or two. The average player can become a star and the star player can become a superstar. And the superstar? Forget it. He can do things we've never seen before."
As with Canseco, some players saw Caminiti as a colossal betrayer of the fraternal order of ballplayers, a Benedict Arnold in spikes, the same thing that Jim Bouton had been called when his own account of baseball's trade secrets, Ball Four, was first published in 1970. Bouton revealed to the world what most everyone in baseball already knew, and what most people outside it suspected: Players took amphetamines. They cheated on their wives. They had girls in different cities. They weren't particularly fond of management. Ball Four sold more than two million copies, but Bouton paid a price for his candor. He remembered being on the mound against Cincinnati after the book had come out, when he heard the voice of Pete Rose bellowing from the top step of the dugout, "F--- you, Shakespeare!" He was forced into retirement the next year and, aside from a brief comeback with Ted Turner's Atlanta Braves in 1978, never worked in baseball again.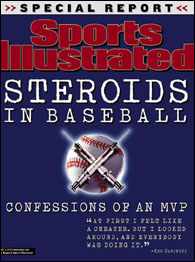 The 2002 Sports Illustrated cover story that shocked the baseball world.
Then something odd occurred: Instead of hollow denials, a growing number of players took the offensive. For a time, and on their terms, players were not only candid about the drug use they believed was occurring around them, but also were candid about access. Winter baseball leagues in Latin America provided great access to anabolic steroids, amphetamines, and a host of powerful pain-killing medicines. This was especially true of Mexico. Players, who were afforded elite status and thus were not always subject to the type of baggage searches that ordinary people faced, could smuggle a year's supply of anabolic steroids in from one season of Winter Ball. Curt Schilling knew steroid use existed on the fringes of the game, but was surprised at how fast drugs had become widespread in major league clubhouses. To this point the players had not articulated a particularly strong or even consistent position on steroids; the players' strategy would be to avoid public discussion of steroids and to discourage anyone from broaching the subject at all. Internally, however, many players knew that the existence of steroids in the game was changing their lives.
* * * * *

AS MARK McGwire made history with the St. Louis Cardinals in 1998, the Oakland A's were in the midst of their sixth consecutive losing season, but for the first time since the year of the Canseco trade, they were feeling optimistic, and A.J. Hinch was one of the main reasons why. Ever since his boyhood in Oklahoma, A.J. Hinch appeared destined to be a baseball player. While the game was never easy for him, he always succeeded. A catcher who attended prestigious Stanford University, like Bob Boone, the star catcher for the Phillies' lone World Championship, he possessed the combination of intellect and determination that scouts and baseball people liked and was earnest in a confident, unpretentious way. Hinch won a gold medal with the 1996 U.S. Olympic team in Atlanta, and became the third-round pick of a rebuilding Oakland team that would give him the chance to learn at the major league level. Along with Ben Grieve, Eric Chavez, Miguel Tejada, and Jason Giambi, A.J. Hinch was to be part of a core group of young players who were expected to return the A's to their glory days of the late 1980s.
Upon arriving in the majors, Hinch became a student of Mike Macfarlane, a veteran catcher with Oakland who was at the end of a distinguished career. Macfarlane was the ultimate professional, playing the game without excuses despite a back so painful he could barely run to first base. He taught Hinch, who was a voracious learner, the intricacies of catching. The A's two veteran pitchers, Kenny Rogers and Tom Candiotti, both thought Hinch had exactly the right temperament to handle a pitching staff. He was a bright young kid who called a good game and he appeared to have all the tools and opportunity needed to make it in the major leagues.
Yet from the start of his rookie season, A. J. Hinch struggled at the plate. Hinch always had power, but a slow bat and poor pitch recognition hurt him early and he finished his rookie season with a .231 average. Still, he was considered to be a major part of the team's future, so the rebuilding A's absorbed his struggles at the plate as part of the learning process.
Hinch reminded Ken Macha, the A's bench coach, of his own son, Eric, in that both were supreme perfectionists. In a baseball sense, this was not entirely a compliment, for Macha thought one of Hinch's greatest troubles was his inability to release negativity from his mind. He would obsess about one bad swing in one at-bat. A good big league hitter needed to clear his mind of negative thoughts as quickly as they appeared. A.J. Hinch, his Oakland coaches thought, couldn't do that. Hinch didn't take bad at-bats with him just during the game, but through the next day, during breakfast, lunch, and dinner. Macha believed Hinch's high intelligence prevented him from forgetting. People who did exceptionally well in school, Macha believed, had great difficulty with being unable to explain or let go of moments when they did poorly. Hinch was too busy analyzing, thinking about his failures instead of forgetting about them and moving on.
After three seasons, the A's ran out of patience. Having finally returned to the playoffs with an impressive young catcher named Ramon Hernandez behind the plate, Oakland traded Hinch to Kansas City in a three-team deal that netted outfielder Johnny Damon. From that point forward Hinch would live the unglamorous, intensely difficult life of a player on the margin of the big leagues. He was close to sticking with clubs, parts of two seasons with the Royals, another with the Tigers, and later with the Phillies, but not close enough. He would grow frustrated by coaches who would offer encouraging words and then send him back to Triple-A. He had married after his rookie season, but the itinerant life of a cusp player became his life.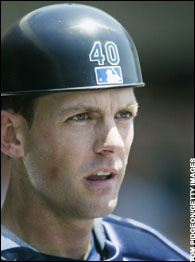 Hinch was never able to land a starting job in the majors. But what if he had used steroids?
For A.J. Hinch, steroid use was a fact of his major league existence. The margins were so thin for players that a little more distance on a fly ball, a little more velocity on a fastball, or a bit more durability could be the difference between earning a big league salary worth several hundred thousand dollars a year and the lousy $1,200-per-month pay in the minors. That made steroid use a critical issue. In a culture obsessed with celebrity and transgression, linking steroids and a star player was always big news, but A.J. Hinch knew from his own experience that steroids had the greatest impact on the players who wouldn't be in the big leagues without them and the men who had to fight those players for jobs.
One night in 2001, Hinch, frustrated, sat with his wife, Erin, and told her that if he decided to use anabolic steroids, there was no doubt in his mind that his modest power numbers would improve enough to make him a more attractive backup catcher, maybe even give him a chance at being a starter. Hinch was against steroids, to some degree because he believed their use to be cheating, but mostly because they scared him. During his freshman year at Stanford, his father died of a heart attack, and he did not want to risk his own health. Heart trouble threatened the Hinch men. A.J.'s father died at the age of thirty-nine. His grandfather died at fifty-five, also from heart trouble. Hinch's family history scared him, not only from steroids, but also from the amphetamines that were part of the baseball culture. "It's a life choice. Heart problems ran in our family and I didn't need anything to speed up the process," Hinch said. "I grew up idolizing the Olympic athletes. I grew up seeing Ben Johnson test positive in 1988. I remember doing a paper on steroids in college and I remember thinking there wasn't a benefit that outweighed the cons. Are you going to threaten your future so you can hit the ball a little farther or throw a little harder? When you think about it, it is kind of ridiculous, even if it costs you salary or a position on the team." But now he was forced to tell his wife that, by not using steroids, he might be costing their family millions of dollars in future earnings.
As a player representative for Kansas City, Hinch found out he wasn't alone. There were dozens of players in his situation, guys who were competing against other players whose use of steroids gave them an unfair, highly lucrative advantage. Maybe it was sour grapes. Unsuccessful ballplayers, like everyone else, need to find reasons for their lack of success. Or maybe there was a great deal of truth to it. In either case, Hinch began to notice, during the negotiations with owners, that a once-silent majority among the players was beginning to rise in volume. Yet many on the outside were unconvinced that this silent majority existed. The truth was that no one was quite sure how the players felt. Even as late as 2002, when baseball was negotiating with the Players Association over the inevitability of a drug policy, there were only a few players who were vocal enough for the public to know where they stood. One of those players was Frank Thomas, the superstar first baseman of the Chicago White Sox. Thomas believed that steroids needed to be outlawed and said so frequently. As for the majority of the players, steroids were simply so taboo a subject that few were willing to put their feelings on the record.
Inside the game it was another story. Frank Menechino, a utility infielder who fought for each piece of major league turf he ever possessed, recalled strong discussion among the players whose positions in the big leagues were more tentative. Hinch was right. A growing group of players were tired of having their achievements undermined by the impression that steroids, rather than sweat, were becoming the assumed reason for a given player's success. "After Caminiti, the silent majority gained momentum," said Buster Olney, who covered the Yankees for the New York Times during the late 1990s. "I think the players badly wanted testing. They were tired of being smeared."
The players knew that the difference between a 90-mile-per-hour fastball and a 95-mile-per-hour heater was also the difference between being in big league Chicago and minor league Calgary. They knew that the 6 home runs between an 8- and a 14-homer season was what separated the Park Hyatt and the $300,000 minimum salary from the Red Roof Inn and starvation pay. To A. J. Hinch, what wasn't being discussed in enough detail was the enormous pressure that existed in the pro game. There was pressure to get to the big time. There was pressure to stay there. There was pressure to take steroids to keep up with the players who took your job by a hair. There was pressure to be durable enough to remain on the field first to perform at a high level and second to prevent management from holding a player's lack of durability over a long season against him. The pressure was so great and the rewards so large that, unless controls came from the game's leadership, players were likely to do anything to gain an edge.
To Mike Stanton, a player rep for the Yankees, what changed was that some of the lower-profile players became player representatives. Hinch believed that his fellow players looked to college-educated guys to do the job. It was a serendipitous moment, for now some of the lesser players could voice concern about subjects that might not normally receive attention. It was in this regard that the steroid question began to take on greater importance to the players. The players with the most to lose finally had the power to speak up. To Hinch, it was one of the least known but most important elements in the negotiation of a drug policy. Baseball's leadership wanted to take credit for the desire for a policy, but the voice being heard was that of A.J. Hinch, and players like him.
* * * * *

If there was ever a person happy to be in the world of major league baseball, it was Jason Giambi. Giambi was down-to-earth, an average Joe without the faintest trace of the off-putting sense of entitlement that so many athletes destined for greatness possess from an early age. If anything, Giambi seemed to be just the opposite, a kid tickled that his dream was coming true. He grew up in Southern California, in the middle-class city of West Covina. His father, John, was an executive at a local bank and a diehard Yankee fan. John Giambi idolized Mickey Mantle, and when his two sons reached the major leagues, both would wear either the number seven, or numbers that added up to seven, in honor of their father and the great Mantle.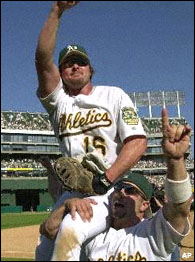 AP
Giambi was on top of the world when leading the A's to the playoffs.
Jason Giambi was not, as was the case with Barry Bonds or Alex Rodriguez, always considered a can't-miss prospect pegged for the big time. Giambi's road was more difficult, less predictable, and far more open to scrutiny. That was not to say he didn't possess gifts. Giambi had impressive hand-eye coordination, but was not quick or fast or particularly gifted defensively. He was drafted by Milwaukee in 1989, but did not sign. Instead, he played college ball at Long Beach State. When he re-entered the draft in 1992, Sandy Alderson saw in him a player who would fit in well with his budding philosophy based on on-base percentage.
Alderson drafted Giambi in the second round, but, in the minors, he did not have a position, and when he arrived in Oakland in 1995, still did not. Mark McGwire was an institution at first base, and Giambi failed first at third base, and then in left field. Giambi was in real danger of becoming what no player ever wanted to be: a twenty-four-year-old designated hitter. As Giambi's offensive abilities soared, he would be able to joke about those rough days wearing the glove. "In the outfield," Giambi said crudely one day during an interview, "I was an abortion." Giambi's greatness was not a given. He did not hit for great home run power, but was a gap hitter who was projected to hit doubles in addition to maybe 20 home runs a year. Because he was such a defensive liability, his frustrated manager, Art Howe, went to Alderson and the A's assistant GM Billy Beane and asked that Giambi be traded.
But Giambi was too talented a hitter for any smart organization to move him. Giambi always possessed a patient eye, and if his home run power were to develop around his ability to drive the ball into both gaps, Billy Beane thought he could become the ultimate offensive machine. Beane understood Giambi's gifts almost automatically. Giambi didn't frustrate the A's management the way most young players did by swinging at everything. He not only hit, he walked. A good hitter's eye will produce an on-base percentage about sixty to seventy points higher than his batting average. Giambi, at his best, would come close to doubling that. What Giambi didn't have, or so it seemed at the time, was power.
Upon his arrival in Oakland, Giambi was like a sponge, thought one Oakland official who recalled his rookie year. Giambi soaked up everything about being a major leaguer. Immediately, he formed a bond with McGwire, who took the rookie under his wing. McGwire and Giambi would be inseparable. Though it was obvious that Giambi would one day be McGwire's successor at first base, the two men got on very well, with Giambi learning big league life at the altar of Big Mac.
When McGwire was traded to St. Louis in 1997, Giambi inherited first base. His abilities soared, and Giambi became something he had never been forecast as: a power hitter. Over his first six seasons, Giambi would be one of the few players in major league history to improve his average, home run, and RBI totals for six consecutive years.
Unlike McGwire, Jason Giambi was gregarious, open, and funny. If McGwire was uncomfortable with the public side of being a major league player, Giambi was a natural. He was an extrovert, disarming and engaging with his teammates, who as the A's emerged from rebuilding to once again become a powerhouse, began to idolize him as the signature figure in the franchise's revival.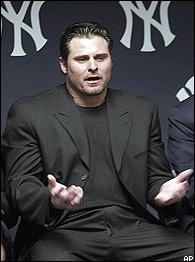 Giambi didn't exactly admit that he had used steroids during his press conference before the 2005 season.
What separated Giambi was his disarming personality. There was a moment in 1998 when the A's were in New York about to play an afternoon game against the Yankees. Giambi had just signed his first million-dollar contract, a three-year, $9-million deal that would take him to his free agent year of 2001. That morning, his teammates congratulated him and he did not hide his pleasure behind the tough-guy persona so many players try to adopt. Giambi was the head brother of a season-long fraternity party, and realized that being paid at all for something he'd do happily for free gave him no reason to complain. He walked around the clubhouse grinning that day. He had made it, and was candid in his belief that while he always believed he was a good baseball player, he never once believed he would become a millionaire playing ball. There was a certain boyishness about Giambi that day that would stay with him for the majority of his Oakland years. He loved being a major leaguer, and his natural personality shone through.
Giambi was legendary for his bachelor-style appetites, a welcome return to the old-style booze-and-babes player who had all but disappeared in an era of corporate imaging. Under his uniform, he wore T-shirts with sayings such as "Drive It Like You Stole It," or "Party Like a Rock Star, Hammer Like a Porn Star, Hit Like an All-Star." For the press, he made great copy. One night in Chicago, Giambi shared his philosophy about hitting. The way he saw it, a player had to feel "sexy" at the plate in order to hit well. Another time, in Tampa, Giambi stepped out of a limousine with a drink in hand and noticed a group of reporters, all male, heading out to dinner. Giambi scanned the group, which counted a half dozen, and said to one, "Dude, bad numbers to run the beef with," meaning that it was virtually impossible to pick up girls with such a large group. Most star players, especially those in New York or Boston, were so wary of reporters that they would barely have made eye contact.
During one game against the Red Sox in Oakland, a naked fan leaped from the crowd and ran onto the field, doing cartwheels on the infield dirt. To many Red Sox and Oakland players, it was a weird, potentially dangerous moment. At least a dozen times a season, some maniac fan would run onto the field, and each time, in the back of the players' minds, the possibility of violence existed. The 1993 stabbing of tennis player Monica Seles was a watershed moment. Fan aggression seemed to be rising in sports, and the players were actually extremely vulnerable. Giambi, though, was cool. Afterward, he was asked if he had been nervous when the streaker approached him. "No, I wasn't afraid of him," Giambi said. "Actually, he had quite a c---."
Affable, funny, confident, with something of a rebellious but never disrespectful quality, Jason Giambi was the perfect front man for a young team bursting onto the scene. He was also the kind of glib, California-cool personality marketing departments salivated over. He had the looks, longish hair, goatee, and two enormous shoulder tattoos that went with the party-hard persona. On the field, Giambi was brilliant. By 1999, it was clear that he was not only a good offensive player, but a great one. The A's could not catch a spirited Boston club for the wild card playoff spot that year, but the next season they won their first division title since 1992, and Giambi was named the American League's Most Valuable Player.
That postseason, the upstart A's would nearly topple the defending world champion Yankees in a memorable five-game Division Series. George Steinbrenner was watching. Giambi would be a free agent after the 2001 season, and Brian Cashman was told to monitor Giambi all season. For most of Giambi's final year in Oakland, the Yankees dispatched a scout to nearly all of his games. For the second straight year, the aging Yankees were being challenged by Giambi and the A's. During a classic August duel between the two teams in Oakland, Giambi beat the Yankees with a two-out homer in the bottom of the ninth of a tied game. That night, Steinbrenner called Cashman and gave him the simple instruction to sign Giambi no matter what the cost. On December 14, 2001, Giambi signed a seven-year, $120-million contract with the Yankees.
Bob Alejo, the Oakland A's strength coach, had worked with the A's for nine years. By the time Giambi signed his new deal with New York, he and Alejo were inseparable. One Oakland official described them as a star with his valet, "Jason holds the drink. Bob holds the cocktail napkin." The two could always be seen palling around on the road. Nervous about going to New York, Giambi needed Alejo, more than anything else, for companionship. When he was in negotiations with the Yankees, Giambi doubled Alejo's $85,000 salary to entice him to quit the A's. Alejo had worked with athletes for nearly twenty years. He trained the great track star Jackie Joyner-Kersee and her brother, Al Joyner. Now, he agreed to become Giambi's personal trainer, and the Yankees agreed to give him full access to the Yankee facilities.
Giambi was an enormous man, six-foot-three, 235 pounds, and while he was fanatical about his weightlifting, he was also a slave to fast food. He loved McDonald's, and the West Coast hamburger chain In-N-Out Burger. Because of his body type and the periodic acne that appeared on his upper back, Giambi could never quite escape the rumors that he was a steroid user. In this he was no different from his best friend Mark McGwire. When Giambi won the American League Most Valuable Player award in 2000, the whispers of steroid use grew louder. Part of the reason was that Giambi's physical features had changed. His face grew blocky. His body, already large, seemed bigger than ever. His home run totals grew gradually, from 20 in 1997, to 33 in 1999, to 43 in 2000. But at the time Giambi cashed in with the Yankees, few linked him to steroid use, because Barry Bonds had that season hit a record 73 home runs, nearly twice as many as Giambi, whose home run total had actually decreased in 2001, to 38, odd proof in some circles that Giambi was no syringe-created star. Plus, Giambi was always lighthearted, accommodating, and not prone to any of the mood swings that were associated with steroid use.
To the Crusaders, the amateur sleuthing that was now part of sports was ridiculous. There may have been some players who looked to be obvious steroid users, but to John Hoberman, baseball was at its duplicitous worst. The players and managers complained that players were being unfairly tainted by steroid suspicion, but neither would be committed enough to adopt a steroid-testing policy that would begin to end the suspicion.
There was something else. Jason Giambi was so enjoyable for the beat writers to cover, so completely unpretentious by star player standards, and so enjoyable to his teammates, coaches, and Oakland employees that no one wanted to think anything bad of him. There were enough horrible people in the game, one Oakland official close to Giambi once said, to hope that nothing bad happened to this guy.
* * * * *

FOR WHAT seemed like an eternity, Jason Giambi stood with his back to the reporters who camped in front of his locker that day in Chicago. Jeter had spoken. Now Giambi, the new $120-million star, was expected to comment. Giambi did not handle himself particularly well. He knew his name had been linked to steroids during his last couple of years in Oakland, when he had turned into a superstar, but he also knew that as a first-year player with the Yankees, anything he said risked being the story for a given news cycle. Giambi was out of his comfort zone, and the more nervous he appeared, the less confidence the press seemed to have in him. If Jeter spoke with the coolness and refinement that reflected his New York sensibilities, Giambi resembled a deer caught in headlights. When he finally turned to face the press, Giambi's eyes darted like a pinball, up, down, left, right. It was an uncomfortable moment. When he made eye contact with the group, it was for a mere flash of a second. He didn't know about steroid use in the game, he said. He didn't know why Caminiti would say the awful things he did. Testing of players? Well, that was an issue for the Players Association. He didn't have any business commenting on that. Then, he blurted out the worst. "I just don't know anything about this." Giambi's discomfort was multiplied across the league.