By Michael Leahy
Special to ESPN Book Club
Editor's Note: The following is excerpted from "When Nothing Else Matters" by Michael Leahy. Copyright (c) 2004 by Michael Leahy. Reprinted by permission of Simon & Schuster, Inc. .
Chapter 3: The New World
(Note: UTE is a professional hockey club based in Budapest)
On the day he reclaimed his old life and touched down in Wilmington, N.C., he went to shoot baskets for an hour. His left knee ached, not a searing pain, but a pain not going away either. The press did not yet know about the problem, and Michael Jordan's silence on the subject was a tacit order to the coaches to be quiet about it, too. But the knee reminded his entourage and Washington Wizards officials about the precariousness of athletic comebacks.
At an advanced age, the body stops forgiving. It is particularly indifferent to aged ex-athletes who have taken off three years, forgotten about jogging, carried on passionate affairs with French wines and Cuban cigars, and rushed back into competition. Any success they have thereafter tends to be short-lived and to feel like a Faustian bargain. A weird doom hovers. The athlete oscillates between the bliss of being in the dreamy past and the melancholy of his realization that he will be forced to leave it soon.
It was Michael Jordan's mood from the first day he arrived at the Wizards' training site, on the campus of the University of North Carolina, Wilmington.
Always, he seemed to be trying to make peace with the fact that he was terminal. Training camp had brought him back to the game, but there, at 38, he had to take his place amid raucously carefree, younger men -- Richard Hamilton, Courtney Alexander, Tyronn Lue, Tyrone Nesby and Jahidi White, among them -- who had been elementary school tykes when he began his career, so young that they might play into the next decade.
The youngest, Kwame Brown and Brendan Haywood, had been 2 years old and 4 years old, respectively, when Jordan played his first NBA game. They were reminders of just how little time he had left.
"They're the youngsters, I can see that, and they're the future when I go back upstairs, which I know is soon," he said in camp, and paused, wrapping his mind around the idea, then nodding, not at a listener but at something happening inside his own head. His voice became a mumble. "I know that."
He realized by then that his return would amount only to a flicker -- a year, maybe two at most -- and that, like all other flickers, it would then go out. When he momentarily forgot this reality, his body sent him reminders. In the three years he'd been gone from the game and sedentary, parts of him had atrophied and stiffened, a process hastened as he slid from his middle 30s onto the doorstep of 40.
His old Chicago team doctor, John Hefferon, thought Jordan's long inactivity -- "deconditioning," Hefferon called it -- made him particularly vulnerable to tendinitis if he failed to pace his comeback carefully. Hefferon was prophetic. As Jordan pushed harder, the tendons and joints in his knees quickly inflamed. For a while his left knee was considerably worse, but then the right knee felt afire. Back in Chicago, Hefferon privately thought there was only one sure cure for hurting knees -- reduced practice time, including a day off here and there. Tim Grover thought the same thing.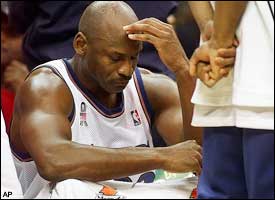 Jordan's knee injuries prevented him from becoming Air Jordan again.
(Expletive) that, just get me the (expletive) ready, Jordan responded. For a while, a moderately paced conditioning plan seemed in place: He would practice once a day, skipping the team's second daily workout session.
But, after receiving lengthy treatment for his left knee, he felt so good in the early days of practices that, on day three -- Thursday, Oct. 4, 2001, with his old college coach and mentor, Dean Smith, observing for much of the day -- he decided to participate both in a strenuous morning session that included lengthy defensive drills and in the evening intrasquad scrimmage, which was off-limits to the media. Toward the end of the scrimmage, he was in pain, grimacing, taking a seat on the end of a bench. A trainer taped grapefruit-sized ice bags around both his knees.
Reporters waited outside, most of them unaware Jordan had experienced any problem, writing off his stiff shuffle to common preseason soreness. After their admission into the gym, with practice finished, Jordan leaned against the bleachers, and the media crowded around him, a scrum of about 30 reporters. "See a little ice there on ya tonight," a smiling Carolinian said good-naturedly, gesturing at the big drippy bags. "How are ya feelin'?"
Jordan smirked a little. He made any reporter who casually broached the subject of the ice sound na´ve about the realities of the basketball grind. "Always ice 'em. I ice every night. Obviously."
But his knees were no better on day four. He played some point guard, where he could pass the ball from around the top of the key and minimize his movements, but still he hurt. Even before the end of the practice, the ice bags were on the knees again, so big and stuffed with translucent frozen chunks that when he shuffled around, it called to mind the image of an ailing Thoroughbred outfitted with protective sheathing on his hooves. He gingerly walked around a bench for the last few minutes of practice, limping.
Finally, one of the assistant coaches blew a long whistle to signal a finish, and the press scrum, trained like Pavlovian dogs, rushed to encircle Jordan, panting, jostling for position. Cameras and boom microphones bumped his arms. Jordan coolly adjusted an ice bag and flexed a knee. The questions about the knees and ice had to come, but they did not.
"What's up, Mike?" somebody began.
He talked about subjects he liked -- how he wanted to lead the team by example, and how he did not mind if Hamilton and Alexander carried the Wizards, offensively, on some nights, and how he thought he might like to play point guard sometimes.
"Two more questions, guys," a Wizards public relations person chirped.
"How is your knee holding up, Michael?" a local radio reporter asked from the side of the scrum.
Jordan ignored the question. He did this without a trace of irritation. His head did not even tilt in acknowledgment of the man on the side, so it seemed possible the question simply had not registered amid the scrum's screams. The man tried again, shouting over 20 others. This time a silent Jordan blinked and pursed his lips, stealing a look at the persistent man, filing away a memory of an irksome face. It was, in retrospect, a telling moment -- one of only three times, over the next two years, when he altogether ignored or brushed off a vexing question.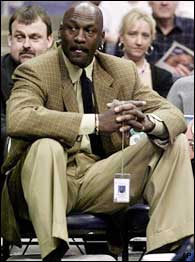 Jordan never got used to his "best seats in the house" status.
Now, like a thunderous wave, a dozen other shouted questions drowned out the man. None asked about the ice bags, the shuffling, the obvious discomfort. Such deference typified most of the media's approach around Jordan, where a studied servility was the rule, and a phrase like "sucking up" did not do justice to the level of subservience at work. If the pack sensed, as it did now, that he did not want to touch a subject like his knees, then that subject was generally dropped, lest Jordan penalize the offending reporter thereafter by being curt with him.
Jordan enjoyed nearly all the leverage in the relationship. He knew the secret; he had become a source for a few trusted journalists and, with a smile, implicitly dangled this chance for others so long as they pleased him. It naturally left the whole incestuous process compromised, resulting in columns and stories rife with omissions. Reporters' worries about access trumped their eagerness to scrutinize the idol. It was a restraint bred in them long before Wilmington, a deference that had become second nature.
So on this day, as the radio reporter shouted the question about his knees, a more accommodating reporter caught Jordan's ear by asking what he wanted to see in the way of effort from his new teammates.
He pulled on his little goatee, rubbed at his tiny mustache, smiled, nodded and looked the guy square in the eyes -- that intimate gaze he trained on people whom he welcomed into the front of the pack. Good professional question, the nod said. You got it. Way to show your savvy. The real story here is whether my teammates will take my lead, and you were perceptive enough to see it. "The effort?" he asked solicitously, just in case anyone hadn't heard, which was part of what made him so good doing this. He framed a question and then delivered his theme of the day. "Just showing the love they have for the game -- especially the young kids. You can't get better than being the first one out of the locker room or being the last one on the court. I don't want to have to tell them that. It's something you gotta love. ... When I see that, they gain my trust, obviously. I've seen guys stay after and work on their games. But then again I've seen that guys haven't. So, obviously, they get a little whisper in their ear. ... We gotta spend time workin' on our individual talents, and that goes for everybody, really."
Another radio reporter had a habit of familiarly calling him "Mike," as if they were longtime buddies. The guy shouted the same question every day -- "Hey, Mike, I asked you the same question last night: How do you feel?" -- but, just the same, Jordan could do something with it. He laughed, mixing a snicker in there. "The same as I felt last night: Good."
"Thanks a lot, guys," said the Wizards p.r. person.
That first radio reporter on the scrum's edge tried a last time. "Michael, about your knees ..." His voice trailed off. Jordan was gone, the horde following him.
Nearby stood an impassive Tim Grover, who, for the moment, had a goatee like his boss's. The two men seemed to coordinate their dress and appearance, if only subconsciously perhaps. If Jordan wore black, so did Grover usually. If Jordan was in a houndstooth jacket and donned a silver earring for his left lobe, chances were as good as not that Grover would walk into a room sporting the same look. The clothes led to a perception that Grover was the entourage's Mini-Me. But Grover was neither a yes-man nor a hanger-on, rather one of the few men around Jordan who dared on occasion to be a contrarian voice, risking Jordan's wrath.
Grover gently confronted him in Wilmington, after Jordan had played in four hard intrasquad games in five days. Seeing his boss's movements increasingly hampered, knowing Jordan was suffering from a worsening case of tendinitis, Grover tried to cajole Jordan into doing what in the old days constituted a training sin in the Grover book: Think of going easier, or not at all -- at least for a few days.
The boss shook his head. Grover tried a final time, this time in starker terms, painting a picture of the possible calamity awaiting. Just get me ready, Jordan ordered him. I'll be fine, whatever happens.
The story of Jordan's persistent physical troubles began in that moment. Privately, Grover believed Jordan was favoring the left knee, which, if true, meant his right knee already had begun to compensate by absorbing more stress, leaving it vulnerable to tendinitis, too -- physiology's equivalent of the domino effect.
It was the comeback's first real crossroads -- Jordan's last chance to attend to his knees' problems before they escalated into something chronic and season-threatening. Grover persisted. Jordan nonchalantly resisted. The unspoken question hung there between them: Do you ease off the pedal or risk derailing?
Jordan found the press that weekend and made a vow: "I'll be ready for the opening of the season."
And the derailment began.
Which left only one man who could protect him.
Click here to go on to Part 2 of the excerpt from "When Nothing Else Matters"