By Michael Leahy
Special to ESPN Book Club
Editor's Note: The following is excerpted from "When Nothing Else Matters" by Michael Leahy. Copyright (c) 2004 by Michael Leahy. Reprinted by permission of Simon & Schuster, Inc.
Chapter 3 (cont.): The emasculation of Doug Collins
The person always best suited to save a player from his compulsions is that player's coach, a man with presumed stature, hopefully a little sagacity, and, generally speaking, unquestioned daily authority. But Doug Collins had only a title; he demanded nothing of Jordan that the star did not wish to do. He owed his job to Jordan, whose wishes were fiats, and whose knees would be forever young, if Jordan told Collins so.
Jordan did not want to sit now, and Collins would just have to accept it -- as well as to tell the press that he and Jordan were on the same page. Collins never dared to contradict him. In Wilmington, as throughout the season to come, Collins nightly served as Jordan's Ron Ziegler -- the star's spokesman, concealer and protector who'd fall on his sword for the boss if necessary. No observer could even suggest Jordan had had a subpar practice or scrimmage without Collins launching into a vigorous defense, just the beginning of a year during which Collins would shoulder the blame for many of Jordan's off nights by explaining that his coaching shortcomings were the cause: He had failed, he'd tell the press, to get Jordan the ball in the right place, or to concoct an effective strategy for coping with a defense. It was never pretty to watch -- from the beginning in Wilmington, you felt yourself slowly watching the emasculation of a man. In private, Collins sometimes read his Bible -- lessons and homilies reflecting his conviction that, in life and sports, there was a right way and a wrong way. His piety did not help him much as a coach, nor did the unflattering contrast between his deference to Jordan and his rough-hewn treatment of other Wizards. He talked much about his young players' responsibilities and shortcomings, but he dodged truths about Jordan's worsening condition while wearing a silver cross around his neck. He insisted he knew nothing about Jordan's tendinitis, which meant that he was either na´ve and sadly out of the Jordan loop or guilty of misrepresenting his player's condition -- there was no other option. Much of the Wizards' season hinged on what Collins did and did not do in the next couple of weeks about the Jordan knees. In not handling the issue of the tendinitis early -- either by delaying the start of Jordan's play or severely restricting his minutes on the court during the first month of games and practices -- Collins ensured that his star's performance throughout much of that first season would be erratic, and that eventually the pain and loss of mobility would sideline him. Jordan soared whenever his pain slackened, but a bad wave of tendinitis untreated is like the migraine that sporadically returns: When it strikes, its victim is useless. Even in Wilmington, Jordan could be brilliant one night and reduced to a hobble the next. It was a prelude for the season. During training camp, Collins encouraged the belief that the pain in basketball's most famous knees was merely a normal, temporary effect of the team's rigorous workout regimen. He laughed dismissively when anyone uttered the word "tendinitis." The questions about it were few, but they wore on him just the same. This was part of his nature, too. He had a virtually nonexistent frustration threshold for topics that defied the theme that he wanted the media to advance. I stood alongside him one evening as he shook his head in exasperation at a reporter who dared to broach the matter of Jordan's knees. He wore his silver cross over a white T-shirt and black vest, and fingered it like a talisman. "You guys, you guys," he sighed, shaking his head gravely. "You guys." This did not sound good. "My man," he groaned. "My man" usually served as a prelude to Collins's most irritated responses. "My man, he was going twice a day there," he barked. "You don't think everyone gets a little tired? Michael's fine."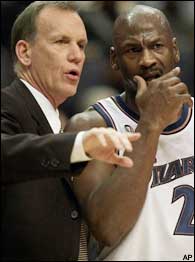 Could two men co-exist when one of them had the other fired?
He put up his hand like a stop sign then. No more questions. Enough. But as long as Jordan wore those ice bags and shuffled, the problem would not be going away, and, increasingly, there would be reporters posing variations of the same question. The next day, he was asked whether he was being careful to protect Jordan against a possible tendinitis problem.
The red lights of a couple of recorders flicked on. Collins took his time, answering but not really. "Well, I think his second night here, he was awesome, you know. And then he came back the next day, and he went through the whole morning practice and it was very intense, and he went through the whole evening practice, and it sort of set him back a little bit. So I said, 'Michael, you got to trust me that, ummmm ..." His words trailed off. Collins would not be amplifying on whatever Michael was supposed to have trusted him about. He fingered his cross. He looked around and raised his hand slightly, as if poised to put up the stop sign. One day, Jordan and Collins were watching tape of a Wizards intrasquad scrimmage when Jordan observed, "I look like I was in slow motion." He appeared hampered on some days to Tim Grover. But in the days ahead, Collins did not waver from his insistence that all was well with Jordan. "Michael is on progress, he feels great," he said exuberantly to the scrum, on Wednesday, Oct. 10, 2001, the eve of the Wizards' first preseason game, a matchup in Detroit, for which Pistons fans had bought every ticket in anticipation of Michaelmania, but a game that Jordan announced he would be skipping. Collins supported his decision, nonetheless assuring reporters Jordan had no injury or pain. "It's not like there's any setback," he said casually. "There's no tendinitis. ... He feels real good right now, so he wants to keep building, and I'm all for that." Collins declared that Jordan would not be playing later that week in Miami either, and that it was possible he might sit out another preseason game against Detroit the following week. Jordan added: "Even in '96, '97 (with the Bulls), I didn't really play heavy minutes in exhibition games. ... It was my call here." But he was just fine, he said. The questions and answers could have ended there, but there was a part of Jordan that never could walk away from an issue without at some point hinting at the truth and then engaging in a little téte-á-téte with an inquisitor -- hinting at what was real before qualifying it or shading it or explaining it away altogether. In such a moment, like now, he slowly leaned toward the questioner and closed the space between the two of them, never menacingly, but making the exchange feel like a gentlemanly test of wits and virility: He would not back down from doubters, would not be sissified by anybody, ever. He'd face the pad-toting skeptics on their terms. It seemed just one more test he'd laid down for himself.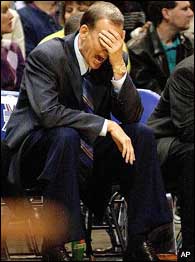 Forget about the supporting cast, Collins never even had "Jordan."
So he started talking about tendinitis.
He mentioned the summer injury to his ribs and how, he said, "it set me way back. (Before that), everything was on key, you know, no problems in the tendinitis, nothin'. I was out eight weeks (recovering from the injury). Then I tried to rush back, without going through my fitness and strength conditioning. My tendinitis flared up, and then that kind of put me behind the eight ball, and now I just got to be patient and make sure I'm going through the necessary steps ..." He indicated that he had tendinitis then -- but not now. "I'm getting there," he said. And then he prepared for a flight to Detroit, where, though he did not know it yet, he would need to play in the game, because David Stern said so. Detroit and Miami had complained to Stern's office: They had been able to sell out their arenas for a pair of meaningless exhibition games only because ticket buyers expected to see the first games of Jordan's return ... and now Jordan and Collins were going to stiff them? Stern's top-ranking subordinate, Russ Granik, spoke to Collins, informing him that the league wanted Jordan to play. The two men were friendly acquaintances, and Granik observed that there appeared to be no reason why Jordan couldn't or shouldn't play. It was time for Collins to speak up: He's struggling with tendinitis. His knees are killing him on some nights, and we're only a week into this. He could play in Detroit and Miami and might even play well, but it could set him back further if we don't ease the swelling in those knees right now. Consider him injured. We want him healthy for the start of the season, but he might not be if we don't take care of him. You wouldn't ask any other ailing player to risk his season like this for a game that doesn't count for squat. Had Collins said this publicly, the result would almost certainly have been different. If Jordan had called Stern with news of his problem, and followed up by briefing the press, he likely would have spared himself a week's worth of exhibitions. No other NBA star afflicted with Jordan's pains would have been asked to play.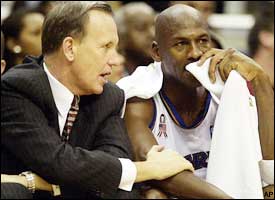 Critics thought Collins was a coach in title, while Jordan called the shots.
But Collins didn't make the case, and Jordan wouldn't make a call.
Jordan would have to play. "People hold Michael to a different standard," Collins grumbled, but his complaint entirely missed the point. Jordan had to play because Collins didn't or couldn't talk about his player's condition. How could Collins report to the league that Jordan suffered from tendinitis when Jordan denied he was hurting and, moreover, did not want Collins to suggest he had a problem? The handling of the tendinitis quandary presaged a far more damning problem for the Wizards. Over the next two years, whenever an issue critical to the team's well-being arose, Jordan bent Collins to his will -- whether it was over Jordan's playing time, or who among his teammates deserved to start or not start, or what type of offense or defense to deploy. Collins's lack of power illustrated the dangers in allowing any team's Zeus to rule over a coach and franchise. When it came to Jordan's physical well-being, only one man refused to be subservient. His private warnings had gone unheeded, and now they spilled from him publicly. In the beautiful coastal town of Wilmington, where it seemed like nothing could go wrong, Tim Grover acknowledged Jordan's problem one evening while in a restaurant picking up food for the Jordan coterie. "We've worked through every challenge except the tendinitis; we know we have to deal with it," he said. But Jordan continued resisting much of Grover's advice. He wouldn't take time off to rest, because resting would involve a tacit admission that he had a problem, and Jordan would never allow that. Jordan's instinct, thought his old Chicago doctor, John Hefferon, would always be to conceal. Early in his career, he had hidden the news of a broken facial bone from the press in Chicago, where he played through the slow healing without a protective mask and ordered that Hefferon and others in the Bulls organization say nothing, determined that the news of his injury not leak to opposing teams. He did not want rivals believing he was vulnerable and gaining even the slightest of psychological benefits. Now as then, opponents had to be braced to lose. Now as then, Jordan believed in his ability to conceal nearly any problem, on or off the basketball court. Secrecy was an ethic to him. He did not so much lie to others as deny to himself. It was Jordan believing that Jordan could overcome anything. So now that he knew he needed to play in Detroit, he had developed an upbeat line intended to let everyone know he would be coming to Motown armed. "I think we've had a good training camp," he said. "Good effort by everybody. ... I feel very confident."
Click here to go on to Part 3 of the excerpt from "When Nothing Else Matters"