By Michael Leahy
Special to ESPN Book Club
Editor's Note: The following is excerpted from "When Nothing Else Matters" by Michael Leahy. Copyright (c) 2004 by Michael Leahy. Reprinted by permission of Simon & Schuster, Inc.
Chapter 3 (cont.): The deconstruction of Kwame Brown
Jordan looked around. Off to the side, in sweat clothes, Kwame Brown stood alone, under a basket, trying to palm not one but two basketballs. The kid grinned and waved one ball in Jordan's direction, as if to say, Hi, hi, look over here.
Jordan never saw him, moving gingerly in the other direction with Grover, out the door. Brown put the basketballs down and just stood there, watching. To be the first high school player ever selected with the No. 1 pick in the NBA draft meant that 19-year-old Kwame Brown arrived in Wilmington as the Wizards' baby deity, the player with the second most value on the team, right behind Jordan. In any other NBA training camp but for the Los Angeles Lakers', the media would have mobbed Brown daily, reported on his every doing. But the relentless focus on Jordan enabled the 19-year-old Brown to undergo most of training camp away from intense scrutiny, a lucky thing, as Brown was struggling in Wilmington -- both on the court and in his relationships with the two most important Wizards, Jordan and Collins. No one among the Wizards had expected him to perform like a star at the outset, or be skilled and savvy enough to start. The team's officials understood that, without exception to that point in the league's history, players drafted out of high school had struggled in their first couple of NBA seasons, including those who since had become marquee stars in the league -- Tracy McGrady, Kobe Bryant, Kevin Garnett, Jermaine O'Neal. Typically, it took a year or longer for a teenager to develop a body strong enough to compete in the NBA, and even more time to acquire the finesse and signature power moves that tended to separate the survivors from mere street-ballers. While understanding that Brown likely would need an extended development period, Jordan and Wizards officials hoped that he would be a productive reserve in his first season, immediately rewarding their faith by displaying intense effort, concentration, discipline and glimpses of the kind of play that marked a 6-foot-11 future star. In short, they wanted to see an inkling of a future O'Neal or Garnett. None of that seemed to be happening in Wilmington. It was scary for some Wizards officials to see just how befuddled and often listless Brown appeared to be. The second-guessing over Jordan's choice of Brown began almost immediately. Swiftly, Brown became a case study in the risks of angering Jordan, a man famously intolerant of slackers and mediocrities. When Brown arrived at training camp in October out of shape after spending part of the summer recovering from back spasms and an illness, Jordan had been patient for about a week, draping his arm around Brown and praising his ability to Wizards officials. For Brown, it seemed nothing had changed. In October, he appeared to be the only Wizards player who enjoyed a real friendship with Jordan, which had begun during the Wizards' courtship of him prior to the 2001 NBA draft.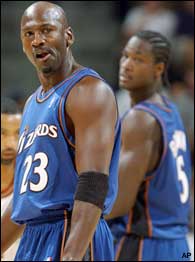 After a rought start, Kwame stayed out of Jordan's team focus.
For a while in Wilmington, Jordan simultaneously played the roles of buddy, mentor and Professor Henry Higgins to Brown's Eliza Doolittle. He lectured Kwame on clothes and nutrition, took him to dinner and asked him if he felt like hanging out with him in the trainer's room. He wanted Brown to see the brilliance of the life that awaited him if he worked hard and succeeded. One day after practice, having noticed Kwame palming yet another basketball in solitary amusement, Jordan palmed two balls, extending his arms and shouting to Brown: "Hey, Kwame, you know what the difference is between you doing this and me doing this?" Brown looked stumped. Jordan laughed and yelled, "They pay me $35 million when I do it."
It was as if, in Brown, Jordan saw the possibility of a kinship with a future star so luminous as to be deserving of a bond with him. "When he got to camp, it was like Kwame already had the credentials in Michael's eyes to be a part of Michael's group," said a Wizards official who observed them daily. "So Michael let him in. For a while at least." Jordan's infatuation with his protégé waned. He thought Brown was cocky and disrespectful sometimes, particularly when the teenager nagged him about playing a one-on-one game, hinting that doom awaited him. Finally, Jordan agreed to the game, Brown grinning on the court, convinced his youth and height would be indefensible weapons against this shorter man twice his age. Early in the game, believing he had a lunging, jabbing Jordan off balance, the kid dared to say, "You reach, I'll teach." Jordan snapped, "You teach, and I'll knock you on your damn ass." He proceeded to humiliate Brown, mocking him while scoring at will, declining to help him up when the teenager fell hard to the floor, winning lopsidedly and, at the end, yelling at Brown to acknowledge his superiority in front of the team: "You better call me 'Daddy,' (expletive)." "Michael was breaking him down," one observer recounted, "probably to build him up. But there was a lot of breaking down." Things deteriorated quickly thereafter. Brown didn't work hard enough for Jordan's taste, and it did not help that many in the Wizards organization, from officials to teammates, thought the kid showed no capacity for either accepting criticism or honoring an old basketball tenet that said rookies should play hard, accept bruises and complain about nothing. With the criticism mounting and his play getting worse, Brown became maddeningly frustrated, a kid convinced he was being repeatedly fouled in intrasquad scrimmages by two veterans, Christian Laettner and Jahidi White, who weren't quick enough, Brown believed, to stay with him. He would drive toward the basket and feel himself being bumped by a hard hip, sometimes losing the ball, infuriated the referees wouldn't blow a whistle. "That was a foul," he finally groaned. Play stopped. There was an electric silence. A wide-eyed Jordan was walking toward him. "You (expletive) flaming (expletive)," Jordan exploded. "You don't get a foul call on a (expletive) little touch foul, you (expletive). You don't bring that (expletive) here. Get your (expletive) ass back on the floor and play. I don't want to hear that (expletive) out of you again. Get your ass back and play, you (expletive)." A stupefied Brown could say nothing. He looked close to tears, thought a witness. "It was not a mortal wound," the same Wizards official said. But the man believed that Jordan's words left Brown numb for several days thereafter, observing that Brown appeared to be increasingly tentative on the court. For as long as Jordan would remain in his life, Brown would be diplomatic. Even so, some memories he had difficulty holding back. "It was pretty rough," Brown recalled later of the scrimmage. "But that's Michael Jordan. You deal with it. You learn you're a rookie and you're not going to get calls. ... But sometimes I felt all alone out there, like I was surrounded by sharks." Famously hard in the past on many of his Bulls teammates, Jordan saw his approach in the Wizards camp as part of the toughening process for rookies and others who had not yet learned how to win in the NBA. He liked testing people, even when it ran the risk of temporarily breaking their spirit, certain that the strong would become better for it, and that the intimidated were unworthy anyway. He rode Tyronn Lue hard for not passing him the ball in his favorite place down low near the basket and for not being positioned at the right spots to take Jordan's passes and shoot long jumpers: "What are you doin' runnin' around? Get me the ball, get set, catch my pass and shoot. I don't give a (expletive) how far out you are. Shoot out there. If you're open, don't be drivin' down in the lane and gettin' that (expletive) swatted away. Shoot." He would be flabbergasted watching Brendan Haywood drop balls, and scornful when Courtney Alexander and Richard Hamilton got burned on defense or didn't fill the proper lane on a fast break. But he saved his most withering looks and words for Brown, with whom he didn't seem to know what he wanted to do, lavishing attention on the kid in one moment, skewering him the next. Freely admitting to having had his ass kicked on many days, Brown had taken refuge in his video games. He loved these solitary contests, his head bent with a concentration so complete that teammates calling to him sometimes couldn't get his attention. Jordan sporadically continued trying to play the role of mentor. It was not something that came to him naturally. He regularly approached Brown in locker rooms, whispering to him, earnestly patting his back for a couple of seconds. But they were separated by a full generation, and nothing linked them other than basketball and their passion for games. One afternoon after a practice, Brown rushed up to him, having heard that Jordan played poker and tonk with other players. "Can I play with you guys?" Brown asked. "You want to play cards?" Jordan sounded at once dubious and intrigued. "Yeah." Jordan chuckled. "You'll bring your money?" he asked, making clear the rules: "People have to bring their money. No owing. Gotta bring your money." "OK." "We can do that, rook. Just make sure to bring your money." Assistant coach John Bach interrupted, warning Brown: "Kwame, there're some things you don't do in life. You don't eat at a place called 'Mom's,' you don't play poker with a guy named 'Doc,' and you don't play cards with Michael Jordan." Jordan groaned at Bach. "Why did you have to say that?" Others observed Brown happily playing with Jordan a couple of times, but no card game could be a substitute for a real relationship. Theirs was suffering new strains all the time. As Brown's on-court performance and practice habits continued to lag behind other players', Jordan and Collins began losing what was left of their patience. There would be no good cop-bad cop arrangement between them, no one from whom Brown could count on receiving a little sympathy after the other had eviscerated him. Collins began sharing his misgivings about Brown with the media. Not many businesses permit their supervisors to publicly bad-mouth and sometimes humiliate their workers. But in professional sports, and the NBA especially, coaches and the media have a mutual interest in seeing a few players embarrassed. Media receives something to gab and write about; coaches get to vent. Good and bad coaches alike tell reporters who on their teams shoots too much, or who is out of shape, or too emotional, or not emotional enough, or not seeming to grasp the offense, or slacking on defense, or who -- in the most damning criticism -- looks totally lost out there. Coaches use the media as a conduit for turning up the heat on underproducing players, and Collins was using the training camp to put the flame under a 19-year-old. "I begged him this summer to understand what kind of condition you have to be in to play at this level," he said, sounding alarmed, and no coach was more talented at sounding alarmed than Collins. He invested and begged with the force of a parent who said he'd begged his child not to drink and drive. He made begged sound like a mournful plea, the last fruitless attempt of a caring and beleaguered elder, adding, "And he came in woefully out of shape. And he's trying to catch up at the wrong time." Collins's approach toward Brown was confusing and contradictory. He would say something stinging about Brown early in a week, and later, as if trying to put a salve on his criticism, comment that he "loved" Brown and that the teenager was doing everything asked of him. He'd call Kwame over, in front of the media, and say he had a video for him to watch. "Kwame's been great. He's been great," Collins said during week two. "He's working hard. I couldn't ask anything more from him. He's got a great spirit and attitude ..." Soon, Collins was publicly perturbed again: Brown, he said, was seven pounds overweight; the young man was stubborn; he didn't listen well; his conditioning was still subpar. "He's in great shape," Collins said sarcastically, "to play a high school game." It was an early look at the erratic style that had plagued Collins elsewhere. Less than a month into his NBA career, Brown found himself in the surreal position of having to deny that he had a problem with his 50-year-old coach. Jordan was ill-suited for mending things. "These young kids should take it upon themselves to prove that they deserve to be in a winning program," he said, pursing his lips as if pained, "because they haven't thus far." Kwame was his potential nightmare. Kwame might be his Ishtar. Kwame, he knew, might be the only thing people remembered of his executive days, if they weren't all careful. Why couldn't the kid handle the ball? he asked people in his entourage. Was it just his imagination, he asked, or did Kwame's hands look small? What the hell was happening?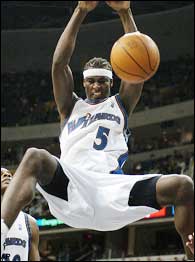 Brown showed flashes of brilliance, but never enough to escape Jordan's wrath.
Jordan tried to stay upbeat, but he wafted doubt. Where was Kwame's head right now? somebody asked him.
"Kansas, somewhere," he answered. Hearing laughter, he tried to soften that. "A kid, 19 years old, getting a dose of what NBA basketball is all about: I imagine his head is spinning. But he has to be willing to make the commitment. ... He's walking around with a headache, I'm pretty sure ..." He posed a rhetorical question. "Could (Kwame be showing) resistance? Could be. Could be." Meanwhile, the young man with the headache had spent the training camp and preseason perfecting his look of serenity. No matter how bad it got, Brown told others, it would get better. He had been a poor Georgia kid just six months earlier and now he was a multimillionaire and this was much better, he thought. I bumped into him by accident late one afternoon. He stood smiling just outside the gymnasium in Wilmington, saying things were going OK and that he tried not to read much in the papers about himself or anything else. Didn't want to know what people were saying about anything. Just wanted to relax at night when he was done. Relax, play his video games, be left alone. Alone. Not needing to know anything more than what they'd stuffed in his head that day. Alone. A nice peaceful feeling. And you could do that, Kwame Brown said. "That's the good thing. You can really be alone in your room if you want and people can't get to you. Just rest. Get ready for the next practice. Not having to think about anything else. You can like tune out. That's a good feeling. Nobody can get to you. Nothin'." Even with all his on-court hassles, he liked it, the life, he said. He was an affable young guy, engaging to be around and at that moment delighted to see a big collared German shepherd crossing the path in front of us, being led by a policeman. "Damn, that's a big dog," he said happily. "Why do people bring a dog to a gym?" They're here to do a search, I said. It's just precautionary. He looked at me. Search the place for bombs, I said. Before your intrasquad game. Just routine. Precautionary. His mouth opened into an oval, a big O. His face went slack with surprise. Not shock or worry, but surprise just the same, that big puzzlement that comes when you've thought all along that something can't touch you and then you get an inkling that somebody else thinks it can. He'd heard a lot about the thing, as he called it. The thing in New York, the thing in Washington. Terrible thing. He was puzzled that anybody thought that the thing might ever get this close. Nothing but basketball ever got this close. "Big dog," he mumbled. The dog was already sniffing at stuff. "They really gonna look for bombs?" He stared, his mouth wet and open, a kid's mouth. They looked for bombs.