Commentary
Curses, superstitions and sports
Updated:
October 29, 2009, 12:03 PM ET
By
Robert Booth
| Special to Page 2
Superstitions and curses play a big role in sports. The 1969 Cubs know all about that -- seemingly on track for the postseason, the Cubbies collapsed in September that year after a black cat crossed paths with Ron Santo in the on-deck circle at Shea Stadium. Blame it on the black cat or the Curse of the Billy Goat, but the Cubs haven't been to a World Series since 1945 and haven't won one since 1908.
[+] Enlarge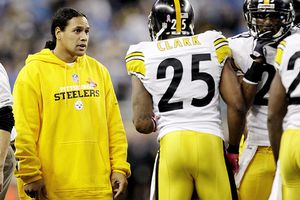 AP Photo/Paul SancyaDidn't take long for the Madden Curse to sideline Troy Polamalu this season.
It could be the Cubs just stink. Or, maybe we need to look into the mystical and just plain weird. In honor of Halloween, Page 2 presents some curses and superstitions from the sports world past and present.
• The Madden Curse has plagued nearly every athlete who has appeared on the cover of John Madden's wildly popular football video game. Simply put, you appear on the cover, and you almost always are injured the next season.
You'd think athletes would drool over being the face of one of the most popular video game franchises of all time, but the Madden Curse is not to be trifled with. The only athlete who has beaten the curse in the past 11 years is Ray Lewis. This season, the curse already got co-cover-boy Troy Polamalu; the five-time Pro Bowler tore the MCL in his left knee in Week 1. The other co-cover-boy this year, Larry Fitzgerald, must wear a garlic wreath under his shoulder pads or keep a rabbit's foot in his sock: He has stayed healthy so far this season and is tied for second in the NFL with five touchdown catches.
• Dallas Mavericks guard Jason Terry has been known to wear the opposing team's shorts the night before a game -- a tradition that stems from his college days at Arizona, where he and teammate Mike Bibby would wear their uniforms to bed the night before a game. Imagine if Terry accidentally showed up to a game in the other team's uniform -- awkward!
• Washington Capitals defenseman Karl Alzner is said to tap the ice 88 times and then trace the outlines of the Canadian maple leaf while listening to the Canadian national anthem before a game. That means Alzner will tap the ice a minimum of 7,216 times during the regular season. His curious ritual brings me back to my roller-skating class in second grade. (Yes, I took roller-skating lessons.) To graduate, we had to successfully trace a figure eight and skate to "The Chicken Dance." Maybe Alzner could add that to his routine?
• At a pumpkin-carving contest, I came across a design that reminded me of NHL Hall of Famer Glenn "Mr. Goalie" Hall, who played from 1951 to 1971. Hall was known for both his grace and agility in the net and his superstition that his team would lose if he didn't lose his lunch before a game.
[+] Enlarge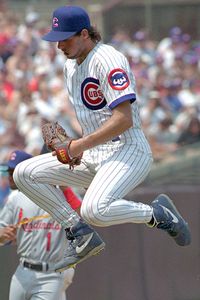 AP Photo/Mark ElliasPretty impressive vertical on that foul-line leap, Turk!
• Former major league pitcher Turk Wendell admitted he brushed his teeth between innings and would chew four sticks of licorice while he pitched. And after every inning, Wendell would hop over the chalk foul line, à la "Field of Dreams." Hop, rinse, repeat. Apparently, Wendell turned his habit into a marketing deal for one of nature's oldest foods.
• Legendary NHL goaltender Patrick Roy was a talkative guy. I don't know any of his former teammates personally, nor did I cover his teams in any capacity. I learned this from the goalposts. Roy was said to talk to his goalposts throughout games, claiming that was the reason he got many of the saves and lucky bounces he did. Can you imagine their first conversation?
Roy: "Come here often?"
Posts: (Silence)
Roy: "I'm Patrick. I work here. Hey -- do you know how much a polar bear weighs? Enough to break the ice!"
Posts: (Silence)
Roy: "I get it. Too cool, huh? I'll be in the crease if you change your mind."
• The Curse of Bobby Layne is one of the most famous in sports history. In 1958, the Lions traded the quarterback to the Steelers. Layne prophesied that the Lions would "not win for 50 years."
Well, 50 years came and went, and Layne's curse is still going strong. The Lions have not won a championship since and had the worst winning percentage of any NFL team during that half century. To punctuate the point, the Lions celebrated the 50th anniversary of Bobby Layne's hex with the first 0-16 season in NFL history. Even weirder -- current Lions signal-caller Matthew Stafford attended the same high school as Layne, Highland Park in Dallas!