I cannot recall a time in recent memory when all three of what used to be considered the major sports -- basketball, baseball and football -- were experiencing moments of crisis at the same time. The NBA is confronted with a cheating former referee who seemingly didn't get the "stop snitching" memo, MLB's ongoing steroid scandal continues to attract attention, and the decidedly low-tech caper we now conveniently refer to as Spygate remains unresolved for many in the "No Fun League."
For me, all three of these scandals point to an overall lack of leadership among those who occupy the respective league offices. This lack of leadership is not confined just to sports, though. It cuts across society as a whole and is especially pronounced where competent leadership is most certainly needed: the government. From the White House to the clubhouse, from the corporate boardroom to the locker room, from the Supreme Court to the basketball court, from the government to the gridiron, true leadership in America is at an all-time low. Oh sure, many people wear titles and assume positions of leadership, but few really lead anymore.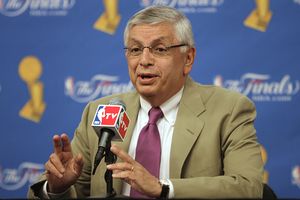 AP Photo/Mark Avery
David Stern merely slammed Tim Donaghy again instead of ordering an independent investigation
into the disgraced referee's claims.
When I talk about a lack of leadership, I mean an unwillingness to confront what at times can be the ugly truths of modern life, the refusal to admit mistakes and to strive to learn from those mistakes, the inability to call it like it is in the face of the obvious. I am talking about being accountable, taking responsibility, admitting unpopular realities and going forward in the interest of improving today what might not have worked so well yesterday. This is true leadership to me, and on all of these counts, the three major sports leagues have failed immensely.
In the case of Tim Donaghy's recent accusations about misconduct among other NBA referees, David Stern seems to think that NBA fans are just gullible. Who hasn't watched an NBA game and complained about the referees' calls? The act of refereeing a game is a highly subjective act. One ref's foul is another ref's no-call. This is all part of the game. I'm not saying that Stern and a group of fat cats are sitting in some private room smoking Cohibas, deciding who gets called for what, but it's not unreasonable to speculate that personal, perhaps even subconscious bias on the part of the refs influences what transpires on the court at times. This is simply human nature.
Take Kobe Bryant's decisive strip of Paul Pierce at the end of Game 5 in this year's NBA Finals. Replays showed that Bryant's hand touched Pierce's chest before it actually reached the ball. But any seasoned NBA fan knows there is no way the refs would make that call against Kobe in the Staples Center with the game and the series on the line. Now if they were in Boston, perhaps they'd have called the foul on Kobe and Pierce would have gone to the line. If it was Vladimir Radmanovic who had attempted to take P2's rock, there is good chance the foul would have been called even if the game was being played in the Staples Center.
All of these possibilities exist because officiating involves humans making judgment calls. Whether or not you believe that Game 6 of the 2002 NBA Western Conference finals between the Lakers and Kings was manipulated, it is most certainly plausible. Yet Stern dismissed even the plausibility of something like this taking place, using Donaghy's criminal status to dismiss his credibility. Stern's marketing acumen as steward of the league is well documented, but the spin he is trying to put on this one reeks of a very foul odor. I'm not saying I agree or disagree with Donaghy, but he was a ref for many years, which means that he does know a great deal about what goes on behind the scenes. Though he cheated on games, it doesn't automatically mean that everything that comes out of his mouth is a lie, no more than it means that everything comes out of Stern's mouth is the truth just because he's NBA commissioner. A proper response would have been a thorough, impartial investigation of the referees by an independent body, just to clear the air of such charges.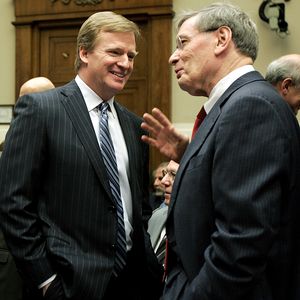 AP Photos/Susan Walsh
Roger Goodell and Bud Selig haven't met their biggest issues head on.
In MLB, people have been complaining about steroids and performance-enhancing drugs since the Clinton administration, but the powers that be were immersed in a such a see-no-evil mind-set for so long that they allowed a lingering sore to fester, eventually metastasizing into a cancerous crisis that tugs at the very core of the sport's identity today. Bud Selig's attempt to close the barn door after the horses had escaped is of little regard now that the government is involved. Again, this could have been resolved a long time ago, before court trials, before congressional hearings and before the indelible smear that such allegations have put on the game.
And with respect to the NFL, is anyone who has watched the New England Patriots in the Bill Belichick era surprised he might potentially exploit every possible angle to gain a competitive edge? But what did Roger Goodell do when news of this Spygate story broke last fall? He told us it was a nonstory, in so many words. He destroyed the evidence, too. When Matt Walsh popped up to offer evidence to the contrary, what did Goodell do? Basically the same thing he did before. Sure, the Patriots and the man whom some refer to as Belicheat were given a financial slap on the wrist, but Goodell stopped short of doing the type of expository investigation that would have demonstrated that the problem was not more pervasive and that it had been nipped in the bud.
All three of the above distinguished commissioners have done a very good job of disciplining various players who they feel are giving their leagues a black eye, but they have not been nearly as tough or as forthcoming when the issues pertain to themselves or the internal affairs of their own leagues. Appeals to law and order tend to play well with certain segments of the public, but I'm starting to wonder whether these appeals are just another diversion to keep the attention away from the lack of leadership that currently engulfs the leagues' executive suites.
The time is past for leaders who simply parrot the company line; who loudly declare "heck of a job" when the truth is anything but. We need leaders who are willing to confront the harsh realities that define these sporting times with truth and forthrightness, not leaders who try to dazzle us with empty catchphrases or other such increasingly transparent hyperbole. We need leaders who respect our intelligence, not those who try to play us as if we are Boo Boo the Fool.
Is it any wonder that such a ridiculous excuse for a sporting event as MMA is attracting more and more fans these days? It shouldn't be. The collective leadership of the "major sports" that I was weaned on in what now seems like the glory days of the 1970s has fallen into despair. Not because of players' salaries being too high or anything to do with the players, really. The reason is that professional sports leaders are so focused on preserving the illusions of their thought-to-be-impeccable brands that they can't see for looking, as it were. As they exist in their isolated bubbles of untouchable privilege, they have lost sight of the reality that their fans often want to watch sports to get away from the drama of everyday life, not revisit it.
It is my hope that this lack of leadership is only temporary. We're at a low point right now, though. Gas prices are as high as Tatum O'Neal, the economy is stuck in an overflowing toilet and our so-called leaders shrug at evidence that the nation was willingly manipulated into what appears to be a war without end. In times past, we could have turned to sports to at least mollify some of this, but when leaders in sports take their cues from leaders in government, we are left with nowhere else to turn.
Commissioners Stern, Selig and Goodell, please, don't get it twisted. The people know what's up, but they haven't chosen to stop watching yet in spite of what they know. Don't take their kindness for weakness, though. One day these people will be gone, and their descendants, who don't share the same love for the "major sports" that their parents did, might just decide that your sports no longer matter anymore.
Dr. Todd Boyd, a columnist for Page 2, is an author, media commentator, and The Katherine and Frank Price Endowed Chair for the Study of Race and Popular Culture at USC. The paperback edition of his "hip-hop history" of the NBA, "Young, Black, Rich and Famous," is now available.