Yankees-Red Sox: The simmering feud
Editor's note: The following is adapted from "The Greatest Game: The Yankees, the Red Sox and the Playoff of '78," copyright (c) 2008 by Richard Bradley. Reprinted by permission of Free Press, a Division of Simon & Schuster, Inc. All rights reserved. No part of this excerpt may be reproduced or reprinted without permission in writing from the publisher.
There were certainly rational reasons why the first series of the 1978 season between the Red Sox and the Yankees mattered so much to both teams. Despite Boston's strong start, they had not put the Yankees entirely in their rearview mirror, and the three games against New York represented an opportunity to extend their seven-game lead over the world champion Yankees. The Yankees needed a credible performance because they looked like a team with more at stake -- a team already afflicted with more dissension and pressure than were present in Boston. The Red Sox gave every indication of being a team playing up to its potential, with perhaps a smidgen of room to get even better; the Yankees looked close to the brink of a fatal downward slide.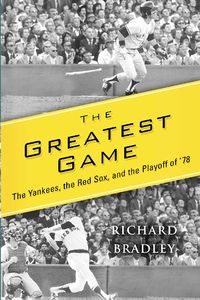 Simon and Schuster
The Yankee-Red Sox rivalry has a life of its own in "The Greatest Game"
But not all the reasons for the intensity of emotion surrounding the upcoming series were rational. In addition to the pressures of the moment, this first New YorkBoston series mattered because, to these teams and their fans, every game against each other mattered. The Red Sox and the Yankees were baseball's oldest and most impassioned rivals, and there could be no such thing as a casual meeting between them. "When you play the Yankees," Butch Hobson said, "it was going to be war, both on the field and in the stands."
For the first twenty years of the twentieth century, the Red Sox had been the better team. But steadily, over the course of the century, the advantage had tilted to the Yankees and stayed there. In 1903, the Red Sox, then known as the Americans, won the first World Series against the Pittsburgh Pirates. The next year, the two teams met on the last day of the regular season to determine the pennant winner. The Sox beat the New York Highlanders, as the Yankees were called at the time, that day, but because of a dispute with the National League no World Series was played. Still, the Sox were the dominant team, and between 1912 and 1918, they won four more World Series. But then, in 1920, came the disastrous trade of Babe Ruth, followed in short order by the awesome, overpowering Yankee teams of the 1920s, which would then be followed by decades of frustration for the Red Sox. Boston would win the pennant just three times in almost six post-Ruth decades. Each time the Sox lost the World Series four games to three. The Yankees, however, won pennants again and again and again, including that devastating year of 1949, when New York beat the Red Sox twice the last two days of the season -- October 2 and 3 -- to win the pennant by a game. But as intense as the competition was, it was still civil. "There was respect" between the two teams, Red Sox legend Johnny Pesky recalled. "It seemed every time the Yankees needed a great player, they found one. Joe DiMaggio, one of the finest players ever created -- you had to respect Joe DiMaggio. Billy Martin, he was a rascal but he was a good player. If you didn't like Mickey Mantle, you didn't like your wife, and if you didn't like Yogi Berra, you didn't like your sister. Those Yankees were good guys and great players. That's the way I looked at it."
The 1950s were dominated by New York just as the 1920s had been, but both franchises fielded competitive teams. In the 1960s, the intensity of the rivalry dimmed somewhat, largely because, for much of the decade, the two teams simply weren't very good, or when one team was strong, the other was weak. "When we played back in those days against Boston, it was a rivalry, but we just weren't good enough to be the top two teams," Yankee shortstop Gene Michael would recall. In the first half of the decade, the Yankees appeared in the World Series from 1960 to 1964, winning in 1961 and 1962. "When I first came to the Red Sox in 1961," Carl Yastrzemski said, "it wasn't much of a rivalry. They had Mantle, Whitey Ford, Moose Skowron, Elston Howard. The Yankees just pounded us all the time."
But after CBS bought the team in 1964, the Yankees disintegrated fast, the result of aging stars, a barren farm system, and poor management. In Boston's miraculous 1967 season, the Yankees were never a factor; they finished next to last, barely edging out the Athletics. In 1968, things were back to mediocre for both teams, as the Sox finished fourth and the Yankees fifth. "As our broadcasters always used to say, 'Plenty of good seats still available,'" former Yankee public relations man Marty Appel recalled.
In the 1970s, however, the Yankees and the Red Sox not only improved, but began competing -- fiercely, intensely, angrily competing -- against each other for dominance in the American League. A central element in each team's rise was the introduction of a new catcher. For the Yankees, it was Thurman Munson; for the Red Sox, Carlton Fisk. The two men would come to embody the rejuvenation of their teams, and because each developed a smoldering, furious dislike of the other, they came to personify the reinvigorated rivalry between Boston and New York. By 1978, the hostility between Fisk and Munson had spread more generally between the two teams, so that the games the Yankees and the Red Sox played weren't just about the standings or about money or statistics -- they were blood feuds.
"I respected the Yankees," Carl Yastrzemski said. "Respected 'em, but didn't like 'em. You wanted to beat the Yankees more than any other team. Not only did you want to win, but you wanted to grind 'em into the ground."
"We did not want to lose to the Boston Red Sox," Bucky Dent said. "You knew the history. You knew the two teams don't like each other. They hated the Yankees and we hated the Red Sox."
"These players really didn't like each other," Red Sox team historian Dick Bresciani said. "They had disdain for each other."
Munson was slightly older than Fisk and the first to make it to the major leagues. He was not a glamorous man, not the kind of ballplayer that George Steinbrenner hired to put "fannies in the seats," as Steinbrenner had said of Reggie Jackson. He was, much of the time, stubborn, sullen, rude, grumpy, and moody. In May 1978, Dave Anderson of the New York Times said of Munson that he was the kind of person who "didn't know how to say hello until it was time to say goodbye." And yet, on a team filled with veterans and athletes of enormous talent, Munson was the undisputed leader. By 1978, even Reggie Jackson seemed to accept that fact, and was trying to take a lower profile than he had the previous season. "If you had to say who was the one leader on the club, it was Thurman," Lou Piniella would say. Probably no Yankee was more respected by opponents. "He was just full of life," Orioles pitcher Jim Palmer said. "A consummate professional. He always used to give you a little wink and then just go to war." Even Red Sox pitcher Dennis Eckersley found it hard to dislike Munson. "He was a guy's guy," Eckersley said. "Kind of a sloppy guy. Everything was nonchalant with him. But meanwhile, he's sly as a fox."
Thurman Munson was born in Akron, Ohio, on June 7, 1947, the youngest of four children, to Darrell and Sue Munson. His father was a truck driver, frequently gone, driving from Canton where the family lived, to both coasts. Darrell Munson was a hard man. "When Dad was around," Munson would later recall, "everyone in the house, including Mom, was intimidated. It seemed as though her chief responsibility was to keep us out of trouble so that Dad wouldn't get mad at us."
Darrell Munson was a ballplayer, convinced that he could have made the majors if war, work, and responsibility had not intervened, and he made sure that Thurman played baseball from an early age. When he was back from the road, he'd practice with Thurman, hitting ground balls to his son for hours at a time, and if one kicked up and bloodied Thurman's nose or jaw, so be it. You wiped the blood dry, and you got ready for the next one. No matter how good Thurman was -- and he was good, better than good, that was clear early on -- he could never please his father, because the better Thurman got, the more Darrell seemed to resent his son for it. "To my face, he would ridicule me," Munson later recalled. "But to everybody else, he would say, 'Hey, that's my son.'" The mockery the boy heard shaped him far more than the compliments he did not.
At Canton Lehman High School, Munson was captain of the football, basketball, and baseball teams. He was proud of that trifecta, but he was just as proud, he would later insist, of the fact that he wrote poetry. "I'd write about children, or God, or things that required some sensitivity," Munson would say in his autobiography. Munson didn't look like a poet, but neither did he look much like an all-state shortstop, the position he played most frequently in high school. He had a heavy face and a stocky frame. His forehead was broad and flat, his eyes small and set deep in his face, and his hairline receding by the time he was twenty. Thurman Munson would have looked at home slicing up meat behind a deli counter or pulling the tap in a barroom, or, like his father, driving a truck -- but on the diamond, he would never prompt comparison to Mickey Mantle or Ted Williams. "Munson was the Pigpen character," said Marty Appel, who helped write Munson's book. "The little squatty body, that's what they called him. He'd get dirty and grimy."
"Munson just didn't look like a player," Fred Lynn recalled.
"He looked like he should be smoking a cigar, playing pool or something."
"You'd look at him in his underwear and you'd think, 'He's a professional athlete?'" teammate Brian Doyle said. "He looked like everything but an athlete."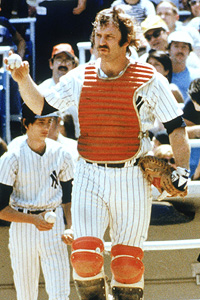 Archive Photos/Getty Images
He may not have looked the part of a professional athlete, but Munson certainly played the part.
Munson was well aware that he was less than statuesque. "I'm little, I'm pudgy, I don't look good doing things," he once told a reporter. "Those big tall guys look super."
At least one person liked the way Munson looked. When he was twelve, he met Diana Dominick, his future wife; they were both on "junior patrol," helping younger kids cross the street. The two hit it off immediately. "She was the only one who would play catch with me," Munson said. In sixth grade, Diana would practice writing "Mrs. Thurman Munson." She'd bicycle along with him when Munson went out on his paper route, delivering the Canton Repository after school. When training for baseball, Munson would run a mile from his house to Diana's, give her a kiss and catch his breath, then run back home. They were the only girlfriend and boyfriend that each ever had, and in 1968 they were married.
If Munson had wanted to continue playing football after high school, he could have gotten a scholarship virtually anywhere; football scholarships were far easier to come by than baseball ones. But he wanted to play baseball, and so he picked Kent State, one of the three schools to offer him a baseball scholarship. It also happened to be the closest to his home. Eventually giving up football and basketball, Munson became a full-time baseball player at Kent State, and a full-time catcher. As a senior, he was named all-American, which he would later say was one of the proudest moments of his life. He was competing against athletes from five thousand major colleges, he explained, and he was the catcher they chose to single out.
He was the Yankees' top pick in the 1968 draft, but even then Darrell Munson wasn't satisfied. The two, never close, had grown steadily more distant over the years, and Darrell's resentment of his son's success seemed to have overwhelmed the pride he once took in Thurman's accomplishments. When a Yankee scout came to Canton to offer Thurman a contact, he found Darrell lounging half dressed on the living room sofa. Thurman Munson's father looked at the scout and said, "He ain't too good on the pop flies, you know."
Signed for a $75,000 bonus and a $500-a-month salary, Munson would spend the 1968 season in the minors at Binghamton, New York, hitting .301. In 1969, he moved up to Triple A at Syracuse, where he hit .359 before joining the Yankees at the end of the season. (The team was winding down the season, going nowhere.) Joining the Yankees for good in 1970, Munson got a salary increase to about $15,000 a year. "I always liked the Yankees," he said at the time. "They were cocky without being overbearing. I like to think I'm that way."
It had been some time since the Yankees had had a strong catcher; Munson was competing for a job against Jake Gibbs, who had been with the team since 1962 and in his ten-year career would compile a career batting average of .233, with totals of 25 homers and 146 runs batted in. The job was quickly Munson's. "I hope to be around for fifteen years," he said in an early interview. "I'd like to hit .300, but don't quote me and say I would." He quickly showed that he had grounds for a little cockiness. Hitting .302 on the season, he was chosen rookie of the year, the first American League catcher ever to win that honor. Meanwhile, the Yankees were improving: they won 93 games. But the Baltimore Orioles won a remarkable 108 that season, and New York finished second, fifteen games out of first. Even so, after just one season Munson had helped restore credibility to a struggling franchise.
It wasn't just his hitting that made Munson such a valuable addition. He was an outstanding defensive catcher, skilled at calling a game, quick to win the pitchers' trust, a student of the strengths and weaknesses of hitters around the league. Behind the plate, he was constantly chatting with the batters, always amiable, but trying to get into their heads. He'd tell them what pitch was coming, and sometimes he'd even be telling the truth. It kept the hitters off-balance. He'd say that he'd heard they were in a little slump, or that, well, they looked a little tired today. And Munson was even good at managing his manager. When Billy Martin joined the Yankees, Munson would make sure to indicate the location of close pitches to Martin, so that the manager wouldn't start screaming at umpires undeservedly, thus costing the Yankees more close calls.
In 1971, Munson played in 125 games and committed only one error, and that came at a play at the plate in which Andy Etchebarren of the Orioles knocked him unconscious, at which point Munson dropped the ball. His teammates joked that Munson woke up in the ambulance and tried to tag everyone in sight. But Munson took pride in his toughness; Darrell Munson had taught him to suck it up, to shut up about the pain and play on, and so he did. In another 1971 game, Charlie Spikes of the Indians slammed into Munson at the plate. The next day, you couldn't see the bone in Munson's right knee; the joint had become a swollen balloon of blood and pus. Two days later, Munson was behind the plate again.
But for all his success, all the awards he had won and would win, Munson still wanted more approval than he got -- though he didn't like to admit it. At some point early in the 1970s, Darrell Munson simply disappeared; no one knew where he ran off to. After Thurman won the rookie of the year award, the only member of his immediate family to congratulate him was his sister Janice, who sent him a pair of cufflinks. By 1978, Janice would be the only member of his childhood family with whom he regularly spoke.
The family that he and Diana were creating mattered more to him. They would have three kids, girls Tracy and Kelly, and then a son, Michael, and when he was with them, their father, so tough on the field and surly in the locker room, was a changed man. He had no model of a loving parent, but he found within himself the ability to be a father in ways that Darrell Munson never could. Michael was a hyperactive boy who exhausted Diana by waking up ten, twelve times a night. But when Thurman was home, he would put his son to bed and say, "Michael, I don't want you getting up at night and calling Mommy." Michael would sleep through the night, and in the morning, when he woke up he would call for his father. "When I see that," Diana said at the time, "I know we need Thurman around."
With his teammates, Munson could be mischievous. "A lot of times, Thurman was devilish," Cliff Johnson remembered. "We'd be in batting practice in spring training, and cameramen and writers would be standing around watching, and he would be hitting balls in the cage like he was trying to hit those guys, just laughing and having fun and cracking up. Just being devilish. Just being Thurman."
Munson had a favorite t-shirt that epitomized his contrarian sense of humor, Bucky Dent recalled. It bore a picture of the cartoon character Yosemite Sam, with his long beard and his two smoking pistols, and it read, "I hates baseball," just the way Yosemite Sam used to say, "I hates rabbits."
"That t-shirt used to tickle me," Dent said. "Because that was his image. He reminded me of that -- the guns smoking, that kind of thing. And when I think of him, that's how I think of him, in that t-shirt he used to wear."
When Munson felt slighted, he could respond with gestures of defiance and anger. Sometimes he simply seemed to want attention. After the 1972 season, Munson grew a mustache, later explaining, "The whole world was turning hippie, why shouldn't I?" (Some years later, in the 1977 season, Munson would extend that mustache to a beard, despite the fact that George Steinbrenner had forbidden his players to grow beards. At Martin's request, he shaved.) Munson could be testy with fans when he thought they didn't appreciate his contributions. In a 1976 game against Oakland, Munson hurled a ball into center field that allowed a runner to score from second. The next inning, he struck out. When some fans booed, Munson gave them the finger. At the plate the next day, Munson was greeted with a huge round of nonironic applause. New York fans appreciated a guy who told them where to go -- at least when he was right -- and they remembered what the Yankees had been like before Munson arrived. So the guy could be crude and rude. New Yorkers knew that you needed a tough exterior to survive in their city, and with Munson, they suspected -- suspected, but never knew -- that the shell was so tough only because the inside was so sensitive. He may have come from Ohio, and he was always longing to return home to his family, but Thurman Munson was a New Yorker through and through.
It would have been unthinkable for Carlton Fisk to salute Red Sox fans with an obscene gesture. Even during his contract holdout of 1976, when fans heaped abuse upon him, Fred Lynn, and Rick Burleson, Fisk kept his feelings to himself. Lynn didn't. He flipped the fans the bird more than once. Burleson would swear at them under his breath. But Carlton Fisk saved his emotions for umpires, pitchers, and opponents. He couldn't lash out at the New England fans. They were his people, and as disheartening as their opprobrium was, he could not turn against them. Doing that would be giving the finger to the world that shaped him.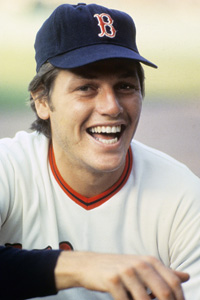 Focus on Sport/Getty Images
Despite being often injured and no World Series rings to his credit, Fisk got most of the attention.
He was born on December 26, 1947, in Bellows Falls, Vermont, but grew up across the Connecticut River in neighboring Charlestown, New Hampshire. His parents were Leona and Cecil Fisk, a machinist. The Fisks had six children, all of them athletic. Young Carlton played basketball and baseball; his heroes were the Celtics' Bill Russell and, of course, Ted Williams. It could be hardly otherwise, living in such a classic New England milieu. "Growing up where I grew up," Fisk once said, "you learned to hate the Yankees early."
Like Munson, Fisk was not at first a picturesque athlete, although he would become one. In fifth grade, he stood four feet eleven inches and weighed 120 pounds, and for that he earned the nickname Pudge, which would endure even after he had grown into his more imposing six-feet, 210-pound frame. Through high school, he gravitated toward basketball; Charlestown was not an ideal place in which to hone one's baseball skills. It had cold weather and snow for much of the year; when he could play baseball, Fisk played in sandlots and cow pastures. Baseball season was short in New Hampshire, never longer, according to Fisk's high school coach, than twelve games. In wanting to play professional baseball Fisk was competing less against other New Hampshire athletes than he was against boys from sun-drenched states such as Florida, Arizona, and California. In his entire amateur career, Fisk played in just 96 games, what one of those boys from the baseball states might rack up in a single year.
So for most of Fisk's youth, basketball was his priority -- he played guard -- and as hard as he worked at it, his father always pushed him to work harder. In one high school basketball game, Fisk scored 40 points and had 36 rebounds. "You missed four free throws," Cecil Fisk told him after the game. Asked about that comment some years later, Cecil was unapologetic. "In a close game, it's often decided by free throws. You've got to hit them."
In high school, Fisk was mostly a pitcher, but after starting at the University of New Hampshire on a basketball scholarship, he shifted to catcher. He just didn't have the metabolism for pitching. "I don't want to knock another guy's job, but I couldn't stand working only every three or four days or accept the uncertainty of the bullpen," he explained. "My temperament is such that I have to be in there every day." He was a terrific athlete, but not much of a student. "I'm one of those guys who doesn't like school," he said. He would not have to endure it for long. He was scouted by the A's, the Indians, the Reds, the Mets, the Orioles, and the Washington Senators, but all held back; it was well-known that there was only one team Fisk wanted to play for, one team for which he seemed destined to play. So when, in 1967, the Red Sox asked Fisk if he would leave college if they made him their top pick, he leaped at the chance. "I was delighted," he said. "I was going to leave school anyway."
He did minor league stints in towns from Greenville, South Carolina, to Waterloo, Iowa. While his defense was strong, his offense was erratic; Fisk blamed nagging injuries. In 1972, he started the season with the Red Sox as the team's third catcher, behind Duane Josephson, a .258 hitter with 23 home runs in eight seasons, and Bob Montgomery, who would hit 23 home runs in ten seasons. Josephson got hurt, and Montgomery, who had come up to the Sox in 1970, took over the job. Fisk would give him an occasional breather, until one day he beat the Yankees with a triple and it became apparent to everyone that the catcher of the future had become the catcher of the moment. In their entire history, the Red Sox had never really had a catcher who could anchor the team with both offensive and defensive prowess. "Until Carlton arrived," one local sportswriter wrote, "you could mail a ball to second base faster than you could throw it."
For a rookie, he had remarkable self-confidence, perhaps even cockiness. The 1971 Sox had finished third in the American League East with an 8577 record, eighteen games behind Baltimore but (and this mattered) three games ahead of the Yankees. They hoped to do better in 1972, but started slowly. In the pages of the Springfield (Mass.) Union, Fisk chastised Carl Yastrzemski and right fielder Reggie Smith for not showing more leadership. "When Yastrzemski and Smith don't show desire in the outfield, the whole team droops," Fisk said. "Maybe a goal has been taken away from them by obtaining security. Maybe huge salaries have something to do with a player's attitude." Since few baseball salaries beyond those paid by Tom Yawkey could be considered huge, Fisk's remarks constituted an implicit criticism of the owner. To his dismay, the comments got play all over New England, leading to a meeting of the three players and manager Eddie Kasko at which Fisk apologized. But his words actually seemed to have an impact. Yaz and Smith both went on hitting streaks, and the Sox went from playing .500 ball to going 15 games over .500, finishing just half a game behind the Tigers. (If only Luis Aparicio hadn't slipped ... )
When he approached the mound, Fisk was often similarly blunt. "Fisk is not the type to stand on the mound listening," reliever Bob Veale said. "He just marches up to you and tells you, 'Get the lead out of your butt,' and then stomps back to the plate."
"Some pitchers respond to a verbal butt-kicking out there," Fisk would explain.
He took charge on the field, developing a slow, meticulous style of calling a game, directing pitchers and defenders like a stage manager, which could slow the pace of a game like a driver's ed teacher instructing a student to ride the brake. He was constantly trotting out to the mound to talk to the pitcher, sometimes to buck him up, sometimes to talk strategy, sometimes, it seemed, because he was just enjoying the moment. Not every pitcher appreciated Fisk's methodical approach. "I liked to work fast," Mike Torrez would say. "Let's get the ball, let's go. And Carlton loved moving guys around. By the time he got down, fixed his mask, and got his body settled, I was like, 'I'm ready to go, ready to go.' I used to say, 'Carlton, let's speed it up a little bit, I want to get going.'" Fisk would grumble, "All right, all right."
In his rookie year, Fisk made his presence felt. He impressed at the plate, hitting .293 with 22 home runs -- the most ever for a Red Sox catcher -- with 61 runs batted in. Defensively, he showed poise beyond his years. In a September game against the Orioles, Fisk made a rare and exciting play. When one Oriole tried to bunt home a man on third, Fisk quickly fielded the bunt, jumped backward, tagged out the runner trying to score, then threw to first to complete the double play. The Red Sox hadn't seen a catcher like Fisk before, and the rest of the league also took note; Fisk was the American League rookie of the year by unanimous vote, the first time that had ever happened.
Baseball's sportswriters weren't the only ones to notice Fisk's arrival; so did Thurman Munson, who didn't take long to commence disliking Fisk. "It was kind of a territorial demand," Fisk said. "He was the reigning catcher in the league and I was the new kid on the block."
Fisk's analysis was probably charitable, because Munson's sentiment may have been more base. Something about Fisk -- his looks, his swagger -- either exacerbated Munson's insecurities or irritated his sense of baseball decorum. The catcher who never thought he got the attention he deserved was being eclipsed by a younger catcher who, in Munson's opinion, was earning more praise than he merited.
"Munson really created this rivalry between him and Fisk, because he was jealous of the attention Fisk was getting," biographer Marty Appel explained. At the time, baseball fans across the country got to see a national game every Saturday on NBC's Game of the Week, and for the first half of the decade NBC's play-by-play announcer was Curt Gowdy, who had been a Red Sox announcer for fifteen years before moving to the NBC broadcast. "To Munson's thinking, Curt Gowdy was always building up Fisk, because of his Boston connection," Appel said. "It would annoy Munson because Munson was accomplishing really good things and Fisk was always getting hurt. And still Gowdy was always going on about Carlton Fisk."
Of course, it wasn't just what was written and said about Fisk that irritated Munson; just as noxious were conflicts that developed on the field. In a 1971 game, Fisk embarrassed Munson, who was hitting, by beating him down the first base line on a ground ball Fisk was backing up. Two years later, on July 31, 1973, the Yankees and the Red Sox were playing at Fenway when Roy White tried to score on a play at the plate. Confident that he was comfortably ahead of the incoming throw, White remained standing as he neared the plate. But as the ball neared his glove, Fisk stretched his left leg backward and tripped White, who went airborne and missed the plate entirely -- giving Fisk time enough to tag him. The Sox won the game and moved into a tie for first with New York. In the locker room later, Yankee manager Ralph Houk reminded his players that it was better to run into the catcher than to be tripped, fall over, and get tagged out.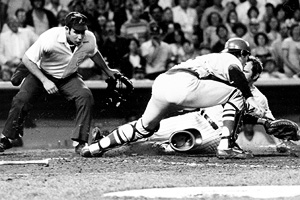 AP Photo/Ray Stubblebine
Forget the team rivalry -- these guys just didn't like each other.
The two teams met again, the next night with John Curtis on the mound for the Sox and Mel Stottlemyre pitching for New York. In the second inning, Stottlemyre zipped a pitch past Fisk's head, a notice that the events of the previous night had not been forgotten. The game was tied at two when the Yankees came up in the top of the ninth. After Munson doubled, Graig Nettles grounded out, moving Munson to third. First baseman Felipe Alou then walked. With light-hitting shortstop Gene Michael coming up, Ralph Houk called for a suicide squeeze.
On the first pitch, Munson broke for the plate and Michael pivoted to bunt. But Michael missed the pitch, and Munson barreled toward home looking like an easy out. So Munson did what Houk had suggested; he slammed into Fisk with all his force. Fisk held on to the ball, and as Felipe Alou headed toward third, Munson lay on top of Fisk. The Red Sox catcher kicked Munson off him; Munson promptly jumped up and punched him. Then Gene Michael got into it, and suddenly Fisk was fighting both Munson and Michael at the same time, and holding his own. (Michael was a better shortstop than fighter, and Fisk was strong.) Within seconds the field was flooded with players from both dugouts. When Munson, Fisk, and Michael were separated, Fisk went back to the dugout bleeding, his face slightly swollen. An angry Bill Lee asked if Gene Michael "had scratched [Fisk] with his purse." Later, Lee would tell reporters that the Yankees were like "a bunch of hookers, swinging their purses." The Yankees would remember that insult. "Ask [Fisk] who won the fight, he knows," Munson would say.
When play resumed, the Sox went on to win the game, 32, in the bottom of the ninth. They would finish second in 1973, eight games behind the Orioles but nine ahead of the fourth-place Yankees. Fisk, meanwhile, was earning a reputation as a player with a knack for getting on opponents' nerves. "If a fight starts, Fisk is sure to be in it," the Sporting News said. Shortly after the Yankee incident, Fisk got embroiled in another home plate altercation with the Angels' Alan Gallagher, and then days later nearly landed in another with the Angels' venerable Frank Robinson. "Tell him that people don't like him in this league," Robinson said afterward. "He's got a lot to learn." From Fisk's point of view, he was not merely defending his turf, but was also sticking up for a certain way of playing the game -- tough, physical, relentless, old-school. If Fisk had been a Yankee, Billy Martin would have loved him. But Carlton Fisk could never have been a Yankee. Perhaps even more than Carl Yastrzemski -- who, after all, had hoped to play for the Yankees before his father told him otherwise -- Fisk personified the Red Sox.