By Mary Buckheit
Page 2
LOS ANGELES -- Back, back, back, back, back.
Back. To back. To back. To back.
And one more, just for good measure.
As we move farther away from what happened at Dodger Stadium Monday night, the object in our rearview mirror should begin to get larger than it may have first appeared.
Only three teams have hit four consecutive home runs in one inning, and only four other teams in the last 75 years that trailed by four runs in the bottom of the ninth tied the game in the last frame and subsequently won it in extras.
Now that the reality of this epic affair is beginning to set in, we must try and place it accordingly in the grand sporting scheme of things. You can read fact upon figure articulating the enormity of exactly what went down on Stadium Way, but box scores and statistics aside, the Dodgers' win over the Padres was, in a word, electric.
Unfortunately, like so many of the rest of you, I'm one of those who can only wish I was plugged in.
In true day-late-dollar-short fashion, I went to the park on
Tuesday
night when the Dodgers staged no such inconceivable comeback and instead
lost miserably to Pittsburgh, 10-6.
Not surprisingly, everyone still wanted to talk about what happened with the Padres.
Here's what they had to say …
---
Lon Rosenberg (vice president of Dodger Stadium operations)
There are an awful lot of No Re-Entry reminders all over the stadium. What happened Monday night? Last time we had an issue with re-entry was when Kirk Gibson hit his home run.
Were you working for the Dodgers in 1988?
Yes I was. I was here for Gibson's homer and I knew last night was something.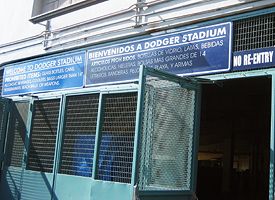 Carly Peterson/ESPN.com
You're not supposed to be able to re-enter Dodger Stadium.
When did the brake lights start going on this time?
I think it was after two [home runs]. It was strange because we noticed people walking up the aisles and standing in the hallways and all of a sudden they all stopped and went back towards their seats. About the same time that folks in the stadium were changing their minds, I got a call over the radio from our parking supervisor telling me that cars were turning around and trying to come back into the parking lot and he was wondering what to do, if he should let them back in. While that was happening our command post called and said people who had walked out were running back to the gates wanting to come back into the game, what should we do?
So I said yes, go ahead and let 'em back in the ballpark, and let them back in the gates. They came in and jumped in the first seats they could find where they could see what was going on.
You didn't even think twice?
Nope. We just knew that this was too big. What was happening was a really big deal. It was too special, we had to let them back in. Normally, no re-entry, you've got to sign out if you step outside the door to smoke, but uh, you've got to make some decisions and exceptions sometimes.
Where you were stationed and with your walkie blowing up, did you get to see the action?
Yeah, you know, it's funny, since we're usually moving around the park you come to know the different roars. You know if it's a single or a double from the crowd, and of course when the strokes go off we'll know it's a home run, but the thing about last night was that the crowd never stopped yelling after the second home run. It was unbelievable, everybody was up on their feet yelling from that moment on.
Stuart (L.A.P.D.)
What was security like here at the stadium on Monday when fans were let back in?
Operations radioed to us that fans wanted to get back in the park and right away we all agreed, we've got to let them enjoy this. And it was such a great game that they just rushed in and grabbed a seat and that was the end of it. There were no problems at all because it was all about the game. Everybody was just trying to get in and watch.
Camille Johnston (Dodgers senior vice president of communications)
Is there any way of knowing how many folks left early Monday night?
We're not sure how many left but Monday night's attendance [a sellout crowd of 55,831] was the 16th packed house of the season. The guess from the command post is that 3,000 to 5,000 people came back into the ballpark in time to catch the end of the game.
"Tony" and "Ringo" (ticket scanners, gatekeepers of Monday's madness)
Were you guys here at this gate for Monday's game?
Yes, it was crazy! Pandemonium!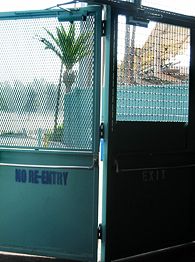 Carly Peterson/ESPN.com
Not through this door either!
You're standing next to these big doors that say No Re-Entry. Until you got word from your boss that you could let people back in, what was it like over here?
We couldn't let them in at first, then command post came over the walkie-talkies and told us we could let them back. Before that, they were just hovering around the doors, trying to see in. There were two home runs and we could see people kind of stop and wonder "What should we do, should we go back?" I think it was the third homer and then there were really a ton of people here at the doors but we couldn't let them back because I still don't think we got the call yet. They were begging us, "Please, please, c'mon!" More and more people coming back, pounding on the gates acting like madmen! Then we finally got the call to open the doors and it was great, everybody went charging in. I'd say 50-75 people came back in through this door alone. It was just crazy. Pandemonium. It was amazing. And when Nomar hit that last one everybody was just dancing and laughing.
"Denise" (outdoor smoking section security)
Were nervous fans smoking like crazy Monday night?
During the home runs, after the second and third one, it cleared out up here. No one was buying food, there were no smokers out here, no nothing! Everybody was just standing in there staring and cheering.
Ruben (Dodgers die-hard, season-ticket holder, witness)
Spotted his Dodgers hoodie and post-Monday perma-smile in the elevator to Reserved Level.
Did you stay for the whole game?
I was here for everything! My girl wanted to leave in the ninth when they were down by four and I was like, no way! This is like a playoff game right here, against the Padres for first place, we've got to stay! Sometimes we do leave early because we have a pretty long drive back to UCI [University of California Irvine] but not last night. Thank God.
Was that the best game you've ever seen in your life?
I was at the 2004 Divisional Series, both games here when the Dodgers played St. Louis, and that first game when Lima pitched that shutout I thought that was the best baseball game I'd ever see. But Monday night topped it, definitely. I couldn't believe it, especially the way the season was going, I mean, the Dodgers haven't done that all year. They finally pulled it off. I was going nuts, everybody was. I was nervous because I'm a hardcore fan but I'm realistic and when they brought in Trevor Hoffman, basically the best closer in baseball, I was thinking, oh man. But they did it, just one after another -- and then Nomar! He's from L.A. too and he was so emotional it was just awesome. I rarely stay after the game is over but nobody moved. We were all just jumping around, high-fiving, hugging, it was like we won the World Series. My dad was here with us … he started crying a little bit, actually. My dad got a little teary eyed, he's a big Dodger fan. And my cousin was with us who is also a big fan but last night was his first game ever, actually. Boy, he got to see something!
What's it like to know you stuck it out when so many people left and missed it?
You know, I noticed a lot of people leaving. Typical L.A. fans, right? But then, I looked back later on and there were all kinds of people standing in the back, I guess they must have came back in. They were probably walking out and heard the song that always plays when we hit a home run and it was going crazy, so they came back in. I was in the top deck right behind home plate for the whole thing and we saw every ball get crushed. It's the best feeling when it's hit so hard that the outfielders aren't even trying to catch it. Everybody just knows it gone. That J.D. Drew home run was crushed. Marlon's was crushed. Nomar's was crushed. You just knew right away. It was absolutely amazing.
Hector and Rick (Dodgers die-hards, watched Monday's game from home)
Were you at Monday's game?
No, we were home watching every minute of it.
So did you have tickets to tonight's game for awhile or did you get them after what you saw on Monday?
No, we got these tickets today. The Dodgers are the best team in the world, we come to a bunch of games each season -- whatever we can. Games like Monday make you want to come to every single one, but hey, we can't all be season-ticket holders.
Mark Wilion (baseball fan, witness)
Snagged walking briskly through the corridor of the Loge Level sporting a Dodgers jersey with an ice cream in one hand and a midsized radio in the other.
Were you at the game Monday night?
Yes I was. I saw everything.
Do you ever leave games early?
Not if it's up to me, no.
Are you from L.A.?
Yes.
Was Monday the best baseball game you've ever seen?
One of the best, yes. I was at almost all of the Angels games when they won everything and there were some great games and comebacks in that season. I go to all different parks actually with my nephew, we've gone to see Bonds and we've gone to Fenway, we've been all over the place.
And you never leave early?
Not if I have anything to do with it. You never know what can happen.
And you're from L.A.?
Well … I was born in Montreal.
Dave (Dodgers die-hard, witness)
How was Monday night?
I was right here for the whole thing and for me personally, this was the greatest sporting event I have ever seen in my life. I'm from Glendale, I LOVE the Dodgers and this was the most incredible thing I've ever seen. I can't think of anything else as a fan that could ever feel like Monday night. It was one of those once in a lifetime things.
Orlando (Dodgers ticketing and customer service rep., left early on Monday)
Were you at the game last night?
Yup.
But you were stuck in here [small cell-like cube in corridor of Loge Level] the whole time?
No. … I left after before the ninth inning.
You missed everything!
I know! My shift was over and I said, I'm outta here. So I was driving home and listening to the game and I heard the home runs and I was like, WHAT?! I ran into the house and yelling to my wife to turn the TV on, like I'll say hi later!! And we watched the end of the game on TV. I should have stayed here but you just couldn't have had any idea. I couldn't believe it, I think I woke up the entire apartment complex.
Calvin (concessionaire extraordinaire, left early on Monday)
Were you up here working the lucky Dodger Dogs on Monday?
You know, I'm L.A.-born and raised, I'm a Dodgers fan my whole life. I live for this. I was here working on Monday, my shift ended and after a long day, you know, you're about ready to get out of here. It was 6-4 and I'm thinking they blew it so I went home. But as soon as I get home I always turn on the TV so I do and they're down 10-9 so I turn away from the game again and I'm watching something else, flicking around and the next thing I see is that the Dodgers won and how it was the best game in history and my cousin here, Kim [co-concessionaire extraordinaire], is calling me going, "Calvin, you missed the greatest game ever!" And I'm hearing the crowd just going crazy behind her. I mean, I can't believe it missed it, but it was just awesome. All day today that's all everybody is talking about. We have to get here on game day at 4:15 and all afternoon everybody is just all, "Did you see it? … No, I thought they lost! … Yeah, I was here, it was amazing! … No, I went to sleep!" Everybody is just talking about where they were or when they turned it off. It's one of those special things.
Andrea (Dodger Stadium usher, ambitious grandmother, absentee)
Were you at the game Monday night?
No, I wasn't! I never miss! I'm at just about every single game of the season and I missed Monday night, can you believe it? I am a grandmother and now that the kids are school-age I have more time on my hands so I thought, you know what, I have always wanted to learn about photography, I'll take college classes at night. The semester just started so I had to miss the game. I turned on the news when I got home from school and I was just crushed that I missed it. I couldn't believe it. I couldn't believe I missed it! History -- history in the making, they wrote history! And then I came to work here at the Stadium today and that's all everybody is talking about. Oh, I just can't believe it still. I just couldn't be here but it is just wonderful to hear that they won and they took over first place and people will be talking about this for years. We'll all be talking about this … and I'm going to have to say to my kids, "And I missed it all!" (laughs).
Charley Steiner (Dodgers radio broadcaster, former Yankees radio broadcaster)
What was it like to be here Monday night?
It was one of those nights and one of those games that explains why we do what we do -- whether it's broadcasting it, writing about it, or being a fan. The things that we saw Monday night, we have never seen before and I suspect we will never see again.
What was it like in the booth during the slugfest?
The Dodgers were getting off the mat in the ninth inning and Rick Monday and I were looking out over the left- and right-field pavilions and we saw all those brake lights on the cars heading for the freeway suddenly illuminating. It was great because, sure, it meant people were listening to the game, but better yet, they're interested because then there's this mass U-turn and all of these people are trying to get back into the stadium that is just going crazy. It was kind of like the storming of the Bastille meets a Who concert. … So they're all turning around and racing back into the park and then the Padres score the run in the top of the 10th to go back ahead and honestly, I'm thinkin' man, they must be really ticked off.
You spent years with the Yankees organization. Would New York fans have left early?
It's so different -- Los Angeles as opposed to New York. Everybody talks about the mentality but there's more to it than a mind-set. Out here, just getting from Point A to Point B is completely different. And in terms of Monday night, hey, it's a school night, the score is 9-5 after eight and a half and the team that's up by four runs has won 13 of 17 games -- it's not illogical to leave! … It IS illogical to hit back to back to back to back home runs.
When fans turned around to come back for the extra inning, it really makes a statement, you know? It was really great. Dodger Stadium turned into the old Brickyard!
Was this the best game you've ever called?
I've been very fortunate to call a lot of big games in my career. I was lucky enough to have the Aaron Boone home run in Game 7 of the 2003 ALCS but I think this might have supplanted that. That happened so fast … and truth be told about that, I'll let out a little secret … there were so many commercials during the ALCS that they threw it back to us maybe five seconds before Boone hit it out of the park. If the commercial had run a moment longer or the timing had been any more screwed up it would have been the ultimate radio Heidi Bowl, I'm telling you! But that home run from Aaron Boone, that was like a sudden knockout -- the Red Sox and the Yankees were going back and forth, yes there was great drama but then -- BOOM! It was over. What was so great about this Dodgers win was that you have the historic improbability of four successive home runs -- two of them coming off a future Hall of Famer -- and this is all coming from the team that's hit the fewest home runs in the National League all year.
And if that's not enough for you, that was to tie the game in the bottom of the ninth inning of a pinnacle, September, NL West playoff chase. AND THEN, San Diego scores a run to take back the lead in the 10th -- oh here we go again they were just throwing sand in the poor Dodgers' faces -- all to lead up to a walk to bring up the go-ahead and a walk-off homer to win it. So, the progression of theater, batter, by batter, by batter, by batter was just -- it was like the scene in Indiana Jones where the swordsman is hacking away, and hacking away and everything is just building and building. That was the Dodgers' win over the Padres. Boone's home run was a gunshot that killed the Red Sox.
Are there any other games that are in that upper echelon for you? Yeah, there was the first game back at Shea Stadium after 9/11 when Piazza had the three-run shot; I did that game, Mets-Braves, and when Piazza hit that home run, man, I still get chills just thinking about it because it was just so off-the-charts heroic.
Then there was a football game I had in 1986 when I was working for the Jets. The Jets beat the Dolphins -- a big rival -- 51-45 in overtime at Giants Stadium. The Jets were down like 21 in the fourth quarter and had no shot in hell to come back and they tied the game on the last play of regulation, Ken O'Brien to Wesley Walker with no time on the clock. Then in overtime, there was an 85-yard bomb, O'Brien's fourth touchdown pass of the game, to win it in overtime. That was amazing and improbable.
And the one other game that sticks out to me personally that I was lucky enough to see and call was the All-Star game when Ripken hit the home run and I remember screaming out, "Who wrote this script?" All of those games were just big moments that just carry everyone there watching in disbelief.
Was it hard to come up with a call when you're just completely shocked by four home runs in a row?
Well, you don't think about it. As Yogi used to say, "You can't think and hit at the same time." I don't believe in home run calls because to me, that suggests the announcer is bigger than what he's watching and I don't buy into that. It's just not my style. Whatever I see at that moment is that moment and I try to paint what I'm seeing, with my voice. What the announcer sees is pretty much what you get on radio -- there's no backspace button.
Take us through what you felt as the rally was building.
Well, we're in the bottom of the ninth and there's Jeff Kent's home run, OK, the first one. Ho hum, it's a home run, OK, it's 9-6.
Then Drew comes up and hits a monster shot 461 feet, it's a high -- oh man! … now it's getting a little more interesting. And I look and Rick Monday and we both just kind of shake our heads like, nah, no way.
Then, here comes Russell Martin and -- the first pitch he sees from Trevor Hoffman! And then Marlon Anderson and that's four and it's all tied up and all I can think about is Jack Buck, because I don't believe what I just saw! And everybody is just completely amazed and the fans are going crazy and then … the Padres score in the 10th, ahh geez, all that for nothing. But when Rudy Seanez came in -- and I like Rudy, he's a really nice fella -- but I had a sense that … you know … he can be had.
So there he goes, he lost Lofton to a walk and I know that Nomar can't run so I'm thinking great, he's going to bounce into a double play and all of this magical stuff is just going to go up in a puff of DP. If there's a textbook candidate for a double play then it's Nomar who can barely walk. Dodger fans are going to be heartbroken again … and … and he just crushes it. I thought later it's a good thing it was a walk-off because if Nomar had to run he never would have made it! There is nothing more exciting than a walk-off homer to begin with but they way they battled back after they were down four runs in the first inning and down four in the ninth inning. It was just incredible. You knew something special was happening. It's that old cliché, though, you call it as you see it.
Kevin Kennedy (Fox baseball analyst)
Was the Dodgers' comeback the greatest baseball game you've ever seen?
I've probably seen around 2,000 baseball games in my life and never before have I witnessed anything like that; nothing of that magnitude. First place at stake, L.A. vs. San Diego, season winding down, it was just unbelievable. It's pretty surreal, actually, I mean, we've all seen comebacks, great comebacks, winning a game with a base hit or a home run, a double, walk, error, whatever but never anything like that … and I don't think I will ever again. We'll never see anything like we saw Monday night in L.A. Five of the last 10 Dodgers hit home runs … and four solo shots made up a four-run deficit in the bottom of the ninth -- four homers in seven pitches! I mean, you can't see that in batting practice.
Mary Buckheit is a Page 2 columnist and can be reached at MaryBuckheit@hotmail.com.