By Mary Buckheit
Page 2
OAKLAND, Calif. -- Can you really be happy about one win? What if it could very well be the first and last victory your team records all season? Is one win in six tries this season enough to make you feel any better about yourself?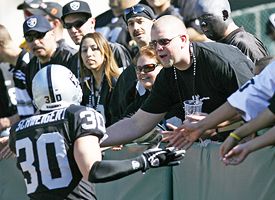 Robert B. Stanton/WireImage.com
The Raiders are 1-5, but Raider Nation still loves 'em.
I didn't think so, but Raider Nation told me otherwise.
"Hey, one is better than none," said Carlos, as we rode a crowded BART train home from the Coliseum on Sunday.
With all due respect, I had to disagree with the six-year Raiders season-ticket holder, who flies to every home game from Los Angeles. After all, the Silver and Black just beat up on the equally inept Cardinals -- the team that rode a five-game skid into Oakland and collectively stepped off the bus like a disoriented, newborn calf, still skittish after their 21-point meltdown on "Monday Night Football," the infamous podium-thumping freakout, and the ensuing lawsuit by fired offensive coordinator Keith Rowen.
The boys in Arizona are putting the fun in dysfunctional. How can Raiders fans delight in beating up the ugliest girl in school?
"It feels great," beamed Jose, the Raiders-tattooed die-hard sitting next to me at Ricky's who was enjoying celebratory shots of Patron and a few rounds of Modelo with his brother Juan. "It doesn't matter who it's against, winning always feels good. … It's been a long time."
So have a few drinks, throw a bag over Matt Leinart's helmet and it all feels like gravy? Beating up on a bad team is better than no W at all? I don't know. I mean, I just don't think 1-5 is anything to feel good about. And suppose the Raiders don't win another game all year? Would a one-win season be any better than going 0-16? I think it would actually feel worse.
Imagine if their roll in the hay with lowly Arizona is all they're going to get. They blew their shot to make history with a pristine 16-in-a-row record, all for a cheap, inconsequential trouncing of the Arizona Cardinals?
Somewhere in a cliché cloud of insult, injury, misery and company, draft deity Brady Quinn is shaking his head.
I flew up to Oak-town on Saturday morning to see for myself what five straight losses for the first time since 1964 feels like. I planned on writing a copious exposition on the epic fall from grace at hand. Ideally, it would have culminated in the first 0-16 season of all time. The drama was deliciously falling into place with a blockbuster cast rivaled only by "The Departed". ("Raiders 2K6," starring Al Davis, Art Shell, Tom Walsh, Randy Moss, Warren Sapp, Jerry Porter, LaMont Jordan and Aaron Brooks). C'mon, that's good theater!
But then they went and beat up on the Cardinals. They held a halftime lead. They sent Denny Green home after their bed-and-breakfast offensive buffet.
I hope it was worth it.
I asked Mike, a Cardinals fan whose lone scarlet jersey caught my eye in the parking lot, how he was feeling after his team's shameful showing. I knew he was legit after he told me he was from Arizona, made the trek all the way from Phoenix, and was off to Green Bay next weekend. As for his bad birds, he said only, "Hey, they're the Cardinals. I'm used to this. You grow to expect it and follow them just because they're your team."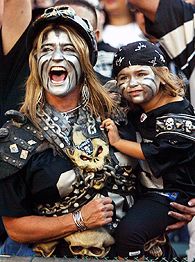 Dino Vournas/AP Photo
That poor, poor little girl.
That I can believe. But Raiders fans, with their storybook past, have no business venerating one win over Arizona. I don't buy it. I asked every Raiders fan I could find if 1-5 really feels any better than 0-5. To my amazement, every single one of them said "yes." I could not get one single Raiders fan to say, "Nope, we just beat the Cardinals and we still stink really bad." I wanted to tap the exulting Nation on the shoulder and whisper in its ear, "It was just one win, baby."
Completely bemused, I scoured the bars, talked to the tailgaters and walked among the herd of silver and black across the skywalk to the train station. And you know what? A win during a losing season looked and felt a lot like a win during a winning season. I'm willing to bet that Monday in the East Bay, one win and five losses feels a heck of a lot better than, say, Monday in Philly … four wins and all.
Between his cheers at the back of the bar, I asked big Jose if it's rough walking around town with a huge Raiders tattoo on his forearm when they've only won one game. But Jose was unflappable.
"Look, s--- happens," Jose said. "We had some really great years and now we're having some rough ones. I love this team. At least they have a personality."
Quite an interesting approach -- embracing a team's character when accounts of their recent on-field performance are similar to a Jonathan Kozol description of a decaying school system in East St. Louis.
Admired columnist Monte Poole recently wrote in the Oakland Tribune that "the general direction of the organization, along with a putrid offense, continue to undermine any positive steps taken elsewhere. … Solvable problems go unattended. Opportunities to upgrade go unheeded. Whether rooted in negligence or denial, the result is organizational paralysis."
But even in this season of utter ignominy -- even with the worst record in the league, and even after scoring only 50 points in their first five games -- 60,000-plus Raiders fans continue to pack McAfee to capacity, selling out the Coliseum game after game. Including Sunday's battle of the bums.
The Raiders and all associated with the franchise seem to live in a world of their own. They exist in a bubble of Super Bowls and history spun by legends like Madden, Upshaw, Allen and Biletnikoff. They blare the classic NFL Films theme song in their parking lot! Who does that?!
Only the Raiders can do that.
They have one win to carry them down the difficult road toward Pittsburgh, Seattle and Denver. But they're not really complaining. They certainly aren't pleased with the uncharacteristic skid, but they've seen too much to make the kind of knee-jerk retorts so many of us are used to.
They're the Raiders. They'll figure it out.
So maybe a win over the league's laughingstock is all they've got right now. Just one win, baby. And even though Art Shell said after the game that the Raiders are not going to let other people define who they are, we all know exactly who they are. They're the Raiders.
And if we were the Raiders, we might understand why one win is enough to keep you satisfied for a minute.
Mary Buckheit is a Page 2 columnist and can be reached at MaryBuckheit@hotmail.com.