In 2005, we dubbed Amanda Beard Page 2's hottest female athlete after she trounced the competition in a week of intense polling. Her qualifications in the swimming pool more than supported her cause. The three-time Olympian has seven medals to show for her efforts under the torch, plus eight U.S. national titles and the American 200-meter breaststroke record.
But what we're most concerned with in this flurry of international accreditation is that FHM one-upped us. That's right, we crowned Amanda queen of Page 2 in 2005 and the blokes at For Him Mag took the liberty to call her the hottest female athlete in the world in 2006.
Erik Isakson/Icon SMI
We're guessing that Amanda Beard is fitting in just fine down in Venice.
So of course,
after we saw that cover
with all the recent praise and decoration we had to check up on her. We sent our Mary Buckheit to rekindle the old flame, help Amanda, now 25, remember where she came from … and make sure she still has our digits.
Mary: Any big changes since the last time we pried into your life?
Amanda: Well, I moved. I'm out of the desert! I live in Venice Beach, California, now.
I moved to Venice, too. You know what they say, hot females -- err -- great minds think alike.
That's so crazy! I love it, don't you? I think it's such a great little beach city. It's fun and it's different. I'm still learning my way around, but I think there is such a cool feeling about everything here. It's expensive, but I love it!
I'm loving it, but I'm from the East Coast. You're a California girl.
Yeah, I wanted to move back home, but I couldn't go back to Orange County. I had to keep a little distance from my parents and everything, so I figured L.A. would work.
What's your favorite party city in the nation?
I've gone to some pretty cool parties in Miami. I've had a lot of fun all over Florida, actually.
What's your favorite L.A. hot spot?
I don't really go out too often, but I love to shop on Abbot Kinney.
You told me last time that you'd love to get into the fashion and clothing biz. I bet you feel that itch when you're strolling down Abbot Kinney Blvd.
Frazer Harrison/Getty Images
Needless to say, Beard has plenty of practice smiling for the cameras.
Yes! I'm always looking at all the vacant store fronts and dying to just buy one and open my own boutique. But right now I'm obviously training for 2008, so I catch myself and think that that probably wouldn't be the best idea right now. It's just a little too much to venture into at this point, but hopefully that time will come because I would love to pursue that.
Do a lot of folks recognize you when you're out and around town? After all, not only were you ESPN's hottest female athlete, but since then FHM crowned you the world's sexiest.
I'm still kind of embarrassed about that title (laughs)! No it's great, it's sort of a lot to handle, but then someone reminded me that it's not like I claim to be that, someone else said so, so I'm getting used to it. It's funny though, in L.A., a lot of times people are too cool to recognize you or to say anything. People will look at me or they'll look at my credit card or something and give me that face like I know you but … you know? Like they can't quite put it together or they would never make a comment -- not in L.A.! Everybody is too cool for that.
Would I know you if I saw you out there on the street?
When you see me, I'm not all glammed up. I'm very relaxed, and my hair's down and I don't wear much makeup. It's funny because now people are used to seeing me in these photo shoots where I'm all done up, and then they meet me in real life and they're like, wait a second, who is this person? That's it?
I've seen you on so many magazine covers lately, what's it like to go to the grocery store and seeing you looking back at you?
Oh man, it's still really, really weird. Especially when it's a sexy cover like the FHM, or something. That's a funny story, actually. The FHM issue came out and I heard it was on newsstands, but I hadn't seen it and I wanted to check it out right away. So, there I am in the store buying like five copies of a magazine that I'm on the cover of and all I'm thinking is Please don't say anything to me while I'm checking out! I was horrified! Do you know what it's like to buy five magazines with you on the cover?!
Surprisingly, I have no idea. But I would think they would comp you a few copies when you're the cover girl!
Well they do, but I wanted to see it right away and since I hadn't received mine yet, I just had to buy them. After that they gave me a whole box full, so now I have a ton of them lying around my house! It was pretty funny. Now I make my boyfriend run out and get them.
[Gasp] Boyfriend? Last time we talked, you were single. Amanda, how serious is it?
We've been together for nine or 10 months.
What's your favorite thing about your man?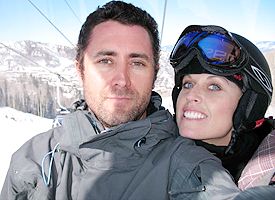 Amanda Beard and boyfriend Sacha Brown
enjoy themselves during a trip to Aspen.
Well, he's freaking awesome. The thing that I like is that he's very loving and he knows how to treat girls, and he's sexy -- he's ridiculously sexy. I love tattoos, and he has tattoos all down his arm, and he's creative and smart and crazy and offbeat -- he's just the best!
You're gushing.
I know, he's just really great. What's the last date you went on?
We don't go on very many dates. We did go to Disneyland together. That counts.
What are you most attracted to in a guy?
I can't even describe how attractive I find intelligence. Above all, I think what I find most attractive, though, is someone who is really living who they are.
And who is your gentleman friend?
He's a photographer.
Is he at all intimidated to be dating the world's sexiest athlete?
He doesn't mind, obviously. But he's definitely always the first one to joke around and tease me about that stuff and make me all red in the cheeks.
Speaking of photography, are you getting used to the flashbulbs on your flesh?
Yeah, a little bit. They are exhausting more than anything else. I'm realizing now that you just have to just ignore the fact that there is a room of people staring at you while you try and pose in a bunch of bikinis for a bunch of cameras. I've had to just think, OK, we're all working, and we're all grown-ups. I have to do so many different changes, and I'm going from bikini to bikini, and clothing is just kind of flying all over the place, and that's just the job. This isn't some real sexual thing. We're just trying to get good shots and make the aftermath look like it's a real sexual thing.
Judging by the cover I saw, I'd say mission accomplished. Did you have a favorite pic from that shoot?
Actually, yeah. The one where I'm laying down horizontal, and I have a white swimsuit on and, of course, there's water. That one's my favorite.
So which female athlete has what it takes to follow in your swimsuit footsteps?
I would definitely back Natalie Gulbis.
I see the hex you dames from the University of Arizona have going -- you, Jennie Finch, next maybe Natalie.
I think it's awesome! It says that the U of A has really competitive people and some really hot chicks [laughs]! Seriously, there are some very talented female athletes in Tuscon, and they deserve all this great recognition that is coming to them. Plus, of course, I like that we have a little powerhouse of Wildcat domination.
Care to nominate a man for the job?
I don't even know.
I gave you a hard time last time we talked because you were showing NASCAR so much love. Then it all made sense when we found out you were dating driver Carl Edwards.
Yes.
Does he get the NASCAR nod?
WireImage.com
Sorry, Amanda. We just can't imagine you as a klutz. It's not happening.
Umm, I've always been a big fan of Kasey Kahne, but I know he's been on the pole before and he never wins, so he's out. And Carl is my ex-boyfriend … so that puts me in an interesting position [laughs]. I can't wish any negative things on him! Umm, let's see, I'm a huge UFC fan, so maybe Tito Ortiz, or one of those guys.
Can you nominate a male swimmer?
I think of him as a brother, but a lot of the girls think Aaron Peirsol is quite the cutie. And he won three gold medals in Athens.
You don't really need your swimsuit for anything but photo shoots between Olympics, do you?
[Laughs] Not really! It's crazy. Right now, there's all this time gearing up for Beijing. Most people don't really follow swimming, so all you see is that big competition every four years, but there is some other stuff going on in between. We have a World Cup circuit that's 11 different meets in 11 different countries, so we stay pretty occupied. But realistically, the public doesn't hear or really even care about that. The meets are big for Australians and Europeans, but in the U.S. we're so consumed with basketball and football and whatnot, swimming is just buried until the next Olympics.
Is there an upside to that hibernation?
Well, it definitely takes the pressure off. You don't necessarily have to perform at your peak in the meantime when no one's watching, but you have to be able to get it together every four years. It's a really interesting and unique scenario.
What does it feel like training when you know your main event is four years away?
I've actually stayed out of the pool for the last two years.
A two-year timeout?
Yeah [laughing]. Most people don't take that kind of time off, but I decided that … it would be fun! I haven't had a life like that in a long time.
What the heck have you been doing? We assume you're not locked in a dark room draped over the Internet for hours on end.
No, no -- but I do love to Google things. Whenever I hear about something during the day, like a random word, or place or fact, I love to hop on and Google it when I get home.
And you're not a MySpace addict, right?
Nope. I don't really understand MySpace, actually. I don't have a profile. I stick to my e-mail and calling people if I need to talk to them. But there is a MySpace account with my name. But it's not me. I don't really get it. It's someone pretending to be me, or something? It looks like it's mine, you'd think it was me, but it's not me. It's pretty funny how that works.
Ahh yes, you're definitely not alone in your MySpace delirium. So what have you really been up to since Athens then?
I was just running around, doing photo shoots and appearances and events and taking advantage of all kinds of fun stuff. I started riding dirt bikes a little bit. I just recently got my motorcycle license, too, so I can ride a street bike now. I don't own a bike yet, but I want one. I'm not sure what kind, though. Something fast, not a cruiser, or anything. I've been snowboarding a lot, and now that I'm by the beach I've been trying to get out surfing. I'm really just staying occupied and trying not to get bored. I get bored reeeally easily. I think it's good for me to step away from swimming for a little bit, while I can. I just got back in the pool maybe six months ago and let me tell you -- it wasn't easy!
You've come to represent so much more than swimming. Is your life and persona different because of all that you've grown into?
I hope that my personality has taken on something different, because really, swimming is just one liiiittle, very small piece of who I am and what I do. The last thing you'll hear me chit-chatting about is swimming, or workouts, or stuff like that. That's just not me. I'm more likely to be talking about snowboarding, or going to the shooting range and firing some guns. I'm like a little boy who's always looking for something to do.
Swimming is nowhere near top-of-mind, but you still hold the American breaststroke record, and you've got medals coming out of the woodwork. Do other swimmers resent that about you?
I think that keeping some distance from the sport really helps me. Some people are completely consumed by swimming. When you eat, breathe and sleep swimming -- or any sport for that matter -- I think you're doing more damage than development. You're not having any fun or goofing off. When I go to the pool, I work out ridiculously hard, but when I come home, I like to live my life and not think about swimming, or working out, or competition. I just want to have a good life and stay happy.
I train with people that I'm going to have to race against, and I often wonder -- What's the difference? We're all pushing hard and putting out tremendous effort and doing everything we can to get better. So when we jump off the blocks, why am I touching the wall first? And honestly, I think it's my confidence, and I think that confidence comes from new random activities like snowboarding and riding. I know it sounds a little crazy, but being able to do different things makes a positive statement that transfers over to my attitude in the pool, where I've been all my life and always go back to.
As someone who has an amazing ability to keep things light, what's the last thing that's made you laugh out loud?
Oh man, probably falling on my face. I make myself laugh almost everyday because I'm such a huge klutz. Whenever we are doing our dry-land workouts and I am doing anything that has to do with balance or coordination, I usually manage to do something that makes everybody including myself laugh -- not on purpose, of course!
Mary Buckheit is a Page 2 columnist and can be reached at marybuckheit@hotmail.com.