AUSTIN, Texas -- Startled from a deep sleep, I feel a sturdy open hand slap my feet sideways, off the love seat and onto a cold floor.
Drowsy and confused, I blink slowly and force myself into a squint, trying to make sense of the situation through half-opened eyes. The ink smear before me, a shirtless Mark Zupan, is cursing on his way to the kitchen.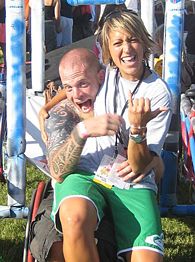 ESPN.com
Mary became an honorary member of Mark Zupan's Flugtag team in Austin.
"We're late again, damn it," he says. I strain to read the small clock on the microwave, which has been tagged with a "Murderball" bumper sticker. It's a blurry 10:27 a.m. -- check-in was at 10. Zupan -- the quadriplegic rugby star and movie icon -- has been waiting months for this day to come, spending the last two weeks preparing for it with his team. Yet, despite our tardiness, he still finds the time and effort to rag on me. "Nice blanket," he says sarcastically. I look down, and realize I'm still in last night's clothes. My left arm bears a message scribbled in red pen, and my right hand has managed to pull a small beige towel over my body for warmth. "Why the hell did you sleep out here?" Zupan asks me. "I don't know. You went in the bathroom and I guess I just passed out." "Yeah, I probably peed myself and slept in my chair," he jokes. Zupan wheels himself over to the counter, where his phone is ringing. It's his teammates calling from the site, wondering where we are. I collect the loose change and keys scattered around me, then check my phone for hints of how last night finished up. I twist in the couch cushions and am pricked by a button that -- once removed from my thigh -- reads "Snuggyfudge." An Andre The Giant illustration is all that might tip me off to its meaning. At this point I'm worried I ingested some sort of Longhorn hallucinogen the night before, but then the slew of bar slips accumulated on 6th Street reveal the truth. I also find a bright yellow cab receipt.
We got a ride home.
I let my eyes rest. "Here," Mark says, and next thing I know a tube of toothpaste and an unopened toothbrush land in my lap. "Then can you put that other chair in my car?" Zup asks as he rolls through the hallway toward the back bedroom. "Sure," I mumble, eyes still closed. Then I take a very deliberate pause to tee up the next question, knowing it will halt him. "But where's your car?" I ask him, cracking one eye open to watch his response. As expected, he grabs the wheels of his chair, stops and spins around to look at me. "Is there any reason why my car wouldn't be in the driveway?"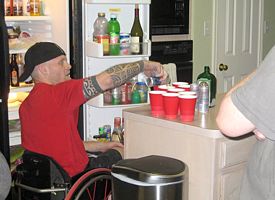 Mary Buckheit for ESPN.com
No wonder Mark and Mary overslept!
Proud of my redemption, albeit from under a towel/blanket, I disclose the mystery. "We must have left your car downtown. We got a cab home last night, I just found the receipt." "Are you serious? I don't even remember that." The night before we'd torn up Austin, where Zupan is a local celebrity. He can't pass by a bar without the bouncer inviting him in for a round or three, on the house. "So what are we gonna do?" Zupan asks, his smile beaming with the same self-abandonment that got us to this point. "My car should be outside," I reply. "I'll go check." I stumble to my feet and walk out the front door, where a polyester Superman suit is hanging from a nail outside. It's Mark's uniform for the day. I grab it and walk down the cul-de-sac to my rental car. But before I even open the door I notice a shining light above the dashboard.
Oh no, I must have left it on when I popped in for my phone after we got home last night -- err, this morning.
I open the door and jam the key into the ignition. Mercifully, the engine turns over.
Enough hours had not passed to wear down its battery -- or, incidentally, refresh ours.
---
When asked to describe himself, Mark Zupan replied, "I'm a civil engineer, an author, a friend, an athlete, a rugby player, a mentor, a public speaker, an a--h---, and an all-around good guy." After spending a few days with Zupan and his friends at Zupan's home in Austin, I can testify that every one of those descriptions is spot-on.
Fourteen years removed from the fateful car accident that changed his life forever, the 32-year-old Zupan has earned quadriplegic rugby player of the year honors, two quad rugby national championships, and a Paralympic bronze medal. But, extraordinary athletic talent notwithstanding, those who know Zupan will tell you it's his huge heart, coupled with an affinity for the gallant and an acerbic sense of humor, that makes him one of a kind.
Other than an obvious set of wheels, Zupan leads an average life. He works at an engineering firm in downtown Austin. He owns a house that blends into a residential neighborhood not far from there where his crew often retires for barbeques and bachelor blowouts. Inside the doors of his crib you'll find the usual staples -- a pool table, a huge CD collection, a stocked fridge, a flat-screen TV and an issue of Playboy on the kitchen counter.
Zupan's potent personality has helped the 2005 wheelchar-rugby documentary "Murderball" reach cult-classic stature. His penchant for tattoos earned him a spot on the TLC show "Miami Ink." His keen ability to make light of things led to his MTV claymation "Celebrity Deathmatch" battle versus Chris Pontius, and also got him launched in a rocket-powered wheelchair in "Jackass Number Two."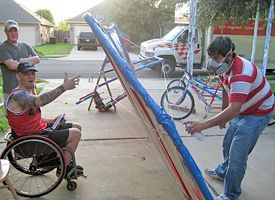 Mary Buckheit for ESPN.com
Here's Zupan and friends constructing their flying craft in the driveway.
These personality traits are also what made Mark Zupan enter the Red Bull Flugtag event held this August in Austin. He volunteered to pilot his team's flying machine … meaning he'd be Velcroed to a chair hovering eight feet above a homemade four-wheeled, two-winged contraption … and he'd be pushed off a pier and propelled 25 feet in the air before plunging into the waters of Town Lake.
Sounds intriguing, right?
---
The task at hand in Red Bull Flugtag competitions is to create and construct an all-human-powered aircraft. Flugtag (pronounced FLOOG-tog) means "flying day" in German. There have been more than 35 Flugtags held around the world since the inaugural Flugtag in Vienna in 1991. Red Bull's connection to the air-traveling circus comes is its founder, Dietrich Mateschitz, who conceived of the original event.
And, of course, Red Bull gives you wings.
Red Bull sponsors Flugtags in a number of cities across America, a few times each year. The contests usually feature about 30 teams, with no more than five people on each team. Teams build an aircraft that one member will pilot, after their craft is pushed off an elevated deck, through the air and into a body of water. Since there is no template for what the crafts must look like -- there are only basic width (30 feet) and weight (450 pounds) requirements-- the crafts are usually as unique as the brains who dare to come up with them.
This year's Austin Flugtag featured such flying machines as a massive box of wine, a flux capacitor, a giant vacuum, a huge fish taco, a plane of dead presidents and GOP powers (created by Team Vast Right Wing Conspiracy) and even a 7-foot-4 Andre The Giant (created by Team Snuggyfudge).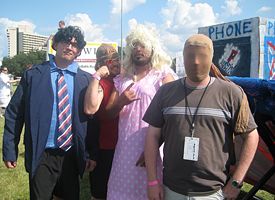 Mary Buckheit for ESPN.com
Team Superman's Crip-tonite, in costume.
While most of the bizarre crafts quickly nosedived in the competition, a few did fly, and all were very entertaining. No land-speed or distance records were set this time around (the American distance record belongs to Team Rocky Top Rocket, whose giant winged banjo cruised 155 feet this past June at the Nashville Flugtag) but teams are judged not only on flight distance but also on creativity and showmanship. It's with these elements in mind that Flugtag competitors are allotted one minute on the flight deck to perform a skit that augments their team's theme.
Red Bull brass asked Zupan to rethink his team's original plan -- which featured Zupan in a Superman costume sitting in his wheelchair, hoisted on a giant horse-craft before plunging into the waters. (Team name: Superman's Crip-tonite. Get it?) Surely you can see why that plan was viewed "in poor taste." So Red Bull allowed the chair, cape and superhero pun to make the cut -- but they insisted that the horse idea be euthanized.
"I guess you can't touch Christopher Reeve," Zupan says. "I thought it was pretty hilarious, and I mean, it's the truth. But in the long run, it's probably a good thing. I don't know how we would have built a freaking horse."
---
The morning of the event, after all that unproductive shuffling around his house, Zupan and I drove down Austin's Mo-Pac highway to Auditorium Shores, site of Austin Flugtag '07. Our windows were rolled down and we had the A/C on full blast too, in a feeble attempt to blow our cold sweats and hellish hangovers away. We'd endured three consecutive mornings in a similar fog. My first Zupan encounter was a long day of building his flying contraption in his driveway, using PVC pipe, zip ties, duct tape and spray paint -- which led to a trail of red plastic Solo cups, a couple empty Jagermeister bottles and a half-empty case of Red Bull.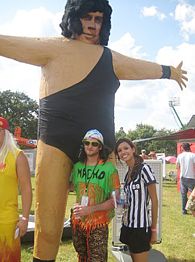 Mary Buckheit for ESPN.com
Team Snuggyfudge with Andre the Giant.
The morning after that, the day before the event, Zupan was supposed to report to the event site to fulfill media obligations starting at 6:30 a.m. I sent him a text message when I woke up at 10 to see how it was going. His reply? "I slept right through it." When we arrived on event day, officials were keeping a close eye on Zupan and his troops, who already looked more than a little haggard. Rocky -- Zupan's usually smooth-shaven roommate -- was wearing a black, center-parted rug, a set of plastic super pecs and a clip-on tie. Zupan's buddy Greg's face was buried in the opaque abyss of a pair of women's control-top panty hose. And Jacob -- a bearded, brown-skinned strapping young fellow -- stood under a lawn umbrella wearing a pink dress with a blonde wig in one hand.
A panel of celebrity judges was responsible for evaluating the 28 teams. The lineup included actors, actresses, politicians, musicians, and Olympic swimmer/Playboy cover girl Amanda Beard. (What? You really need to know who else was there?)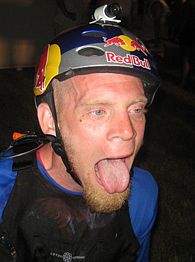 Mary Buckheit for ESPN.com
Zupan looks excited to take flight, doesn't he?
The fans in attendance also had a say in the matter, via text message. And more than 85,000 people, the largest Flugtag audience to date in the U.S., swarmed the shore and lined First Street Bridge to view the festivities. Some folks even opted for a front-row seat by taking to the water in kayaks, making for a scene reminiscent of McCovey Cove.
After 26 teams had blasted off, it was time for Team Superman's Crip-tonite to take the plunge. The crew assembled on the flight deck, where a cardboard phone booth concealed Zuperman. Clark Kent, two crooks and a damsel in distress acted out a small scuffle before Zup emerged to save the day as R.E.M.'s "I Am Superman" pumped from the speakers. Next, his four buddies lifted their fearless pilot up into the seat, just like they had practiced in the driveway the night before. They got behind their winged creation (two tandem bikes welded together, and fused onto 30-foot-wide wings made of pipe and parachute) and pushed as hard and as fast as they could, dashing down the deck and eventually off the edge, out into the water.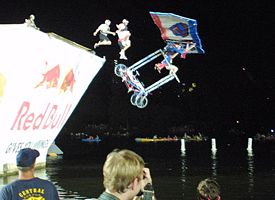 Mary Buckheit for ESPN.com
It's a bird, it's a plane ... no, it's Zuperman!
Unfortunately Team Zupan fell just short of the top prize. The winners were Team Skate And Destroy, who
sailed atop a massive winged skateboard
and mustered a few more inches. The fellas of the Skatepark of Austin who engineered the craft earned bragging rights and a real pilot training course (or the $7,500 cash equivalent). Zupan's squad placed second -- which netted them a skydiving adventure or three grand.
As he was toweling off, I asked Zupan what he remembered about the plunge. He replied: "I looked down at the boys, and they made sure I was in the chair, then they were off. My first thought was holy s---, and I believe those were the words that came out of my mouth. We were in the air and then the duct tape [handle] broke and I began my free fall. I tucked and rolled, like any other cripple who was falling from 30-something feet would do. I hit the water and all I was thinking about was how I was going to get out from under the wing -- my biggest fear. I held my breath, ducked under, and out I popped."
The feat earned 10s from several judges -- including Ms. Beard, who punctuated the festivities by
diving into the water herself
to cap off the closing ceremony celebration.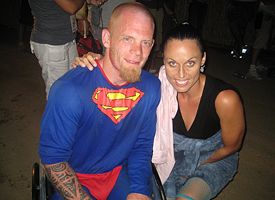 Mary Buckheit for ESPN.com
A photo op with Amanda Beard -- not a bad way to end the day.
Soon after Team Zupan had been jet-skied to shore, Beard also made her way to the same area to dry off, which gave me the opportunity to snap a completely unarranged photo of the soggy star-tandem. Quite coincidentally, only hours before they were side-by-side saying cheese, Zupan had been thumbing through the men's magazine that Beard recently posed for. As I steadied the camera's focus around the two smiling faces, I could hear Zupan's voice in my head from the night before, when we discussed Beard's pictorial. Needless to say, he was a fan of her athleticism. We had no idea, of course, that he'd be standing cheek-to-cheek with the real thing faster than you can say "for the articles." Life sure is funny sometimes. In fact, it might be the only thing more amusing than a giant fish taco, a winged skateboard or a quadriplegic Zuperman shoving himself off a 30-foot-high pier.
Mary Buckheit is a Page 2 columnist. She can be reached at marybuckheit@hotmail.com.