Try as we may to create a storybook fairy tale about a starstruck Tony Romo facing his Wisconsin boyhood idol in a 10-1 versus 10-1 NFC dream clash, we discover that Romo's high school jersey number was 16, after (gasp) Joe Montana. And that he apparently rooted for John Elway and the Broncos to defeat Favre's Packers in Super Bowl XXXII.
Yes, the media are feeding you lines in their attempt to prove that the hair-gel generation's Hollywood-hopping signal-caller is really cut from the same musty mold as the grizzled, Wrangler-wearing legend of Lambeau Field.
Lies. All lies.
But before you get discouraged, it's pretty clear stories suggest a strangely similar Romo-Favre state of affairs.
But you don't have to take my word for it …
---
"[Tony Romo] was just a typical boy, a little 'hyper' actually, said his sixth grade phys-ed teacher, Rick Koceja. 'Very active.'"
--Mike Nichols in the Milwaukee Journal Sentinel
"I think with Brett Favre, the smile that he still has, it must have been the same kid running around in Kiln, Mississippi, it's still the same kid."
--Chris Berman on ESPN
---
"I saw Brett Favre allowing himself to be coachable and working the techniques that the quarterback coach and Mike McCarthy were teaching. As you can tell I've been paying close attention to what's been happening on the edges. The important things, in my opinion, because without pads on you can only find out so much."
--Harry Sydney on PackerRats.com
"I believe I saw [Britney Spears] and Tony Romo frolicking. … She's on his lap."
--Ryan Seacrest on his KIIS-FM radio show of Romo's night at a chic L.A. club
---
"[Romo] met and dated the country singer and former 'American Idol' Carrie Underwood, escorting her to last spring's Academy of Country Music awards. He judged the Miss Universe pageant. He threw out the ceremonial first pitch at a Cubs-White Sox game in Chicago, and played in a celebrity golf tournament at Lake Tahoe. He is the host of a weekly radio show and appears in a number of commercials. He stars in a popular YouTube clip, unabashedly singing Journey's 'Don't Stop Believin'' onstage with a cover band."
--John Branch, The New York Times
"I'm just one of the guys, maybe a little older."
--Brett Favre after his 248th consecutive career start
---
NFL Shop's top five selling products earlier this week: (1) Brett Favre replica jersey; (2) Tony Romo replica jersey; (3) Tony Romo WOMEN'S replica jersey; (4) Cowboys customized replica jersey; (5) Tony Romo throwback replica jersey.
--NFL.com
"I now wear Wranglers because of this guy."
--goldengophers13 in YouTube comments on Favre's Wrangler commercial video
---
"Helping his team with the salary cap is the least of Favre's contributions. If they were dancing at 1265 Lombardi Ave., just imagine the reaction of league and television network officials …"
--Bob McGinn of the Milwaukee Journal Sentinel on Favre's contract
"Tony Romo makes bank to fund his side project of bedding female celebrities."
--A Socialite's Life Web site on Romo's contract
---
"I think [it] sometimes goes with this position. Being the quarterback … you're at the same place [club Les Deux in Hollywood] with someone else [i.e., Britney Spears] and people just run with it [say, a lap dance]."
--Tony Romo to "Entertainment Tonight"
"Football fans really -- they don't really, actually understand how complicated it is to run an NFL offense, and that he could keep his wits about him that night …"
--Steve Levy on ESPN Classic on Favre's 399-yard, four-touchdown "Monday Night Football" performance in 2003 against the Raiders, which came a day after his father had died
---
"'Brett Favre has been playing in this league for 17 years,' Packers wide receiver Donald Driver said. 'When you've been around that long, all you care about is winning. And that's what Brett was concerned with ...'"
--Jeffri Chadiha, ESPN.com
"Tony was disgusted with Britney … It was purely Britney wanting to do it. All he can talk about is Sophia [Bush] these days."
--Tony Romo insider source to Us Weekly
---
"I think they met over e-mail. She skipped a party in L.A. because he invited her to his game in Dallas."
--An insider's account of the Romo/Bush spark to OK! magazine
"Deanna and Brett met while growing up in Kiln, Mississippi. They had attended school together since early childhood and began dating in high school during Deanna's sophomore and Brett's freshman year."
--Wikipedia on Deanna Favre
---
"The second-most eligible quarterback in the NFL was earlier linked to country music superstar Carrie Underwood … and now the quarterback has moved on to 'One Tree Hill' hottie Sophia Bush. … Hollywood moves fast! As does Romo."
--Josh Hart in The National Ledger
"'He's playing as well as I've ever seen him,' said coach Rod Marinelli of Favre. 'It's tough to sack that guy, with his speed of release …'"
--Eric Redner for The Sports Network
---
"The No. 1 sight in football thus far has been Brett Favre running down the field into the arms of his receivers. … This guy has captured America."
--Bill Plaschke on "Around the Horn"
"First it was Britney Spears and then it was Sophia Bush, and now the romance rumors are swirling that Jessica Simpson is Dallas quarterback Tony Romo's newest gal pal."
--ET Online of Romo's latest Hollywood hookup
---
"The singer, 27, spent Thanksgiving with Romo, 27. … Simpson showed up to watch him at a Texas home game Thanksgiving Day and referred to him as 'my man' to friends. … Simpson and Romo also dined at the Dragonfly restaurant in the Hotel ZaZa in Dallas with her parents, Joe and Tina, and her pal (and former assistant) CaCee Cobb and her beau, actor Donald Faison."
--Us Weekly
"Brett Favre sported a white T-shirt, carpenter's pants and a scruffy beard. It was the only time he looked like just another guy on Thanksgiving."
--The Associated Press
---
"You can see Brett, you can see the excitement, he's enjoying this year. He's not having to try to win the games by himself. You're seeing a guy that's been revitalized. He was like six months away from quitting the game. With that sort of excitement and positive nature -- that is the story of the year."
--Woody Paige on "Around the Horn"
"As some tabloids are ready to report that Jessica Simpson is desperately looking for a man in her life, OK! can report that the singer's season will be filled with lots of cheer and much smooching as she finishes out 2007 with new boy toy, Dallas Cowboys quarterback Tony Romo. … Last year, Thanksgiving sent the Dukes of Hazzard star into a spiral of depression as it marked the anniversary of her split from ex-hubby Nick. So this year, friends of Jess are thrilled …"
--OK! magazine
---
"He's the greatest ever."
--Lions QB Jon Kitna on Favre
"Who?"
--Britney Spears' response when asked if she was dating Romo
Mary Buckheit is a Page 2 columnist. She can be reached at marybuckheit@hotmail.com.
PACKERS AT COWBOYS (Thursday, 8:15 ET)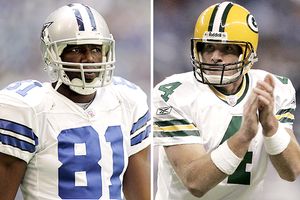 Terrell Owens and the Dallas Cowboys (10-1) play host to Brett Favre and the Green Bay Packers (10-1) on Thursday night in a game that could determine homefield advantage in the NFC playoffs. Only about a third of the homes in the U.S. will be able to watch the game on TV. Here's why

| Discuss the game.

Commentary/features
•
Power rankings: Dallas second, Green Bay third
•
Garber: Romo, Favre are improvising masters
•
Garber: Five improvising QB masters
•
Snoop Dogg raps Tony Romo
•
Clayton: First and 10
•&nbsp
Grant's run to glory
•
Wickersham: Best of weak NFC
•
Packers or Cowboys? Experts make their picks
•
Page 2: Inside Favre's brain
•
Cowboys-Packers through the years
News
•
Clayton: Injury report

ZOOM galleries
•
Top 5 NFL improvisational QBs
•
Top 5 NFL improvisational QBs ever
•
Top 5 college improvisational QBs
Video
•
Steve Young: QB improvisation about awareness
•
Brett Favre: "Play loose but be ready to play"
•
Dissecting Brett Favre's renaissance
•
Keyshawn Johnson's advice for Tony Romo
•
Field Pass: Green Bay vs. Dallas
•
Phillips and McCarthy surprising many
Simulation
•
EA Simulation: The winner in OT is...
Scouts Inc.
•
Tale of the tape: Too close to call
•
Offenses are in high gear
•
Improved Packers' O-line benefits Grant
•
Packers' terrific cornerback tandem
•
Packers' coaches are the key
•
Game could be decided by trench warfare
•
Horton: Notes from the film room
ESPN Top Headlines