"Hul-loh," bids the voice on other end of the line in an accent that sounds more groggy than Australian this early in the morning.
"Robbie?" I almost don't recognize him.
"Yes, hey. It's Robbie," he clears his throat. "Good mornin'."
Believe it or not, Robbie Maddison requested the phone call bright and early at 7:30 a.m.; apparently, there's a lot to do in the days leading up to a feat that could end your life.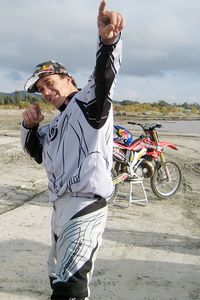 Mary Buckheit /ESPN.com
Maddison with his trusty Honda CR 500 ... ready to jump across a football field.
Work out, work on the bike, look over physics equations, eat right, check the Las Vegas weather conditions, read the Farmer's Almanac, do some Christmas shopping -- all in a day's work when you're about to try to fly your motorcycle across a football field.
Maddison, the 26-year-old freestyle motocross rider from Kiama, Australia, will attempt the "impossible" in an effort to fulfill his lifelong dream and, in the process, land the longest motorcycle jump in history -- live from the Rio in Las Vegas on New Year's Eve (ESPN, 11 p.m. ET).
Sound like somebody else you know?
"I am dedicating the night to Evel Knievel." Maddison declares. "I have always looked up to him, just like everybody else who rides motorcycles has. He was my inspiration. And with his passing it seems like the perfect time to pay tribute to him. The timing of all this is very interesting."
The visceral connection to Knievel is what provoked Maddison and his fiancé to make the trip to Butte, Mont., for Knievel's funeral in early December. The caped Knievel, who made motorcycle feats famous in the 1970s, recently passed away at age 69 after suffering from diabetes and pulmonary fibrosis for years.
Knievel had been so influential to Maddison's personal destiny that although he had never met the international icon, Maddison made certain to bid farewell in person. For Maddison, the funeral service and its hundreds of mourners filing past the open casket to pay their respects to their red, white and blue leather-clad hero was the closure he needed to a lifetime of emulation.
"It was a very meaningful moment there, standing over him," Maddison says. "I said some prayers and I thanked him for the inspiration he'd given me. He inspired my life. The man's entire spirit just blew me away. I was devastated that I never got to shake his hand. I'm still really quite upset about it. But to be there with him like that and to meet his family really gave me a sense of what is happening. I am so fond of Evel Knievel. And I want to carry his pride. I want to be that guy now, the guy who jumps a motorcycle."
It's been more than 30 years since Evel Knievel soared over 13 Mack trucks, jumped 14 Greyhound buses or cleared the fountains at Caesar's Palace, but his legacy lives on. Maddison hopes to cruise at about 95 mph on his motorcycle, up a ramp, off the edge and through more than 300 feet of air.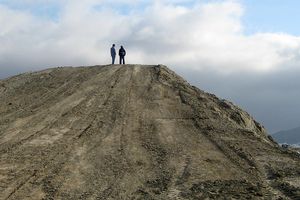 Mary Buckheit/ESPN.com
A long climb to the top of the practice jump didn't persuade Maddison from stopping his attempt.
To be clear, the current world record is for the longest documented motorcycle jump is 277 feet by Trigger Gumm in 2005. So Maddison would only have to best that jump by one foot to officially break the record. But that's not the point, he says. And even if those in the motorcycle jumping industry would rather enter into a back-and-forth, one-foot-at-a-time type of world-record exchange, Maddison prefers a statement conquest. That's why he'll be taking a route about six stories high in hopes his speed and trajectory will eclipse the record by at least 25 feet. (Although just 12 little inches would do it!)
"My whole life I've been saying that I want to jump a motorcycle over a football field," he says. "Goal line to goal line a football field is 300 feet, so, yeah, that would set the record. But when I said football field I was a little kid back home and I meant an Australian football field, of course, which is 100 meters or 333 feet. That's really why I want to jump more than 300 hundred feet. My goal has always been a football field. That part of it is as important to me as the record."
After all, Maddison is no world-record rookie; he already holds two: the longest jump on a 125cc bike (221 feet) and the longest jump with a trick (246 feet on a 250cc bike).
Do the math and you can see that the distance he'll be gunning for on New Year's Eve is quite a leap from the long-assumed ceiling of possibility. End zone to end zone would be an unfathomable 360 feet, but even that is not out of reach in Maddison's eyes. "It's a long way but I really think I can do it. I believe that jumping a motorcycle over 300 some feet is possible and I want to prove it," affirms the unfaltering Aussie.
It seems everybody in Camp Maddo, including Robbie's fiancé, former Australian wakeboarding champ Amy Sanders, remains steadfast in the objective.
"Hey, we're on the metric so it really only scares me when I hear you talking about how far he's going in feet." she jokes. "It's not so much furtheh in meteahs, roight?"
OK, so maybe their optimism is just a really solid sense of humor at a time when most of us would have be unable to make light of the situation.
"Of course we know what's at stake here," Sanders assures. "And you've heard Robbie say it. There's a point of no return and that's it. If something goes wrong mechanically, it's a death sentence. But I have a really good feeling about this. This is Robbie's lifelong dream. They are finally letting him try it and we all believe he can do it."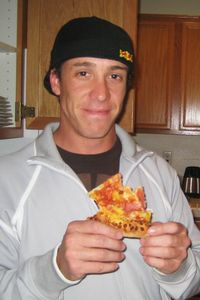 Mary Buckheit /ESPN.com
How do you prepare for the jump of your life? With a slice of healthy eating.
While Sanders admits to some nervousness about the jump, she's in full support of Maddison. "I'm not going to try and talk him out of it or nag -- that's the last thing he needs. He's worked so hard. He can do this. He's not afraid."
Is there anything this guy is afraid of? "Intruders," Sanders discloses with a laugh. "Both of us, every night. He locks the door, we watch TV, he checks the door, we brush our teeth, then he checks the door again. That's it, all he's afraid of!"
But it's not just Maddison's fearlessness getting him through these final hours before the jump. He has poured over calculations and is adamant to make the point that his fate is not something he's just throwing into the wind. He's been on a bike practicing for this his entire life, plus he's done his time in the office of physics professors talking about radius values and the flight path that could make this work. He also trusts his noble steed -- a powerful Honda CR500 -- that will carry him through the air.
"Knievel was doing his jumps on a Harley. I actually can't think of anything worse, which just adds to my respect for him," Maddison explains. "But bike engines and suspensions have come so far since then. Plus, so many calculations have gone into my ramp measurements and the active math equations that we'll use to factor in for wind. This isn't something we just took a guess at like they used to do."
So there are some distinct changes from daredevils of the past, but I can't help but notice one striking similarity.
Robert Craig "Evel" Knievel. ... Robbie Edward "Kaptain" Knievel. ... Robbie "Maddo" Maddison.
"I know," says Maddison with a bemused sigh.
"I mean, what if your parents had named you Matthew, or something?" I ask him. "Then what?"
"I bet I would have done better in school."
But he looks like a Robbie. And he was made to jump a motorcycle.
Mary Buckheit is a Page 2 columnist. She can be reached at marybuckheit@hotmail.com.