There are things about my childhood that I will never be able to shake. Patterns that were as predictable as the seasons.
For instance, every night after dinner in winter months like these, as snow blanketed the backyard, my dad would drink down his last swallow, then take his finished plate in from the table to the kitchen sink. He'd thank my mother for the feast with a kiss on the cheek, then open the latch to the basement door and descend the wooden stairs.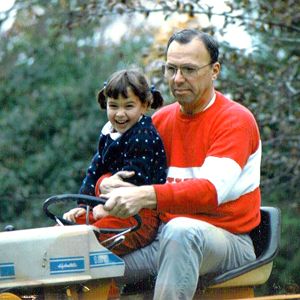 Photo courtesy of Mary Buckheit
When there wasn't snow on the ground, Mary and her dad kept the backyard fairways in top condition.
Every single night.
I remember the sound of his slippers shuffling on the cement cellar floor while he searched for the dangling pull string. I remember the sound of his stutter step, tug and click as the cold, unfinished walls lit up from the light of an undressed bulb.
It was there that my dad would decompress from the workday.
On the gray floor lay a small mat from the front seat of his old Dodge. Next to that was a long, narrow strip of insulation.
The car mat was for irons. The insulation, for putting.
I remember how I would sneak down and sit on the fourth stair in my feety pajamas. I'd talk to my dad as he hit plastic golf ball after plastic golf ball from the car mat into the cement wall. I can still hear the cycle of sounds -- the shaft through the air, the club to the ball, the plastic against cement and the trickling of the small Wiffle balls bouncing around until it was time to collect them in the coffee can and do it again. He let me do that.
I remember how my mom would call me to bed from two flights up, and how my dad would then signal me down from the stairs; waving me over with one hand, the other quieting me with an index finger to his lips. He'd grab his old putter leaning against the wall and hand it to me.
"One-for-one, last one in's a rotten egg," he'd say.
Without fail, I'd hastily putt my ball off the side of the thin foam strip a few times, and my dad would toy with me for a minute or two before finally tapping one into the silver tambourine tray. Bedtime. He'd hand me his putter, and I'd put it back on the wall while he walked over to the pull string. He'd stand under the bulb with his hand on the cord, giving me a second to make a dash for the stairs before the darkness fell. If I was stalling on bedtime all he had to do was pull the string.
Every single night it was golf balls, a strip of insulation, me, my dad and a putter.
I remember when my mom bought him a real green foam practice putting strip for his birthday, and set that up in the basement.
I remember kneeling next to my mom in front of the casket at his funeral, the putter tucked next to him. Of course.
My dad would have turned 70 years old on Thursday. Out of habit, in these February days leading up to his birthday, I always get that pang. I think of golfing in the basement, longing for springtime grass and greens. I think of driving by tundra-like courses -- "Hey look, let's go, the flags are up!" my dad would joke.
There's this feeling now, as if I'm forgetting something. It's been five years, and somehow I still kind of forget he's gone. Or maybe I don't forget as much as I am still reminded of him so often that it's almost -- but not quite -- as if he never left.
And while there were so many parts to the man I love most -- a husband of 40 years, a father of six, a brother to seven, a grandfather of eight -- I am never more aware and surrounded by his presence than I am when I'm on a golf course.
The man loved golf. I remember the obituary noting his devotion to his family, his church, the Brooklyn Dodgers and golf. And I remember the phone call from my mom on a Monday night. "Have you heard from dad?" she asked. "He went out golfing this morning and he's not home yet."
It was one of those moments when you know in your bones what has happened, even when it's the most unlikely scenario on Earth. Never in my 23 years had I ever heard from my dad without my mom first passing him the phone. If she hadn't heard from him, something was surely amiss.
On that rainy night in Geneva, N.Y., my uncle took my mom down the road to Big Oak Golf Course, where he had spent the afternoon with my father. They had played one round together, and that was enough for my Uncle John. Dad said he was going to go around again -- 27, maybe 36 holes -- which wasn't unusual for him at the age of 65, even on a rainy day. He could hack around for hours by himself if he'd had his work done. And that day, he did.
His car was still there at the course that Monday night. The only one on the lot.
Maybe the car wouldn't start and he had just walked somewhere, the police officers suggested. It was plausible. But I'm fairly certain that everyone gathered in the clubhouse knew what had happened even before my uncle finally found him in the fourth fairway.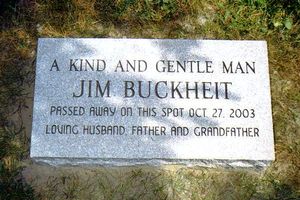 Photo courtesy of Mary Buckheit
Here's the commemorative stone that was placed on the fourth fairway at Big Oak Golf Course in Geneva, N.Y.
They said he had hit a nice drive. And then he'd had a heart attack.
He died. But he died playing golf. And just like that, five years later, something about losing my dad so unpredictably somehow seems to make some kind of sense now.
My dad loved playing golf. He respected the etiquette, the honor code, and the beauty that can be found on even the most haggard of municipal courses. He felt humbled by every minute that he was lucky enough to be out there between the flags, away from the hustle and bustle. And because of that, he had egg cartons filled with golf balls in the garage that he would wash by hand in the offseason.
He was faithful to what can make golf a difficult partner to keep. It is a relationship that can't be maintained by the listless.
And that's why it didn't surprise me too much when I saw the recent New York Times article in which Paul Vitello explained that "more Americans are giving up golf."
It seems the total number of people in America who play golf has been on the decline this decade and, what's more, about 3 million golfers quit playing each year.
Many would argue that most Americans don't have the time for such a commitment. But I'd argue that most don't have the heart for that kind of commitment, either. C'mon. If you think the only way you have time to play nine holes of golf is by driving a cart, it's not really about time, it's about devotion. (Now, if you're taking a cart for fun, and because it allows you and your buddies enough time to play two balls and also enjoy a six-pack, you're all right by me.)
Sure, there's no doubt that time is hard to come by these days. It's more difficult today to squeeze in a few hours away than it was even five years ago.
But it can be done.
You might have to wake up for an early tee time before the rest of the slackers roll out of bed and slow your pace. You might have to get off the couch on a winter night and practice your swing in the basement, to keep up your pace come spring. You might have to walk a few rounds in the rain -- but if you're lucky enough, you could have the course to yourself.
And if you're really lucky in your pursuit of this valiant obsession, you just might rest peacefully someday. With your favorite putter never far from your side.
Mary Buckheit is a Page 2 columnist. She can be reached at marybuckheit@hotmail.com.