You've heard the old adage about going to see a fight and a hockey game breaking out, right? Well, last Saturday thousands of folks turned out for Michigan's Division I high school hockey championship game, but what they witnessed was an eight-overtime marathon on ice.
The result of the record-setting 109 minutes of play was a 1-1 tie and a pair of co-champions.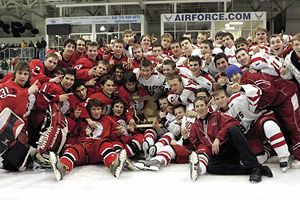 AP Photo
Marquette and St. Mary's shared the championship after their epic eight-overtime affair.
Absorb that for a moment, and you're almost sure to think it a waste of time and energy. Sharing a championship trophy is nonsense, right? As Vince Lombardi would say, winning is the only thing that matters. Or as my favorite coach used to say, "A tie is like kissing your sister; nobody gets much satisfaction." So when I first saw the headline about an 8-OT tie, I believed the officials surely could have done something,
anything
, to avoid a moot finish to a state title game.
Marquette Senior High School coach Joe Papin had a similar reaction upon hearing the authorities' decision. "We were like, 'What? C'mon, we've got to play for a winner,'" Papin told me by phone from Michigan. "But then you think about the big picture, and the fact that these kids had already played about three hockey games in one outing, and plus, it was almost midnight. At that point, you realize that this is what was best. You have to use common sense."
Common sense would normally tell you that a tie in sports is useless. That's why Marquette-Orchard Lake St. Mary's marked the only tie in the history of Michigan's hockey finals. But, considering it was the longest high school hockey game in U.S. history in terms of minutes played, a tie does make sense. There are exceptions to many rules, and this game was nothing if not exceptional.
Chris Lau, a reporter for the Detroit Free Press, likened the latter periods of the epic on ice to a pee-wee league skirmish. "Guys were so exhausted that they were falling over without even being touched. And they were almost unable to get up. … Yet they were still skating as hard as they possibly could, and diving after pucks, and making hits, and still going back to block shots. It was really something to see."
Papin's Redmen journeyed 450 miles from Marquette for a shot at the title. Their bus left home on a Tuesday, and after quarterfinal and semifinal wins along the way, they laced up their skates for the championship game in Plymouth on Saturday -- their fifth day on the road. Imagine facing the two-time defending state champions after a trip like that. Then imagine going eight overtimes with them.
"As the night went on, we were loading our guys up with water and trying to get them any kind of food we could because they had already gone through all the apples, bananas and oranges," Papin said. "My wife went and got a case of Nutter Butters from the concession stand, which had already closed but reopened.
"But by the eighth overtime, it was definitely a health issue. It was about the safety of the kids."
Common sense told Papin, St. Mary's coach Brian Klanow and the Michigan High School Athletic Association that at that point it was about the safety of the kids. Common sense tells every sane human being that, at that point, the safety of the kids trumps all. So what scares me is a comment posted by an alleged adult at the bottom of Chris Lau's game recap on the Detroit Free Press' Web site.
"Sportsnut76" wrote, "After playing hockey growing up, and still playing as an adult, I would be DISGUSTED if I played my heart out and then someone told me the game was ending in a tie. WHY EVEN PLAY??? Sports are about winning and losing. NO MATTER HOW LONG THAT TAKES! As usual, a decision made by some adult to be politically correct and make everyone feel good about each other. Pretty soon we won't even need to keep score. Just tell everyone they played hard and they are all champions. What a sham the MHSAA is."
In reality, the MHSAA called the game for several reasons. Not only was the game going into its ninth overtime, it was also almost midnight by that point. In Michigan, high school hockey cannot be played on Sundays, so the game would have been suspended at midnight anyway. If the game had been completed later, the two teams would have spent another day on the road, missing another day of school, just so they could resume a game (which may well have ended with one more shift) on Monday.
Probably not worth it, right?
"More overtimes or a shootout when kids could barely skate and goaltenders could hardly stand up just would have cheapened the win," Papin said. "Plus, those weren't even options on the table."
The decision was what was best for everyone. Best for the two squads, who had played their hearts out. Best for the two goaltenders, who had combined for 91 saves through regulation and eight sudden-death periods. It was even best for the many spectators who had been at the rink for more than five hours.
Lau recalled the standing ovation from the thousands still in attendance when the co-champion decision was announced through the PA system.
"It was pure joy in the arena. Everybody was standing up and cheering for both teams. When I talked to players afterwards, there were some mixed feelings about the tie, but every single player I spoke with -- without fail -- added at the end of their comment that they were glad it ended the way it did. That was without me asking them if they were happy -- that came from all of the coaches and players of their own volition. It was what was best for everybody. It made sense."
Too bad sense eludes so many otherwise-sane Americans who have been brainwashed by the win-at-all-costs crusade. At the end of the day, whether we're talking about recruiting battles, high school championships or Little League games, the only thing that seems to matter to many people is the W. Sure, that's the way it should be in professional sports. But, lest we forget, everything else is markedly different.
That's why this was an extraordinary hockey game. That's why, tie score and all, those 109 minutes weren't a waste of time. That's why the officials who made the decision should be commended. Someone finally got it right. They made a decision based solely on the best interest of the kids.
Not to say high school athletes should always be treated like kids, but Papin did attest that, back in their hotel that night after eight overtimes and one tie score, his co-champions slept like babies.
No word on whether "Sportsnut76" is still tossing and turning over the tie.
Mary Buckheit is a Page 2 columnist. She can be reached at marybuckheit@hotmail.com.