Kyle Busch is only as old as Nintendo, "Back to the Future" and Bo Jackson's Heisman Trophy. Born in 1985, it's no wonder the 22-year-old little brother of Kurt Busch bears such diminishing, if accurate, nicknames as Lil' Busch and Shrublet. But when the kid signs off on his Web site's journal entries, he always takes the name of his most widely accepted moniker: Rowdy.
The Las Vegas aggressor raised at The Bullring is uber-competitive, always unrelenting, sometimes impetuous and never conceding.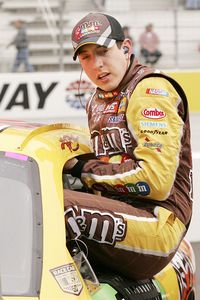 AP Photo/Wade Payne
Being from Las Vegas, isn't it only natural that Kyle Busch likes to take chances on the track?
He broke onto the scene as a brash teenager who never quite seemed in step with the ideals of Hendrick Motorsports, but even that couldn't keep him from making his mark on and off the track.
This season -- his first with Joe Gibbs Racing after being replaced at Hendrick by Dale Earnhardt Jr. -- Busch is still up to his emblematic antics, only this time among the Sprint Cup and Nationwide Series points leaders and atop the Craftsman Truck circuit standings.
Right out of the gates this season, Kyle Busch has been enticing. He led the pack for the most laps at the Daytona 500 (finishing fourth). A few weeks later, he nabbed a win at Atlanta Motor Speedway (becoming the youngest ever to win there) and gave Toyota its first Sprint Cup victory in 2008. All this mounted him atop the point standings for the first time in his career.
Already the stuff of lore, this spirit surely won't be tamed anytime soon, so Page 2's Mary Buckheit sat down with the wild child to get the real deal right from Rowdy himself.
---
Page 2: How is it being a 22-year-old from Vegas in a sea of good ol' Southern boys?
It's different, that's for sure. You're taken differently. A lot of things aren't the same as maybe they would be if you were a Southern boy. But all in all, I think it's good for the sport when you've got guys from all over the country. There's more now than there's ever been in the past.
What do you miss most about the West Coast when you're traveling?
I probably miss the weather most of all, but of course In-N-Out Burger, Wienerschnitzel and Baja Fresh are also right up there. I really miss the eats of the West Coast.
What's your trademark order when you cruise through In-N-Out?
A No. 1, with no onions and extra, extra pickles.
Ah, the Double-Double; a fine choice … Next month you turn 23, and I hear you already have two ladies in your life, can you confirm this?
I have two ladies in my life?
That's what's all over the Internet. How do Kelly and Suzie feel about the situation?
Oh-ho-ho-o! My dogs. Yes, it's true they are the loves of my life. They are two West Highland terriers, and I love them to death.
Would you care to delve into your love life and reveal a real [human] lady friend?
Um, I'm working on that right now. Not quite, just keeping it real, I would say.
When you do have a girlfriend, do you ever let her drive?
I have, though not recently. Normally I have to be the one that's driving because A, they don't want to get the speeding ticket because I say they're not going fast enough and B, they're just never going fast enough.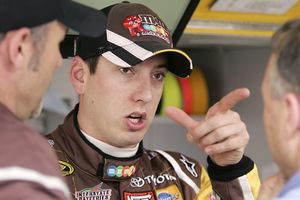 AP Photo/Wade Payne
Even though Kyle Busch is Kurt's little brother, he sees himself more like Kobe Bryant than Eli Manning.
You like to do things fast, huh? You finished high school in only three years. Did that leave you enough time to mess around in backseats before you started getting into trouble from the front seat of race cars and trucks?
Uh, no. Not really. As soon as I was in junior high school, though, I knew that school wasn't for me, so I had to be thinking about what I was going to do with my life that didn't include going to school. So I talked to my mom about what we could do in order to graduate early, and I was able to do that. But that's why I never really had the opportunity to hang out or do any of that because I was always either working on race cars or doing my homework, and that was about it.
Let's talk really quickly about your big brother. I've got three older sisters, so I feel for the constant comparisons to Kurt. At the end of the day, is being Lil' Busch a blessing or a curse?
Sometimes it's bad and sometimes it's not so bad. In years past, when my brother had some issues going on with him, it kind of came down on me. I mean, before my first race that I had ever raced on the NASCAR circuit, I was already getting booed. I think that had a little bit to do with the recognition of the older Busch, but you know, it is what it is. And I'm sure he's received some of the same response from things that I've done. You'll never really win with every NASCAR fan, but we are what we are, and that's what makes us good.
What's the most important lesson that you've learned from Kurt?
Probably just that you race the same guys week in and week out. When you're a younger guy, you travel from series to series, but when you get to the top level, you're up against the same guys every week and for years to come, so you've got to become friends with them. You need allies, not enemies.
To make friends with the folks at Joe Gibbs Racing, are you obliged to be a Redskins fan?
No, not at all. I'm actually more of a Denver Broncos fan than anything. That's my team. I've met Rod Smith and John Elway before. It's been cool to get to know those guys.
If I had to compare you to another athlete, would you say you're most like Eli Manning, in the sense of the little brother breaking into Peyton's world, or Kobe Bryant, who came into the NBA young and brash and is the kind of guy whom people love to hate almost as much as he hates to lose?
I'd be Kobe Bryant, definitely. Eli tends to be the more quiet superstar. He does his deal, but me, I just hate to lose. I love winning. That's what I am all about. I guess people don't like me for getting as upset as I am sometimes when I lose, but that's me. I want to win. I love winning, and I hate losing.
Your secret's out, my friend. I pulled three descriptions of you from three different stories about your behavior at the last race. You were described as "a hothead," "arrogant" and "immature". Which one of those tags, if any, would you say is not accurate?
Say them again.
Hothead, arrogant or immature.
Um, arrogant is probably the one that doesn't fit. I might be confident in what I do, and sometimes you can be cocky and confident because you know what your abilities are and you know what your car is going to give you. So I think that arrogance would probably be the wrong word there. That's not it.
Do you feel that your no-holds-barred, win-at-all-costs attitude is misunderstood as reckless and confrontational?
Yeah, that's pretty much what it is. I don't mind taking chances. Sometimes those chances get me in a loophole that's hard to get out of, but that's just me. That's my drive. That's my fire. That's who I am. That's who I want to be and who I feel like I am when I'm fast. If I were to give up those attributes, I probably wouldn't be the Kyle Busch that's known for being fast and going out there and winning races.
You and Denny Hamlin have both gone out and won races this season. How much crap are you guys giving your teammate, Tony Stewart, who doesn't have one to his name yet?
Well, since it only happened Sunday, it hasn't been too bad. He's been running up front every week, though, so we try not to pick on him too much.
Last question: Peanut or plain?
Definitely plain. I like the red ones.
Mary Buckheit is a Page 2 columnist. She can be reached at marybuckheit@hotmail.com.