Alexis Serna: Our Kind Of NFL Prospect
With the Miami Dolphins revealing the top pick of the NFL draft five days ahead of schedule, this year's event has all the suspense of a North Korean election. We've known since Tuesday that the first name called on Saturday will be Jake Long.
Well, if it's suspense you're looking for, try listening for the name Alexis Serna.
Maybe he'll be called. Maybe he won't. Maybe you know him … but you probably don't. One thing's for certain: If you're tired of the overanalyzed, hyper-scrutinized, human signing bonuses in tailored suits, we've got the guy for you.
To know a certain 5-foot-6 ("and a half"), 168-pound mound of NFL place-kicking potential is to love him. He went to Oregon State as a walk-on by way of Fontana, Calif., growing up honing his boot on soccer fields. Upon arriving in Corvallis, Serna quickly earned a Beavers helmet and first-string kicking honors. In 2004, he made the Sporting News' All-Freshman Team. He then cobbled together a career that ranks eighth all-time in NCAA scoring for a kicker and second all-time in the Pac-10 (six points shy of UCLA's John Lee in 1982-85).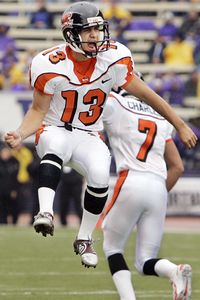 AP Photo/Elaine Thompson
Be careful, Alexis. Remember what happened to Bill Gramatica?
So the kid's a proven talent, but there's so much more to love about him. Consider the noble focus of his college degree, which he earned back in March 2007 -- a Bachelor of Arts in history, with a minor in women's studies.
Believe it or not, that's not even what won me over. Truth is, he had me at his job.
"I cleaned an office building at night. I was a janitor. I started that job my true freshman year. I did it to put money in my pocket because I was a walk-on," he told me modestly.
As if it wasn't enough that a college football player held down a real job in addition to a legit course load, Serna was a janitor! Anyway, I know what you're thinking. There's no way he kept that job through a standout college football career amid the prospect of going pro.
You're right. He didn't keep that job.
He now works in the service department of a Ford dealership in Corvallis.
Serna doesn't carry an air about him. He doesn't have an attitude. He doesn't have a personal trainer. He's so grounded that he's practically underground. This kid makes Brett Favre look like an elitist. But the question remains: If a gifted kicker falls in a forest of flashy QBs, RBs and linemen whose agents carry cell phones almost as big as Serna's right foot, does anybody hear his name called on draft weekend?
I posed this question to ESPN draft expert Todd McShay, who gave me this supposition on Serna.
"Generally there are between two and five kickers drafted each year. Usually, NFL teams are looking for guys that can do it all -- I mean place kick extra points and field goals, and also kick off so that they don't have to use a roster spot on a specialist," McShay said. "Alexis has done both. The thing is, he's streaky. When he gets on a hot streak, he's one of the best kickers in the country. He's had moments when he's really been brilliant. He's also been erratic at times. Still, I think teams like the fact that he bounced back from that miserable start to his career."
REVENGE OF THE SCOUTED
Scouts Inc. says of Alexis Serna …
Strengths: Powerful, can get good distance on kickoffs and can connect on long-range field goal attempts despite size. Fairly accurate and doesn't miss many field goal attempts inside 40 yards. Has experience kicking in poor weather and it doesn't appear to affect him. Handled the punting duties last year, showed adequate accuracy in that role and is versatile enough to fill in there if needed. Weaknesses: Appears to lose confidence at times, appears to dwell on mistakes and missed three field goal attempts in one game last year. Missed three point-after attempts including one that would have tied the game in overtime in 2004 LSU game, and there are concerns about ability to come though under pressure. Ball can come out low when attempting long-range field goal attempts; vulnerable to getting kicks blocked in those situations and had a field goal attempt blocked there. Alexis Serna responds to Scouts Inc. Draft Tracker report …
Serna: Oh my gosh, this is my dream to be able to react to one of these! My strengths are accurate, but my weaknesses are totally off. It's laughable. Scouts Inc.: "Appears to dwell on mistakes."
Serna: Every miss that I had this season, I followed it up with a make. If that's a long time dwelling on mistakes, then missing two in a row must be an eternity. Scouts Inc.: "Missed three field goal attempts in one game last year."
Serna: They are referring to the University of Oregon game. It was a cold and windy day. I was struggling to catch and hold the ball for punts because it was so cold and dry. On my first attempt, the ball slipped out of my holder's hand when he put it down. I kicked the ball as it was falling to the ground. The second kick I probably should have never attempted. It was a 50-yarder into a tough wind, but I thought I could make it. I fell just short and to the left. The third kick was blocked off the edge. My get-off time was fine, the guy just got a really good jump on the snap. It doesn't mention that I made a 41-yard field goal in overtime to send the game to double overtime -- and we went on to win that game. I never lost confidence or worried about the missed kicks because I had no control over them. Scouts Inc.: "Missed three point-after attempts including one that would have tied the game in overtime in 2004 LSU game."
Serna: I hold the Pac-10 record for consecutive PATs made with 144 (and probably the record for missed, as well, with those three). Scouts Inc.: "Concerns about ability to come though under pressure."
Serna: I had two bad games where I did not come through for my team. The LSU game freshman year and Stanford game my sophomore year. The Stanford game I was short on a 53-yard field goal. It was dead center but just fell short. Freshman year I kicked a field goal late in the fourth quarter against New Mexico, Stanford, and Washington to solidify the game. Senior year I kicked a field goal against Stanford late in the fourth quarter to solidify the game, as well. I kicked the game winner against Boise State my sophomore year and against Oregon my junior year. And that Civil War game against Oregon, I kicked one to send it into double overtime. I can kick under pressure. Scouts Inc.: "The ball can come out low when attempting long-range field goal attempts; vulnerable to getting kicks blocked in those situations and had a field goal attempt blocked there."
Serna: I am 7-for-13 from 50-plus with a long of 58 yards. I had one blocked kick, which was not my fault. Our center, Kyle DeVan, had been injured and was taken off the field goal team. The chemistry with the new player was not there yet, and they allowed a defender deep into the backfield, and he got a hand on the ball. If there is one thing for sure, I do not kick the ball low.
McShay is referring to Serna's infamous 2004 season opener at LSU when, as a redshirt freshman, he missed all three PATs he attempted (including the one that would have forced a second overtime) in the Beavers' heartbreaking 22-21 loss.
For whatever reason, more has been made of that single game than any other in Serna's repertoire. Maybe it's because he missed three extra points. Maybe it's because it was against the defending BCS champion Tigers. Or maybe it was because the diminutive Serna was an easy target.
But here's the kicker (pun intended). What followed for Serna was a comeback as impressive as the LSU game was discouraging. He finished the 2004 season putting the last 29 extra-point attempts through the uprights, and he made 17 of 20 field goal tries. In 2005, Serna was named All-American and nabbed the Lou Groza Award (presented to the nation's top college kicker). Fast-forward to his collegiate finale and you found him honored with a spot on the 2008 Senior Bowl roster. In that senior season, he kicked and punted for the Beavers. But my favorite Serna tidbit is his final success rate on extra points -- 144-for-147. That's right. You do the math. Quite a redemption song.
"I was at that game at LSU," McShay remembers. "I won't forget what that felt like, but the thing is, he came right back. He never missed another one."
Still, McShay said that Serna's inconsistency and size could hurt his NFL quest.
"There are just a lot of little concerns surrounding him that might start to add up," McShay said. "He's tiny. He's really tiny, which is not a huge thing, but teams want a sense of leg strength, and his size could scare them off."
Of course, many successful kickers have been built like baby corn. Former Ohio State standout Mike Nugent -- a second-round pick by the Jets in 2005 -- is only 5-9, and Saints vet Martin Gramatica is only 5-8.
Would you rather have 6-2, 250-pound Raider Sebastian Janikowski and the accompanying baggage, or a 5-6½, 168-pound choir boy with a 58-yard field goal on his résumé? I'll take the guy whose inseam is the same as mine -- even if the cleats he wore to the combine (size 6 youth) are too small for me.
If an NFL team once had the audacity to draft Janikowski in the first round, somebody's gotta pick Serna this weekend. But they probably won't, said McShay.
"I think his best case is probably seventh round," McShay said. "More than likely though, he'll go undrafted and become a free agent that a team will bring in. If he has a good streak during a training camp and he catches a coach who is a fan of his mechanics, I think he can stick with a team."
Not a horrible prognosis, but Serna had a different take on his best-case scenario when I asked him the same question days before the draft.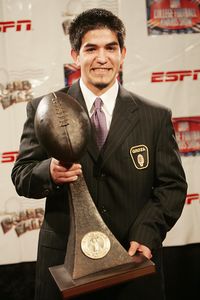 AP Photo/Brian Myrick
Serna won the '05 Lou Groza Award and received a trophy half his size.
"Personally," Serna said, "since Jake Long has already signed with the Dolphins, I want to go No. 2 to the Rams."
He's got personality -- and the smarts to make sure you know he's only kidding.
"Well, that's impossible, but it's OK to dream," Serna said. "Ideally, I would like to be drafted so I know I have a spot on a team. They say they don't play favorites with draft choices and free agents, but I've seen it happen too many times and think otherwise. I would like to be drafted and work hard in camp. But honestly, I don't think about it too much. I have no control over it, so there is no reason to stress over it."
These days, Serna is going to the Beavers' spring football practices and helping his replacements fill his shoes. After that, he's off to the weight room for sets of power cleans and pull-ups by himself. When he's not at the athletic complex, he's working 8 to 5 in the garage at Wilson Motors, changing oil and rotating tires. In the evenings, as the draft approaches, he said he's "peeking at the draft tracker every once in a while but not paying too much attention to it."
Serna made time to take me to Reser Stadium and teach me the secret to successfully kicking an extra point.
It took me six tries, by the way. And once I made one, I did not go on a streak of perfection. Those things are harder than they look.
Just as a certain undersized kicker plays bigger than he looks.
After spending some time getting to know that 5-foot-6½ kicker, I'll watch the draft this weekend with a rooting interest in a Cinderella named Alexis Serna, ever aware that it's not the size of the foot in the game, but the size of the game in the foot.
Mary Buckheit is a Page 2 columnist. She can be reached at marybuckheit@hotmail.com.
2008 NFL DRAFT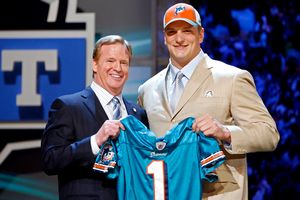 The 2008 draft lasted 14 hours, 26 minutes. Michigan offensive tackle Jake Long (above), selected by Miami, was the No. 1 overall pick. This year's Mr. Irrelevant -- the last pick in the draft -- is David Vobora, a linebacker from Idaho selected by St. Louis with the 252nd pick.


Round-by-round, team-by-team picks
•
Round:
1
|
2
|
3
|
4
|
5
|
6
|
7
•
AFC East:
Buffalo
|
Miami
|
N. England
|
NY Jets
•
AFC North:
Baltimore
|
Cinc.
|
Cleve.
|
Pitt.
•
AFC South:
Houston
|
Indy
|
Jax
|
Tennessee
•
AFC West:
Denver
|
K.C.
|
Oakland
|
San Diego
•
NFC East:
Dallas
|
NYG
|
Philadephia
|
Wash.
•
NFC North:
Chicago
|
Detroit
|
G.B.
|
Minnesota
•
NFC South:
Atlanta
|
Carolina
|
N.O.
|
Tampa
•
NFC West:
Arizona
|
S.F.
|
St. Louis
|
Seattle
Inside Radio City Music Hall
•
Panoramic views
Commentary/Features
•
Wickersham: Bears, Ravens take opposite turns
•
Williamson: Remembering Heath Benedict
•
Yasinskas: Falcons should be patient with Ryan
Day 2
•
Clayton: Six draft trends
•
Chadiha: 10 great marriages
•
Walker: NFC East draft review
•
Sando: NFC West draft review
•
Willamson: NFC North draft review
•
Yasinskas: NFC South draft review
•
Sando: AFC East draft review
•
Williamson: AFC West draft review
•
Walker: AFC North draft review
•
Yasinskas: AFC South draft review
Day 1
•
Clayton: Day 1 winners and losers
•
Williamson: Davis couldn't resist McFadden
•
Walker: Ravens had to work for Flacco
•
Sando: Long addresses Rams' D-line needs
•
Chadiha: AFC East hustle continues on draft day
•
Yasinskas: Ryan gives Falcons hope, identity
Mel Kiper
•
Kiper's team-by-team draft grades
•
Day 1 good, bad moves: Questionable Titans
News
•
2008 breaks previous trade record
•
Jets sign NCAA career rushing leader Woodhead
•
Lions pick Smith with first pick of second day
•
Miami, Long make it official
|
NFL Local
Video
•
Green: First-round pick instant analysis
•
Complete draft analysis
•
One-on-one with Jake Long
•
One-on-one with Chris Long
•
One-on-one with Matt Ryan
•
One-on-one with Darren McFadden
•
One-on-one with Glenn Dorsey
•
One-on-one with Vernon Gholston
•
Ed Werder on Cowboys
•
Norv Turner interview
•
Fantasy Spin
Audio
•
Jake Long
|
Chris Long
|
Matt Ryan
•
Darren McFadden
|
Vernon Gholston
•
Glenn Dorsey
|
Keith Rivers
|
Chris Williams
•
Lawrence Jackson
SportsNation
•
Vote:
Best first-round pick?
|
Potential busts?
•
Grades: How did your team fare?
Scouts Inc.
•
Analysis:
Round 1
|
2
|
3
|
4
|
5
|
6
|
7
Cheat Sheets
:
RB
|
DL
|
DB
|
LB
|
OL
|
REC
|
QB
•
McShay: Seven-round mock draft
•
Revisiting the 2005 draft
|
2005 re-draft
ESPN Top Headlines