BURNABY, British Columbia -- Coach James Gumbert was decked out in twill slacks, a crisply pressed white oxford and an American flag print necktie, accented by crimson suspenders. He grinned politely when I complimented his Sunday clothes, then fired a quick retort, as expected, "You can put lipstick on a pig, but it still won't look that good."
Seeing his full-bellied frame chuckle in his wheelchair as folks streamed over with congratulations was a cheerful scene, but be sure, Team USA's head coach would accurately be described as irascible more so than jolly. Thus, I understood that catching him with a grin that beamed almost as bright as the gold medal just placed around his neck was a rare moment.
"We will smile for a few minutes, then it's back to work," he told me, stern even in his satisfaction. "This is a very nice win at a very nice event, but ultimately, we have somewhere else to be."
The event Gumbie's squad had just captured on the gymnasium floor at Bonsor Recreation Complex in this suburb of Vancouver was the 2008 Canada Cup International Wheelchair Rugby Tournament -- the last assembly of the eight countries set to meet again in September for the final destination: the 2008 Paralympic Games in Beijing.
In the hands of their uncompromising coach, Team USA is currently ranked No. 1 in the world. It is also the reigning world champion and the only nation to win the prestigious Canada Cup since its inception in 2004.
But surprisingly, the dominant Americans are not the defending Paralympic gold medalists; that distinction goes to New Zealand. The Wheel Blacks took the top spot on the podium in Athens four years ago after the Canadians knocked out Team USA and subsequently nabbed silver. For the United States, it was bronze medals, disappointment and a four-year wait for redemption.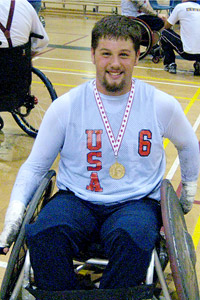 Mary Buckheit
At 18, Joel Wilmoth is the youngest member to ever make the U.S. quad rugby team.
Needless to say, the Opening Ceremonies can't come soon enough.
Team USA is anxious to avenge its loss to Canada -- the only team ever to beat the Americans in Paralympic competition. In fact, the Canadians have managed four sweet victories against the U.S. in international competitions. That might not seem like enough to fuel a fiery rivalry, but consider that's four more wins than any other nation has against the Americans.
"There are other countries in the mix now -- Australia, Great Britain, New Zealand -- but it always seems to go back to us and them," explains David Willsie, captain of Team Canada. "Our rivalry is still pretty much the main attraction of the sport."
This sport, its athletes and the U.S.-Canada rivalry was featured in the 2005 Oscar-nominated documentary "Murderball." The film's gripping footage detailed the 2002 World Wheelchair Rugby Championships, where Willsie and Team Canada handed the heavily favored Americans their first loss ever.
Until then, the Americans had the trophy case on lockdown. When wheelchair rugby made its Paralympic debut at the 1996 Games in Atlanta, Team USA went undefeated in a 7-0 run to gold, beating the Canadians in the championship. In 2000 -- the sport's first year with full medal status -- the Americans again went undefeated for more gold That's why the jarring semifinal loss in 2004 cut so deep. And that's why the upcoming trip to China is for all the marbles.
"This really means nothing," said the USA's Mark Zupan, gold medal still around his neck after the recent Canada Cup victory. "This doesn't matter. We want Beijing. That's it. We need five more wins. That's what all this is for."
Zupan has been the face of quad rugby since his face (and goatee and trademark tattoos) graced the cover the cult-favorite "Murderball" (if you've never seen it, go rent it now). To this day, Zupan, Andy Cohn and Scott Hogsett, the movie's luminaries and repeat Paralympians, are asked to pose for pictures and sign autographs after games.
Those veterans still showcase top talent on their sport's biggest stage, but what's especially exciting is the impact of young rookies who have emerged as new dimensions to the lineup.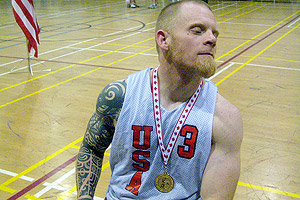 Mary Buckheit
Mark Zupan is more interested in winning a gold medal in Beijing.
Keep an eye out for rookie Seth McBride of Juneau, Alaska, who was once a stud ski racer before breaking his neck on the slopes at age 17. The University of Oregon grad can now be seen racing up and down the court as well as anyone on two wheels.
Another first-time U.S. Paralympian you literally can't miss is Joel Wilmoth, a quad amputee from Hueytown, Ala., who is the youngest athlete ever named to the U.S. Paralympic Wheelchair Rugby Team. At 18 years old, he's the same age Mark Zupan was back in 1993 when he was thrown from the back of a friend's pickup truck into a canal, suffering the broken neck that turned the college soccer star into a wheelchair rugger.
Conversely, Wilmoth, who was born without hands and feet, comes to the game with a different perspective than his teammates and opponents, many of whom were paralyzed in the middle of their lives. "I haven't known anything different. I don't know what it's like to have hands or to be able to walk around with normal feet, or barefoot at the beach. I have never known it, so I don't miss it."
Wilmoth is the only athlete on the team who does not use a wheelchair in his daily life, but because he has impairment in all four limbs, there is no question that the imposing 6-foot-2, 220-pounder qualifies for the sport. Wilmoth says it was love at first sight with quad rugby, which is the only full-contact sport for athletes with a disability.
As I sat in the crowded gymnasium watching the action of the Canada Cup, I could almost close my eyes and pick out a Joel Wilmoth hit by the end of the weekend. Vital, raw and raucous is the sound of two custom-made wheelchairs crashing together demolition derby style. Wilmoth is usually the one giving out the shellacking, but he tells me monster hits can go one of two ways: "If the other person has a real solid chair like mine, and I hit him straight on, it can actually hurt your insides. Those are very painful! I hate those. But when I put a hard hit on someone from another team and the hit goes through them and their chair, that's the best -- when they get the pain and I get all the glory!"
Just after the Mounties had presented a delighted Team USA with the shiny Canada Cup, Wilmoth held his gold medal from his first international competition, and the rookie was in a state not quite as stoic as some of his senior counterparts.
"I'm completely stoked about the whole weekend," Wilmoth gushed. "I'm so happy! This was so cool. It's great to know what something like this feels like, you know? It feels great!"
But just when you thought the young rook was caught snoozing on the big picture after one whiff of fool's gold, he tempered swiftly and wisely to compose himself and add, "We have aspirations of greatness. We know what we have to do, and I believe that this is the team that's going to bring the gold back to the United States."
They have been waiting four long years for Beijing, and it's that mix of excitability and discipline that makes this U.S. team feel like its got all the makings.
Mary Buckheit can be reached at marybuckheit@hotmail.com. For more on Mark Zupan, check out Mary's weekend with him at his home in Austin, Texas.