My first encounter with future Olympic gold medalist Hannah Teter came in 2004 at the X Games in Aspen, Colo. I remember standing at the bottom of the snowy superpipe on a Saturday night, freezing my tots off, bundled under a beanie, boots, thermals, a coat and ski pants. In between my mittens were a tape recorder and hand warmer packets. As my toes went numb, I watched a 16-year-old rip off her jacket and top, then drop into the pipe with nothing but a sports bra under her plastic competition bib.
Her hair was all over the place.
So was her electric abandonment of conventional sport.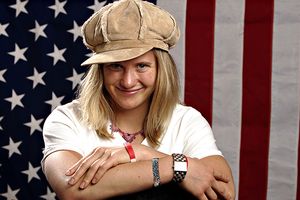 AP Photo/Ed Andrieski
Hannah Teter captured gold in the halfpipe at the 2006 Winter Olympics.
She took the pipe gold medal that year and captured Olympic gold in the halfpipe in 2006, solidifying her place as a pre-eminent femme de force, but her brash impulsiveness is what stuck in my mind. She was a menace of the best kind. I worried, though, that the kid -- a teenage girl -- would get too much, too fast. I worried that Teter's big personality would be stifled by sturdy sponsorships. I worried that she would inevitably give in, dumb down and sell out. This week, I spoke with with Teter, now 21, and I'm thrilled to report that all she has done since I first met her is grow up and take on the world.
Teter will always be as chilled-out as any 20-something snowboarder from Vermont, but she's insanely excitable. And it's the disparity between reggae-grooving optimist and impassioned, young activist that makes her such an intriguing success story.
---
"Genetically modified food. I mean, really? Can we just talk about that for a minute? It's all over the shelves, so people are putting it into their bodies. They have no idea. How can you have no idea what you're putting into your body? C'mon, think," she says, raising her voice from its usual composed tone.
In the course of our conversation, Teter will spend a good 30 minutes talking about what people put into their bodies. The rest of the conversation jumps like a skipping stone from music, to yoga, to worldly injustices and back to domestic snow conditions -- which she reports to be solid on Copper Mountain, Colo., where I reached her by phone. Winter has just begun, but she's been seeing a lot of snow lately. Teter won the Burton Australia Open in October. Now she's gearing up for the start of a big season, including the first stop of the new Winter Dew Tour next week and the Winter X Games next month. Even in the midst of a competition squall, Hannah makes sure she keeps things light.
"I used to write a lot of poetry," she says. "I still do. I just wrote a poem last night. It was about organic food. … 'Organic' is this word that's become this vague thing that we use all the time, but what does it even mean anymore, right? It used to be this smart, positive thing and now it has this kind of stigma because it's been pivoted toward the upper class as this trendy, more expensive, exclusive thing, but that's not it at all. Man. It's about simplifying and cleaning it up and getting back to what's real."
Hannah Teter, by all appearances, really is organic.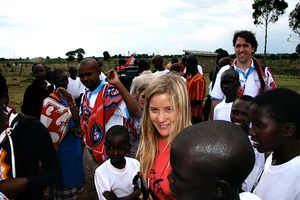 Pat Teter photo
One of Teter's charitable endeavors is sponsoring the community of Kirindon, Kenya.
She swears by yoga and tai chi. She meditates. Her time in front of the television is spent soaking up the BBC documentary anthology series "Saving Planet Earth." She listens to Bob Marley, and she plays the didgeridoo like her favorite artist, Xavier Rudd.
When asked about her nutritional habits as an Olympic athlete and a young and restless globe-trotter, she doles out an answer with an agenda.
"For me, being conscious about meat products is a big concern," she says. "I wish I could make people aware of the hormones and antibiotics and everything else that is alarmingly present in what people eat in this country. Everyone eats meat -- all right, I mean, seriously, most people eat meat. Fine. I just wish they knew the good from the bad. I wish they cared if the farm was free-range. I wish they cared what chemicals were being used. They're toxic! I just think it's really scary. … I just want everybody to be healthy."
It seems as if every statement Teter makes bears this concoction of liberal zeal, tempered by loving chasers of statements of peace and harmony.
That's why so many people have been charmed by Teter through the years. Just when you want to write her off as a wild-child extremist, she offers heaps of compassion with Samaritan-like conviction that are difficult to argue with.
"There's stuff all over the shelves of our grocery stores that's highly toxic. But the advertising campaigns sure don't say it, and everyday people don't know any better. I just want to help anybody who listens to me, for whatever reason, make informed decisions, even if it's just that hamburger from a drive-through window."
These are big thoughts from the kid whose political platform was once "No clothes!"
But farmer's market food isn't even the half of her recent crusade. Most notable is Teter's work in Africa with World Vision, a Christian relief, development and advocacy organization dedicated to the aid of poverty-stricken children and their families worldwide. Teter also aligns herself closely with The Water and Sanitation Project, which combats water-related disease and improves communities' access to clean water by aiming to ensure there's a source within a walking distance of no more than 15 minutes.
She has also worked with The Smile Train and Boarding for Breast Cancer. She has spoken out against injustices in Darfur. Plus, she sponsors literally an entire village in Kenya.
All this, from the bare-armed ball of blonde hair and Mountain Dew, circa 2004.
These days, Teter seems a little less caffeinated, but sagely motivated. If you're still not sold, ask the Olympic and X Games gold medalist which of her feats gives her the most pride.
"I think my biggest accomplishment is not so much doing well and excelling in snowboarding, but using the opportunities and the platform that has been presented to me to make progress in other places," she says. "Important progress in really deserving places."
So when you see a picture of Teter at an X Games afterparty or atop a podium beneath a bath of AMP Energy Drink this winter (and you will), don't be fooled: She still plays hard, and she still rides hard. But she's older, wiser and hard at work trying to make the world a better place.
For information or to donate to Hannah Teter's World Vision charity, click here.
Mary Buckheit is a Page 2 columnist. She can be reached at marybuckheit@hotmail.com.