In America, we have an impassioned rhetoric of independence and self-determination. We are a nation rooted in the creative imaginations of dissenting radicals. Yet, why are so many Americans so quick to conform?
More specifically, why is a two-handed bowler such a big deal?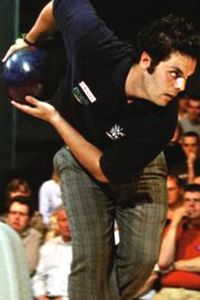 Courtesy Alpha Magazine/jasonbelmonte.com
Belmonte's style is unorthodox, but what's wrong with that?
Meet Jason Belmonte -- that is, if you haven't already, since he's recently been featured in the Wall Street Journal, the L.A. Times, the Denver Post and on "Good Morning America." Quite the resumé for a 25-year-old Australian bowler who isn't even on the PBA Tour, right?
Belmonte bowled his first ball when he was a toddler, at the bowling center his parents built in New South Wales, Australia. His parents handed the little tyke a ball that weighed about as much as he did, hoping it would keep him busy for a while. It worked. The boy was determined to get the ball down the lane on his own. But instead of setting it down on the ground and pushing it, he cradled it with both hands and shoveled it down the alley, over and over again.
Despite growing up to be a pretty serious bowler, Belmonte never grew out of having both hands on the ball. The more serious he got about the game, however, the more people tried to talk him out of using both hands. Belmonte entertained the thought, until a momentous realization struck him.
"I was probably about 10 years old, [and] my dad took me to a coaching clinic in Sydney held by some of Australia's best," Belmonte recalled. "We drove over there and I was so optimistic about the help they would give my game. I remember, during my very first shot, they watched me and they thought I was just mucking around. They came right over to me and told me that it was for real now, and I was like, 'OK, uh, then I'll try real hard now.' I didn't know what they meant."
Right after that first practice session ended, the coaches approached Belmonte and told him the best advice they could give him was to stop immediately and learn how to bowl one-handed. "That was a bit of a kick in the gut," Belmonte said. "These were the greatest coaches in Australia, so I respected their opinion. But I went to my dad and I told him what they said. He asked me if I wanted to learn how to bowl one-handed. I said I didn't. My dad told me to pack up my stuff. That was it."
Belmonte and his dad just up and left and never went back to the coaching clinic, or to the idea of bowling one-handed, ever again. But that didn't keep Belmonte away from the lanes. By age 16, Belmonte had logged his first perfect game, and by 17 he'd won his first tournament.
Today, at age 25, and after some six years of professional bowling with both hands planted firmly aside the ball and a thumbhole eternally left agape, Belmonte has earned accolades, international respect and a flurry of attention from folks in the U.S. His style and success led the Professional Bowlers Association to offer him commissioner's exemptions to two events already this season. This immediately raised some eyebrows, as the PBA had never given a player two exemptions in the same season before, let alone to consecutive events.
As with any exception to the norm, Belmonte was met with some resistance.
"Some guys have a problem with the exemptions and the attention that I'm getting," Belmonte said. "I've had conversations with these guys, and I've told them that if it wasn't me it would be somebody else doing something outside of the box for the sport, you know? But it just so happens to be me.
"It's more than these tournaments this year, and it's more than a Wall Street Journal article. I'm not trying to steal thunder and money. We've all got to get together. That's what I want people to know. I'm not bowling like this for me. It's what I do. It's what I've always done. Plus, if it makes somebody tune in to a broadcast to have a look at it, then we all win."
It should be noted that Belmonte is doing well. He turned heads with a 10th-place finish in the season-opening PBA World Championship event and a 15th-place finish in the Denny's Dick Weber Open. And, it's been proven that his two-handed method creates more power, by increasing ball revolutions per minute.
You can't say his technique is ineffective. All you can say is, it's not the norm.
"It might not be textbook, but when it's working, I'm having fun and I can beat anybody," Belmonte said. "I feel like, if I can just learn a little more about this technique and put it all together, there's no question in my mind that I can win. I can win on the PBA Tour.
"In the future, I think we'll see more two-handed bowlers. There's no doubting that you can get more power. It's just different than what everyone else is doing."
It is very different. The tendency in sports, and in society, is to submit and conform. Sadly, many other young non-conformists like Belmonte will be obediently coached out of their individual idiosyncrasies, no matter how creative or effective they are, just because someone said so.
With this in mind, I tip my cap to Jason Belmonte, who is boldly lending an extra hand to better bowling and trail blazing.
Mary Buckheit is a Page 2 columnist. She can be reached at marybuckheit@hotmail.com.