Commentary
Can we take lingerie football seriously?
If the thought of women playing football makes you uncomfortable, remember what you were taught as a kid: Just picture 'em in their underwear.
This fall, it won't even take any imagination. The Lingerie Football League plans to launch a 10-team outfit, with each club playing a four-game schedule. It hopes to capitalize on the success of the Lingerie Bowl, the pay-per-view Super Bowl halftime alternative which debuted in 2004.
PAGE 2 LINGERIE FOOTBALL RESUMÉ
The Lingerie Football League is looking for interns. Check out the resumé we unearthed. DJ Gallo and Kurt Snibbe
"The Lingerie Bowl was the most successful counter-programming in history," LFL founder Mitchell Mortaza said. "We are hand-picking the most beautiful and athletic girls. You can't just be a pretty face. You have to be able to play. The competition will be intense."
The idea is to take beautiful, athletic women and have them play seven-versus-seven tackle football on 50-yard fields wearing helmets, shoulder pads … lace bras, panties and garters.
"This league is no joke," Mortaza added with conviction.
For months, Mortaza's group has been touting the beauty and talent of the players who will compete in the LFL. Hey, smoke 'em if you've got 'em … and they've got 'em. We could argue about Under Armour versus underwear until we're blue in the face, but the point is, these women have an undeniable asset -- two, actually -- attractive bodies and the moxie to use them. They work hard at tryouts while Mortaza stands nearby in designer jeans, barking directives at Lycra-dipped hopefuls, occasionally leaning over for a tip from his model fianceé, LFL talent director Heather Theisen.
[+] Enlarge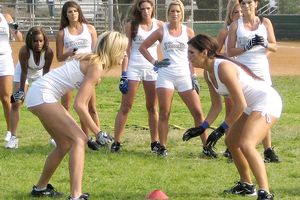 Mary Buckheit/ESPN.comThe Lingerie Football League is asking to be taken seriously, but does it treat players professionally?
Mortaza is talking the talk, sending out press releases and drumming up publicity. When Mortaza recently appeared on a CNBC sports business segment, he boasted league "discussions with two NFL ownership groups, several AFL and two MLS owners."
When asked just how much money was in it for the players, LFL spokesman Stephon McMillen responded diplomatically via e-mail, "We cannot disclose exact numbers, but a successful player on a good team that wins the Lingerie Bowl can make close to six figures."
However, Rachel Carroccio, the prospective starting quarterback for the LFL's San Diego Seduction, hasn't inked a deal or seen a dime since being told she made the team's cut in October. To her knowledge, not a single player in the league has a contract yet.
To me, eight months on the job without a contract undermines the league's straight-faced plea for legitimacy more than lacy garters.
"It definitely has me very much concerned," said Seduction captain Shantel Moncito, whose background includes extensive track and field competition and six years as a Chargers cheerleader. "I understand that the league is in its first year ever, so details are expected to be disorganized and operations are always in progress. But we've been a part of this for eight months, and still we have no contract to cover us as players. Nothing."
LFL spokesman Stephon McMillen said the league will issue contracts after final cuts are announced in early August.
Moncito looks forward to that day but doubts she or any of her teammates will see six figures.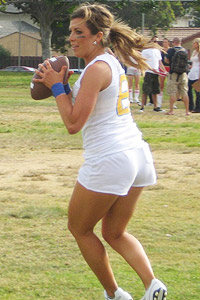 Mary Buckheit for ESPN.comRachel Carroccio is one of 12 women who was told she made the LFL's San Diego Seduction roster last October but haven't received a dime yet.
"No way. I mean, that would be great, but no, I just can't see that happening," she said, adding that she tries to temper her teammates' high hopes. "You can't be doing this for big money -- that's not it. But a contract is a necessity. It's about security and safety. Beyond that, I'm not asking for anything crazy. I'm literally talking about maybe mouth guards to protect us at pseudo-mandatory practices. That stuff would seem to make the league more professional."
The emperors are well aware that their new league isn't wearing (almost) any clothes. Who is going to tell them they need mouthguards, contracts and mandatory supervised practices if they want to be taken seriously?
In the meantime, you'd think the players would speak up or just get out. Why do women put up with all this to play football in their underwear?
"I came out here to pursue semipro athletics at all costs," said Carroccio, who grew up playing soccer, golf, basketball, softball and also competed on the freestyle ski team at the University of Colorado. "I don't care if it's in lingerie. That's how much I would love to be able to make a living playing sports."
Carroccio trains adamantly and attends voluntary practices with other hopefuls twice a week. These workouts are "voluntary" because the LFL, which kicks off in two months, hasn't held official practices with solidified rosters yet.
"They want people to take the league seriously, but we don't even have practice," Carroccio said. "We practice on our own time and on our own dime. Then when they see us, we get yelled at because we look sloppy. We all agree that nobody wants to see bimbos who can't catch. I wish they would invest in the development of the girls they have chosen."
Actually, there's some confusion about whether they have indeed been chosen. In a November press release, the LFL announced that after hundreds of women came out to minicamp in San Diego "only the most athletic and beautiful landed one of the coveted (12) roster spots."
Those 12 women were whisked to official photo shoots, media days and more minicamp, and they've coordinated practices three times a week ever since. Still, the league firmly reminds players that final rosters will not be released until Aug. 3.
Moncito asserts the LFL "could have waited on putting our pictures up until they've decided whether or not we're official," but said she is trying to "stay level-headed, patient and positive right now."
Carroccio is also holding out hope. "I know this wasn't the smartest investment, moving out to California for lingerie football," said Carroccio, a 23-year-old with a finance degree. "I just really thought the league could be legitimate. I really thought the football could be decent. I still hope it will be."
That comment might mean more coming from the LFL's brass.
Mary Buckheit is a Page 2 columnist. She can be reached at marybuckheit@hotmail.com.
Page 2
Mary Buckheit started as ESPN.com's college intern in 2000. She signed on full-time as an editor in 2002 and became a Page 2 Columnist in 2006. She went west to cover life in California, the UFC, AVP, X Games and anything else she can dig up under the sun.