Commentary
The fashionistas of futbol
Ladies have style too, go on brush your shoulders off.
Much is made every year about the fine threads and three-piece suits seen at the NBA draft. The WPS (Women's Professional Soccer) is in its first season of operation -- so it's only had one real draft -- but that doesn't mean they're behind the times. These soccer stars bring the sass and set their own trends; but you don't have to take my word for it.
[+] Enlarge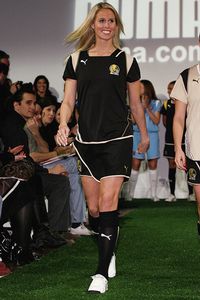 WPSLeslie Osborne is widely regarded as one of the fashion stars of women's soccer.
LESLIE OSBORNE
Team: FC Gold Pride
Style: Glam/girly/fashionista
Buckheit: What's all that noise over there?
Osborne: Oh, that's the whirlpool. Sorry, I'm at the nail salon getting a manicure and pedicure before my friend's wedding this weekend.
What are you wearing to the wedding?
Well, I'm in the wedding and her theme is black and white, so I'm wearing a short, black, strapless dress. I'm getting a French manicure on my hands and a bright strawberry color on my feet. I can't get a French on my toes because somebody stepped on my foot and I have to cover up a toe.
That says just about everything we need to know about you, Oz.
Yeah, when it's time to play soccer, I'm serious about soccer, but I love to dress up when I can. I think it's because I grew up in Wisconsin and my mom was very strict. She didn't believe in makeup or doing your hair up or anything. No Barbie dolls, nothing. It wasn't until I went away to college that I really was able to express myself, so now I make up for all those years!
The WPS has an average salary of about $32,000 for a seven-month playing contract, according to the league. You guys don't have the luxury of super-expensive suits and tailors like other pro athletes. How do you stay classy as ballers on a budget?
I used to associate fashion with wealth and labels, but not so much anymore. I still like nice splurges sometimes, like my Chanel bag, but I'll have that forever. I hang onto a lot of things because I think they're either coming back around or they will someday. Stuff like wedge sandals and leather coats. They go out and come back later, so I keep 'em and get my money's worth. What's great about day-to-day clothes is that these days, you can find the same exact style as the expensive stuff at a really reasonable price, you just have to look for it. That's the fun part, for me. You don't have to make millions to look good, you just need a little creativity.
How much has traveling with soccer taught you about fashion?
So much. Everything, really. The opportunity to travel to places like Japan, and Brazil, and China and see the culture and style is such a valuable experience. When we were in South Korea I got to work with the famous designer Andrea Kim for a fashion show -- he wanted a player from each nation in the Peace Cup to model his dresses. I did it and I had so much fun. That was unforgettable. I love the extravagant gowns of Asia. Scandinavia has really great culture and fashion, and Europe is always a year ahead of us. I remember being over there and everyone was wearing short pants -- sure enough, the next summer in the States everybody was wearing capri pants. I'm totally intrigued by international trends.
Are you trendy even on your days off?
You know, I like to dress up on my days off because I feel like I'm always in soccer clothes. If I'm going somewhere, or meeting with friends, I love skirts, sundresses, shorts and tanks.
You have to wear the team warm-ups when you travel -- can you at least accessorize?
Oh yes. They make fun of me for always having some flair, like a Puma handbag or tote or some cute Velcro shoes instead of sneakers. I gotta spice it up!
Who has the coolest style in the league?
I love Marta and Johanna's style. That European look with skinny jeans and high tops -- cool stuff like that. They totally rock it. Heather O'Reilly is so cute. She is usually in her sweats, but for events she looks great all dressed up. Abby Wambach's like that, too. She'll surprise you. She will throw people off because everybody always sees her in uniform and the team gear, but she can pull off the coolest things. Suspender pants, leopard-print hats … you name it. To me it's not at all about what you wear, just the way you wear it. It's about being comfortable in whatever you decide to put on.
---
[+] Enlarge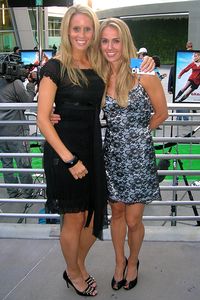 Leslie OsborneHere's Osborne with Heather Mitts, former Page 2 Hottest Female Athlete.
HEATHER MITTS
Team: Boston Breakers
Style: Casual/trendy/always looking for a reason to dress up
What do you wear off the field?
I'm most comfortable in jeans and a T-shirt, or a summer dress with flip flops. If I'm going out, it's jeans and a cute top with heels and lots of accessories, or occasionally a dress if I'm feeling sassy.
What's your personal favorite article of clothing?
My Rock & Republic jeans.
What do you think about the famous Puma wraps?
The idea is aggressive. Amy Rodriguez modeled it for me in Portugal after the Puma fashion show and pulled it off.
What's the rundown of some style standouts around the WPS?
Heather O'Reilly is preppy. Jenny Nobis is sassy. Kristine Lilly is mom chic, Megan Rapinoe is the master of her own unique style, and Tasha Kai is a rock star!
Who has the most laughable style … and would they admit it?
Natasha Kai is the winner again. Her outlandish belt buckles, fake grills and exotic high-top shoes are one of a kind. I think she knows that nobody else would even attempt to copy her style!
---
[+] Enlarge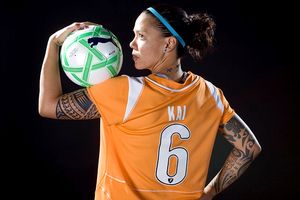 WPS/ISIphotos.comNatasha Kai has a look all her own.
NATASHA KAI
Team: Sky Blue FC
Style: Unique/Hawaiian/rock star
Ever get tired of answering questions about your ink?
I don't get tired of talking about my tattoos. Sometimes it's boring because people ask what they mean, but I'm getting passive-aggressive -- every weekend I'm getting a new tattoo so I can keep talking about the new ones I get. Most of them I get when I'm bored. I think, 'What should I do today?' And I go and get a tattoo. Most people go shopping, but I'll get a tattoo. Each one I have symbolizes something in or part of my life, and if people want to know the story then I'm more than willing to talk about it. I think people recognize my tattoos more than what I'm wearing, which is weird but cool.
What do your teammates say about your style?
Pearcie [Christie Rampone] tells me all the time that she thinks no one can pull off my style. I wear a lot of guy clothes and dresses -- I go back and forth all the time. When I'm home I wear dresses. When I go out I wear jeans, a T-shirt and a jacket, and then there's about 60 pairs of shoes to choose from.
What are you most comfortable in on your days off?
Sweats and a tank top.
What do you wear when traveling to/from games?
Jeans, a pair of kicks, a hat and T-shirt. I try and look fly.
What's your go-to outfit for a Saturday night on the town?
My first pick would be a hoochie-mama dress, but I would probably wear a comfy pair of jeans, kicks, hat and a cool T-shirt. It depends if I want to go cute, or more comfortable.
Who has the most unique style in the WPS?
I hardly see anyone in street clothes, so I would have to pick one of my teammates. I would go with Anita Asante. Her style is so cool and different, very European. A lot of people have different styles, but hers is super-cute and cool.
Who has the hottest style that you could never pull off?
Walshy [Sarah Walsh]. My Australian girl is stuck in the '80s. I wouldn't be able to pull it off. She is different -- I love her to death, but her style is awesome. She's one person that can totally pull it off. She does it well and I give her props.
Who has the goofiest style in the league … and would they admit it?
Everyone's special in their own different ways. I wouldn't call it goofy -- if that's how they want to dress, then that's how they want to dress.
---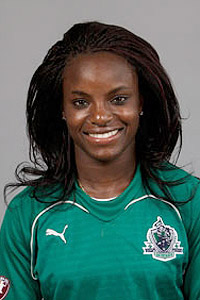 Saint Louis Athletica/WPSEniola Aluko brings some British sass to the WPS.
ENIOLA ALUKO
Team: Saint Louis Athletica
Style: Classy/preppy/bold/rich colors
Your hometown is Birmingham, England. You've played for Chelsea and lived in the UK's poshest corners. What fashion tips would you offer Americans?
Well, I think that British style is a lot more polished than the American style of dress. A lot of fashionable clothing in England is fitted. People who enjoy fashion in England really go all-out and sometimes over the top, whereas I feel the American style is much more laid-back. So maybe a tip would be for people to celebrate their body shapes by wearing clothes that are fitted.
What are you most comfortable in on days off?
Back home in England, I like to wear a nice pair of fitted jeans with a smart cardigan or long T-shirt. However, my everyday wear has changed substantially since I have been in St. Louis, because I can't cope with the heat! Now you will catch me in a lot of summer dresses, or simple shorts and a T-shirt with sunglasses and my red Cardinals hat.
Tell me about the styles of your teammates.
I have to say that we are all pretty stylish in our own way. I'm the prep. The pretty award goes to my good friend Sheree Gray. She has great style. Sporty, I would say Hope Solo. And I would say Melissa Tancredi is sassy -- Tanc can rock the sporty old-school trainers, a dress and heels, and everything in between.
How does the style of American women stack up to the English sporty spice?
The style in the States is laid-back and relaxed. I like that everybody wears college merchandise here. I think it is cool that people celebrate their educational institutions through clothing. I see a lot of Notre Dame T-shirts, since we have four players who schooled there. In England the style of female soccer players ranges from very cool to pretty shocking!
Mary Buckheit is a Page 2 columnist. She can be reached at marybuckheit@hotmail.com.
Page 2
Mary Buckheit started as ESPN.com's college intern in 2000. She signed on full-time as an editor in 2002 and became a Page 2 Columnist in 2006. She went west to cover life in California, the UFC, AVP, X Games and anything else she can dig up under the sun.