Commentary
For Feller, Navy was easy decision
Originally Published:
November 12, 2009
By
Mary Buckheit
| Special to Page 2
Editor's note: Every day this week, in honor of Veterans Day, Page 2 will feature a story by or about a prominent athlete who also served in the United States armed forces.
Baseball Hall of Famer Bob Feller turned 91 years old on Nov. 3. "I had another birthday. They keep coming faster as you get older," he told me the day after, on the phone from his Ohio farm home.
[+] Enlarge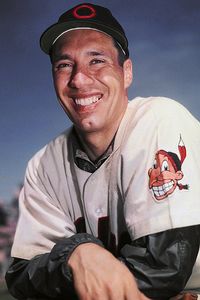 AP PhotoBob Feller had a wonderful career with the Cleveland Indians.
Although he is several decades removed from his playing career -- he made his major league debut with the Cleveland Indians in 1936, at the age of 17 -- Rapid Robert still sounds as strong and plainspoken as ever. "Yep, I was the youngest player ever to win a major league ballgame, all right," he said. "You know I was the youngest to lose one, too!"
The five-time All-Star has several exceptionally identifiable traits that have stood the test of time: the chiseled chin, the trademark leg kick, to go along with three no-hitters. But among the characteristics which so many admire is the fact that Bob Feller was the first major leaguer to volunteer for World War II.
We reached out to the senior spark plug for this Veterans Day, to gain his perspective on his life of sport and service.
Page 2: First of all, I have to know -- is it true that you signed with the Indians for one dollar and an autographed baseball?
Bob Feller: Yes, and it was a batting practice ball, not even a new one! I still have my contract here at home and the cancelled check for one dollar. The contract was written on a piece of hotel stationery, and I got the Indians autographed ball from Cy Slapnicka, the scout who became general manager of Cleveland in 1935. I signed in the summer of 1935, when I was 16 years old. My contract was also signed by my father, William Feller, because he was my legal guardian.
Page 2: You were on the cover of Time magazine in 1937, and an All-Star in 1939, 1940 and 1941 -- but you stepped away at the height of all that success to join the Navy. How did you make that decision?
Feller: It was a war that had to be won. I needed to join the Navy. If you ask the people in Europe who won World War II, they don't say the Allies, they say the United States won the war and saved the world. Now, I'm no hero -- heroes don't come home from war, survivors return from wars. I'm very lucky, you know that.
Bob Feller Fast Facts
Athletic career: Cleveland Indians (1936-1941, 1945-1956). Signed with Cleveland in July 1935, at only 16 years of age.
Military career: U.S. Navy (1942-45). After the attack on Pearl Harbor, Feller was the first major leaguer to enlist in the military.
Awards: Five-time All-Star, three no-hitters (1940, 1946, 1951), elected to Baseball Hall of Fame (1962)
Notable: Appeared on the cover of Time magazine on April 19, 1937.
Page 2: You were the first major leaguer to enlist in World War II. What was your call to duty?
Feller: I was on my way to meet with the general manager of the Cleveland Indians to sign my 1942 contract the day of Pearl Harbor. It was about noon; I had the radio on in the car and had just crossed the river into Quad Cities when I got the news. That was it. I had planned on joining the Navy as soon as the war broke out. Everybody knew that we were going to get in it sooner or later and that was the day. So I called Gene Tunney in Washington. On Monday, December 8, he flew out to Chicago -- Chicago was about halfway between Des Moines, where I lived, and Cleveland, where I was going -- so I swore in in Chicago.
Page 2: You called Gene Tunney? That Gene Tunney?
Feller: Yes, that helps, to be sworn in by a world champion boxer and undefeated fighter. I went into Tunney's program of athletic routine and physical fitness in Norfolk, Virginia. From there I went to War College up in Newport, Rhode Island, after boot camp, then it was off to sea on "Lucky A". I spent 34 months on the battleship Alabama, South Dakota-class. I was a gun captain. First we went to Russia for about 11 months with the British convoys. Then we were up in Norway and Scandinavia. Later on, after the last German ship was sunk, we went through the Panama Canal and to the South Pacific to start taking islands back. It took a couple years, but we had the largest and most powerful naval armada in the world. The battleship came back home in 1945. I was assigned to Great Lakes [Naval Training Center in Illinois] and managed a baseball club there for the summer. We had the best baseball team you could find. We only lost one game to a major league club: Philadelphia.
Page 2: You never had any doubts about going off to war?
Feller: No. My mother wasn't all that excited about my decision. My father was very proud of me. And Cy Slapnicka, the Indians' GM who was with me in Chicago, congratulated me and told me he thought I was doing the right thing. The world was different then. There was great leadership in this country at the time of World War II. There was also unrelenting resolve at home, in America's factories and on the farms, in the cities and the country. We knew what had to be done. There was great leadership in the military with [Franklin Delano] Roosevelt and the generals and the admirals in those days. We had [Winston] Churchill, and even [Joseph] Stalin was a real leader even though he was a brutal murderer. There was a strong sense of responsibility at that time. It came from strong leadership.
Page 2: What is your most startling memory from your time aboard the USS Alabama?
Feller: The biggest thing that I was involved in was known as the "Marianas Turkey Shoot" [June 19, 1944]. That was in the Philippine Sea off the island of Saipan with the Third Fleet and Task Force 58. We shot down over 470 Japanese airplanes in one day. And that was the end of the Japanese Naval Air Force.
Page 2: How did you stay in baseball shape for your subsequent return to the major leagues?
Feller: We played ball aboard the ship a lot, or even at sea if the conditions where favorable and our obligations were fulfilled. We played on the islands. We played against the other ships in the Third Fleet. We played in the Fijis and New Hebrides and throughout the islands we took back. The Seabees made ball diamonds for us -- and I mean, they knocked down a few coconut trees and called it a baseball field and we played as best as we could.
[+] Enlarge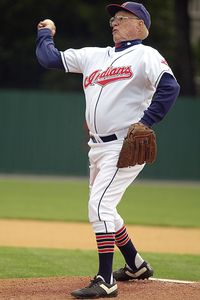 AP Photo/Kevin RivoliCheck this out -- Feller throwing a pitch to Paul Molitor in Cooperstown in the Baseball Hall of Fame Classic just five months ago.
Page 2: So you stepped off the boat and soon after you were back toeing the rubber?
Feller: Ten days after the war was over, I joined the Indians and ended up playing the last five weeks of the 1945 season. I went on for 11 more years of baseball.
I remember my first game back. Almost 50,000 were at my first start. We played Detroit, me against Hal Newhouser. I struck out 12 and won my first game 4-2. Detroit had a good ballclub, too. The Tigers won the pennant and the World Series that year. They beat the Cubs in seven games. The next year, 1946, I went to spring training and got in very good condition; it was the best year of my career. [Feller set the MLB record for most strikeouts in a season, 348.] Our ballclub kept getting better. In 1948 we won the World Series. I got beat 1-0 in the first game, although I pitched a two-hitter. We won the Series in six games over the Boston Braves that year.
Page 2: Did you miss baseball in your time at sea?
Feller: Baseball is only a game, a game of inches and a lot of luck. During a time of all-out war, sports are very insignificant. Life comes down to honesty and doing what's right. That's what's most important. Our Constitution is more important than baseball. Although these days, I don't think most people could tell you the first three words of the Constitution!
Page 2: You're known for your no-nonsense approach and old-school grit. How's your health and spirits these days?
Feller: I'm in good health, thanks for asking. I've got a great family with my wife, and I've got children that I'm very proud of. I have good nutrition, and I still do a lot of work outside, and I play with my tractors out here in the country.
Page 2: Are you still politically active?
Feller: Yes, I work very closely with the Veterans Administration. I'll be going to Washington for another Veterans Day event. I try to be a good human being and keep up with what's going on in the world by reading and staying in touch with the current events. I try to stay involved in all the things that made this country great. There's too much taken for granted today. … But this is a great country, and that is exactly why it's so important to focus on what made it that way and stand up for our Constitution every day.
Page 2
Mary Buckheit started as ESPN.com's college intern in 2000. She signed on full-time as an editor in 2002 and became a Page 2 Columnist in 2006. She went west to cover life in California, the UFC, AVP, X Games and anything else she can dig up under the sun.
VETERANS DAY 2009

ESPN commemorates Veterans Day and ESPN's weeklong series "American Heroes: A Salute to Our Veterans."
STORIES
PHOTO GALLERY
VIDEO
SALUTES
SOLDIERS AND THEIR TEAMS
PREVIEWS
ABC CONTENT