ESPN.com illustration
I want to tell you that 1980 was absolutely, indisputably the most unforgettable year in sports history. But I can't take this position without first admitting one thing:
I don't remember any of it. Not one lick.
You see, I was born in 1980. I existed for only four months of that year. But from what people tell me, it was a spectacular sports year. And I believe them.
Now, before you discredit my argument by claiming that I'm too young to make it, might I remind you that someone my age (almost 28) wouldn't really have had memory function until 1985. And if I picked a year between then and the present, you probably would accuse me of not doing my homework. The point is, fetus status hardly prohibits me from recognizing 1980's premier place in history. In fact, I believe it arms me with the ability to pick out the prime cut, mostly because I come to the discussion almost as impartial as I am green.
1980 HIGHLIGHTS
No. 3 USC beats No. 1 Ohio State in Rose Bowl on controversial Charles White TD. … Bradshaw to Stallworth for 73-yard TD as Steelers rally in fourth quarter to beat Rams in Super Bowl. … Eric Heiden wins all five speed skating events at Winter Olympics. … The Miracle on Ice. … Seve Ballesteros first European to win the Masters. … Genuine Risk first filly since 1915 to win Kentucky Derby. … 19-year-old Wayne Gretzky ties for scoring lead and wins MVP trophy. … Ray Bourque named NHL's top rookie. … George Gervin leads NBA in scoring at 33.1 points per game. … Islanders upset Flyers in six games to win first of four straight Stanley Cup championships. … Larry Bird wins NBA rookie of year award. … Magic Johnson plays center for injured Kareem in Game 6 of NBA Finals, records 42 points, 15 rebounds and seven assists to clinch title. … Borg beats McEnroe 1-6, 7-5, 6-3, 6-7 (6-18), 8-6 in epic Wimbledon final for fifth straight title. …McEnroe gets revenge, beats Borg in five sets for U.S. Open championship. … George Brett chases .400 into September, finishes at .390. … Phillies beat Astros in best-ever NLCS, with the final four games going extra innings. … Phillies beat Royals for only World Series title in franchise history. … Freshman RB Herschel Walker leads Georgia to 11-0 season. … Oilers RB Earl Campbell rushes for 1,934 yards in just 15 games.
The thing to consider when selecting
the
most memorable sports year is its staying power in the most brains. What I mean is, maybe
you
remember it (you stathead, you), but do your kid sister and your mailman and your aunt and uncle upstate?
I should be able to rest my case regarding 1980 right there. I should be able to hang it on the fact that most of you reading this are already salivating in aggravation that I've put off mentioning the "Miracle on Ice" or Al Michaels or sticking it to the Russians for this long.
See, 1980 has it in the bag because there's a lot to be said for big, blunt, bold-faced facts. I know a lot of sports fans live for the statistical minutia and infinite factoids that can be combed through like head lice on each box-score strand. And I know this because every day I dial in to a conference call with some colleagues and often sit on the line silent and slack-jawed as I listen to my cohorts rattle off RBIs, rushing yards and shooting percentages from the annals of obscurity, as if the facts are some kind of sports fan pledge of allegiance. But I'm convinced that my brain just does not work like that. Never has, never will. And I don't care if it gets me in trouble; I'm blaming it on the chick factor. I remember some psych professor in college telling me that women are driven by the limbic brain (or something), which tags memories based on how emotionally charged they are.
I'm sorry, but ERAs just don't do it for me.
I don't remember what the professor said about male memories, but I'm convinced that they are centered around Madden player ratings, Heisman Trophy winners, horsepower, great war battles and biggest draft busts.
The point is, I can hardly tell you which one of those categories Ryan Leaf fits into. But off the top of my head, I can tell you that the USA hockey team staged the biggest upset of all time in Lake Placid, N.Y., against the big, bad Russians.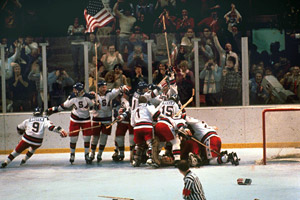 AP Photo
The "Miracle on Ice" is, without question, one of the most famous events in U.S. sports history.
Recently I sent a quick e-mail to my five brothers and sisters, all of whom are in their 30s or 40s. Every single one of them had something to say about that game. My sports-nut brother practically can still smell the new carpet on which he was lying while he watched the game inches from the old Zenith in the living room. My athletically challenged sister enthusiastically remembers people in our Long Island neighborhood pouring out onto the streets banging pots and pans in celebration.
Do you believe in miracles? 1980 gave non-sports fans a reason to remember a single semifinal Olympic hockey game for the rest of their lives.
And for those of you who think that a hit single does not an album of the year make, consider the other happenings of 1980. How about the historic American boycott of the Summer Olympic Games in Moscow? How about the 52 Americans held hostage in Iran for 444 days (including all 366 of 1980), who later received those unique lifetime passes to Major League Baseball games in honor of what they went through?
If that's too political for you, keep to the basic stick-and-ball stuff. Even I know that all four of Philadelphia's major sports teams reached their respective championship contests in a 12-month span that largely encapsulated the 1980 calendar. The Sixers made it to the NBA Finals. Dick Vermeil's Eagles advanced to their first Super Bowl (Super Bowl XV, which followed the 1980 regular season in January 1981). The Flyers went undefeated for a record 35 games and reached the Stanley Cup finals. And the 1980 National League MVP, Mike Schmidt, and the 1980 NL Cy Young Award winner, Steve Carlton, led the Phillies to their only World Series win in franchise history.
If you still need more 1980 cowbell, how 'bout the fact that Jack Nicklaus won two of golf's four majors that year. He picked up his fourth U.S. Open victory a record-setting 18 years after he nabbed his first one. Then, two months later, the 40-year-old Golden Bear won the PGA Championship. That's something golf disciples can shake an unforgettable stick at.
There's no contest. You don't have to believe in miracles -- heck, you don't even have to have been born. So if you really don't remember what a tremendous year 1980 was, your only excuse must be partying a little too hard in the '70s.
Whether your brain swims with stats or sentimentality, 1980 sticks longer and harder in the hearts of more folks than any other year on the books.
Page 2's Most Memorable Sports Years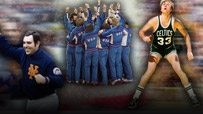 With 2008 already full of amazing moments, Page 2 is looking back at the greatest years in sports history.
THE YEARS
•
Jonah Keri on 1961: The year of the dynasty
•
Jim Caple on 1968: A year of unrest
•
Jim Baker on 1969: New York, New York
•
David Schoenfield on 1972: AL in trouble
•
Eric Neel on 1978: Greatest duel ever
•
Mary Buckheit on 1980: A miracle
•
Mike Philbrick on 1984: Bridging the gap
•
Paul Lukas on 1986: Three great weeks
•
DJ Gallo on 1994: The good old days
•
Scoop Jackson on 1998: Still resonates
•
Kieran Darcy on 2001: Darkness, and light
•
Patrick Hruby on 2004: End of exuberance
VOTE
•
PollCenter: Best year ever -- '80, '86, '98, '01 or '08?
ESPN Top Headlines