Commentary
Statues honor Minnesota Twins greats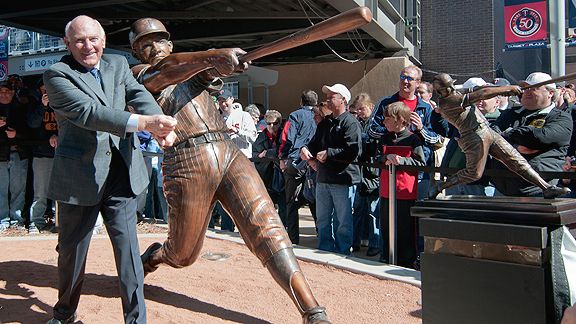 Courtesy of the Minnesota TwinsHarmon Killebrew, one of the greatest ever for the Minnesota Twins, checks out his own statue.
MINNEAPOLIS -- It's the most iconic home run image in Minnesota Twins history -- Kirby Puckett pumping his fist as he rounds second base following his 11th-inning, walk-off homer in Game 6 of the 1991 World Series.
Bill Mack was in the Metrodome stands that night. Now, nearly two decades later, his recreation of that "millisecond" -- captured as a 7½-foot bronze sculpture -- greets Twins fans as they enter Target Field, the team's new ballpark.
The sculptor was commissioned to create larger-than-life statues of Minnesota's three Hall of Fame inductees -- Puckett, Rod Carew and Harmon Killebrew -- to be installed outside of the stadium.
Although Mack traditionally does gallery work, this project was by no means his first foray into the world of sports art. His sculpture of Kareem Abdul-Jabbar hangs in the Naismith Memorial Basketball Hall of Fame. The piece was a surprise gift to the basketball legend that Mack did for Lakers owner Jerry Buss.
Mack has also created works for the Figure Skating Hall of Fame (Peggy Fleming), the Cowboy Hall of Fame (Casey Tibbs) and both the Hockey Hall of Fame in Canada and the U.S. Hockey Hall of Fame (Hobey Baker). And his sculpture of tennis legend Arthur Ashe is earmarked for the International Tennis Hall of Fame. Tennis star Billie Jean King also owns several of his pieces.
However, the Twins project was unique. Mack primarily works in relief sculpture, in which the image is raised from the background, creating a dimensional picture that can easily be hung on the wall. All of his Hall of Fame pieces fall under that category. But as Mack explained it, "The baseball thing came along, and I'm a big Twins fan, and it just seemed like a good marriage."
In all good marriages, communication is the key. While the sculpting rested with Mack, the process was very collaborative. Killebrew and Carew were actively involved in the creation of their statues. Puckett's ex-wife, Tonya, and his son, Kirby Jr., were consulted on his piece.
It was a huge undertaking, both in a technical and a physical sense, taking more than a year from when the team approached the artist to when the pieces were unveiled.
[+] Enlarge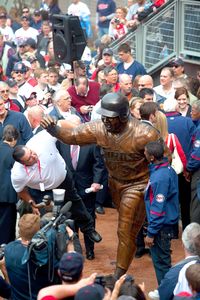 Courtesy Minnesota TwinsFans get an up-close look at the statue of Kirby Puckett.
First, Mack spoke with the players and team regarding the poses. Puckett's World Series fist pump kept coming up. Carew was set on one of him in his unorthodox batting stance. A home run shot was clearly the way to go for Killebrew, whose dominance for the Twins in that category is unquestioned.
Mack enlisted Carew and Killebrew to pose for photo sessions in which he took more than 500 pictures in an effort to capture every nuance. Finding a model for Puckett, who passed away in 2006, was a challenge, as his unconventional body type was part of what set him apart. But like many artists, Mack finds inspiration in unlikely places.
"I found my model when I was going to a store," Mack said. "I jumped out of my car when I saw this guy and ran over to him and said, 'You've got to model for me.' I accosted the guy. His wife was there. I think he thought I was going to attack him."
Mack studied photos from his shoots and the players' careers to create a small model. Then, he scaled up from his miniatures. He built a frame and created the full-size sculptures out of hundreds of pounds of clay. From there, each piece took about five to six weeks of intense work. Mack estimates putting in upward of 100 hours a week. He spent all day, every day at his professional studio, taking the head with him when he left so he could work on it in his home studio until the early hours of the morning. He continued soliciting input at every stage.
"There certainly was some back and forth," said Joe Pohlad, the Twins' ballpark development assistant who oversaw the project. "If we saw something that we thought needed to be changed, Bill was very receptive to that. If there was something that need to be tweaked -- a couple of pounds shaved from Kirby, an alteration of Harmon's head, a tweak on Rod's fingers -- everyone kind of weighed in on that."
Mack fondly recalls one particular conversation with Tonya Puckett.
"The first time she saw [Kirby's statue], she did say the butt was too small," Mack said. "I'm looking at it thinking this is the biggest butt I've ever seen in my life. But he just had that pop, all that power was in the lower half of his body."
So the artist made the bronze center fielder's backside bigger.
Once the final alterations were complete, molds of the sculptures were created. Those molds were sent to Mack's foundry where wax shells were then made. The wax shells were cast in plaster, and the eventual bronze was poured into the final cast. Each statue consisted of two dozen or so separate molded pieces welded together. Finally, the welding seams were filed down, the piece was cleaned up and a patina coating was added.
It was worth the effort.
"I remember walking in the room with my boss, [Twins president] Dave St. Peter, and you see them at 125 percent in a room, and they just kind of blow you away," Pohlad said of the sculptures. "I think that was the first time we realized that it was something bigger than what we expected it to be."
The Puckett family's emotional response was especially meaningful to Mack. The couple divorced in 2002, and the artist wasn't sure what reaction to expect.
"But at that moment, when that photograph was taken, that was the peak of his career," Mack said. "It was an exciting time in his life. I don't think his mouth could be open wider. He's got fire in his eye and that extraordinary physique of his. My thought there was to represent that image, that moment in time. … [Tonya] thought it was dead on. It was as complimentary as could be that she felt that way about it."
The compliments kept coming from Carew and Killebrew.
"We're very honored to be, if I can use the word, 'enshrined' here at the ballpark," Killebrew said, reflecting on the works. "I think Bill Mack did a wonderful job on it. I'm very pleased."
When it came to his own feelings on the sculptures, Mack sounded like a star player trying to sum up the season moments after the final game.
"It's strange anytime you do things like this, where it's just for the people in general, not for someone specifically," Mack said. "I walk by them and I don't know. I don't have a feeling. I think it's different right now when I'm still remembering how much effort was involved than it will be in a year or two.
"They're happy sculptures," he added. "I'm glad I did them. It was a fun experience. I'm still just a little tired from doing it."
Even so, Mack said he still has a few minor tweaks he plans to make on the pieces in the near future. Turns out it takes a long time and a lot of work to immortalize a moment.
Maria Burns Ortiz is a Page 2 contributor and writes for ESPNSoccernet. She can be reached at mariamburns@gmail.com.