Commentary
Ozzie Guillen gets direct on Twitter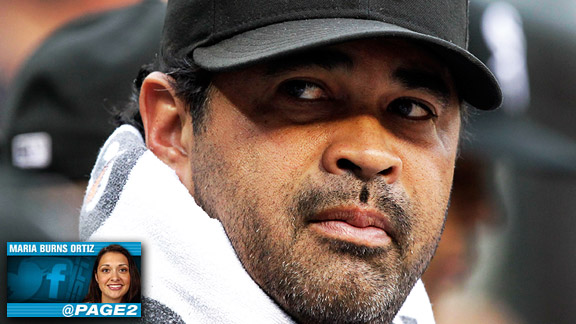 AP PhotoWhite Sox manager Ozzie Guillen said the large following on Twitter surprised him at first.
Ozzie Guillen has become baseball's social media renaissance man. The White Sox manager might seem an unlikely face of MLB in the digital age, but he has certainly emerged to embrace the medium. He tweets. He has a blog. He even cites "The Social Network" (well, "that movie that was related to Facebook") as evidence of the influence social media has in society.
And why not? For a guy who is all about being direct, the unfiltered world of social media couldn't be a better fit.
"I might be the only celebrity doing it myself," Guillen said of his Twitter account. "That's why you don't see me tweeting every two seconds. ... If [people] believe it's me, good. If they don't believe it's me, well, sometimes, they say something stupid, and I reply, and they say, 'Oh, it is Ozzie.' Because of the way I talk to them."
Having someone else manage the account would defeat what Guillen sees as the entire point of being on Twitter: the ability to connect directly with his followers, which currently number more than 115,000.
"Believe me, I don't know if they're my fans or if they hate me, but they follow me," Guillen said. "At first, it surprised me because I never would have thought people would follow what I say or what I do."
Guillen joined Twitter last spring training, a move that elicited some head-shaking from general manager Kenny Williams and no doubt quite a bit of handwringing from the team's media relations department. However, while Guillen's son Oney resigned as the team's scouting video technician following tweet-related controversy last spring, the elder Guillen has avoided any major social networking drama.
"I just make sure I respect the people I'm going to talk to, but if I say something, I mean it," Guillen said of his posting philosophy. "All my tweets, I take full responsibility. People might say something was tweeted, but that not was me. Whatever is out there, good or bad, is just tweeted with my fingers. ... It's funny because a lot of people can't wait for me to say something [negative] about the ballclub or one of my players; they are going to keep waiting, because I'm never going to do that."
Keeping things simple keeps him out of the spotlight.
"I try to stay away from conversations because that's going to get you in trouble," Guillen explains. "And that's why I don't follow anyone."
Not that he's completely opposed to clicking the "Follow."
"I would only follow a couple of the big stars, like Jennifer Lopez, Sharon Stone, to see where they are," Guillen said. "Then I might show up."
While he might not have anyone in his feed, Guillen knows who's out there in the Twitterverse. When asked about why more managers aren't on the social networking site, he's quick to point out that he isn't alone.
"They have Tony La Russa and the manager of Tampa Bay [Joe Maddon] -- [people] just don't read them," Guillen said. (La Russa's unverified account has 13,000 followers. Maddon has 22,000 followers. With 6,300 followers, Cleveland Indians skipper Manny Acta rounds out four active major league managers on the site.) "For one reason or another, I got my own followers. When people saw Ozzie Guillen is going to write on Twitter, people thought, "Oh, let me see what he's going to say. ... He's going to make it interesting."
He certainly does. Whether Guillen is watching reality TV, discussing world leaders or proposing a show with Charles Barkley (you know you'd watch), the manager provides his followers with frequent insights in English and Spanish.
"It's a funny thing, because I make a lot of mistakes when I write in English," Guillen said. "I've been criticized about that, and I say my tweets are not to teach people how to speak or read or write English. You don't understand what I say, don't follow me."
For those who do follow him, Guillen seeks to give them what he thinks they want, which is more than just thoughts on the White Sox. In fact, when he tweets, often the team is a secondary subject.
"Followers want to know what you use, what you like, what restaurants are your favorites," said Guillen, who apparently is a fan of Jack-in-the-Box. "It's kind of like a referral. I'll tell people, come over, this is a nice place to eat, good food, nice people. And if I don't like what I see, I don't like the food or I don't like the place I go to get my hair cut, I make sure to let people know, don't go there."
But for as much as he tweets, Guillen prefers his blog. After all, when you're never at a loss for words, 140 characters can get constricting.
"Because of Twitter, we started a blog [with MLB.com] to get the fans closer," Guillen explained. "I think OzzieGuillen.com is better because it has more on there. You can see what I do in the day, you see some photos of me in my house, with my family, sharing stuff behind the scenes."
Guillen understands that consistency is just as much a key to social media success as content. He's quick to point out the blog "is always updated -- every week, twice. It's not like somebody has a blog, and they write in it once a month, once a year."
And while he may seem to be on Twitter constantly, if you want to reach him, he says tweeting @ozzieguillen isn't the best way to go.
"If you have an important question or something to ask me, go through the blog," he said. "Through Twitter, I never respond."
Elsewhere in the social media sphere
• It may be little consolation, but while Rory McIlroy didn't take home the green jacket, he left Augusta with whole bunch more Twitter followers. The Northern Irish golfer, named by Time as having one of the 140 best Twitter feeds, saw his followers jump from 160,000 at the beginning of April to 240,000 post-Masters.
[+] Enlarge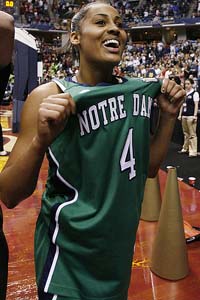 Brian Spurlock/US PresswireSkylar Diggins gained a huge following during Notre Dame's NCAA tournament run.
Whether he's providing a behind-the-scenes glimpse into the life of a professional golfer or defending the WWE, McIlroy's personality and sense of humor are clearly on display. On April 11, he tweeted, "LOL! RT @gWasshappenin @McIlroyRory I wanna thank you for showing me that theres actually houses on Augusta. Learn Something new everyday!!"
• The NBA hit a major social media milestone last week, surpassing 100 million followers/fans. The figure takes into account fans and followers on league, team and player Facebook and Twitter pages.
• Notre Dame guard Skylar Diggins saw her Twitter audience skyrocket during the Fighting Irish's run to the national title game, growing 1,900 percent -- from 5,000 followers to 95,000 and counting. Among her newfound fans? Lil Wayne and Chris Brown, both of whom tweeted at the sophomore All-American.
• The baseball season is still young and no one is eliminated from the hunt yet. But what team has the most fair-weather fans? According to Facebook data team, the Diamondbacks, Blue Jays and Yankees have the most bandwagoners. Assuming fair-weather fans talk about their team only when it's winning, Facebook measured true fans as those who post regularly even if their team is losing. The Rays, Mets and Reds have the fewest fair-weather fans. Let the debate begin.
Site to See
One out every four days features 100-plus sporting events. From the major professional sports to college ball, you simply can't catch them all.
Enter Are You Watching This?!. The site -- which ranks the excitement level of games based on input from a computer algorithm and fan ratings -- searches for exciting games and sends you a text message or email so you don't miss a buzzer-beater, no-hitter or come-from-behind win ever again.
Users create an account that gives them a dashboard of information specific to their cable providers and cities. It won't just tell you to turn to ESPN, but to channel 49. (If you're looking only for what channel your favorite team is on, Are You Watching This?! has a sister site, I Can't Find the Game, to help you with that.)
Games are rated using an algorithm developed by site founder Mark Philip, an MIT computer science grad. Fans add their opinions by rooting for a game --- each user gets five "roots" per game. Based on the number of roots (from both fans and the computer), games are rated OK, GOOD, HOT or EPIC. Users can set up to receive alerts when games reach must-see status.
The site has now gone through at least three full seasons of every sport, which, according to Philip, has enabled the computer "to learn and evolve" based on three years of data (game results and stats) and fan feedback.
A computer that thinks? Isn't that the stuff of science fiction?
"I created this one, so hopefully he'll be kind to me if he ever takes over," Philip said.
Your Name Goes Here
The whole point of social media is to be social. Here's your chance to create a dialogue. Sound off on the biggest issues in sports. Say something intelligent. Say something hilarious. Say something even relatively insightful or amusing. Pose a question. Share a sports-and-social-media story idea. Recommend an app, a site or someone worth following. If your two cents gets mentioned in this column, so will you. Just include #Page2 in your tweet. Or you can tweet me (@BurnsOrtiz).
Maria Burns Ortiz is based in Boston.
You can follow Page 2 on Twitter at @Page2.