Commentary
The NBA's social media explosion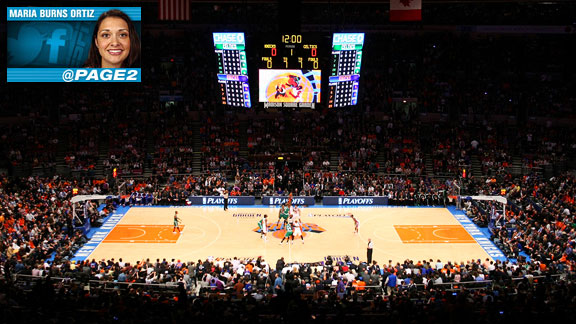 Getty Images
NEW YORK -- Madison Square Garden stood virtually empty on Friday night as the Knicks prepared to host their first playoff game in seven years. Hours before tipoff -- long before the roar of the crowd (briefly) became so loud it was almost impossible to hear anything -- the basketball's bounce echoed as Celtics guard Ray Allen took the floor.
Few people used to be able to witness such a moment, occurring before cameras really start rolling, before fans trickle in. Now, the moment is on full display to the NBA's nearly 2.5 million Twitter followers -- and the thousands more to whom the post is retweeted.
To an outsider, the photo might seem to be just one more twitpic in a sea of twitpics. But for fans, the moment offers a behind-the-scenes glimpse at the sights and sounds of the game experience. Whether it's capturing players running onto the court, showing celebrities sitting courtside (everyone from soccer star Thierry Henry to comedian Tracy Morgan) or covering the postgame news conference, the goal is to give fans greater access and supplement what they're getting from the broadcast, other media and various apps.
If the content goes viral -- a la Terrico White in a spur-of-the-moment rookie slam dunk contest -- even better.
The NBA is in the midst of a record-setting season. It's generating its highest TV ratings across networks (ESPN, TNT and ABC) and an all-time high in traffic to NBA.com, 2 billion video views on its website, and has one of the most-trafficked YouTube channels.
It's no coincidence that this surge is happening as the league experiences unprecedented growth among its social media platforms. The NBA just surpassed 100 million combined followers and likes on Twitter and Facebook. That number, which includes the official league, team and player pages, is up from 63 million at the start of the season.
Approximately half of the NBA's players (220 and counting) are on Twitter, including almost all of the game's biggest stars -- from LeBron James to the ever-entertaining Dwight Howard. Shaquille O'Neal and Steve Nash were both named among Time magazine's top Twitter feeds. Kobe Bryant is a notable Twitter exception.
The NBA has embraced social media in a way that perhaps no other sport has, making it an integral part of the league's day-to-day operations. As NBA vice president of marketing Melissa Rosenthal Brenner explained, "Social media has changed the way we communicate, even on a very basic level."
From a daily social media strategy conference call to the final postgame tweet, these efforts seek to create what commissioner David Stern likes to refer to as a "digital watercooler," a space where friends, fans and followers can discuss the NBA.
Social media also has created a place where the NBA can gauge the pulse of its fans, which the league has done effectively. The NBA has positioned itself as the top sports league in social media -- No. 1 on Twitter, Facebook and YouTube in terms of respective followers, likes and views. The 10.5 million users who like and follow the official NBA Facebook and Twitter pages dwarf every other professional sports organization. UFC is a distant second with just fewer than 5.5 million combined users. The NFL, NHL and MLB have yet to crack 5 million.
But social media is not just about likes and followers. Success relies on constantly understanding and engaging users.
Each team is responsible for its own social media efforts. The league then has its own staff that works on strategy, oversees the NBA social media accounts and attends select games and events. The league monitors relevant trends, and NBA social media personnel shoot off explanatory emails to its staff.
On the first Sunday of the playoffs, the NBA had 30 trending topics on Twitter. Topics for a given game can range from the obvious (Celtics) to the seemingly unrelated (Spike Lee, who spiked for a refresh-and-you'll-miss-it few seconds after being shown sitting courtside at MSG wearing "a cape" in Game 3 of the Knicks-Celtics series).
"I hope fans understand that we're listening to them as much as we're talking to them," Rosenthal Brenner said. "We're responding in real time and making changes big and small to deliver them content that they want."
Following the Celtics' 113-96 victory over the Knicks, Madison Square Garden was again empty. In a media landscape that's updating every second, a 17-point blowout does little to generate a blip. The Lakers-Hornets game was under way and the Hawks and Magic were close in the fourth quarter. Wherever the interest lies is where the coverage shifts.
As the NBA social media team at the Garden called it a night, one last trending topic came through on the BlackBerry. This one needed no explanation: Massacre Square Garden.
Elsewhere in the social mediasphere
• Hours after posting a shot of himself and teammate Cristiano Ronaldo with the Copa del Rey on Wednesday, Real Madrid's Sergio Ramos had some explaining to do as video of him dropping the trophy from the top of the team bus, which then ran it over, went viral. Ramos took to Twitter the next morning to share his side of the story: "What happened with the [trophy] was a misunderstanding, it did not fall. It jumped when we got to Cibeles and saw so many Real Madrid fans." (The Cibeles Fountain is where the team and its fans gather to celebrate major victories.) The trophy reportedly broke into nearly a dozen pieces. Fortunately, there was a backup for just such occasions.
• UFC announced it will stream the first five preliminary fights of Saturday's UFC 129 card on its Facebook page. Two more fights will air on Spike TV before the pay-per-view broadcast headlined by Georges St. Pierre and Jake Shields begins. In addition to traditional television pay-per-view, fans have multiple live streaming options and can purchase the fight through UFC Mobile for Android devices and iTunes with the UFC app for the iPhone/iPad/iPod Touch.
• Every football player dreams the moment when some completely random guy calls his name at the NFL draft, right? The New York Jets are giving a fan the chance to be "that random guy [or gal]" and announce the team's fourth-round pick at Radio City Music Hall. The sweepstakes is part of the Jets' larger "How would you like to&" Facebook campaign. Fans from the tri-state area can enter via Facebook or through the Jets' website.
• Elsewhere on Facebook, EA Sports announced Alabama running back, 2009 Heisman Trophy winner and projected 2011 first-round draft pick Mark Ingram as the first fan-voted cover athlete for "NCAA Football 12" on Tuesday. With more than 140,000 votes cast in the EA Sports NCAA Football Facebook poll , Ingram easily landed the coveted spot. However, the game manufacturer also announced on its Facebook page that it would make covers of the other three players in the poll -- Auburn defensive lineman Nick Fairley, University of Washington quarterback Jake Locker and Oklahoma running back DeMarco Murray -- available for download closer to the game's launch this summer.
Worth a follow
With so many people in the Twitterverse -- 200 million and counting -- keeping up with who to follow can be difficult. Here are a few guys you might have missed.
Minnesota Vikings punter Chris Kluwe (@chriswarcraft) is worth a follow if you like the NFL, play video games, appreciate extremely long hashtags or simply enjoy quality art.
Orioles pitcher Jeremy Guthrie (@jguthrie46) is worth a follow if you like baseball, care about the Earth, own a pair of Air Jordans or are a fan of Justin Bieber.
Suns forward Jared Dudley (@jareddudley619) is worth a follow if you like the NBA, are looking for a good snow cone in New Orleans, want a chance to win tickets, think the current NCAA system needs some work or are a fan of Notorious B.I.G.
Who's on your must-follow list? Let us know (@Page2, @BurnsOrtiz, #page2).
Maria Burns Ortiz is based in Boston.
You can follow Page 2 on Twitter at @Page2.