Commentary
Devils fans power 'Mission Control'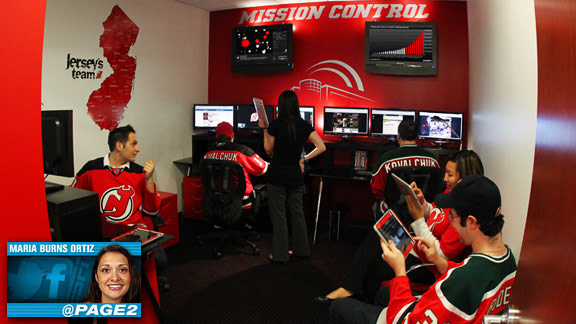 New Jersey DevilsVolunteers known as the Devils Army Generals staff the team's "Mission Control" social media hub.
Eight teams remain in the hunt for the 2011 Stanley Cup. In Boston, Detroit, San Jose, Philadelphia, Washington, Vancouver, Nashville and Tampa Bay, the teams simply have to step onto the ice to generate excitement.
The real challenge, which 22 other NHL teams are facing, is maintaining any level of interest when the season ends and arenas go dark. The lull in action that follows the end of a professional sports team's season -- across pretty much any league -- runs in stark contrast to the nearly 24/7, year-round operations that effective social media requires.
No NHL team has taken up social media like the New Jersey Devils. Inspired by Dell and Gatorade, two corporations with social media centers, the Devils took the concept a step further and put many of their social media efforts directly into the hands of fans. In mid-February, the Devils launched "Mission Control," a social media hub manned by the team's most passionate and social media-savvy fans.
The Devils Army Generals, as the 25 social media liaisons are known, monitored social media mentions and activity on more than a dozen screens -- from desktops to TVs to iPads. In shifts, various Generals "staffed" Mission Control up to 12 hours a day on game days and were a constant fixture in the Devils' executive offices on days off.
And the Generals do it on a completely volunteer basis. "Are we crazy?" general Ross O'Shea responded, when asked about the lack of any kind of physical compensation. The answer is probably yes, but the most die-hard fans always are. The fact is, the Devils Army Generals would be at home tweeting, blogging and engaging in conversations about the team, anyway. The Devils have simply given the Generals a dedicated, physical space and larger audience.
Through fans interacting with other fans, the team saw a direct return, as its number of Facebook likes surged to now 170,000, up from hitting the 100,000 mark a little over a month before Mission Control launched. The team Twitter account added 600 to 700 new followers a week and is approaching 25,000 followers.
But when New Jersey's season ended on April 10, the goal (at least on the team's social media end) was to make sure Mission Control stayed active. From a continued presence on Twitter and regularly updating the Devils Army blog to organizing playoff viewing tweetups, the team has managed to keep the momentum from stalling.
Mission Control also piqued interest from other NHL teams, with the Islanders, Sabres and Lightning calling the Devils for more information and insight. The initiative has been noticed at the league's highest levels, too.
The real takeaway of Mission Control, according to the NHL's director of social media marketing and strategy Michael DiLorenzo, "is the spirit with which it was conceived and implemented. The message it sends to the fan is that we know how important this experience is to you to the extent that we are going to build an apparatus that is specific to you."
Connecting with the social media-adept fan is especially important to the NHL. According to Simmons Media Research, professional hockey boasts the most tech-savvy fans. The league has made efforts to harness that audience, drawing more than 2 million Facebook fans and Twitter followers combined on its league pages, with teams tallying millions more.
"The NHL, as a league, is out in front of the social media initiative, and certainly we've recognized that," Devils owner Jeff Vanderbeek said. "[Our aim] is to give fans greater access to what we're thinking, and on our side we want to avail ourselves to ideas we might not think about.
"We're still in our early stages of [Mission Control] and learning ourselves every day, but it's exceeded our expectations."
Now comes the matter of building on those expectations. The end of the Devils' season marked what the team viewed as the beginning of Phase 2 for Mission Control, according to team marketing director Will Carafello.
The team is exploring ways to use various social media tools and technologies, from QR codes (bar codes scannable with smartphones) to check-ins to geo-targeted campaigns.
"One of the things that we take the biggest pride in is that we're the benchmark," Carafello said. "We've set it. The good part is that we've done it. But it also gives us a lot of responsibility in that now we have to come up with the next thing."
In the world of social media, there is no offseason.
Elsewhere in the social mediasphere ...
• Forget about a phone call. Aspiring UFL players better have TweetDeck ready. For Monday night's draft, the UFL will announce all of its selections via Twitter. First-round draft selections will be announced by commissioner Michael Huyghue on his account starting at 8 p.m. Individual team coaches will then take over, making their own announcements for the following nine rounds. In a release from the league, Huyghue said he believes this is a social media first. The league will post a recap of each round on its website. Detailed information for each player will then be available on the teams' Facebook pages. Relevant Twitter handles can be found here.
• Ozzie Guillen made Major League Baseball history last week, becoming the first player, coach or manager punished for comments made on Twitter. The White Sox manager received a fine and two-game suspension for tweets he posted after being ejected in a game against the Yankees. Guillen reportedly was fine with the suspension, sitting out Friday and Saturday's games. And in typical Ozzie fashion, he made light of it on, of all places, Twitter. "Had xtra time on my hands yesterday so posted new blog and pics to http://OzzieGuillen.com/," Guillen wrote on Saturday.
• Well, that was quick. Manchester United's Darron Gibson might hold the record for briefest athlete foray into the world of social media. Just two hours after opening a Twitter account last week, the midfielder shut it down, after reportedly being inundated with negative tweets. However, Man U captain Rio Ferdinand, who had trumpeted Gibson's arrival to the Twitterverse, sought to set the record straight, tweeting later that evening: "Darron Gibson says he came on to see what the lads were up to. ... he came off because he couldn't be bothered with it not any other reason."
Viral Video
The underclassmen taken in last week's NFL draft have got nothing on Baerke van der Meij. The 18-month-old "was signed" to a 10-year contract by Dutch club VVV-Venlo after his father posted a YouTube video of the toddler kicking balls into his toy box.
Seeing pure potential, the front office executives for Venlo rushed to sign van der Meij to a "symbolic" contract, which, if it was not a public relations stunt, would still allow the young position-to-be-determined player to test free agency before he turns 12.
While perhaps not as athletically incredible as David Beckham's "is it or isn't it" real Pepsi footage, van der Meij's performance is pretty impressive, considering that he's not even 2. Even more remarkable, the toddler's YouTube video has nearly 1 million more views than Beckham's latest viral hit.
The toddler video that started the hype has been viewed over 4 million times and counting -- and has already spawned imitators, animators and what's certain to be a rush of parents posting football footage of their would-be-prodigies.
But could a simple YouTube video launch the next "big thing"? Ask Justin Bieber.
Maria Burns Ortiz is based in Boston.
You can follow Page 2 or Maria Burns Ortiz on Twitter at @Page2 or @BurnsOrtiz.