Commentary
Behind the fake sports Twitter accounts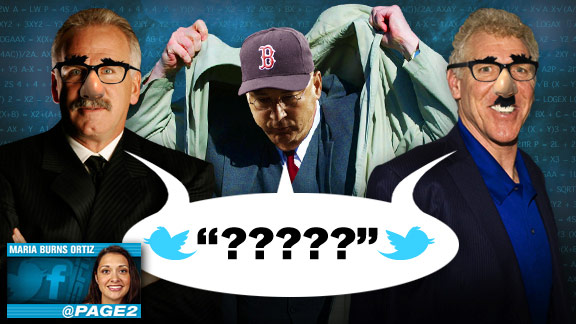 ESPN.com Illustration
Longtime Chicago Blackhawks fan Chris Malcolm was looking for a creative outlet. So last year, just before the team's playoff run to win the Stanley Cup, he opened a Twitter account. Fortunately, the handle @CoachQsMustache was still available, and thus the chronicles of Blackhawks coach Joel Quenneville's mustache began.
"In this town, we have a long and storied history of strong athletic mustaches," Malcolm said of his inspiration for the account, citing Dick Butkus, Mike Ditka, Phil Jackson and even Ozzie Guillen. "It's almost like you have to have facial hair to win a title in this town. The mustache to me is kind of a logical power figure."
[+] Enlarge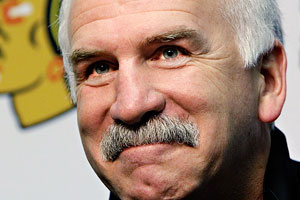 AP Photo/Charles Rex ArbogastChicago Blackhawks coach Joel Quenneville's mustache is kind of a big deal on Twitter.
The rise of the Twitter-savvy athlete has spawned a bevy of fake accounts. While some imposters seek to trick fans into believing the account is the real deal, many of the authors behind phony accounts embrace their role as the antithesis of the little blue check icon signifying a legitimate account.
From @VeryFakeAlDavis to @LeBronJamesEgo, parody accounts are creating their own genre in social media. Nineteenth century pitcher @OldHossRadbourn was one of just 10 sports accounts named to Time's list of the top 140 Twitter feeds.
The reasons for launching such accounts are as diverse as the athletes depicted.
To the guys who pen @TheBillWalton, a handle billed as "Tweets from Bill Walton... if only he knew how to use Twitter," the account is a chance to showcase their "love of all things popular, historical, and obscure in one centralized location."
While declining to reveal their identity, the folks behind the popular account described themselves via email as "a bi-coastal writing duo hailing from N.Y. and L.A., working through Skype, Facebook and text messages to create content."
Hunter Felt -- the user behind @NotCoachTito, a parody of Red Sox manager Terry Francona -- sees the account as a way for an obsessed Red Sox fan to utilize the social media platform for narrative storytelling.
A self-described underemployed English major with an appreciation for comedy writing, Felt said the story behind the account is that the real Terry Francona is pretending to be a fake Terry Francona "so it doesn't cause a controversy and so Bud Selig doesn't fine him like Ozzie Guillen." That the real Terry Francona is probably one of the last sports personalities to be on Twitter adds to the joke.
For Malcolm, a web editor for the Big Ten Network, the point of @CoachQsMustache is simply to make himself laugh.
Yet despite the incredibly varied backgrounds, there's common ground. Foremost is the issue of not only finding a voice, but conveying that voice in a single tweet.
The two guys behind "The Bill Walton Trip" certainly know about the challenges of nailing a very specific impression.
"Bill Walton is an affable guy and an exceptional wordsmith in his own right," the account's writers said. "Capturing the sheer breadth of his personality in a mere 140 characters is impossible. So the challenge has been to construct a persona that pulls bits and pieces of what we think resonates well, and then really push the limits of comical exaggeration."
Hyperbole is only part of the experience.
"We quickly realized that a great deal of whom we are would also have to be invested into this account, as seen through the lens of the Bill Walton persona," they added. "We have also infused our own creative sensibilities into the character in hopes of crafting something much different, because the truth is, the world already has the great Bill Walton."
Creating characters -- and incorporating aspects of the writer's personality into them -- is precisely what makes the process so enjoyable for Felt.
"The best Twitter accounts have a singular voice that is almost separate from the real-life person," he explained. "At a certain point, it's not a guy pretending to be some guy. It's actually creating this comic character."
And the parody persona needs to react in real time. This aspect of immediate reaction and commentary has completely changed the viewing experience for the folks behind the fake accounts.
"In constantly looking for the next angle, we suddenly realized we weren't just passive observers anymore," the @TheBillWalton guys said. "Being constantly aware of looking for the next punch line has taken some getting used to, but the enjoyment far outweighs any minor inconveniences."
Maintaining proper perspective is also key.
"I have to imagine anyone following is watching the game the same way I am [on TV], but that coach's mustache is at the game," Malcolm said. "I want to react quickly to what fans are seeing on TV."
It got to a point this season where Malcolm said he couldn't watch hockey games without the facial hair being forefront in his mind.
Much of the enjoyment that comes from running such an account is driven by interaction with other users, a core tenet of social media.
Malcolm is amazed by the amount of questions the mustache fields. He's equally amused by the hair-related offshoots and finds himself interacting with everyone from Blackhawks defenseman Brent Seabrook's hair to right wing Patrick Kane's mullet on Twitter.
When fake account meets fake account, it can make for an interesting alternate reality, one in which it's important to maintain some grasp on actual reality.
"Me and Fake Pat Riley had a brief dustup," Felt recalled. "It's getting into some weird postmodern territory where you're pretending to be a celebrity talking to someone else pretending to be a celebrity.
"If someone has a problem with NotCoachTito, I don't take it personally because it's not really me," Felt said. "Although, occasionally, I do take it personal. That's when I stop tweeting because I have to remind myself I am not actually him."
More followers, more money
At the UFC Fighter Summit last week, Ultimate Fighting Championship president Dana White outlined a plan that would include financial incentives for fighters who are active on Twitter.
According to reports, fighters will be divided into categories based on their current number of followers. Each quarter, UFC will give $5,000 bonuses to the fighters in each category who gain the greatest number of followers, the greatest percentage of followers and who produce the most creative tweets. All told, UFC is expected pay out $240,000.
Fighter Dan Hardy commented on the athletes' reaction Thursday, tweeting, "Wait for it... fighters are gonna flood twitter. They just mentioned the incentive program and everyone picked up their phones."
How do these things get started?
The National Hockey League saw firsthand how quickly completely unfounded rumors can spiral out of control in the social media era. On May 12, Edmonton teen Parminder Sahota tweeted "TSN reporting that Thrashers to Winnipeg will be announced tomorrow at 1pm at the MTS centre." The only thing was, while the network had previously reported on the possibility of a deal that would send the Atlanta Thrashers north, the tweet posted by @EpicPuckBunny was completely made up.
The tweet got retweeted. Suddenly, news outlets and hockey fans were scrambling for verification and more information. By that evening, word had traveled all the way up to the top as NHL commissioner Gary Bettman was asked about the reports that an announcement was forthcoming. The commissioner shot down the rumor, adding, "So people just make this stuff up, right?" In this case, the answer is yes.
Taking Twitter requests
• Have a song you're longing to hear on the organ at Turner Field? You're in luck. The Atlanta Braves boast the first major league organist to take song requests via social media. Matthew Kaminski, aka @bravesorganist, told Wired.com that about half of the songs he plays now come through the account.
• Sometimes it's just a matter of throwing an idea out there. When Connor Echols saw Cincinnati Reds second baseman Brandon Phillips tweet about doing an off-day appearance at a local car dealership, Echols suggested the professional ballplayer might want to swing by the 14U Cincy Flames game afterward. Of course, as Echols would later tweet, "Never in a million years did I think he would come to my game." Phillips responded, asking for the address and said he might check it out. Then, he actually showed up. The All-Star was on hand for the Flames' 13-2 win and joined Echols and his teammates for photos, which immediately went up on Twitter.
Acknowledgements
Thanks to @JTalarico328 for suggesting @CoachQsMustache.
Got a story we should feature? Have a site we should check out? Who's on your must-follow list? Tweet me at @BurnsOrtiz. If your idea gets mentioned in this column, so will you. Follow Page 2 on Twitter at @Page2.
Maria Burns Ortiz is based in Boston.