Commentary
Dana White leads UFC into social realm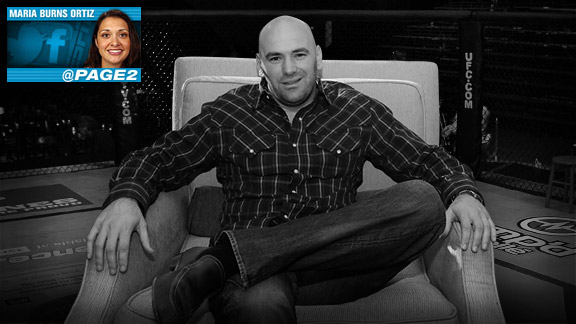 ESPN.com Illustration
Ultimate Fighting Championship president Dana White calls it "the lab."
On fight nights, White sets up multiple computers in his dressing room to create a de facto social media hub. Up until he walks out into the arena before the event's pay-per-view broadcast, he and his team monitor and take part in online conversations centered around the fights.
"When we go live, the fans are always saying on the Internet, 'Oh he's such an idiot. He's got the best seat in the house, and he's always on his phone or looking at the TV,'" White said. "The reason for that is I'm watching the TV screen because I'm making sure that everything looks good on TV. I'm on my phone because I'm reading Twitter."
White is not only reading. He's responding. He's aware that the cable is out in Iowa, meaning a fan can't access the pay-per-view he paid for. Or that fans traveled all the way from England only to find out they purchased fake tickets.
"Back in the old days, this is [stuff] you wouldn't know until Monday," White said. "You'd hear all these bad things that happened during your event, and you'd be like, 'God, we got to make sure this doesn't happen next time.' … Now, as these things are happening, I have people running around fixing all the problems that are happening that I'm reading on Twitter."
The UFC's social media presence in sports is second only to the NBA's. UFC has more than 5.8 million combined Facebook fans and Twitter followers. That number does not factor in individual fighters' accounts, the company's Spanish-language social media accounts or White's massive reach.
White himself has 1.46 million Twitter followers. The power of the microblogging platform has not escaped him.
"Before [social media], if I was going to make an appearance somewhere, I would have to buy radio, online, newspaper, whatever, and you still wouldn't know if you were reaching the people that really care," White said. "But 1.4 million people on Twitter opt in to follow me. They go out of their way to say, 'I want to follow this guy. I want to know what's happening.' That's huge."
The ability to disseminate information to a targeted audience is just one part of the UFC's social media operations. White knows the real reason fight fans -- or most anyone for that matter -- is on social media is to interact.
At its recent UFC Fighter Summit, the company made headlines when it unveiled a $240,000 social media incentive program that will reward fighters for growing their presence on Twitter and putting out the most creative content. Less publicized was the half-day social media training for fighters that was a cornerstone of the event.
"It's an education process for some of these guys, like it was for me," White explained. "At first when you get Twitter, you're like, 'What am I going to say on Twitter? Um, I'm going into the other room.' Who gives a [expletive]? The reality is, once you get used to it and get into it, it's actually really addicting and really fun."
Effective social media use is also incredibly useful for cultivating an engaged and loyal audience.
"It's not only good for all of us, but when the fighters retire, they have this built-in fan base," White said. "When they move on to that next chapter in their life and they continue to do other things, they're still connected with all these fans."
Long-term benefit lies at the heart of every business move White makes. Social media is no exception. From his fight week video blogs, which get hundreds of thousands of views on YouTube, to streaming undercard bouts on Facebook, the goal is to provide increased access to existing fans and to introduce the sport to a broader audience.
Among its many social media milestones, the UFC was the first professional sports league to broadcast live events on Facebook. Gauging how much streamed events drive pay-per-view purchases, a key revenue generator, is difficult. However, there's no question that webcasting the events on the world's No. 1 social media platform raises the UFC profile -- both in terms of introducing new fighters and in having the potential to reach Facebook's audience of 650 million users.
"Everything is for tomorrow," White said. "Our Facebook page has grown unbelievably since we started putting up fights on it. [Facebook users have to "like" the UFC page to watch the streamed bouts.] And what happens is you end up turning more fans onto it, and you continue to grow your fan base and build your brand. You educate people about the sport and get more people talking about it, which is vital."
Speaking of tomorrow, what does the future hold for the UFC with regard to social media?
"Not only has social media been amazing for us the last couple of years, I think it's going to be monumental in the next five," White said, citing upcoming initiatives with Facebook and Twitter. "We're working on big things right now for the next five years, and most of them revolve around social media."
The UFC's continued social media growth will be interesting to follow, in the traditional and social media senses.
The NBA Finals, an interactive experience
As pro athletes can attest, the postseason is the time to step up one's game. The NBA has taken that same stance with its social media endeavors.
Among the highlights, the league is continuing the "2011 NBA Playoffs Pulse," which monitors the players being most talked about on Facebook. Fans can see who is trending now among all players, or they can narrow in on the most talked about player in the Finals or an earlier series.
The NBA also is capitalizing on its video success. The league had 2 billion videos viewed on NBA.com this season and now offers users the chance to create and share their own "NBA Ultimate Playoffs Moments" highlight reel. Choosing from dozens of videos (from the 2011 postseason all the way back to first NBA Finals in 1947), fans can edit together their top five clips and share the final film on multiple social media networks, including Facebook, Twitter, LinkedIn and MySpace.
Former NBA coaches Larry Brown and Bill Fitch are also providing additional exclusive content posted on Facebook, sharing their thoughts and insights with fans in the "Coaches Corner."
Spanning social media … from the relevant to the ridiculous
Tout: NBA legend Shaquille O'Neal announced his retirement via the social media startup, which allows users to post videos 15 seconds or shorter and share them on other social media pages.
YouTube: Jimmer Fredette launched his "Follow Jimmer" channel that will provide a behind-the-scenes look at the BYU star as he prepares for the upcoming NBA draft.
Facebook: The NHL has launched its "Goal of the Year" voting on Facebook. There are five nominees, and fans can vote for their favorite exclusively on the NHL Facebook page. Voting runs through June 16, with the winning goal to be announced at the NHL Awards on June 22. … Amid reports that Lionel Messi was punched in the face outside a restaurant in Argentina, the Barcelona superstar took to his Facebook page to set the record straight. Writing in Spanish, Messi told his 15.6 million Facebook fans that he hadn't been socked and he was "perfectly fine."
Twitter: Manchester United star Wayne Rooney took to the microblogging site to confirm that yes, he did get hair plugs.
Getting into the game
In the digital age, fans no longer just watch a game.
"There's this whole idea of what's happening on the second screen," said Kenny Mazursky, chief marketing officer of Game Time Live. The second screen refers to the fact that people are not only watching a game on TV, but are simultaneously on additional devices -- i.e. laptop, tablet, smartphone.
"You're either a fantasy player refreshing your stats, or someone like me who doesn't play fantasy, but watches a ton of sports and ends up playing Angry Birds or Fruit Ninja, checking email or doing something else that doesn't have anything to do with what's on TV," Mazursky continued. "There's this disconnect between the game you're watching and what's happening in the social sphere."
GameSlam, a free real-time social game where players predict the action as the game happens, seeks to bridge that divide. The purpose of the game is to complement the fan experience. Players can predict almost any aspect of play, from game length to the outcome of each plate appearance to calling each pitch. Watching a baseball game goes from passive observation to online interaction.
With the social components of GameSlam, players can play head-to-head against friends (and even trash talk using the game's chat function). To tap the social media market, the company announced White Sox manager Ozzie Guillen as its first "Slambassador."
Unlike fantasy baseball, which requires a season-long commitment, GameSlam can be played for a game or an inning.
The game can be played on Mac or PC as well as through Facebook. Apps are currently in development for iPad/iPod/iPhone and Android devices.
While the game is currently only available for Major League Baseball, the company plans to roll out other sports in the future and has had conversations with the major professional sports leagues.
Hey, check out this account
Describing himself as a "Tweetist who only tweets @ChrisBosh," @Hey_ChrisBosh does just that. Since July 2010, "Sted Mankowski" has directed every post to the Miami forward. Ranging from the mundane (such as "@chrisbosh hey Chris, what's your sixth favorite fruit? Mine is probs the plum" on Aug. 15) to the thought-provoking ("Hey @ChrisBosh, with the #rapture coming, are you ok with the Eastern Conference Finals ending in a tie?" on May 20), @Hey_ChrisBosh has spent every tweet -- 369 and counting -- attempting to pick the brain of the third member of the Heat's Big Three.
"Hey @chrisbosh, for the record, I'm not screwing with you," the superfan even posted in March. "People just don't understand our #friendship."
Despite such assurances, the star has yet to give @Hey_ChrisBosh a mention. But that hasn't deterred the dedicated user, who maintains that [Bosh] "hasn't responded yet...but he will ... oh, he will."
(Thanks to @imgrossorg and @designerdanb for suggesting this account.)
Got a story we should feature? Have a site we should check out? Who's on your must-follow list? Tweet me at @BurnsOrtiz. If your idea gets mentioned in this column, so will you. Follow Page 2 on Twitter at @Page2.
Maria Burns Ortiz is based in Boston.