Commentary
A day in the life
U.S. women's ice hockey star Caitlin Cahow runs down a typical day of training
Updated:
July 13, 2009, 11:33 AM ET
By
Caitlin Cahow
| Special to Page 2
Editor's note: Caitlin Cahow plays defense on the U.S. women's national ice hockey team. A Harvard graduate, she won a bronze medal in the 2006 Olympics and scored two goals as the U.S. defeated Canada 4-1 to win the 2009 women's world championships in April. We asked her to tell us about a typical offseason day.
While the rest of the world rejoices the warm weather brought about by summer, we hockey players find ourselves at a loss. The Stanley Cup playoffs now a recent memory, we shuttle in and out of ice rinks in short sleeves and flip-flops. As if it weren't enough that we are the pastiest folks on the beach, hockey conditioning is about as fickle as bootlegged cable. Total atrophy begins about 45 minutes after the final buzzer, so the offseason becomes a mad dash of training fervor, which is fine since, realistically, we don't have that much else going on. Unlike Danica Patrick, I am not being flooded with modeling invites. Something about 30 pounds of androgynous equipment and a face mask seems to turn off advertisers.
In any event, the challenge is that we are left mostly to our own devices in the summer, a dangerous prospect for 25 über-Type-A women. What comes to pass is one of the marvels of modern sport. Summer training takes on the man (or, in this case, woman) versus automation paradigm, like a training montage from "Rocky IV." The U.S. women's national hockey team trains together for two periods over the summer, the first during a Colorado fitness evaluation camp. Here, we spend most of our time in the lab at the Olympic training center, plugged into machines that tell us more than we could ever want to know about our physiology. Doctors in white coats look on stoically, like Drago's team of Soviet biophysicists. Performance is tracked to the micrometer. We are weighed, pinched, prodded and poked like USDA Prime beef, though no steroids or hormones here, folks.
The numbers crunched, the tests resolved, we head home to wallow in anonymity through creative though generally unorthodox training methods to boost our game. This would be the Rocky Balboa segment of our training. Here is an average day, with an '80s soundtrack to go along:
6:30 a.m.: Wake up. Consume coffee to counter absence of natural morning perk. An East Coast native, I have Dunkin' Donuts beans flown in since they don't exist here in Minnesota -- what gives, Dunkin'? I am not sure that counts as snobbery. If so, I am the most blue-collar snob ever.
[+] Enlarge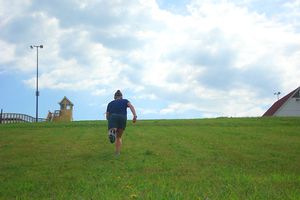 Courtesy Kate BuesserSome people in Minnesota refer to this hill as a mountain.
Background song: Wham: "Wake Me Up Before You Go-Go!"
7:30 a.m.: Depart for morning run. Driving in Minnesota is about the most frustrating experience you can imagine. Folks here think the passing lane is for people who wish to actually go the speed limit, as opposed to the normal snail's pace. In Boston, if you cut someone off, you might get a choice gesture, but those are actually signs of admiration: You just taught that guy something he will incorporate into his own driving repertoire. In Minnesota, you will get a passive-aggressive staredown as the guy you cut off goes above 60 for the first time in his life to prevent you from returning into his lane as punishment, while he simultaneously tries to strike the fear of God deep into your heart.
Song: Twisted Sister: "We're Not Gonna Take It"
8 a.m.: Conditioning run uphill. OK, so being an Olympic women's hockey player is not as glamorous as the extensive media coverage would have you believe ... who am I kidding? It is not at all glamorous. The conditioning run is an excellent example. On this particular day, we (our training group usually includes Jenny Potter, Karen Thatcher, Hilary Knight, Helen Resor and Megan Van Beusekom) drive to the only hill in the state of Minnesota and run up it as fast as we can. Sound fun? Not so much. It's basically like volunteering to have someone tie you to the back bumper of their Ferrari and attempt to keep up as it careens down the Autobahn ... 18 times.
Song: A Flock Of Seagulls: "I Ran (So Far Away)"
9:30 a.m.: Head home to run errands, which frequently digresses into an extended catnap. Don't judge. I am an Olympian. I could argue that napping is part of my job. Anything to better represent the U.S. of A.
Song: The Romantics: "Talking in Your Sleep"
1:40 p.m.: On-ice practice. This is the meat of the day, where the men are separated from the boys, or in this case, the women are separated from everyone else, because they can't keep up. We work on all aspects of the game, all the while fantasizing about the sweet stuff we would buy if we made NHL dollars. Oh well, living perpetually in the movie "Slap Shot" is just as cool. "Who own de Chiefs?"
Song: Pet Shop Boys: "Opportunities (Let's make lots of money)"
[+] Enlarge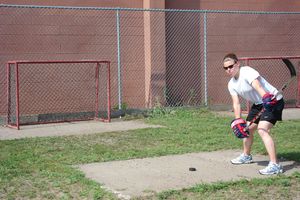 Kate Buesser for ESPN.comWhat, Sidney Crosby doesn't practice like this in the offseason?
3:30 p.m.: Shoot pucks out back behind the rink in blistering heat. Yet another Eddie Shore old-time-hockey moment. We slide pieces of old Plexiglas before cast-aside nets in front of a baseball backstop and shoot buckets of pucks at imaginary goalies until our arms go numb. In mid-afternoon the gravel drive where we shoot faces due west and can tend to feel like the surface of the sun. We beat the heat with cool conversation (catty gossip, usually -- we are women after all). Mostly, we run lines from classic films such as "Wedding Crashers," "Anchorman" and "40-Year-Old Virgin."
Song: Violent Femmes: "Blister in the Sun"
4 p.m.: Plyometrics in what is affectionately and rather unfortunately known as the "sweat box." It is a vacant strip mall storeroom converted into a workout hellhole with temperatures routinely reaching above three digits. It is in this little slice of heaven in Coon Rapids, Minn., that we jump around with sandbags on our backs like ersatz Rocky Balboas ready to avenge Apollo Creed.
Song: Buster Poindexter and His Banshees of Blue: "Hot, Hot, Hot"
4:45 p.m.: Weightlifting at LA Fitness. This is a chain gym that would charitably be described as a meat market. With wall-to-wall mirrors, you can't help but spend half of your time checking out your goods between sets. It's a great place to meet guys, especially if you are into guys who are very into themselves ... like full-body spandex in a hall of mirrors into themselves.
Song: Olivia Newton John: "Physical"
7 p.m.: Dinner. If you have not seen a women's hockey player eat, think Refrigerator Perry meets Kirstie Alley.
[+] Enlarge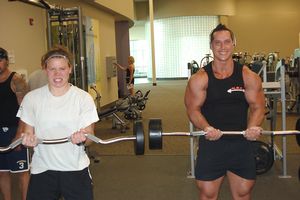 Courtesy Kate Buesser That's Caitlin on the left; the guy on the right does not appear to be training for hockey.
Song: Duran Duran: "Hungry Like the Wolf"
8 p.m.: Enjoy what passes for socializing in the life of an Olympic athlete ... for a good 45 minutes until I am overwhelmed by either guilt or fatigue.
Song: Little River Band: "Lonesome Loser"
10:30 p.m.: Decide to go to bed (earlier than my AARP-member parents) so that I can wake up and do it all again.
Song: Adam Ant: "Goody Two Shoes"
12 a.m.: Actually commit to sleeping after a good hour of Facebook stalking.
Song: The Police: "Don't Stand So Close to Me"
Sound like the makings of the next sports epic? Yeah, I think so, too. It may not make millions, but like the man said, I can't sing or dance, so I may as well play hockey. Plus, if you superimpose sweet '80s hits on top of my training montage it almost appears as if I have rhythm.